œuvres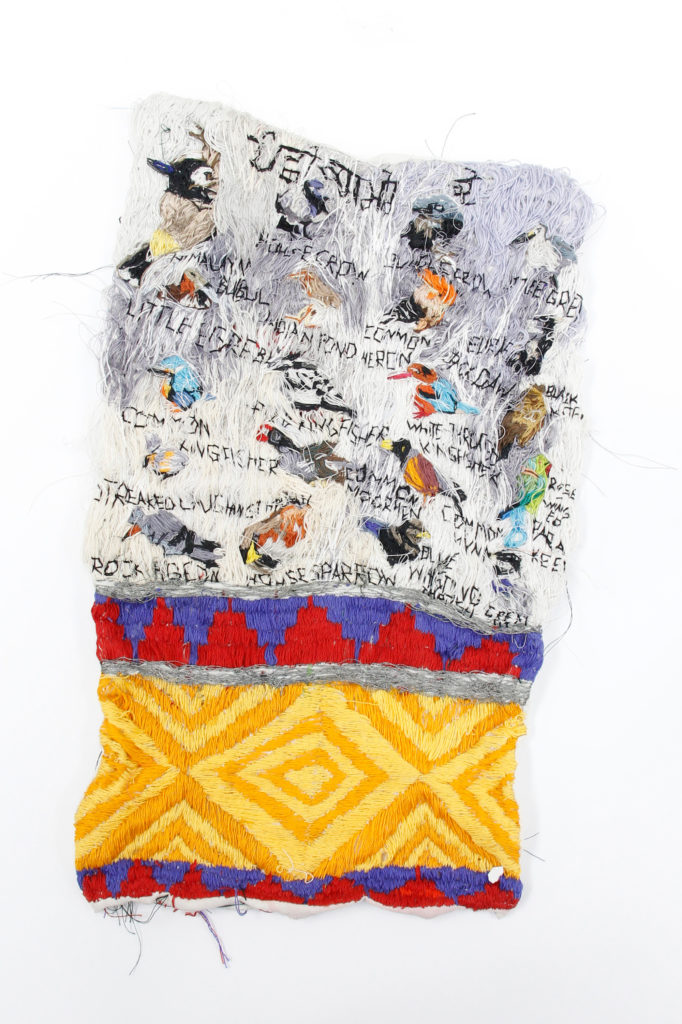 KASHMIRI BIRDS, 2020
Fil de coton et de soie, mousseline, tissu de coton naturel teint à la main
35.56 x  25.4 cm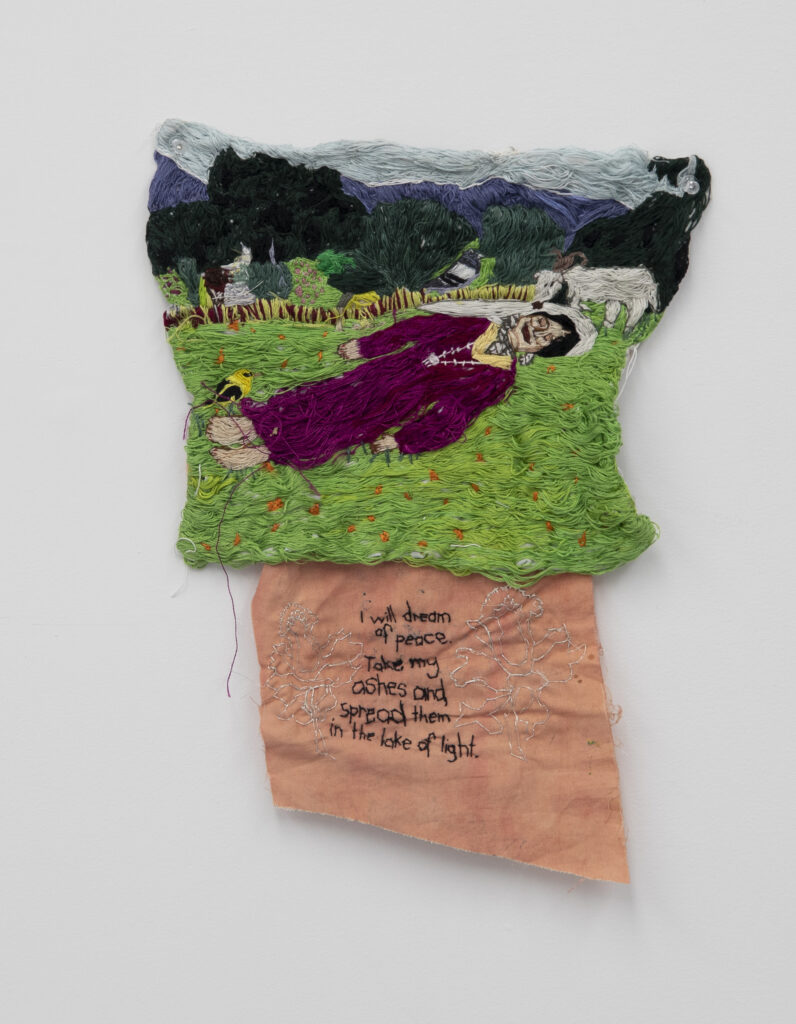 I WILL DREAM OF PEACE, 2022
Fil de coton et de soie, mousseline, tissu de coton naturel teint à la main
35.56 x  25.4 cm
INDERJEET, STAY WITH HER, 2020
Fil de coton et de soie, mousseline, tissu de coton naturel teint à la main
55.88 x 22.86 cm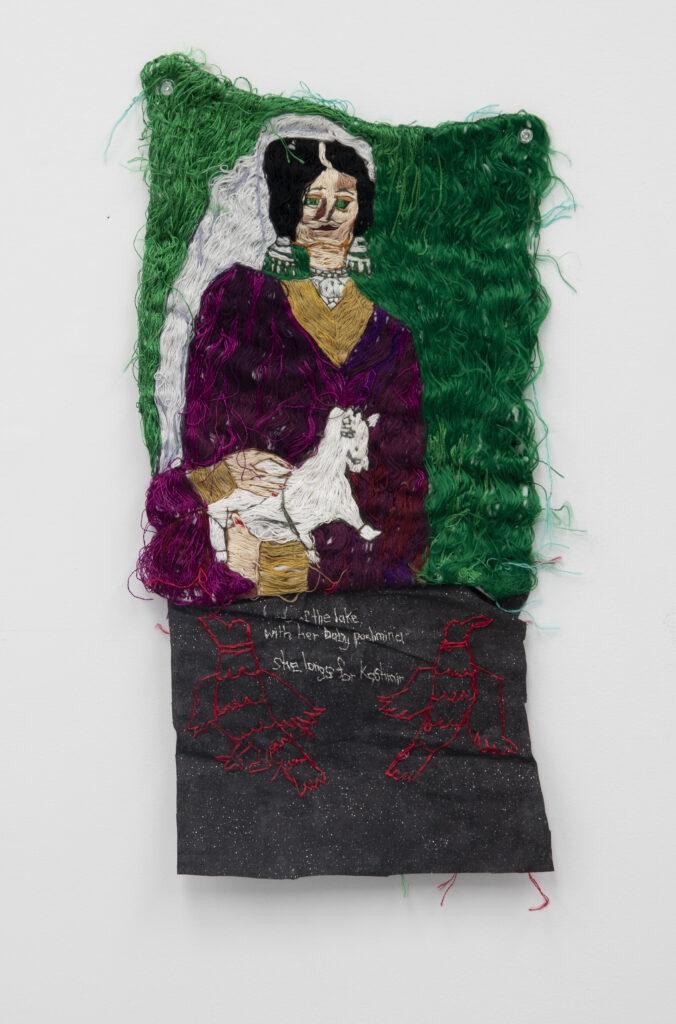 SHE LONGS FOR KASHMIR, 2022
Fil de coton et de soie, mousseline, tissu de coton naturel teint à la main
54 x  25 cm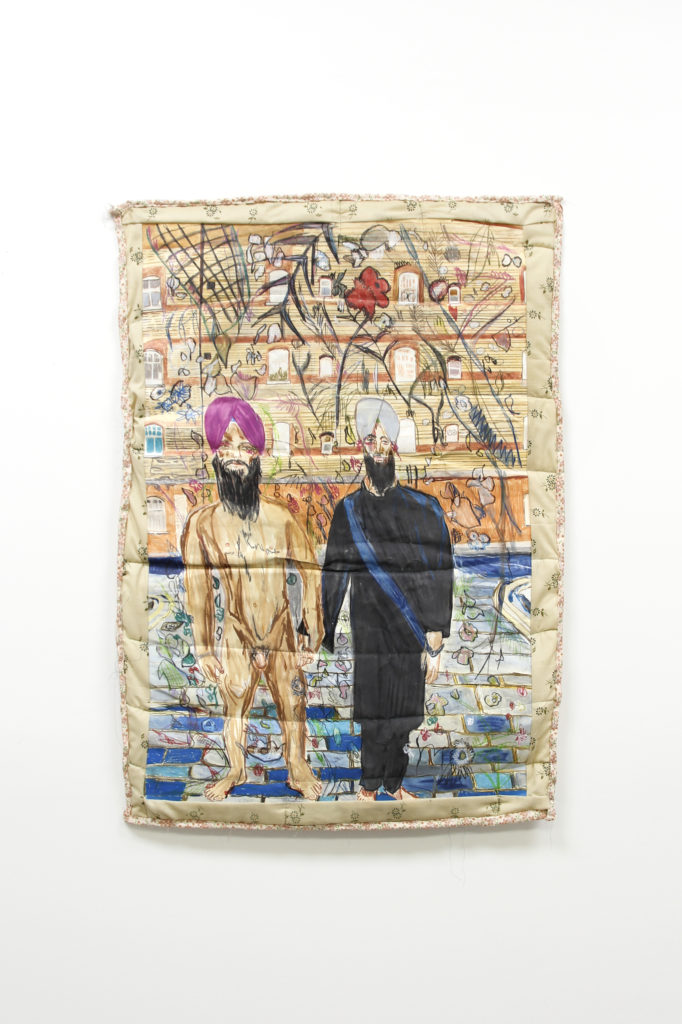 KHALSA QUEERS, 2021
techniques mixtes sur papier, courtepointe en cotton piqué
76.2cm x 106.68 cm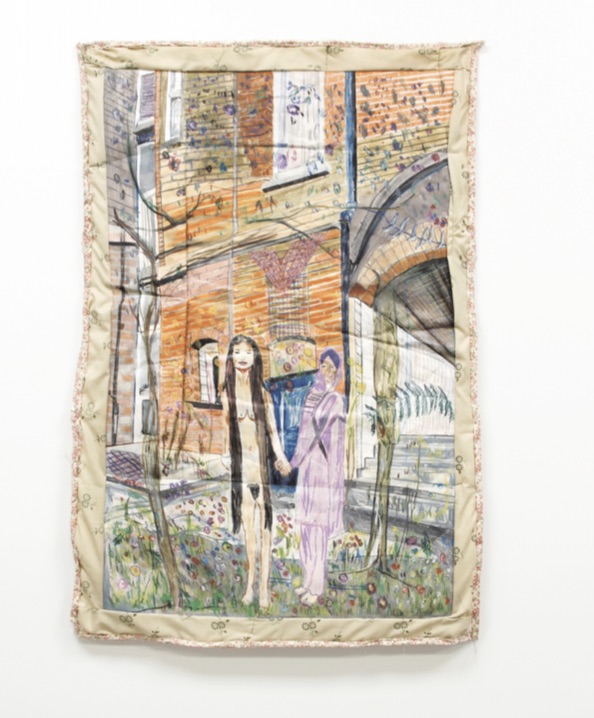 TRACES OF SOFT EAST LONDON, 2021
techniques mixtes sur papier, courtepointe en cotton piqué
76.2 x 81.3 cm
biographie
Jagdeep Raina (né en 1991, Guelph, Ontario, Canada), est un artiste interdisciplinaire et un écrivain.
Il est titulaire d'une maîtrise de la Rhode Island School of Design et a été en 2021 Paul Mellon Fellow à l'Université de Yale. Raina vit et travaille actuellement à Houston, au Texas, aux États-Unis.
Expositions personnelles
Beautiful Zameen, Todd Madigan Gallery, California State 
 University, Bakersfield, USA (forthcoming)
Libby Leshgold Gallery, Emily Carr University, Vancouver, Canada 
 (forthcoming)
2022
Beautiful Zameen, Cooper Cole, Toronto, Canada
2021-22
Chase, Textile Museum of Canada, Toronto; Art Gallery of Guelph, Guelph; Peel Art Gallery and Museum, Brampton, Canada
 Hardeep Pandhal and Jagdeep Raina, Jhaveri Contemporary, 
 Mumbai, India
Jagdeep Raina: Bonds, Blaffer Art Museum, Houston, USA 
 Memories Gave Birth to Hope, Soft Opening, London, UK
2020
Memories Gave Birth to Hope, Soft Opening at Picadilly Circus 
 Station, London, UK
2019
I promise, Cooper Cole Gallery, Toronto, Canada Daytimers, Midway Contemporary, Minneapolis, USA
Chase, Art Gallery of Guelph, Guelph, Canada 2013 Jagdeep Raina, Grice Bench, Los Angeles, CA
Expositions collectives
2023
Drawing on Our History, Carleton University Art Gallery (CUAG), 
 Ottawa, Canada (forthcoming)
2022
Future of Work: Letters from the Land and Water, Curated by 
 Simranpreet Anand and Srimoyee Mitra, Workers Arts and Heritage 
 Centre, Hamilton, Canada
Core Exhibition, Glassell School of Art, Houston, USA
2021
Drawing Room Biennial, Drawing Room, London, UK
Greater Toronto Art, Museum of Contemporary Art Toronto, 
 Toronto, Canada
Dūje Pāse Toñ (From the Other Side): Arts Across the Border, From 
 the Two Punjabs, The Reach, Abbotsford, Canada
2020
As the snail takes the shape of its shell, The Plumb Artist Run 
 Centre, Toronto, Canada
myselves, Kohn Gallery, Los Angeles, USA 2019 Cinch, Antenna Works, New Orleans, USA
denying the calendar, the wrinkles and lines of the body, Grice
Bench, Los Angeles, USA
2018-20
Vision Exchange, Perspectives from India to Canada, Art Gallery of
Alberta, Edmonton, Canada (itinerary: Art Museum at the University of Toronto; Winnipeg Art Gallery; Mckenzie Art Gallery, Regina; The National Gullery of Canada, Ottawa, Canada)
2018
Futures, Rubin Museum of Art, New York, USA
An Assembly of Shapes, Oakville Galleries, Oakville, Canada
2017
Un/Settled, RISD Museum, Providence, USA
Into you: On the Edge, Humber Galleries, Toronto, Canada Fellows Group Show, Provincetown Art Association and Museum, Provincetown, USA
2016
11th Shanghai Biennale, Shanghai, China
Washashore, Hudson D. Walker Gallery, Provincetown, USA London Summer Intensive, Camden Arts Centre, London, UK Don't call me when you are rich and famous. Call me when you are in the gutter, Grice Bench, Los Angeles, USA
RISD MFA Painting 2016, Nancy Margolis Gallery, New York, USA Sotto, Modern Fuel Artist Run Centre, Kingston, Canada
2015
Image Landscapes, Gelman Gallery, RISD, Providence, USA
Half Master, Microscope Gallery, Brooklyn, USA (Curated by Nera Lerner)
Goonj, Centre A, Vancouver International Centre for Contemporary Asian Art, Vancouver, Canada
A Myriad Marginalia, RISD Museum, Providence, USA
2014
UFO Hunters, Sol Keffler Gallery, RISD, Providence, USA
Bibliographie
2022 Charlene K. Lau, "Jagdeep Raina at Textile Museum of Canada" Artforum, March
"Chase for More" Interview, Art Gallery of Ontario, Jan 5 2021 Walker, Chris, "Threads of Solidarity: Into the Archives with
Jagdeep Raina" ArtsEverywhere, Nov 4
Arundhati Thomas, Skye, "Critic's Picks: Hardeep Pandhal and Jagdeep Raina at Jhaveri Contemporary" Artforum, October
Ford, Lauren Moya, "Faced with a Complex Sense of Home, Jagdeep Raina Turns to Art" Hyperallergic, Oct 12
Das, Ela "The Memory of Displacement", Mid-Day, Oct 3
Sethi, Shikha, "4 new art shows in Mumbai to check out" GQ India, August 3
"Jagdeep Raina" Canadian Art Magazine, Winter, p. 80
2020 Cicerone, Joseph. "Jagdeep Raina on the influence and role of 
 textile art in today's world" Toronto Life, Sept. 14
"Isolation Interviews: Jagdeep Raina" Brooke Benington, Issue 13 2019 Ed. Erickson, Ruth. New American Painting. MFA Annual, Issue
141.
Georgia Phillips-Amos, "Review: Jagdeep Raina" Border Cross- ings, Volume 38, Number 4, Issue 152
"Jagdeep Raina: Archiving Memory and Migration" Guelph Arts
2017 Chunara, Nazish. "Interview with Jagdeep Raina." Venison Maga- zine. Winter, 2017.
Dreskin, Jeanne. "Critics Pick Los Angeles: Jagdeep Raina." Artforum.com, October
expositions
Expositions à venir
Jagdeep Raina


Galerie anne barrault – Paris


15 avril - 27 mai 2023