works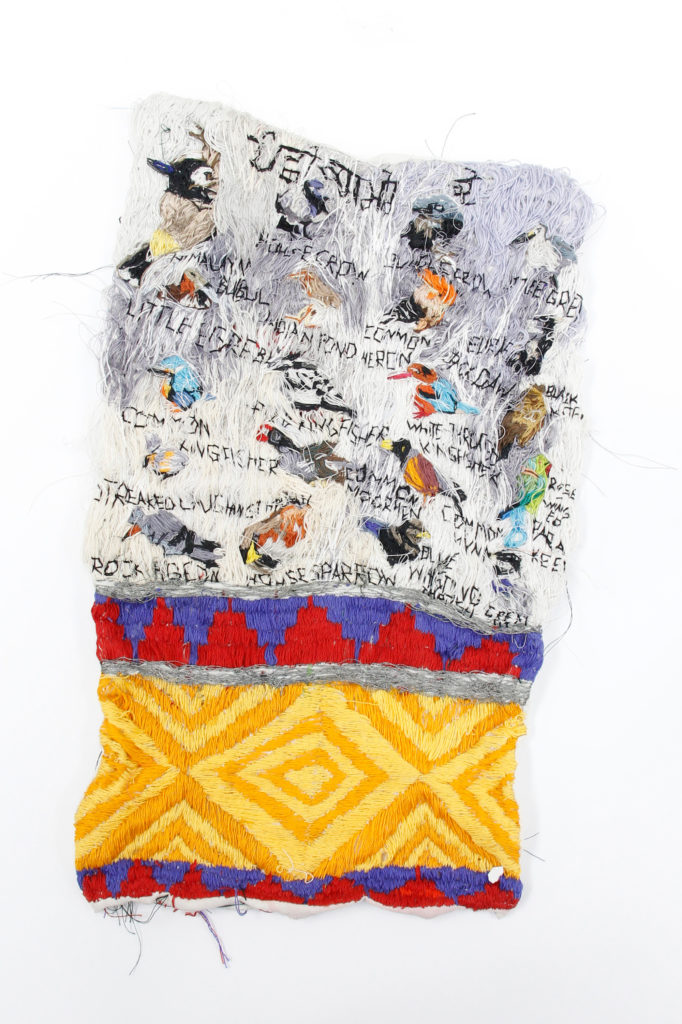 Jagdeep Raina
Kashmiri birds, 2020
Embroidery on muslin
35,6 x 25,4 cm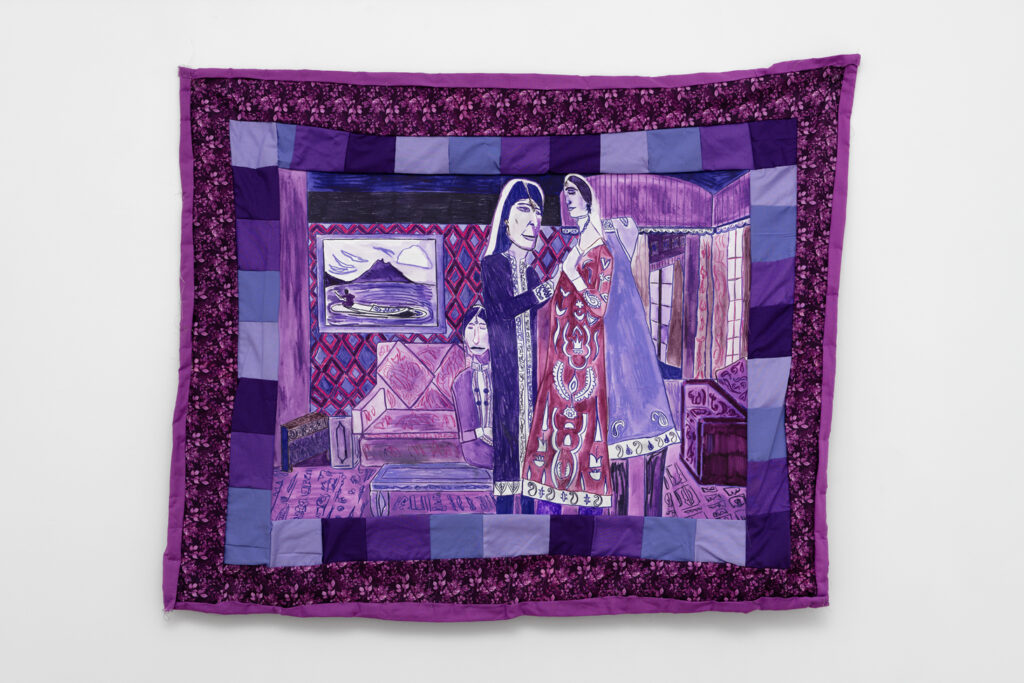 Jagdeep Raina
Adorned in her Mango shaped choga, 2023
Mixed media on paper, sewn with bordered fabric, batted, basted, binded into a quilt
91,44 x 101,6 cm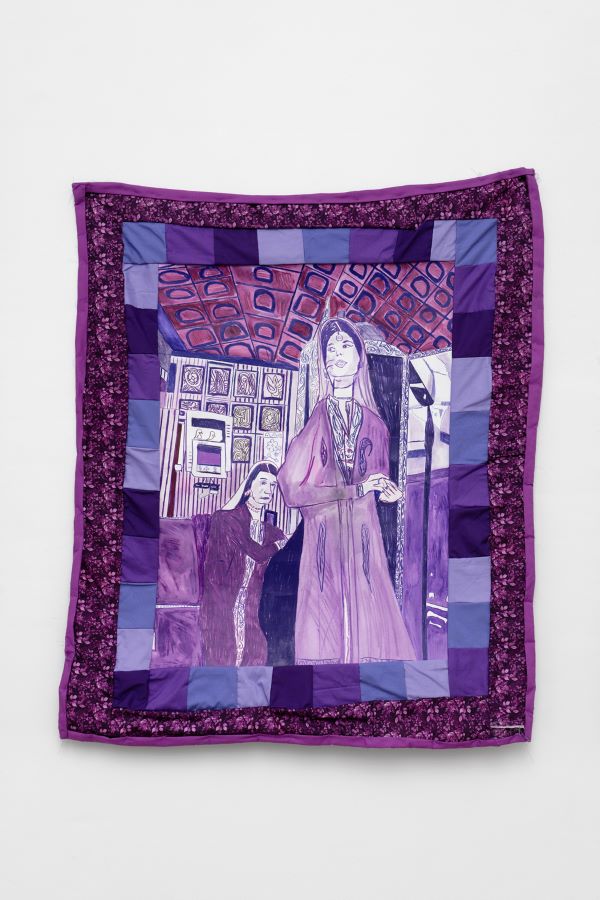 Jagdeep Raina
The last bits of thread, 2023
Mixed media on paper, sewn with bordered fabric, batted, basted, binded into a quilt
101,6 x 91,44  cm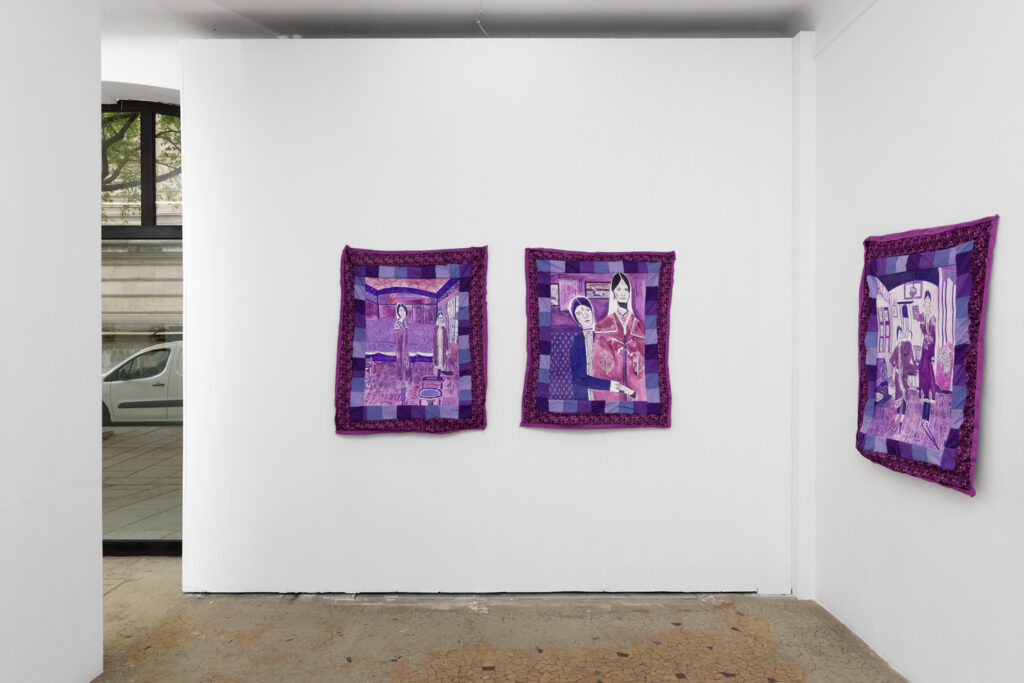 Jagdeep Raina, Towards the valley, exhibition view
(photo Aurélien Mole)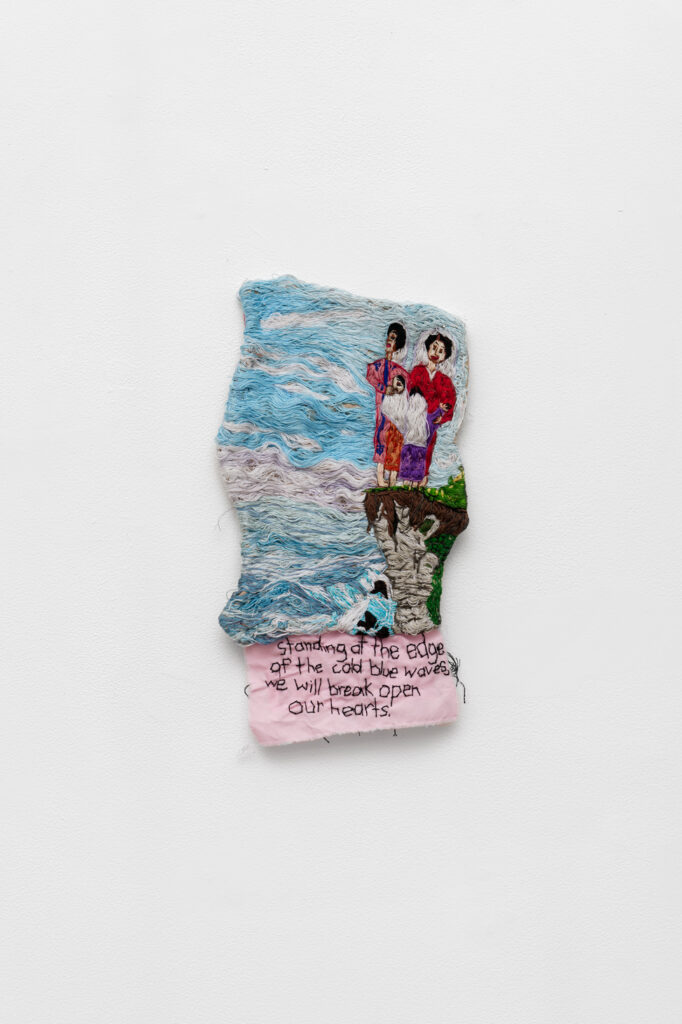 Jagdeep Raina
The edge, 2023
Embroidery on muslin
30,48 x 17,78 cm
(photo Aurélien Mole)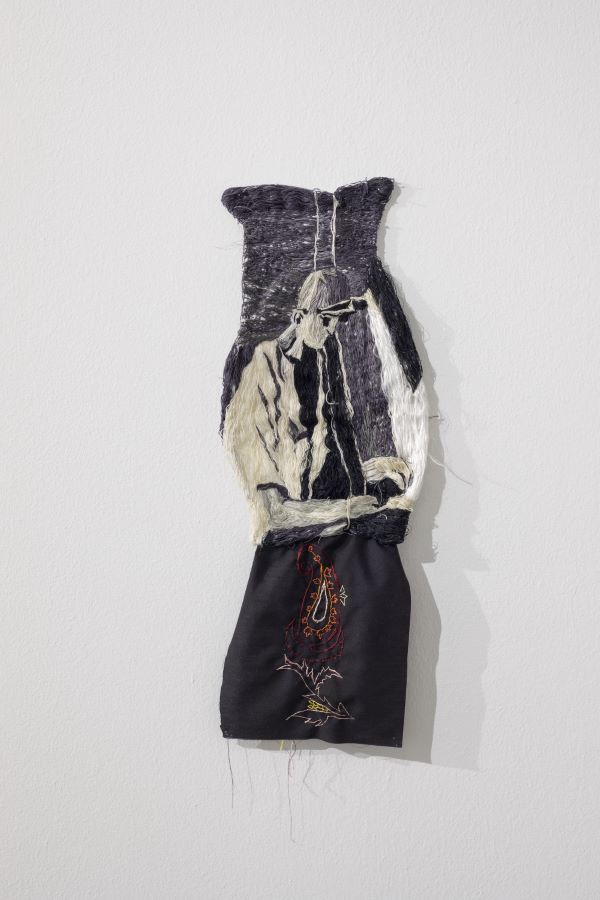 Jagdeep Raina
Beautiful weaver, 2020
Embroidered tapestry, Kashmiri Ambi on Cotton
50,8 x 20,3 cm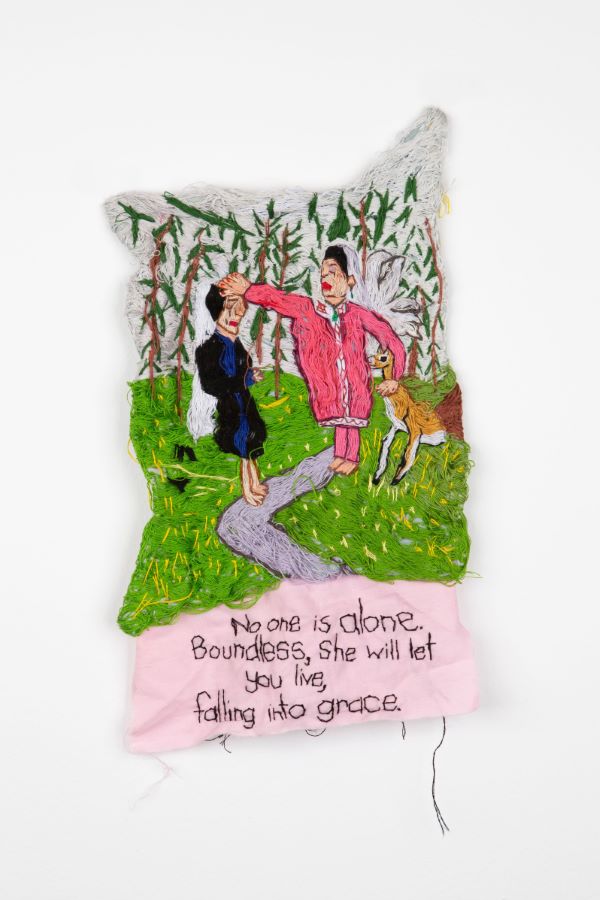 Jagdeep Raina
Boundless, 2023
Embroidery on muslin
33 x 18 cm

Jagdeep Raina
Inderjeet, stay with her, 2020
Embroidery on muslin
55,9 x 22,9 cm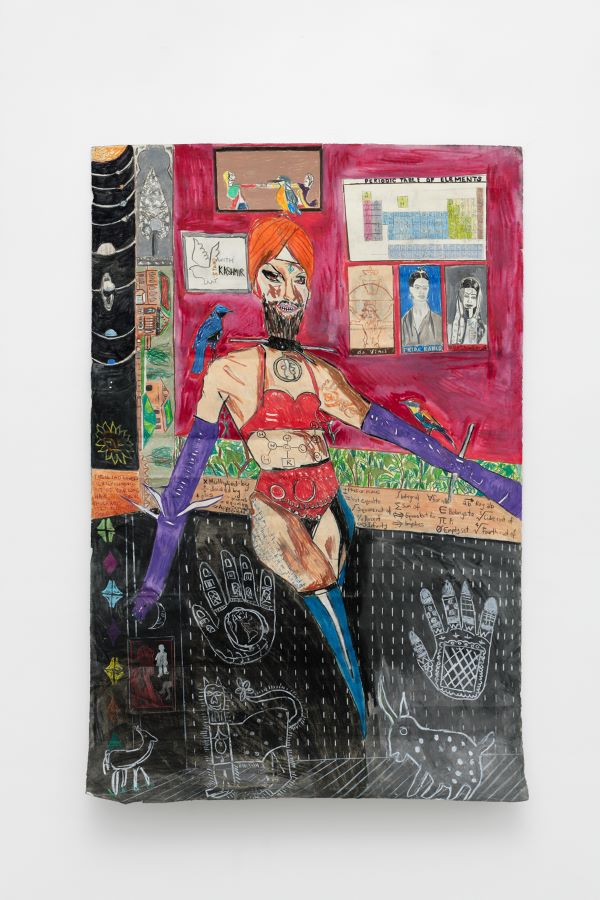 Jagdeep Raina
Good Luck, 2023
mixed media on paper
101,6 x 66,04 cm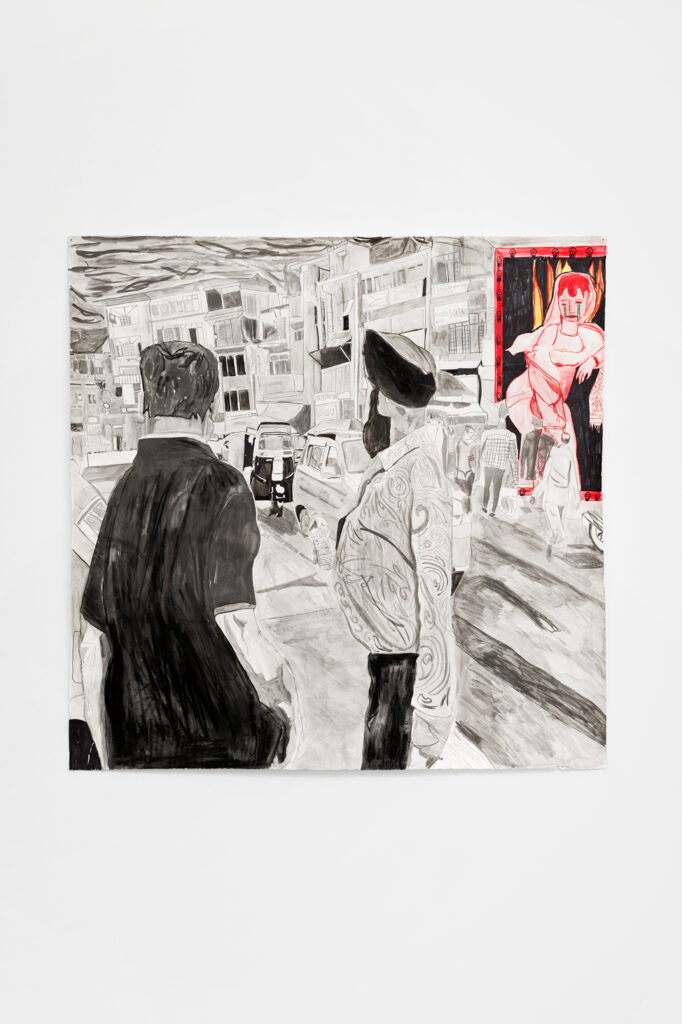 Jagdeep Raina
Madame Rivière, 2023
mix media on paper
127 x 127 cm
(photo Aurélien Mole)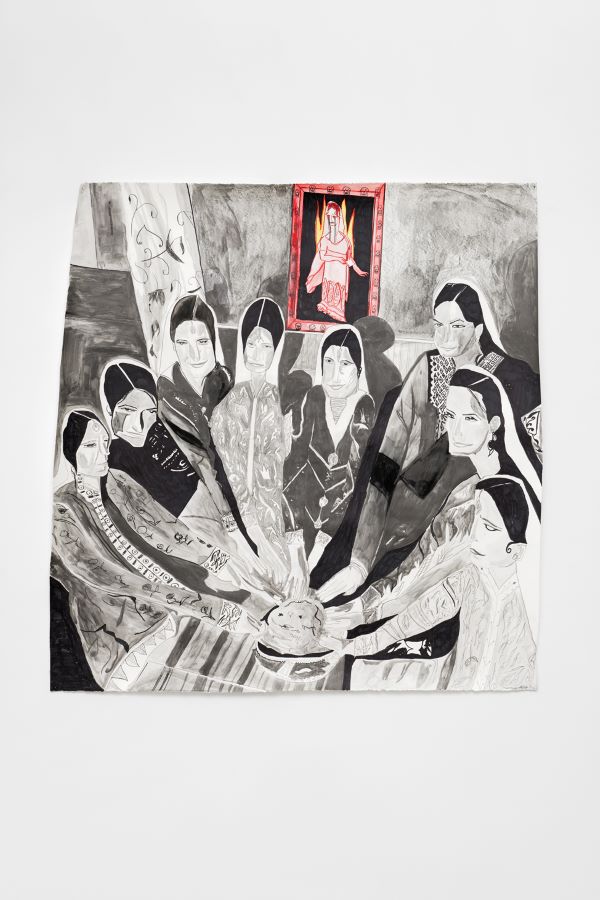 Jagdeep Raina
Josephine, 2023
mix media on paper
127 x 127 cm
(photo Aurélien Mole)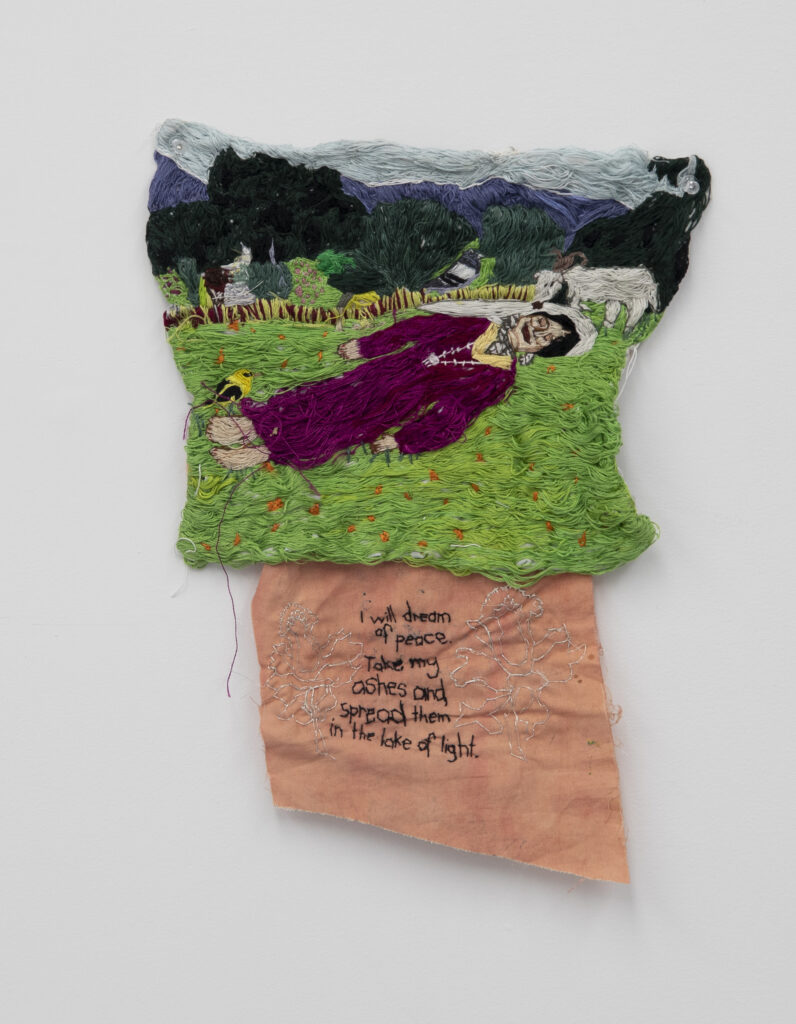 I WILL DREAM OF PEACE, 2022
Cotton and silk thread, muslin, natural hand dyed cotton fabric
35.56 x  25.4 cm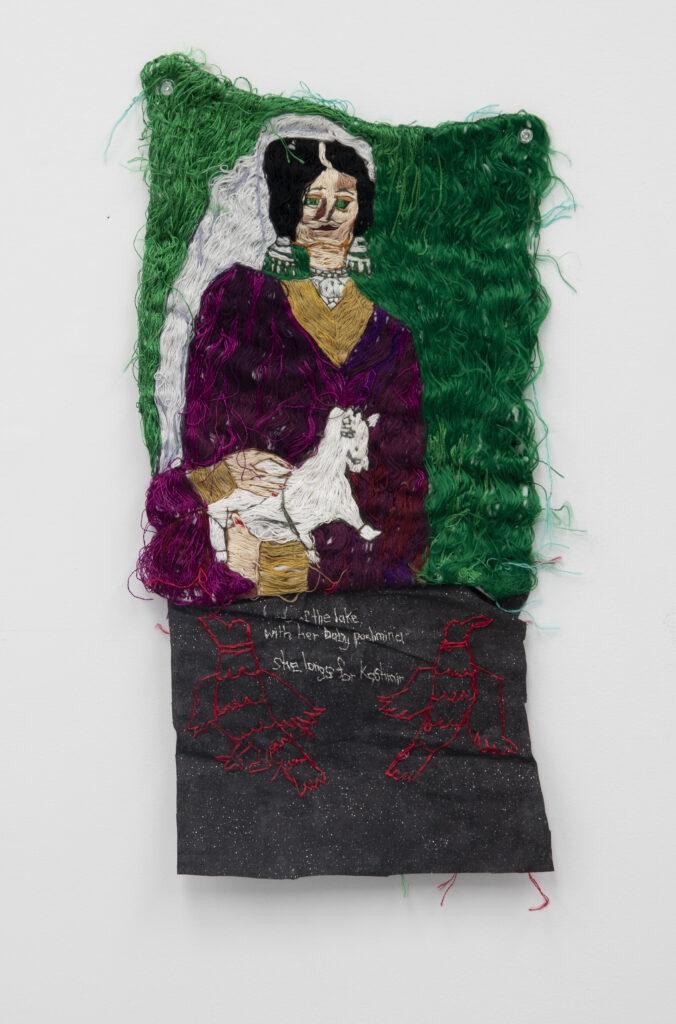 SHE LONGS FOR KASHMIR, 2022
Cotton and silk thread, muslin, natural hand dyed cotton fabric
54 x  25 cm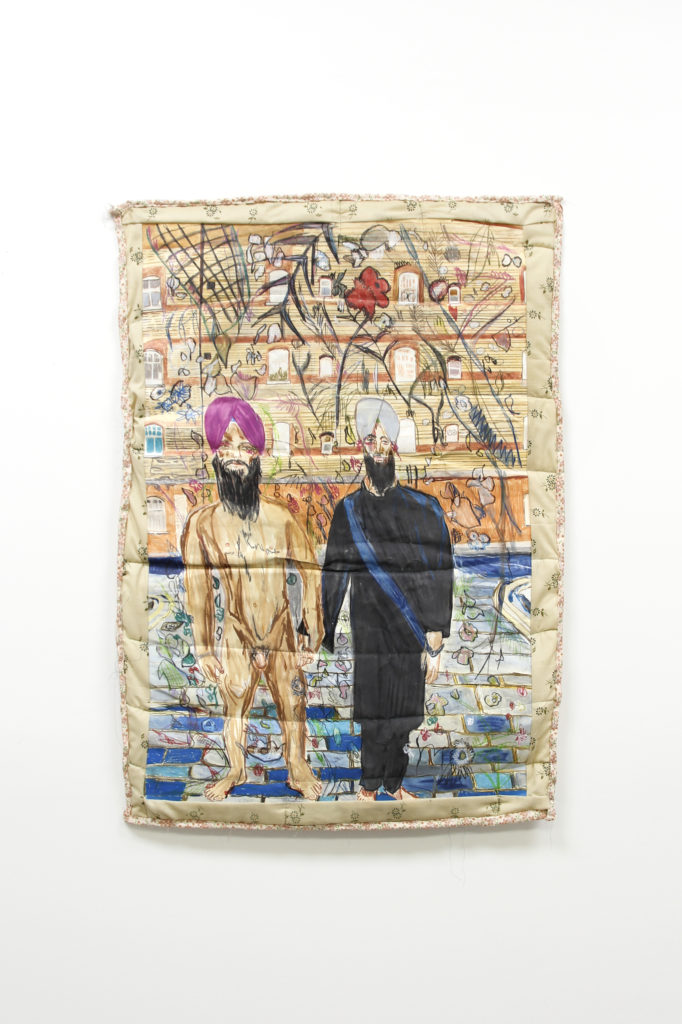 KHALSA QUEERS, 2021
mixed media on paper, sewn fabric quilt
76.2cm x 106.68cm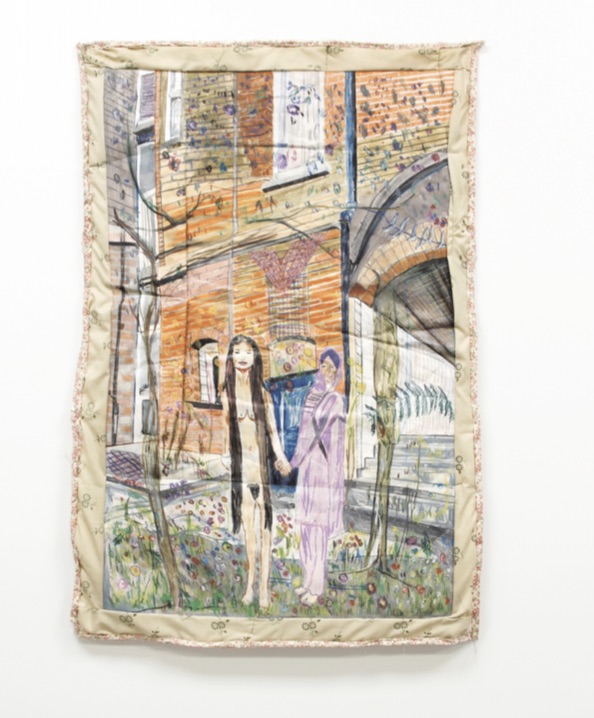 TRACES OF SOFT EAST LONDON, 2021
mixed media on paper, sewn with bordered fabric, batted, basted, binded into a quilt
76.2 x 81.3 cm
biography
Jagdeep Raina was born in 1991 in Guelph (Ontario, Canada) and currently lives in Houston (Texas, USA) where he is a Core Program Fellow, Museum of Fine Arts Houston.
In 2020, he was awarded a Paul Mellon Fellowship at Yale University and entered a residency at the Skowhegan School of Painting and Sculpture. In the same year, he won the Sobey Art Award.
He has exhibited in many solo and group exhibitions such as the Blaffer Art Museum, Houston (2021); Jhaveri Contemporary, Mumbai (2021); Museum of Contemporary Art, Toronto (2021); Textile Museum, Toronto (2021); Soft Opening, London (2020); (Midway Contemporary, Minneapolis (2019); Art Gallery of Guelph, Guelph (2019); Cooper Cole, Toronto (2019); Art Gallery of Alberta, Edmonton (2018); Rubin Museum of Art, New York (2018); RISD Museum of Art, Providence (2017); Humber Galleries, Toronto (2017); Provincetown Art Association and Museum, Provincetown (2017); Camden Arts Centre, London (2016); and Modern Fuel Artist Run Centre, Kingston (2016).
Solo exhibitions
2023
Jagdeep Raina | Towards the valley | Galerie anne barrault – Paris
Beautiful Zameen, Todd Madigan Gallery, California State 
 University, Bakersfield, USA (forthcoming)
Libby Leshgold Gallery, Emily Carr University, Vancouver, Canada 
 (forthcoming)
2022
Beautiful Zameen, Cooper Cole, Toronto, Canada
2021-22
Chase, Textile Museum of Canada, Toronto; Art Gallery of Guelph, Guelph; Peel Art Gallery and Museum, Brampton, Canada
 Hardeep Pandhal and Jagdeep Raina, Jhaveri Contemporary, 
 Mumbai, India
Jagdeep Raina: Bonds, Blaffer Art Museum, Houston, USA 
 Memories Gave Birth to Hope, Soft Opening, London, UK
2020
Memories Gave Birth to Hope, Soft Opening at Picadilly Circus 
 Station, London, UK
2019
I promise, Cooper Cole Gallery, Toronto, Canada Daytimers, Midway Contemporary, Minneapolis, USA
Chase, Art Gallery of Guelph, Guelph, Canada 2013 Jagdeep Raina, Grice Bench, Los Angeles, CA
Group exhibitions
2023
Drawing on Our History, Carleton University Art Gallery (CUAG), 
 Ottawa, Canada (forthcoming)
2022
Future of Work: Letters from the Land and Water, Curated by 
 Simranpreet Anand and Srimoyee Mitra, Workers Arts and Heritage 
 Centre, Hamilton, Canada
Core Exhibition, Glassell School of Art, Houston, USA
2021
Drawing Room Biennial, Drawing Room, London, UK
Greater Toronto Art, Museum of Contemporary Art Toronto, 
 Toronto, Canada
Dūje Pāse Toñ (From the Other Side): Arts Across the Border, From 
 the Two Punjabs, The Reach, Abbotsford, Canada
2020
As the snail takes the shape of its shell, The Plumb Artist Run 
 Centre, Toronto, Canada
myselves, Kohn Gallery, Los Angeles, USA 2019 Cinch, Antenna Works, New Orleans, USA
denying the calendar, the wrinkles and lines of the body, Grice
Bench, Los Angeles, USA
2018-20
Vision Exchange, Perspectives from India to Canada, Art Gallery of
Alberta, Edmonton, Canada (itinerary: Art Museum at the University of Toronto; Winnipeg Art Gallery; Mckenzie Art Gallery, Regina; The National Gullery of Canada, Ottawa, Canada)
2018
Futures, Rubin Museum of Art, New York, USA
An Assembly of Shapes, Oakville Galleries, Oakville, Canada
2017
Un/Settled, RISD Museum, Providence, USA
Into you: On the Edge, Humber Galleries, Toronto, Canada Fellows Group Show, Provincetown Art Association and Museum, Provincetown, USA
2016
11th Shanghai Biennale, Shanghai, China
Washashore, Hudson D. Walker Gallery, Provincetown, USA London Summer Intensive, Camden Arts Centre, London, UK Don't call me when you are rich and famous. Call me when you are in the gutter, Grice Bench, Los Angeles, USA
RISD MFA Painting 2016, Nancy Margolis Gallery, New York, USA Sotto, Modern Fuel Artist Run Centre, Kingston, Canada
2015
Image Landscapes, Gelman Gallery, RISD, Providence, USA
Half Master, Microscope Gallery, Brooklyn, USA (Curated by Nera Lerner)
Goonj, Centre A, Vancouver International Centre for Contemporary Asian Art, Vancouver, Canada
A Myriad Marginalia, RISD Museum, Providence, USA
2014
UFO Hunters, Sol Keffler Gallery, RISD, Providence, USA
Collections
Art Gallery of Guelph, Guelph, Canada
Musée des Beaux-Arts de Montréal, Montréal, Canada
Rhode Island School of Design Museum, Providence, USA University of Chicago Booth School of Business, Chicago, USA Yale Center for British Art, New Haven, USA
press
exhibitions
Gallery exhibitions