works
Shangai, 2010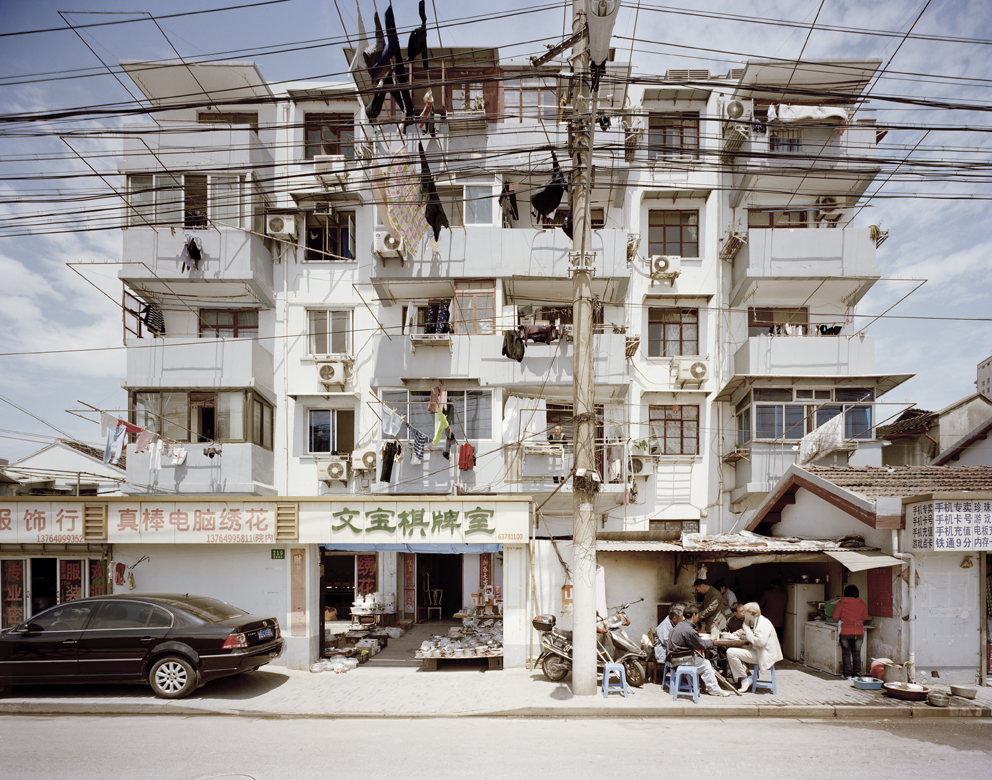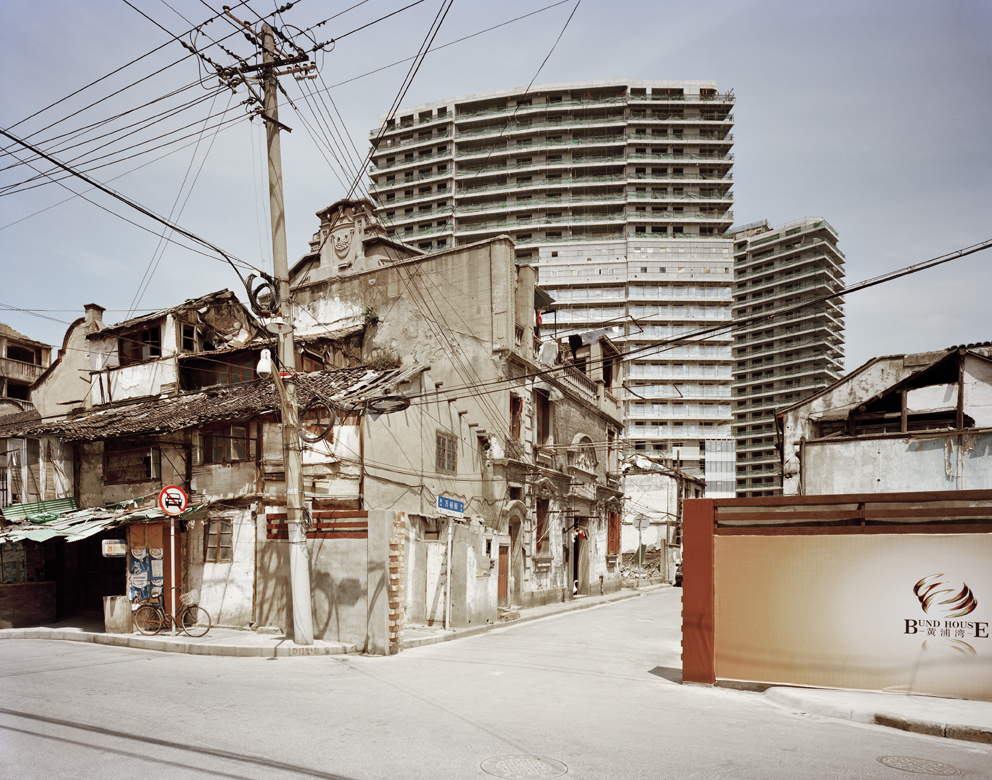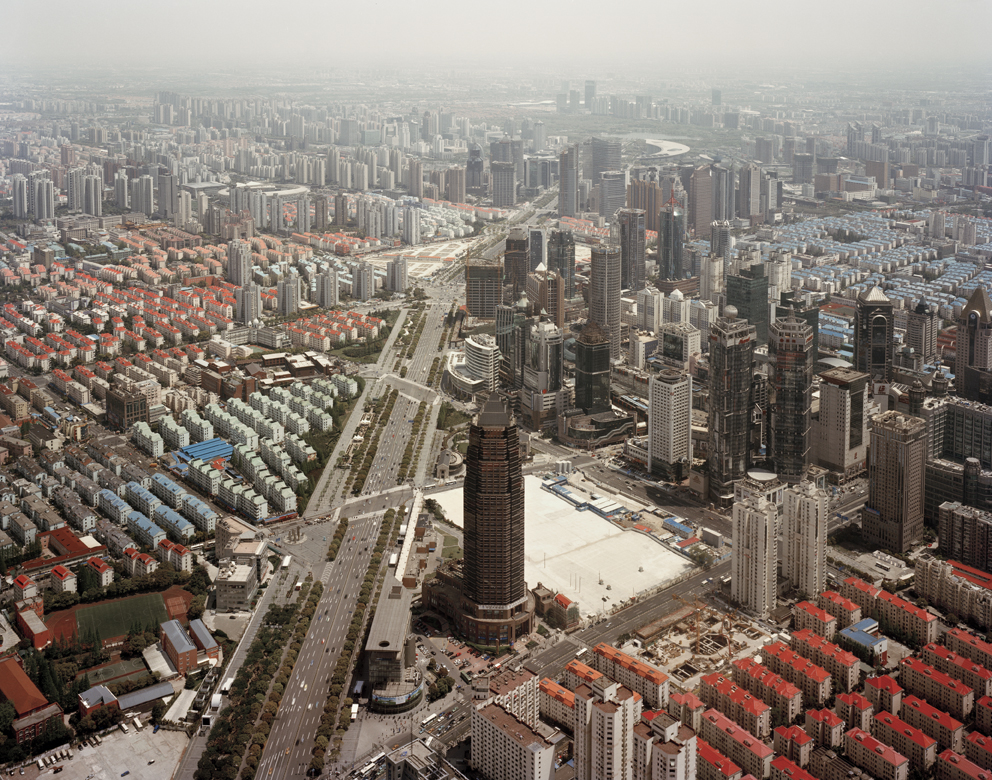 Istanbul, 2005 – 2010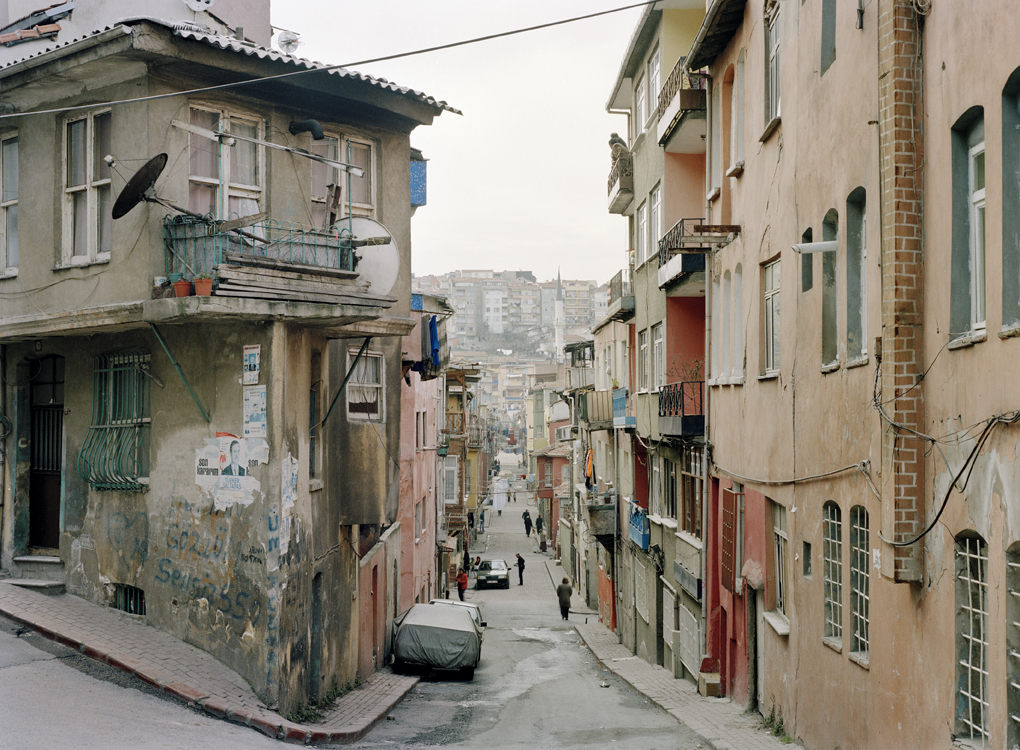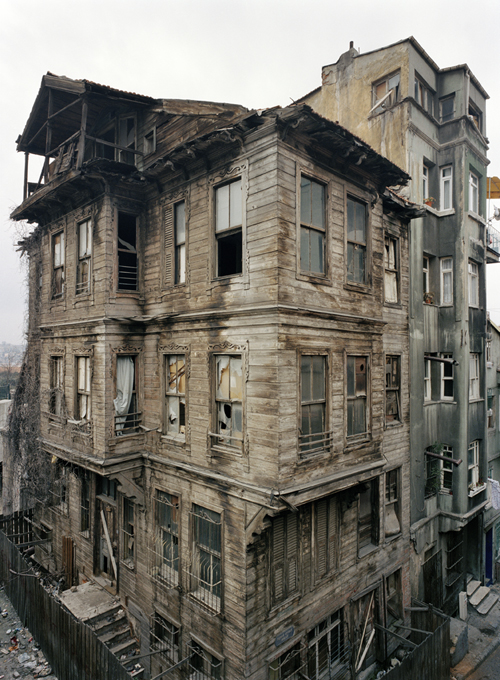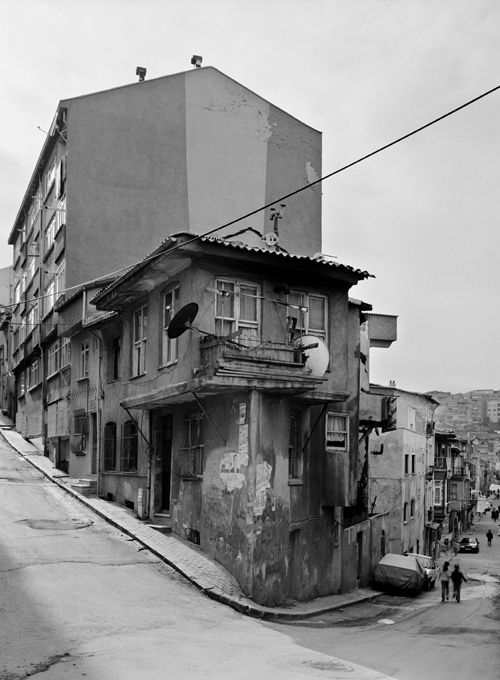 San Francisco, 2007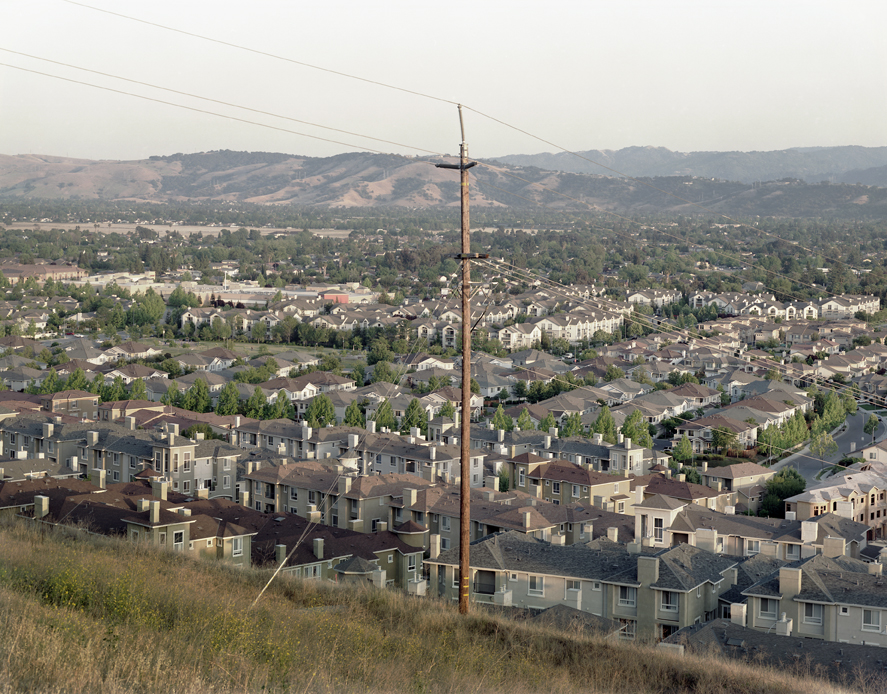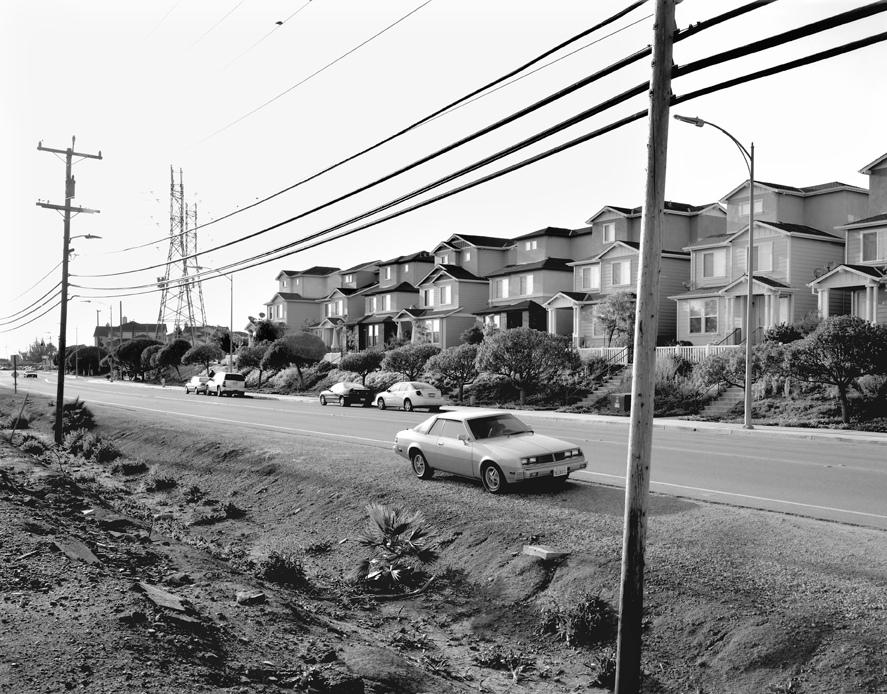 Moscou, 2007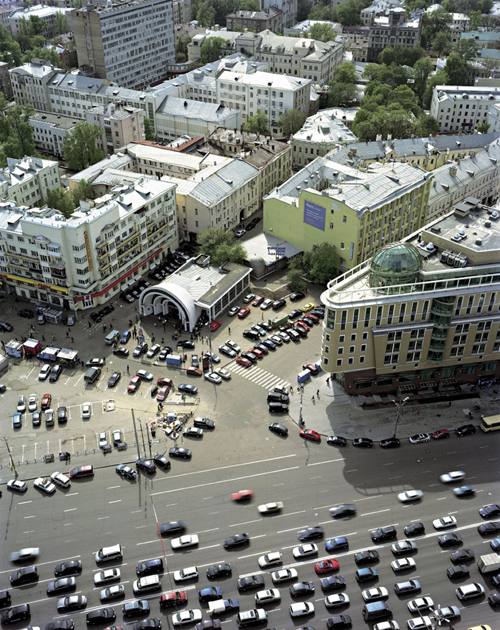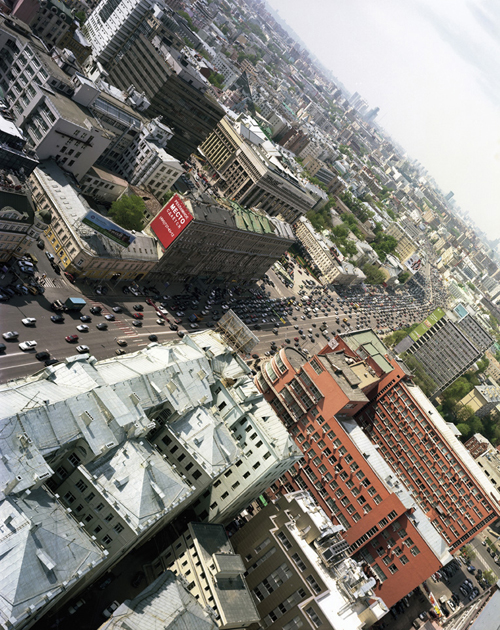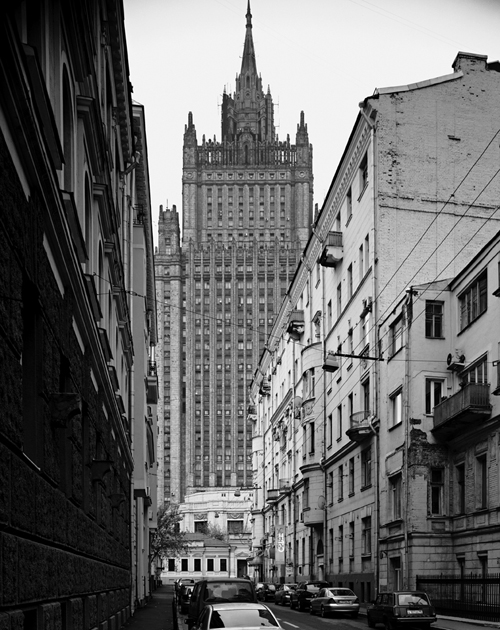 Beyrouth, 1991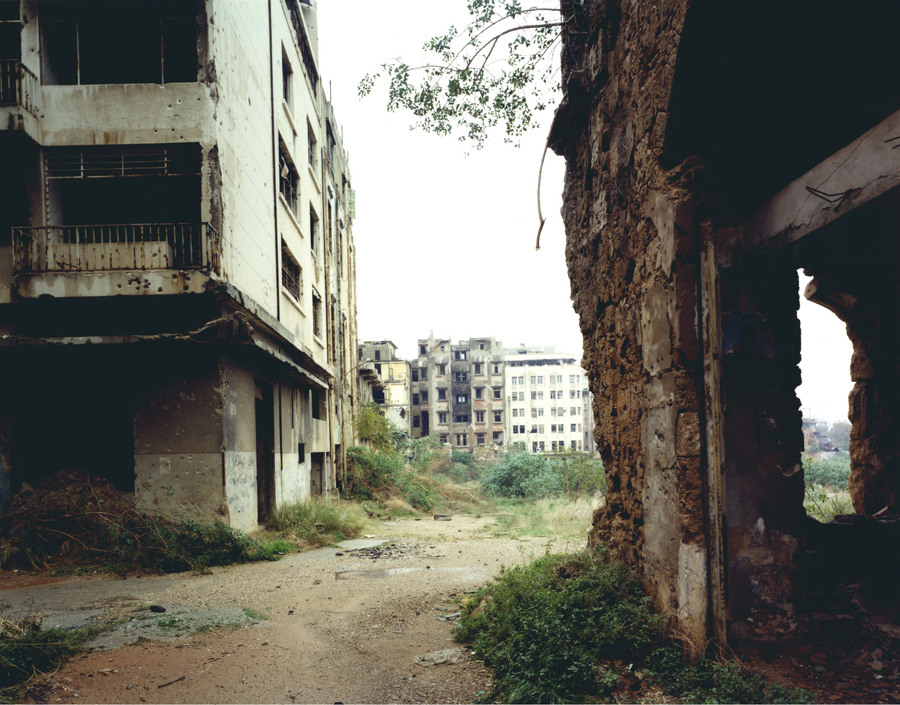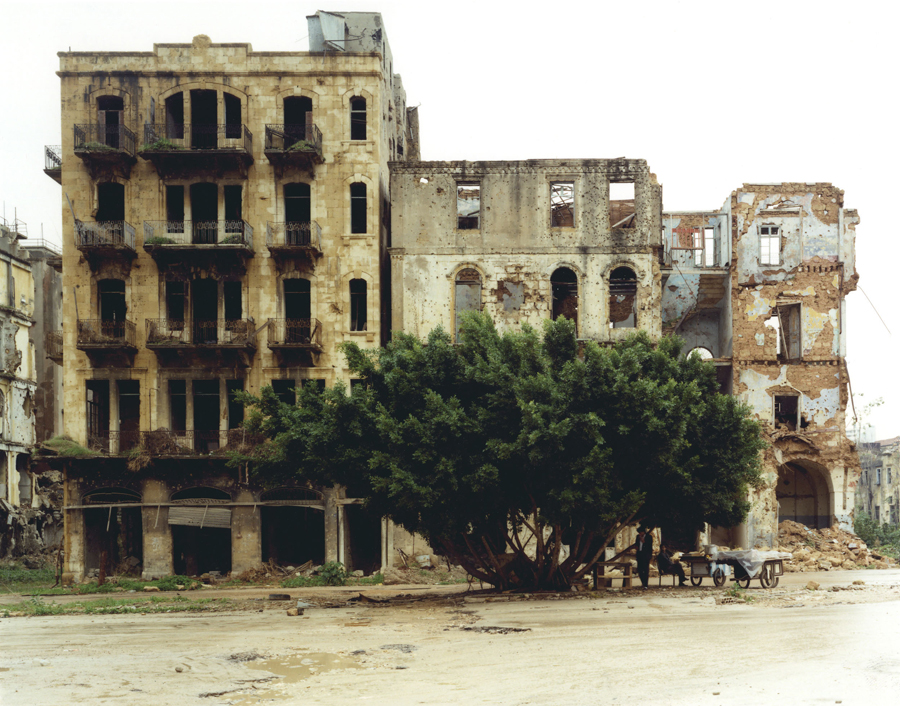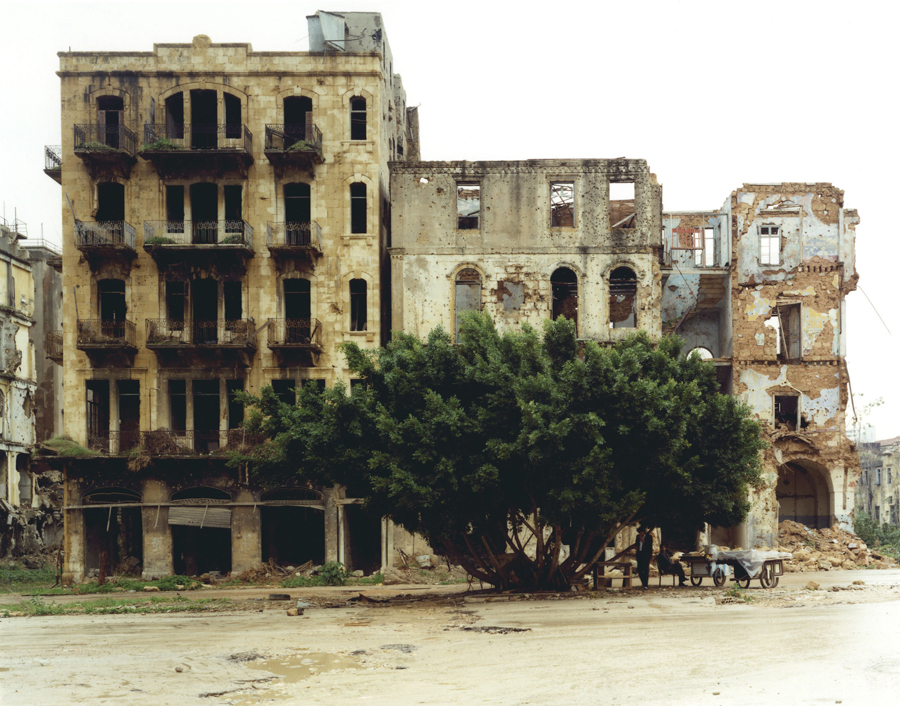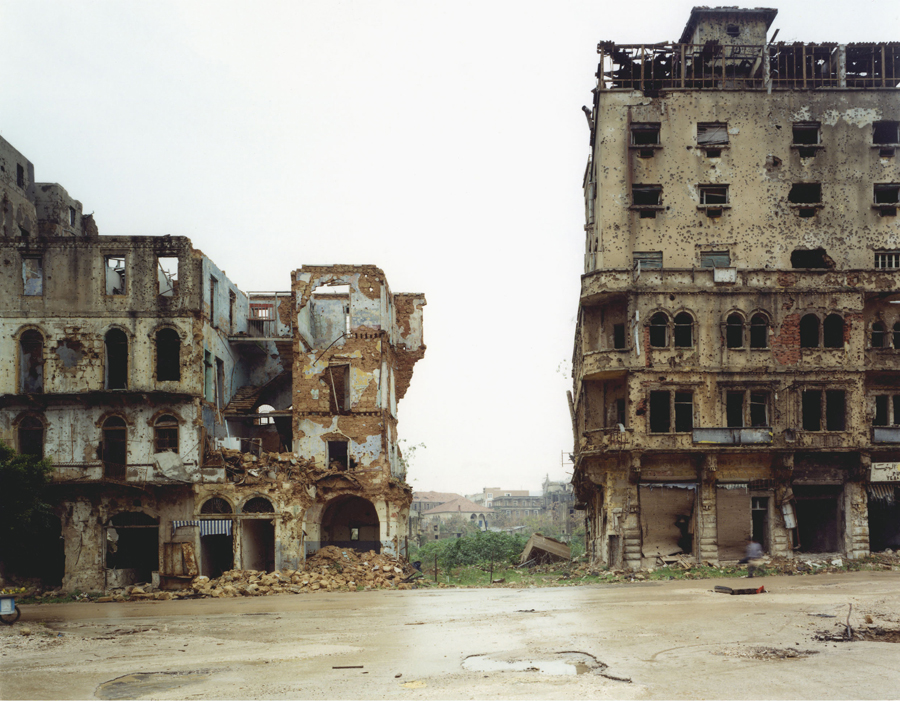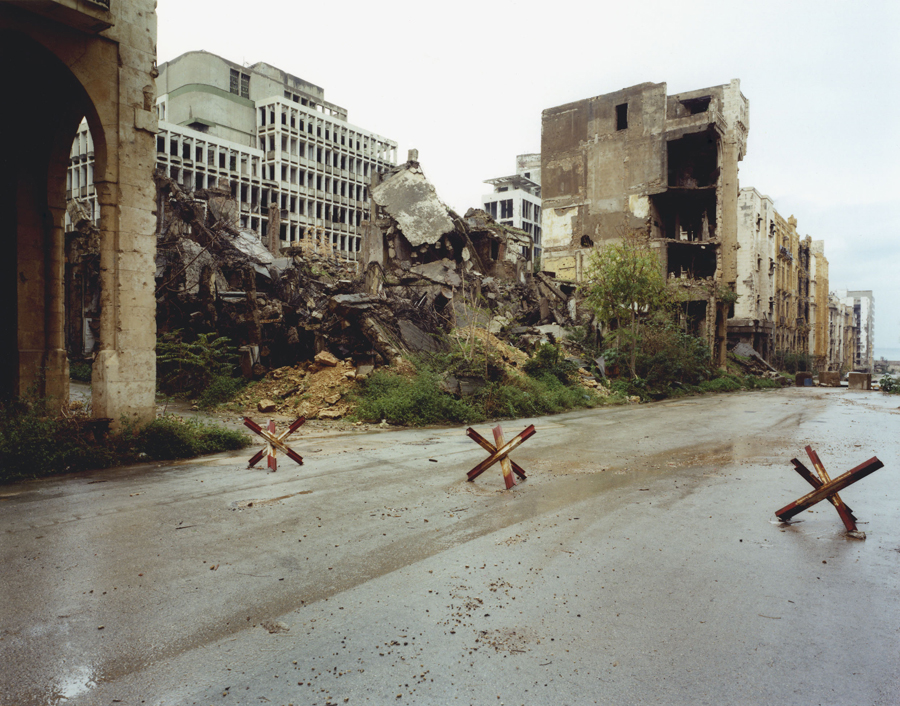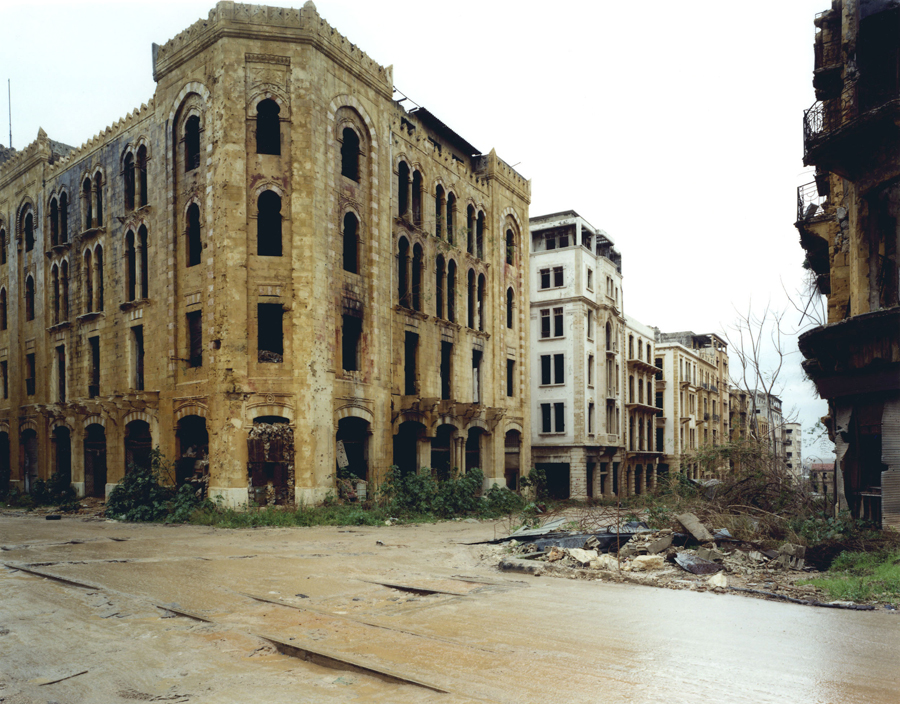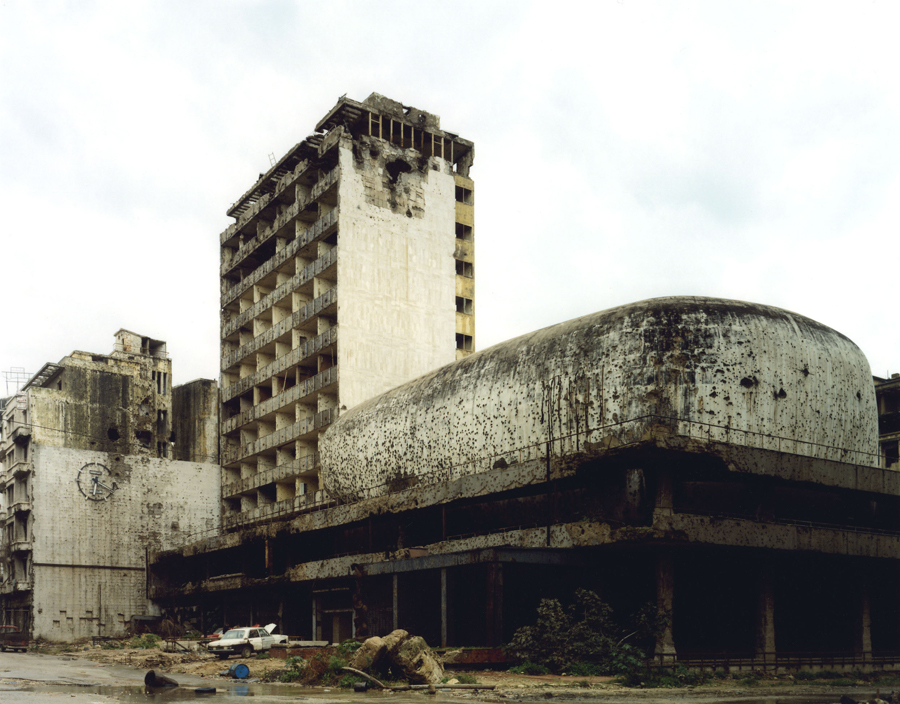 Bord de mer, 1984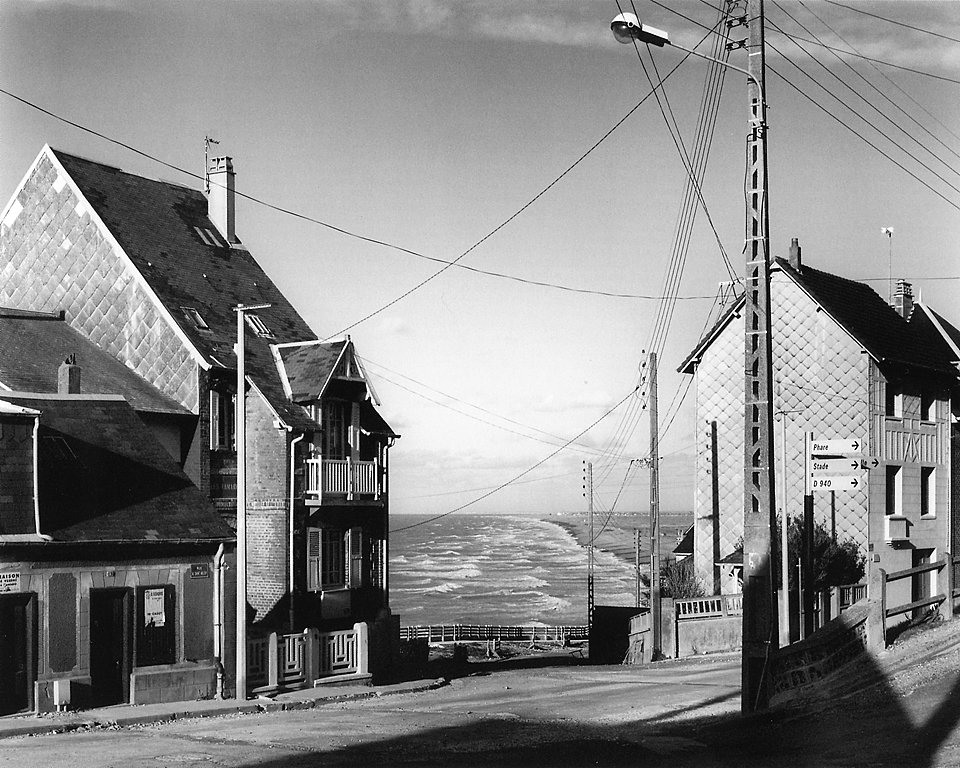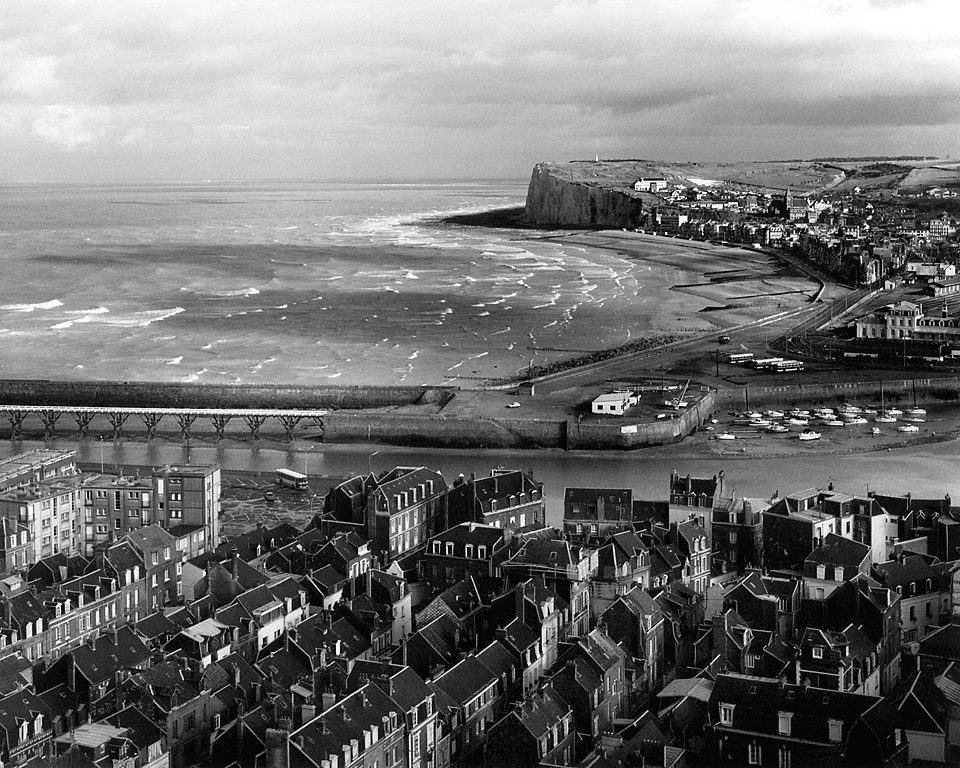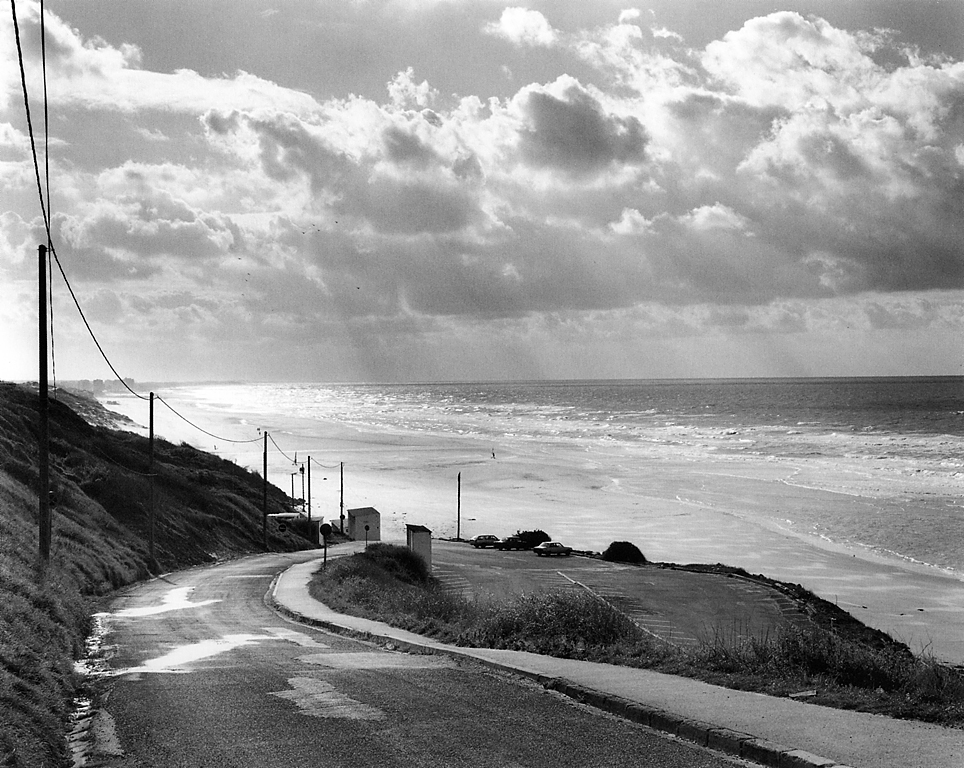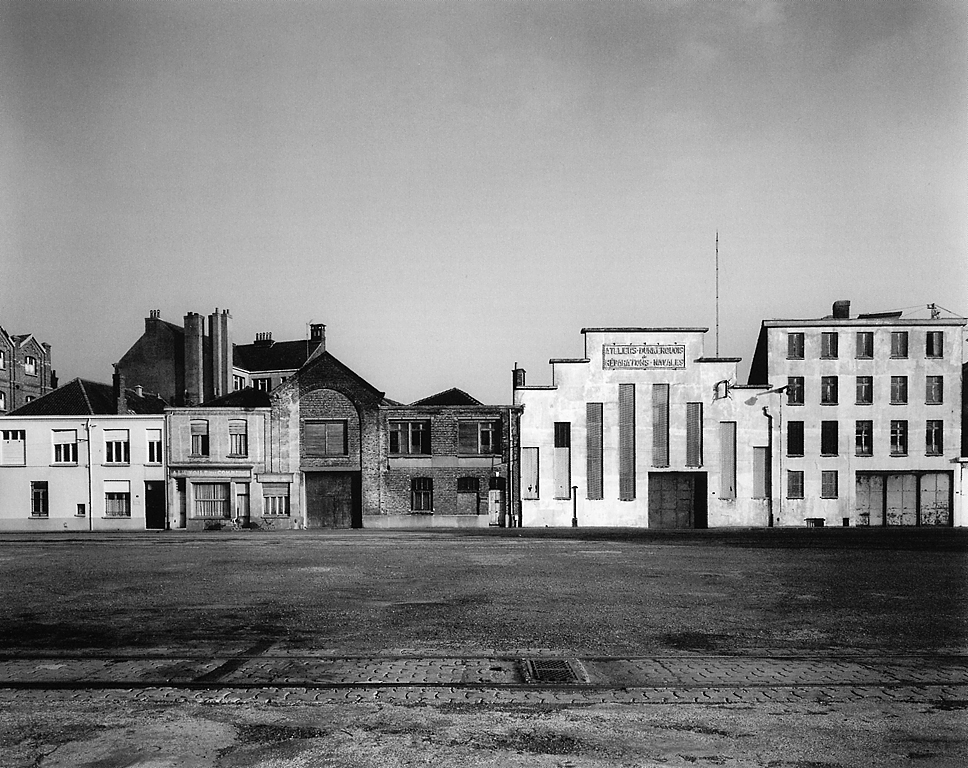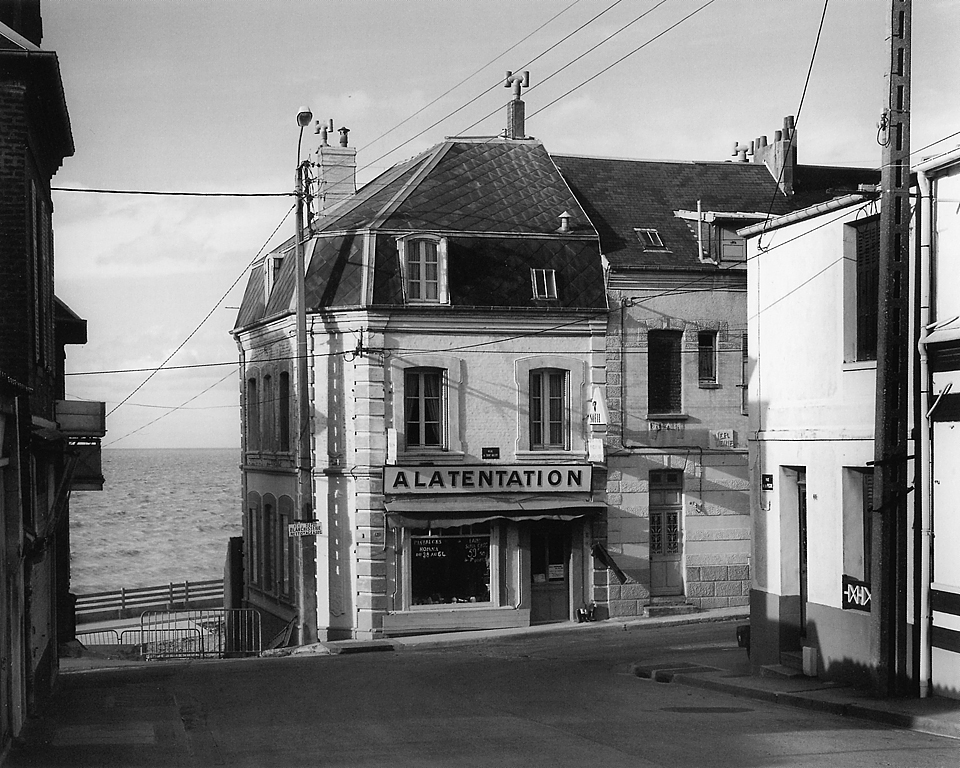 biography
Gabriele Basilico (Milano 1944-2013) is one of today's best known documentary photographers in Europe. Cities and industrial landscapes are his fields of investigation.
Trained as an architect, he takes photographs of pieces of architecture and works for publishers, industrial concerns, public and private institutions. In 1983 the PAC in Milano presented his first important exhibition "Milano, ritratti di fabbriche".
In 1984 and 1985, he took part in the D.A.T.A.R. photographic mission, following the French government's initiative, to document the changes in the national landscape of the time.
He was then invited to participate in many similar projects in different European countries : Italy, France, Germany, Switzerland, Spain, Portugal, Holland, Austria...
In 1990, he was awarded the "Grand Prix International du Mois de la Photo ( International Great Prize of the Photography Month) thanks to "Porti di mare" shown in Paris, a photographic research on various seaports.
In 1991 , with a group of international photographers, he participated in the photographic project on Beirut devastated by the war.
In 1994 Foundation/Gottardo Gallery in Lugano presented an important retrospective gathering fifteen years of photography (1978-1993), a travelling exhibition shown in main European museums.On this occasion, the book "L'esperienza dei luoghi" was published.
On September 15th 1996 , he was awarded the top prize by the international jury of the Sixth Exhibition of Architecture of Venice Biennial Event, for his photographs of contemporary architecture.
In the spring of 2000, the Stedelijk Museum in Amsterdam presented a retrospective of his work related with his latest book "Cityscapes" which, with 330 images ,was an illustration of his work from 1984 to 1999. The same exhibition was to be shown in Porto by the CPF
(Portuguese Center for Photography), in MART (the museum of Modern Art of Trento and Rovereto) , in MAMBA (the museum of modern Art of Buenos Aires).
The same year, his research on the metropolitean area of Berlin came into being, on request of DAAD (Deutscher Akademischer Austausch Dienst) . IVAM ( Valencia Institute of Modern Art) also asked him to make a photographic study on the city of Valencia, for the exhibition "Milano, Berlin, Valencia".
Last but not least, he was awarded the "premio" INU 2000 by the National Institute of Urbanism" (Istituto Nazionale Urbanistica) for his part in documenting contemporary cities through photography .
In 2001 he made a large series, entitled L.R.19/98, about the deserted areas of the Region of Emilia-Romagna and began an important research on the archeological area of the region of Provence-Alpes-Côte d'Azur, the theme of the exhibition "Provincia Antiqua" for the XXXIIIth International Photography Festival in Arles.
In June2002 he was awarded the prize of the year's best photography book by PhotoEspagna for his book "Berlin".
The same year, the Autonomous Province of Trento asked him a documentary piece of work on the province. It ended with an exhibition in the MART.
In 2003, Basilico was back to two important places where he had taken photographs earlier : in the North of France where he was invited by Cherbourg, and once more went across and examined the landscape he had already travelled in 1984-5 for the DATAR mission, and in Beirut where he took photographs of the central part of the city, at that time rebuilt, as a counterpoint of what he had done in 1991.
Both pieces of work are the subjects of the books "Bords de mer" and "Beirut1991 (2003)".
Moreover, in 2003, he took part in Sao Paulo Vth International Biennial Event of Architecture and Design and showed images made in Portugal about recent Portuguese architecture. This exhibition entitled "Disegnare la città" was presented at Milano triennial Fair in January 2004.
The same month, "LR19/98" about the forsaken look of the region of Emilia-Romagna and the larger version of "seasides" were exhibited in Cambridge (Massachusetts) MIT Museum.
In March 2004, Santiago de Compostela GGAC (Centro Galego de Arte Contemporanea) presented Gabiele Basilico and other new European artists'work they had been asked to do on a research project on the city.
In the autumn of 2004, he participated in the exhibition "Arti e Architettura 1900-2000" in Geneva, at the ducal Palace, and he carried out two photographic programmes about Barcelona and Mantova.The Napoli Institute in charge of architectural buildings and landscape invited him to make a new photographic series for the exhibition " Obiettivo Napoli". "Luoghi memorie immagini" ( imagined heritage sites) was exhibited in March 2005 in the Doric Room of Palazzo Reale. The same month , the permanent installation of a photographic opera (27x1,90) was opened on the platform of Vanvitelli Neapolitan underground station. The book "Scattered City", gathering 160 new images of European Cities was also published.
(Some work about Torino urban area is under way for the group "6xTorino" at the Galleria of Modern Art.)
His recent photographic work is devoted to urban transformation.
Solo exhibitions
(selection from 1990)
2017
Photo & co., Torino
galleria TAG, Lugano
vicolo folletto art factories, Reggio Emilia
Fundaciòn ICO, Madrid
2016
Foto-Forum, Bolzano, Ritorni a Beirut
Accademia di Architettura USI, Mendrisio
Studio La Città, Verona, Iran 1970
Spazio Gerra, Reggio Emilia
Studio La Città, Verona
Istituto Italiano di Cultura, Madrid (Gabriele Basilico. Arquitectura y Ciudad. Fotografias de las Colecciones del Maxxi)
2015
Tosetti Value, Torino
Ara Pacis, Roma
Palazzo Zacco, Ragusa, (Iran 1970)
Savignano, Palazzo Vendemini, (Iran 1970)
Milano, Galleria Bel Vedere, (Iran 1970)
Milano, Museo del Novecento,(milanopiazzaduomo, con Marina Ballo)
Abbaye de Jumiéges, (Beyrouth 1991 …)
Milano, UniCredit Pavilion
2014
Sala delle Arti, Reggia di Venaria
Galleria Michela Rizzo, Venezia
Kunstmuseum, Luzern, (in collaborazione con Verein Fotokammer)
City Gallery Bratislava, Palffy Palais
2013
Aedes AM Pfefferberg, Berlin
Galleria del Cembalo, Roma
Omaggio a Gabriele Basilico. L'autore nelle collezioni del Museo di Fotografia Contemporanea, Cinisello BalsamoHotel des Arts, Toulon
Spazio Lavì!, Sarnano, Processo di trasformazione della città. Glasgow 1969
Festival Architecture Week, Prague Rome
MAST Foto/Industria . Bologna, ex Ospedale degli Innocenti . I luoghi del lavoro
Galleria Bel Vedere, Milano (Gabriele Basilico Marco Introini. Viaggi in Scozia)
Politecnico di Milano. Ritratti di Matosinhos. Fotografie di Gabriele Basilico. Disegni di Alvaro Siza a confronto
Galleria Civica di Modena, Palazzina dei Giardini, Gabriele Basilico nella collezione della Galleria Civica di ModenaMAXXI, Roma (Gabriele Basilico. Fotografie dalle Collezioni)
2012
Casa Della Fotografia, Villa Pignatelli, Napoli
Biennale di Venezia, XIII Mostra Internazionale di Architettura
Pavillon Blanc, Médiathèque | Centre d'art de Colomiers
Galerie Anne Barrault, Paris
2011
Muar, Mosca
Gabriele Basilico, Oi Futuro, Rio de Janeiro
Gabriele Basilico et Dan Graham, galerie Minini, Brescia
2010
Gabriele Basilico, fondation Stelline, Milan
Gabriele Basilico, Studio Guenzani, Milan
Gabriele Basilico, Centre italien d'art contemporain, Foligno
Roma 2007, galerie Vu, Paris
2009
Milano ritratti di Fabbriche 1978 – 1980, Mosca verticale 2007 – 2008, Spazio Oberdan, Milan
Le théâtre Carignano de Turin, Maison Européenne de la Photographie, Paris
Langhe 2009, Palazzo Tovegni, Murazzano
Montepulciano site specific., Cantina Icario, Montepulciano
Ritratti di architectura, galerie AAM, Rome
Photo & co, Turin
Gabriele Basilio : Intercity, galerie Amador, New York
Beirut 1991, Fondation Merz, Turin
2008
Teatro carignano, Turin
Moscou vertical, Cité de l'architecture et du patrimoine, Paris
Intercity, Fondation Astroc, Madrid
Planet discovery centre,, Beyrouth
Fondation caixa Galicia, Lugo
Intercity, centre andalou de la photographie, Almeria
Milano, Ritratti di fabbriche, 1978 – 1980, studio Dabbeni, Lugano
Silicon valley, galerie Olivia Arauna, Madrid
Roma, Palais des expositions, festival internationale de la photograhie, Rome
Sala fundacion de cultura, Valladolid
Fondation Astroc, Madrid
From San francisco to Silicon Valley, Musée d'art moderne de San Francisco
2007
Mestre – Gabriele Basilico, galerie contemporaine, Mestre
Pinacothèque, Bari
Photo & co, Turin
Disco to Disco Gabriele Basilico – Massimo Vitali, Jarach Gallery, Venise
Montecarlo, Nouveau Musée National, Monaco
Oltre il paesaggio, Fondation Ludovico Ragghianti, Lucques
Palazzo della ragione, Mantoue
2006
Maison Eurpéenne de la Photographie, Paris
Galerie Anne Barrault, Paris
Palazzo delle Arti, Naples
Fondation Calouste Goulbenkian
Studio Guenzani, Milan
Art Book, Milan
2005
Villa Medicis, Atelier del Bosco, Rome
VM21 artecomporanea, Rome
Studio Dabbeni, Lugano
Galerie Oliva Aaruna, Madrid
2004
Palazzo della Ragione, mairie de Mantoue
Wegelin e Co., Lugano
Crown Gallery, Bruxelles
M.I.T Musée de Cambridge, Masachussets
Triennale de Milan
2003
Espace Antonino Paraggi, Trévise
M.A.R.T., Musée d'Art Moderne de Trente et Roverto, Roverto
Biennale de Sao Paulo, Parc d'Ibirapuera, Sao Paulo
Centre de la Photographie de Haute Normandie, Rouen
Fnac-espace Les Halles (avec Francesco Jodice), Paris
2002
Rencontres Internationales de la Photographie, Arles
Garrnec, galere d'Art Moderne et Contemporain (avec Salvo), Bergame
GAM, Galerie Municipale d'art Moderne et Contemporain, Turin
2001
Cityscapes, Centre Portugais de Photographie, Porto
Gabriele Basilico, Berlino-Milano-Valencia, Institut d'Art Moderne, Valencia
Cityscapes, Museo d'Arte Moderna di Trento e Rovereto, Rovereto
CPF, Centre Portuguais de Photographie, Porto
Studio Guenzani, Milan
Cons Arc, Chiasso
Galerie Anne Barrault, Paris
Galerie Oliva Arauna, Madrid
I.V.A.M Institut d'Art Moerne, Valencia
M.A.R.T., Musée d'Art Moderne de trente et Riverto, Roverto
MAMBA, musée d'art mderne de Buenos Aires
Région Emilie Romagne, ancienne église de Saint Mathias, Bologne
2000
Urban Views, StedelijkMuseum, Amsterdam
Bolzano ovest Bozen west, Centro Civico Europa-Novacella, Bolzano
Magazzini del Sale, Venise
1999
Galerie Ras/ Actar, Barcelone
1998
la citta del porto, Palazzo San Giorgio, Genova
Nelle altre citta, Former Stock Exchange, Basilica Palladiana, Vicenza
Palermo citta, Former Ospedale San Bartolomeo, Palermo (cat.)
Coupes sur le paysage italien. Une exploration de G. Basilico et S. Boeri, IFA, Paris
L'esperienza dei luoghi, Palermo- Fotogallery, Cardiff
1997
Gabriele Basilico.Beirut 91, Berggruen & Zevi Gallery, London
Basilico Beirut, Storefront Gallery, New-York
L'esperienza dei luoghi, Chapelle du Méjan, Arles
Musée Municipal, Riva del Garda
Photo & Co, Turin
Cntre culturel de Belem, Lisbonne
1996
Milano lavori in corso, Studio Guenzani, Milan
Sezione del paessaggio italiano, Pavillon italien, Biennale de Venise,
Mostra Internazionale di Architettura (cat.)
Salles des expositions BBK, Bilbao
Université de Salamanque
1995
Beirut, Teatro Sociale, Bergamo
Orte Erfahren (L'esperienza dei luoghi), Arkitekturforum/Centre Pasquart, Biel
1994
Paesaggi di viaggi, Palazzo Comunale, Modena (cat.)
L'esperianza dei luoghi 1978-1993, Galleria Gottardo, Lugano (cat.)
Nizza in controcampo, Musée Matisse, Nice (cat.)
Porti di mare, landmark Tower, Yokohama
L.A. Galerie, Francfort
1993
Printemps de Cahors
1992
Musée de l'Elysée, Lausanne
1990
Ar / GeKunst Galerie Museum, Blozano
Mois de la Photo, Institut Culturel Italien, Paris
Palazzo Isimbardi; Milan
Group exhibitions
(selection from 1990)
2017
Paysages francais, une aventure photographique (1984-2017), BNF, Paris
La forza delle immagini – Una selezione iconica di fotografie su industria e lavoro., MAST, Bologna
10 years old, Fondazione Fotografia Modena
Roma, il mondo, Institut culturel italien, New York
Roma, il mondo, MACRO, Roma
Archeologie del presente, Studio la Città, Verona
2016
FotoStorie, Triennale de Milan
Time is out of joint, Galleria Nazionale d'Arte Moderna, Rome
Design behind Design, Museo Diocesano, Milan
Disco Emilia, Festival Fotografia Europea, Modène
2015
Inside – Out, Palazzo della Ragione, Milan
Questa è guerra, Palazzo del Monte di Pietà, Padoue
Paris Champ & Hors Champ, Galerie des Bibliothèques, Paris
United Artsists of Italy, Fondazione Sandretto Re Rebaudengo, Turin
A occhi aperti, Auditorium Parco della Musica, Rome
2014
Blow up. Fotografia a Napoli 1980-1990, Villa Pignatelli, Naples
A occhi aperti, Reggia di Venaria
L'Arlésienne, Chapelle de l'Hôtel Jules César, Arles
2004-2014. Opere e progetti del Museo di Fotografia Contemporanea
Palazzo dell'Arte, Triennale de Milan, Milan
Mare Nostrum, Hotel des Arts, Toulon
Perduti nel paesaggio, MART, Rovereto
Michelangelo e il Novecento, Galleria Civica, Modène
Temi & Variazioni. L'Impero della Luce, Peggy Guggenheim Foundation, Venise
Ri-conoscere Michelangelo, Galleria dell'Accademia, Florence
The biographies of Amos Gitai, Museo Nacional Centro de Arte Reina Sofia, Madrid
2013
Concrete – Photography and Architecture, Fotomuseum Winterthur, Winterthur
Quarantanni d'artecontemporanea. Massimo Minini 1973-2013, Palazzo dell'Arte, Triennale de Milan, Milan
Le Noir et le Bleu, MUCEM, Marseille
2012
Addio anni '70. Arte a Milano 1969-1980, Palazzo Reale, Milan
La sfida della fotografia, Galleria d'arte moderna e contemporanea, Pordenone
Ieri oggi Milano. Fotografie dalle collezioni del Museo di Fotografia Contemporanea
Spazio Oberdan, Milano
Poiesis, Oratorio del Gonfalone, Fabriano
Quadratonomade. Opere d'arte in scatola, Palazzo delle Esposizioni, Rome
An Italian perspective, Howard Greenberg Gallery, New York
Alturas de Machu Picchu, Canadian Centre for Architecture, Montreal
Peripheral Visions: Italian Photography in Context, 1950,s – Present, The Berta and Karl Leubsdorf Art Gallery, Hunter College, New York
2011
Cities of New York, Centrale Montemartini, Rome
Alfabeta2 è un'altra cosa …, Cà Vendramin, Venise
Le corps comme langage, Musée de la photographie contemporaine, Milan
Datar 1984 – 1985, Invité d'honneur de la 10ème édition des transphotographiques, Palais des beaux arts de Lille
L'art contemporain et la côte d'Azur – Un territoire pour l'expérimentation, 1951 – 2011, Théâtre de la Photographie et de l'Image Charles Nègre, Nice
L'ombre de la guerre, Maison européenne de la photographie, Paris
Fare gli Italiani, Officine Grandi Riparazioni, Turin
Una prospecettiva italiana. Ma lo sguardo vede ?, Studio La Città, Vérone
2010
Community, La ritualità collettiva prima e dopo il web, Marca, Catanzaro
Maxxi Cantere d'Autore, raconto fotografico, Maxxi, Rome
La Voce delle immagini, Auditorium Parco della Musica, Rome
Cento anni di impresse per l'italia, Ara Pacis, Rome
Man Ray and his heritage, Seoul Muséeum of Art
Cento anni di impresse per l'italia, Triennale de Milan
Piazze di Roma, Moca , Shanghai
Il furore delle immagini, fondation Belavicqua La Masa, Venise
Past, Present, Future, Palais della Ragione, Vérone
Nove 100, Palais du gouverneur, Parme
Le Modernisme, architecture et utopie sociale, Dieppe festival de la côte d'albâtre, Dieppe
Le Havre, images sur commande, Musée Malraux, Le Havre
Il grande gioco, Gamec, Bergame
2009
Spazio, tempo, immagine, centre d'art contemporain italien, Foligno
La camera dello sguardo. Fotografi italiani, Palazzo S.Ellia, Palerme
Ombre di guerra, Rotonda della Besana, Milan
United Artists of Italy, Fondation Stelline, Milan
Kaléidoscope d'Italie, Centre National de l'audiovisuel, Dudelange
La Magia della Polaroid, Centro Italiano della Fotografia d'Autore, Bibbiena
L'Horizon Vertical, Médiathèque Noailles, Cannes
Giorni Felici, Casa Testori, Novate
10 fotografi d'oro, Galerie Civica Cavour, Padoue
Expo dopo Expo, Palazzo dell'Arte, Triennale de Milan
Voyages pittoresques  Normandie 1820-2009 – La Normandie contemporaine, Musée des Beaux-arts, Caen
United Artists of Italy, Palais des Beaux-Arts de Bruxelles
11 fotografi d'oro, galerie Civica Cavour, Padoue
UNO: Basilico, Fontana, Ghirri, Jodice, Vaccari, Ex Ospedale Sant'Agostino, Modena
Italian Art between Tradition and Revolution, 1968-2008, Musée d'art contemporain, Chicago
G.D Tecnologia e Arte, Pinacothèque nationale, Bologne
2008
Water, Musée de la photographie, Thessaloniki
Cities on the edge, Novas Contemporary Urban Centre, Liverpool
Alberto Burri, Palazzo dell'Arte, Triennale de Milan
Ereditare il Paesaggio, Spazio Officina, Chiasso
La Visione dello Spazio, Padiglione Oval Lingotto, Turin
Munio Weinraub andAmos Gitai : Architecture and Film in Israel, Architekturmuseum, Munchen
Italics, Palazzo Grassi, Venise
Biennale Internationale de la photograhie, Musée de Santa Giulia, Brescia
Fresco Bosco, Certosa di Padula, Padula
United Artists of Italy, Musée d'Art Moderne de Saint Etienne, Saint Etienne
Artistas y fotografos. Imagenes para una colecciòn, Musée d'art contemporain de Madrid
Le meraviglie d'Italia I 40 siti iscritti nella lista del Patrimonio Mondiale dell'UNESCO, Biblioteque Nationale, Rome
Ereditare il paesaggio, Museo del Territorio Biellese, Biella
2007
Il secolo di Giorgio De Chirico. Metafisica e Architettura, I.V.A.M., Institut d'art moderne, Valence
Milano Ritratto in Movimento, Spazio Forma, Milan
La collezione Unicredit, Paris Photo, Paris
Pensa con i sensi – senti con la mente. L'arte al presente. 52e Biennale de Venise, Corderie dell'Arsenale
Dalla terra alla luna: metafore di viaggio, Castello di Rivoli
Global Cities, Tate Modern, Turbine Hall, London
Territoires Partagés, Chateau de Villeneuve, Fondation Emile Hugues, Vence
Paesaggio prossimo, Spazio Oberdan, Milan
Mentalscapes, Tel Aviv Museum of Art
Polyptics, Galerie Crown, Bruxelles
2006
Storie Urbane, Settimana della fotographia; Mairie de Reggio Emilia.
Roma, Gabriele Basilico e le cartoline degli anni 50, festival de la Photographie, Musée de Roma in Trastevere, Rome
Immagini del costruire, 1946-2006. Complexe de S. Spirito in Saxia, Rome.
La mer, galerie Clairfontaine, Luxembourg
L'energia delle idee, Auditorium du Parc de la Musique, Rome
La collection du musée de Monaco, Fondation Memmo-Palazzo Ruspoli, Rome.
Orientalismi, studio la Città, Vérone
2005
La dolce crisi, Villa Manin, Passariano
Mediterranea, Pinacothèque régionale; Bari
6 x Torino, GAM, Galerie d'Art Moderne, Turin.
Farsites, Musée d'Art Contemporain, San Die
Barcelona & Fotographia, Musée d'Histoire de la Ville, Barcelone
Musac, Musée d'Art Contemporain de Castille et du Leon
Corigliano calabro festival, Palais Ducal, Corigliano Calabro
Sul filo della lana, cloitre de Saint Sebastien, Biella
XL, La collection photographique d'Arles, Musée reattu, Arles
Obiettivo Napoli, Luoghi, memrie, immagini; Salle Dorique du Palais Royal, Naples
Il Male. Esercizi di pittura crudele. Pavillon de chasse de Stupinigi, Turin.
2004
Raconti di Paisaggio 1984-2004. A vent'anni da Viaggio in Italia, Musée de
la Photographie Contemporaine, Cinistello Balsamo
Lacoonte Devorado, Arte y violencia politica, Centre José Guerriero, Grenade.
Group exhibition, galerie Oliva Aurana, Madrid
Affinità, salle doriuqe du Palais Royal, Naples
Arti e architectura 1900-2000, Palais Ducal, Gênes
La collection photographique de la Fnac, gaerie du Credito Valtellinese, Palazzo delle Steline, Milan. Palazzo
2003
FIAC, Galerie Anne Barrault, Paris
2001
Instant City, Centro per l'arte contemporanea Luigi Pecci, Prato
La repubbliche dell'arte . Berlino, Palazzo delle Papesse, Siena
2000
Milano senza confini, Spazio Oberdan, Milano
Mutations, Arc en rêve centre d'architecture, Bordeaux
1999
Esguards distants, IVAM, Valencia (cat.)
Proiezioni 2000 . Lo spazio delle arti visive nella cività multimediale
XII Quadriennale d'arte di Roma, Palazzo delle esposizioni, Roma
Inside-Outside, Galerie Fucares, Almagro
1998
Premises : Inveted Space in Visual Arts, Architecture and Design 1958-98,
Guggenheim Museum Soho, New-York (cat.)
Paysages du quotidien, Encontros de Fotografia, Coimbra
1968-1998, Fotografia e arte in Italia, Commune di Modena, palazzo Santa
Margherita, Modena (cat.)
1997
Zurich 1997, Kunsthaus, Zurich
Fotografia italiana per una collezione. La collezione Sandretto Re Rebaudengo,
Fondazione Italiana per la Fotografia, Turin (cat.)
Il San Gottardo, Fondazione Galleria Gottardo (cat.)
Venezia-Marghera. Fotografia e trasformazioni nella citta contemporeana,
Capannone Pilkington, Marchera (cat.)
Points de vue européens de Loseph Sudek à Gabriele Basilico,
Maison Européenne de la Photographie, Paris
Archvio dello Spazio 1987-97, Palazzo dell'arte, Triennale de Milan (cat.)
1996
Lleida panorama, Collegi d'Arquitectes de Catalunya, Demarcacio de Lleida (cat.)
Archivio dello Spazio 4, Palazzo dell'Arte, Triennale di Milano (cat.)
Uma cicade assim, Camara Municipal de Matosinhos (cat.)
La Photographie contemporaine en France. Dix ans d'acquisitions,
Centre Georges Pompidou, Paris (cat.)
1995
O sitto o signo, Alfandega Nova, Oporto (cat.)
Archivio dello Spazio 3, Palazzo Isimbardi, Milan (cat.)
Anni Novanta Arte e Milano, galerie du Credito Valtelinese, Refettorio elle Steline, Milan.
Chimica aperta, Palazzo della Ragione, Milan
L'io e il suo doppio. Un secolo di ritratto fotografico in Italia, 1985-1995, XLVI Biennale de Venise, pavillon italien.
Salle Viscomtale du Chateau des Sforza, Milan.
1994
Il ruolo della critica, Palazzo Comunale, Modena (cat.)
La ville, art et architecture en Europe, 1870-1993, Centre Georges Pompidou, Paris
Colleccion recorridos Fotograficos 1994, ARCO, Madrid
La città dentro le mura, Palazzo Comunale, Modene
Tredici fotografi per un itinerario pasolinanio, CRAF Spiiilimbergo
Barcelona/ Berlin, Collegi d'arquitectes de Catalunya, Barcelone
1993
Fotografi italiani, Accademia Carrara, Bergamo
Immagini italiane, Fondation Guggenheim, Venise
Muri di carta, XLV Esposizione Internazionale d'Arte, Venezia
Archivio delllo Spazio 2, Palazzo Isimbardi, Milan
Photographies d'une collection, Caisse des Depots et Consignations, Paris.
Muri di carta, XLV Expositions Internationale d'Art, Venise
Immagini italiane, Fondation Guggenheim, Venise
Genius loci, Mois de la photo 93, reims, chaeau du Grand Jardin, Joinville
Jardin do Paraiso, Rencontres de Photographie, centre Culturel de Belem, Coimbre
Ria de Hierro, Salle des Expositions de l'archivio Foral de Bizkaia, Bilbao
La Durance, Paysages en regards, Musée de l'Hotel-Dieu, Porte d'Avignon, Cavaillon,
Fotographi italiani, Accademia Carrara, Bergame
Miranda fin de siglo, Madrid visto por….Fondation Clulturelle Banesto, Madrid
1992
Wasteland, Landscape from now on, Fotografie Biennale Rotterdam (cat.)
Beyrouth Centre ville, Palais de Tokyo, Paris
Musa Museu, Palau de la Virreina, Barcelone (cat.)
Viaggio fotografico nell'interno della Valle d'Aosta, Centre St Benin, Aoste
Premiere Photo, Galerie du Jour, Paris
La Logique de la complexité, Institut Fraçais d'Architecture, Paris.
1991
Site work, Architecture in Photography since early Modernism,
The photographers' Gallery, Londre (cat.)
Mit dem "Rotem Blitz" in die schöne Weststeiermark, Haus der architektur, Graz;
Palazzo dei Principi, Corregio (cat.)
En bateau, Palais de Tokyo, Paris
Archivio dello Spazio 1, Palazzo Isimbardi, Milan.
1990
IV Fotobienal Vigo'90, Centre des Etudes Photographiques, Vigo (cat.)
I Rioni storici nelle immagini disette fotografi, Palazzo Braschi, Rome.
Bibliography
2011
Gabriele Basilico, da Istanbul a Shanghai, éditions Silvana, Cinisello Balsamo, textes de Pippo Ciorra et Ludovico Pratesi, entretien de Gabriele Basilico par Ludovico Pratesi
Unidentified Modern City, Gabriele Basilico & Dand Graham, JRP Ringier, Zurich, textes de Maurizio Bortolotti, entretien de Gabriele Basilico par Dan Graham
Gabriele Basilico, édition Barléu ltda/Oi Futuro, Rio de Janeiro, textes de Maria Arlete Goncalves et Nina Dias et Paola Chieregato
Il mio domani, (avec Toni Thorimbert), édition Film Kairos/Contrasto, Rome, textes de Francesco Pamphili et Giovanna Calvenzi
2010
Gabriele Basilico, Istanbul 05 010, éditions Corraini, Mantoue, textes de Camillo Fornasieri et Luca Doninelli
2009
Teatro Carignano. Dalle origini al restauro, Contrasto et Agarttha Arte, Turin,textes de Adele Re Rebaudengo et Jean Luc Monterosso, Luca Ronconi, Laura Palmucci Quaglino, Franca Varallo, Paolo Marconi
Langhe. Gabriele Basilico nei luoghi di Beppe Fenoglio, Umberto Allemandi, Turin, textes de Luca Bufano, Paola Gramaglia et Lanfranco Ugona, Michele Vinello, Maddalena D'Alfonso
Montepulciano Site Specific, Silvana Editoriale, Cinisello Balsamo 2009. textes de Alessandra et Andrea Becchetti, Marco Meneguzzo, avec un entretien de Gabriele Basilico par Marco Meneguzzo
Milano ritratti di fabbriche, Federico Motta Editore, Milan, textes de Roberta Valtorta et Stefano Boeri
2008
Gabriele Basilico Silicon Valley, Skira, Milano, texte de Sandra Phillips, Makeda Best, avec un entretien de Gabriele Basilico par Filippo Maggia
Intercity, La Fabrica, Madrid, textes de Marc Augé et Jean Luc Monterosso
Mosca Verticale, Federico Motta Editore, Milan, textes de Alessandro De Magistris, Christian Caujolle, Gabriel Bauret, Umberto Zanetti
Gabriele Basilico Roma, Baldini Castoldi Dalai, Milan
2006
Desegnare nella città. Architettura in Pportgallo, Actar, Barcelone.
Gabriele Basilico Lisboa, Fondation Calouste Gulbenkian, Lisbonne. Introduction de Madalena d'Alfonso.
Gabriele Basilico, Photo Books 1978 – 2005, Edizioni Corraini, Mantoue, texte d'Italo Rota.
2005
Gabriel Basilico, Phaidon Press, Londres; texte de Francesco Bonami.
Scattered City, Baldini Castoldi Dalai Editore, Milan / Le Point du jour, Paris. Introduction d'Angela Madesani. Avec une conversation de l'auteur avec Yona Friedman, hans Ulrich Obrist et Stefano Boeri.
2004
Gabriele Basilico, Assemblée de Galice- Centre Calego d'At Contemporain, Saint Jacques de Compostelle. Textes de ramon Esparza, Miguel Fernadez Cid.
2003
Beirut 1991 (2003) Baldini & Castoldi Dalai Editore, Milan, le Point du Jour, Paris. Textes de Francesco Bonami, Dominique Eddé, Gabriele Basilico.
Bord de mer, Baldini & Castoldi, Milan, Le Point du Jour, Paris. Textes de Bernard Latarjet et Gabriele Basilico.
Trentino. Viaggio fotografico di Gabriele Basilico. Nicolodi Editore, rovereto,. Textes de Roberto Pinter et Roberta Valtorta.
2002
Gabriele Basilico fotografie 1978-2002.; GAM, Turin. Catalogue de l'exposition à la Galerie d'art moderne et Contemporain, Turin. Textes de Roberta Valtorta, Marco Meneguzzo, Pierre Alain Croset.
Basilico – Salvo, Lubrina Editore, Bergame. Catalogue de l'exposition à la Galerie d'art moderne et contemporain, Bergame. Introduction de Giacinto Di Pietrantonio, Gabriel Basilico et Salvo.
Provincia Antiqua, Actes Sud, Arles. Catalogue de l'exposition au XXXIII Rencontres de la Photographie, Arles. Textes de Bernard Millet et Christian Caujolle.
2001
-Berlin, Baldini & Castoldi, Milan. Actes Sud, Arles 2002/thames & Hudson, Londres 2002, Textes de Gabriele Basilico, Stefano Boeri, Hans Ulrich Olbrist, Renate Siebenhaar
– L. R. 19/98. La riqualificazione delle aree urbane in Emilia Romagna.
Editric Compostori, Bologne. Catalogue de l'exposition dans l'ancienne église de Saint Mathias, Bologne, 2002. Textes de Gabriele basilico, Richard Ingersoli, Pierro Orlandi, Roberta Valtorta.
Gabriele Basilico 55, Phaido Press, Londres, textes de Francesco Bonami. 75 photographies en noir et blanc.
Milan, Berlin, Valencia, Actar, Barcelone. Catalogue de l'exposition à l'IVAM, Valencia. Textes de Basilico, Josep Vincent de Monzo, Kosme de Baranano, Eduardo Souto Moura.
2000
Urban Views, Gabriele Basilico & Beat Streuli, NAI Uittgevers / Publishers Rotterdam,. Texts by Hripsimé Visser
Urban Lights, Arti Graphiche Amilcare Pizzi, Milano, Catalogue de l'exposition.
1999
The interrupted City / La ciudad interrumpida, Actar, Barcelona, Letter and note by Gabriele Basilico
Cityscapes, Baldini & Castoldi, Milano, Thames and Hudson, London, Texts by Alvaro Siza and Filippo Maggia
1998
Italy, cross-setions of a country, Scalo, Zürich, text by Stefano Boeri
Nelle altre citta, Atr & Udine, Text by Gabriele Basilico
Attraversare Bergamo, Bolis/A.C.E.B., Bergamo, Interview by Giacinto Di Pietrantonio, text by Vanni Zanella
Palermo Citta, Associazione Eva Kant/Provincia di Palermo, Palermo Texts by losalita Ciavarino and Elisa Fulco
1994
L'esperienza dei luoghi, Fotografe di Gabriele Basilico 1978-1993, Fondazione Galleria Gottardo, Lugano, Arts & Udine, Text by Roberta Voltorta
Basilico Beyrouth, La Chambre Claire, Paris, ( Italian edition, Basilico beirut, Atr & Udine, 1994) Interview by Gabriel Bauret, note by Gabriele Basilico
1992
Bord de mer, Art & Udine, Text by Bernard Latarjet, note by Gabriele Basilico
1991
In treno verso l'Europa, Petit Associat, Rome, Texts by Igor Man, Diego Mormorio, Aldo Rossi
1990
Porto di mare, Art & Udine. Introduction by Aldo Rossi, text by Roberta Voltorta
exhibitions
Gallery exhibitions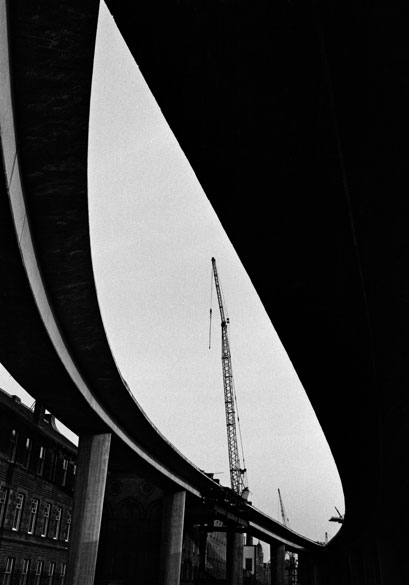 7 November - 23 December 2017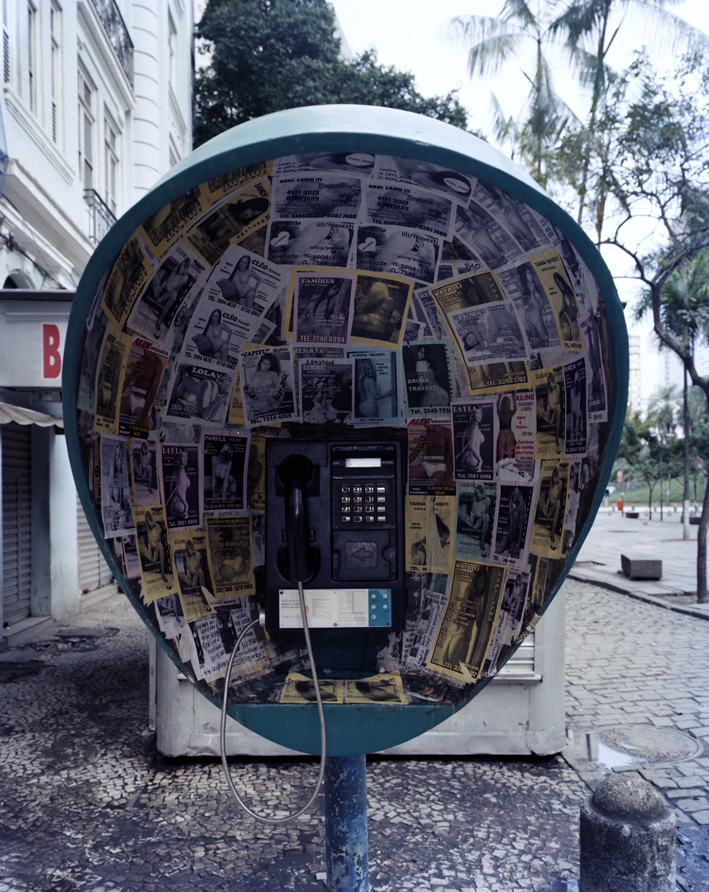 14 janvier - 10 mars 2012
books & prints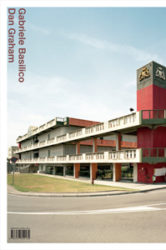 Gabriele Basilico & Dan Graham, texts from Gabriele Basilico, Maurizio Bortolotti, Dan Graham, Massimo Minini.
Maurizio Bortolotti, Lionel Bovier, Massimo Minini.
2011
22 x 33 cm
80 pages
30 €