works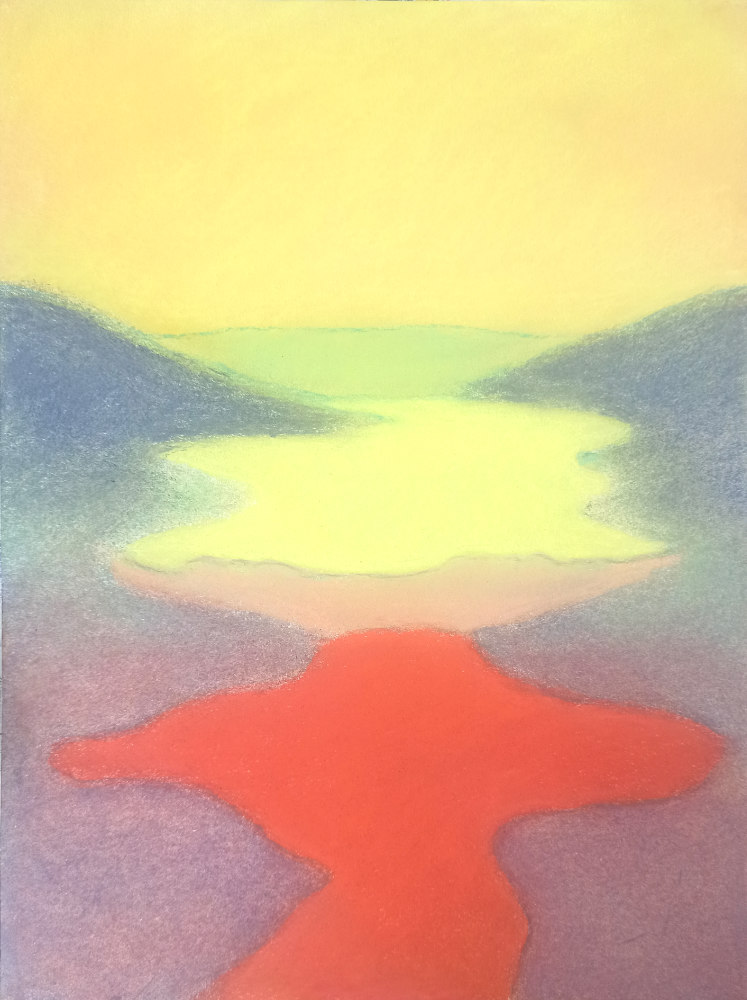 Guillaume Pinard
Du lac jaune, 2023
pastel sec on paper
40 x 30 cm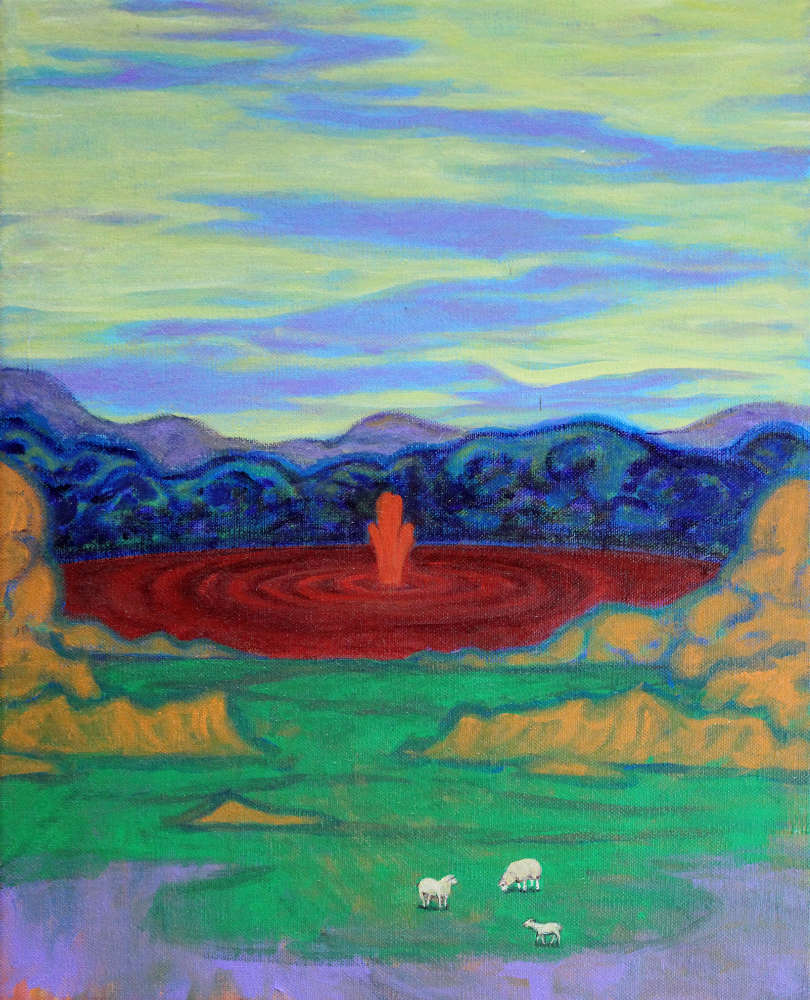 Guillaume Pinard
La plaie, 2023
acrylic on canvas
41 x 33 cm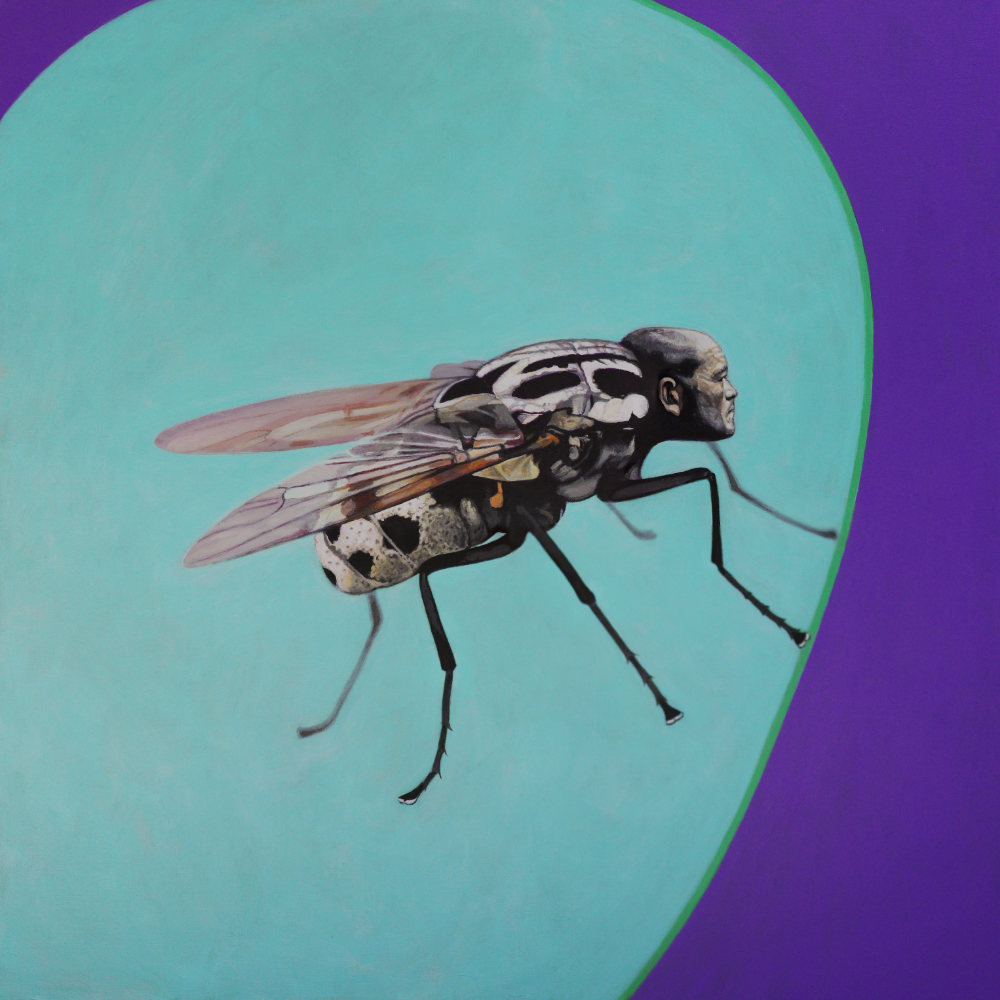 Guillaume Pinard
Graphomyie, 2023
acrylic on canvas
80 x 80 cm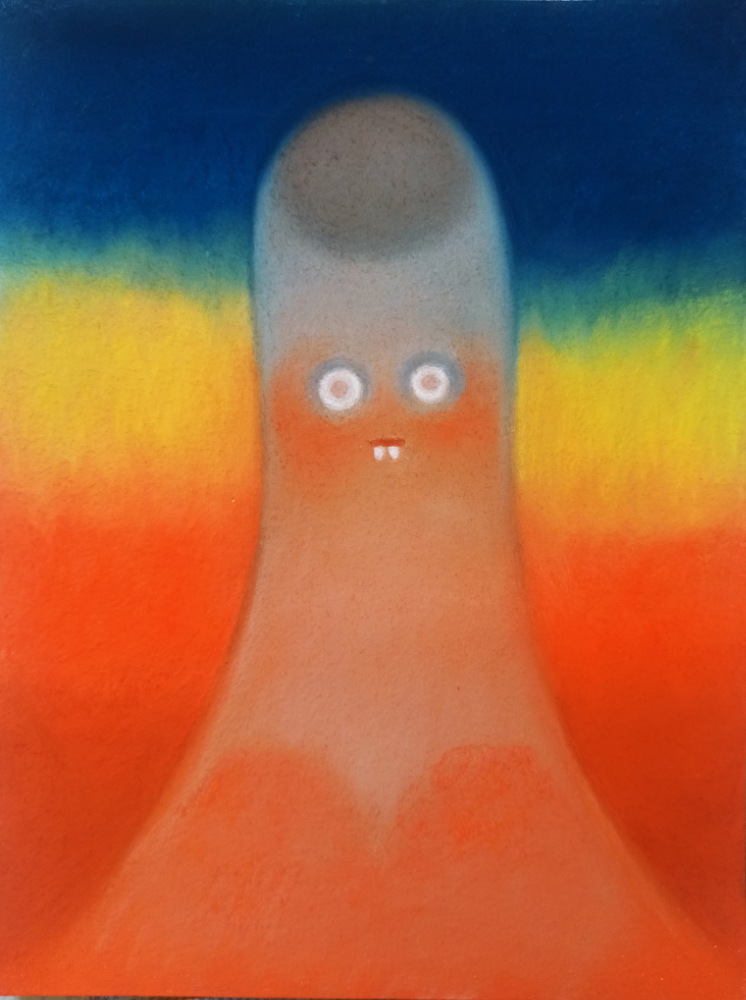 Guillaume Pinard
Moite, 2023
pastel sec on paper
40 x 30 cm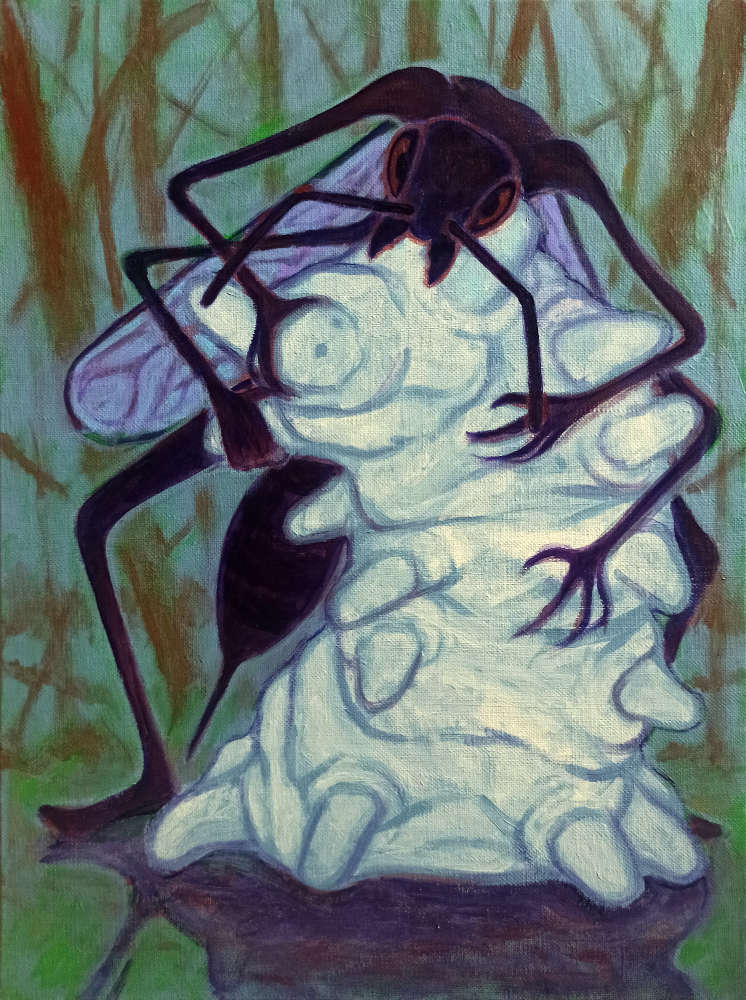 Guillaume Pinard
La guêpe noire, 2023
acrylic on canvas
40 x 30 cm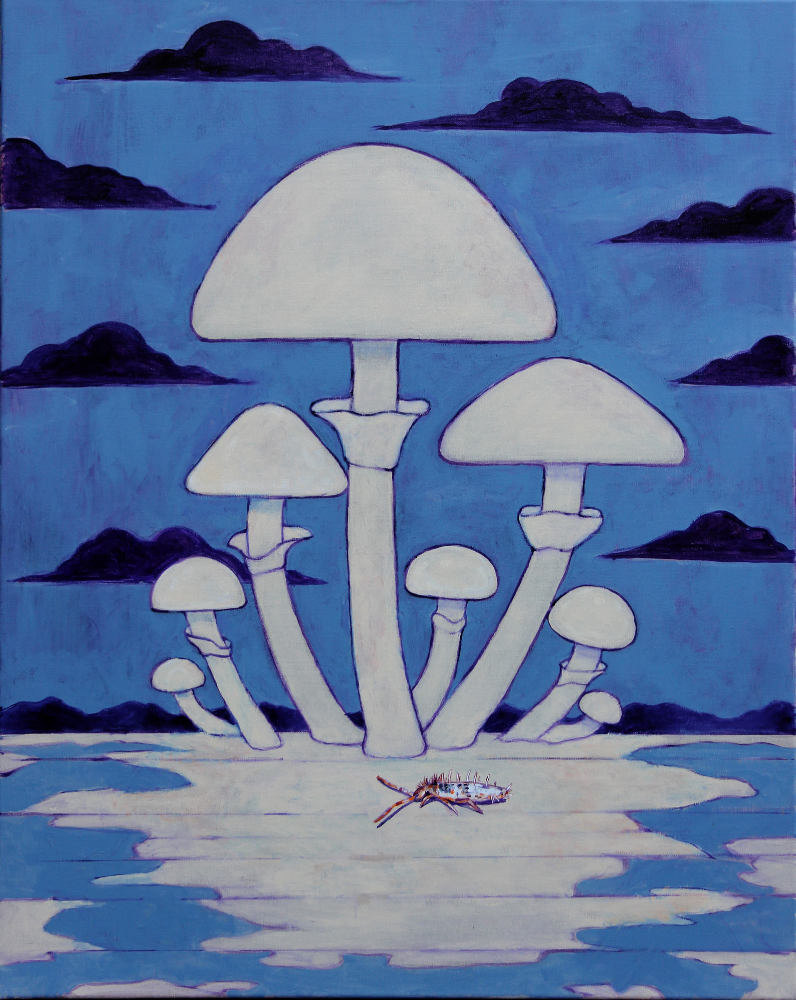 Guillaume Pinard
L'horizon des collemboles, 2023
acrylic on canvas
100 x 80 cm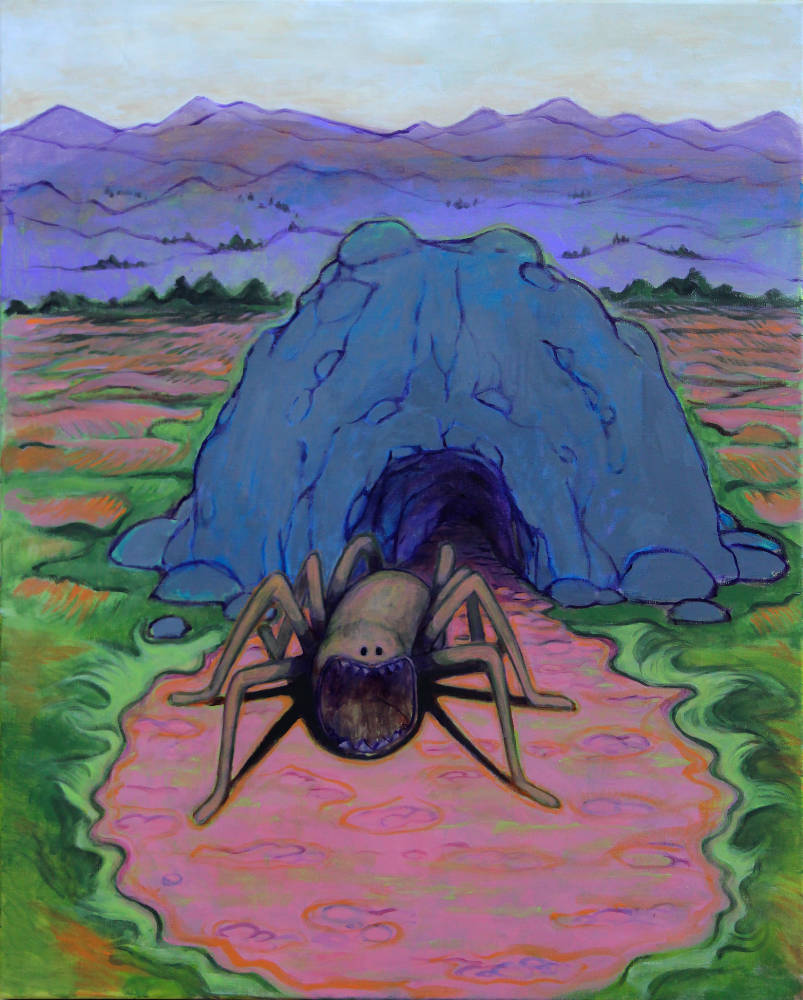 Guillaume Pinard
Striduler encore !!!, 2023
acrylic on canvas
100×80 cm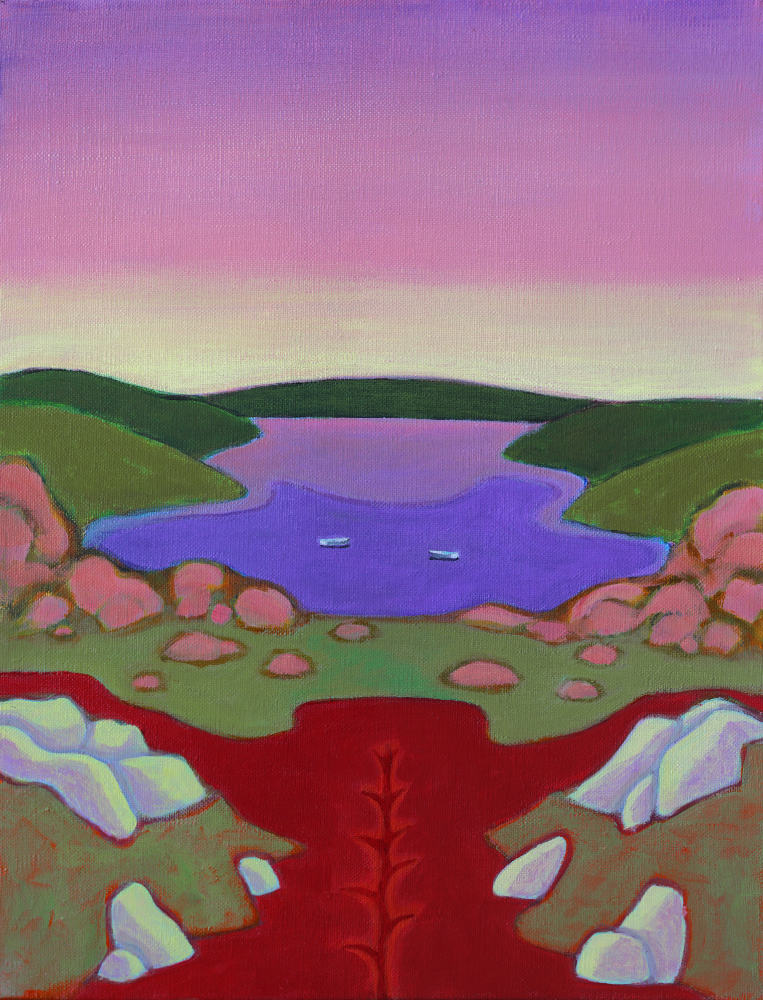 Guillaume Pinard
Le paysage du bout de la langue, 2023
acrylic on canvas
40 x 30 cm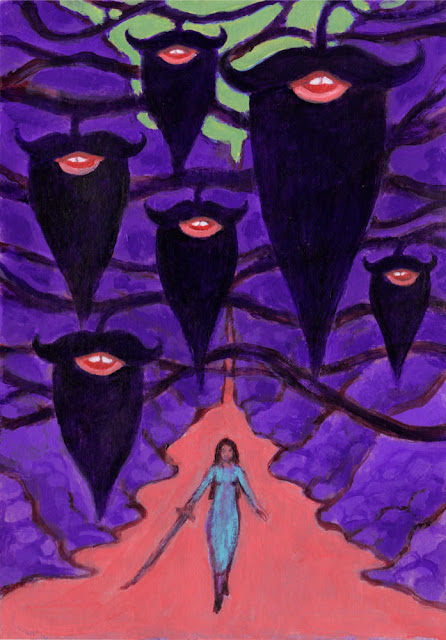 Guillaume Pinard
En arrivant dans la forêt de barbes, 2023
acrylic on paper
21 x 14,5 cm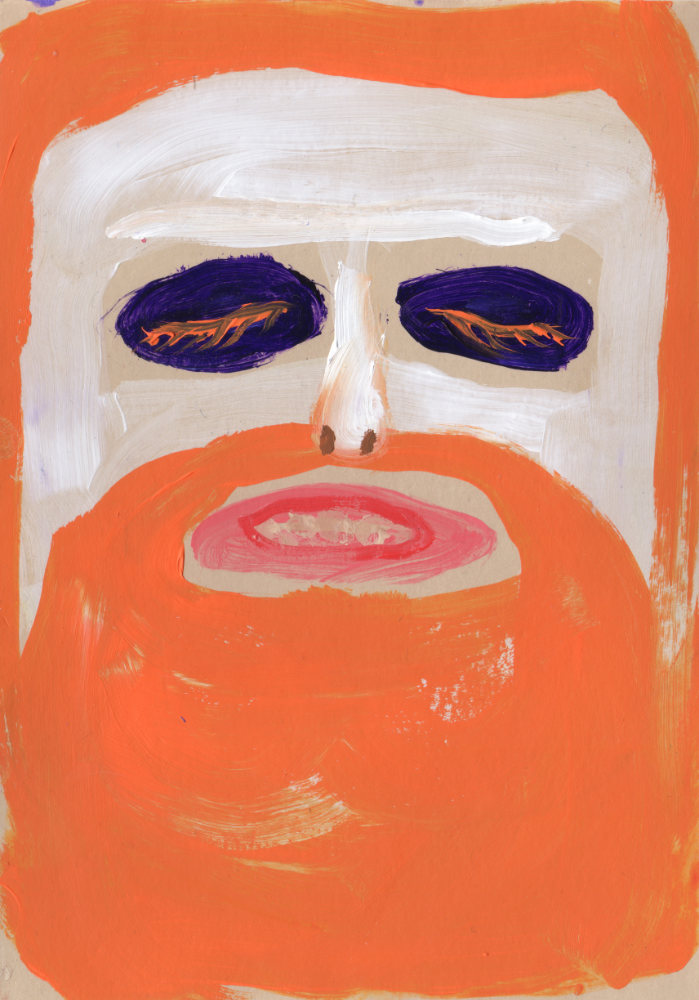 Guillaume Pinard
Le flamand, 2023
acrylic on paper
21 x 14,5 cm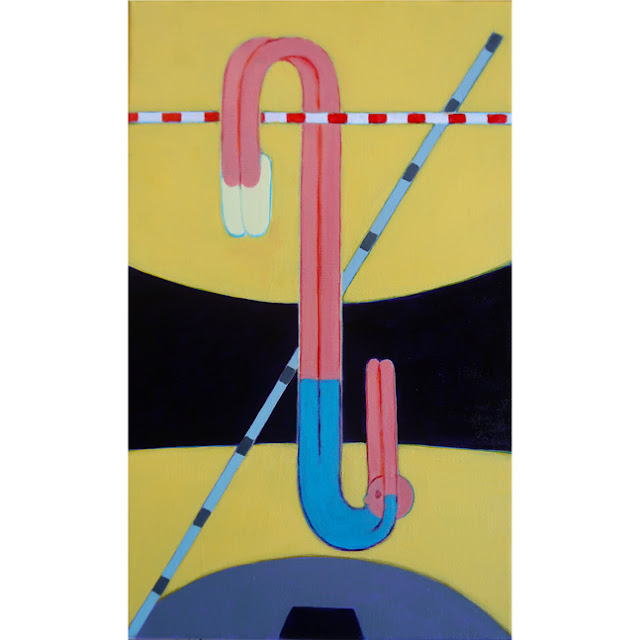 Guillaume Pinard
La perche, 2022
acrylic on canvas
50 x 30 cm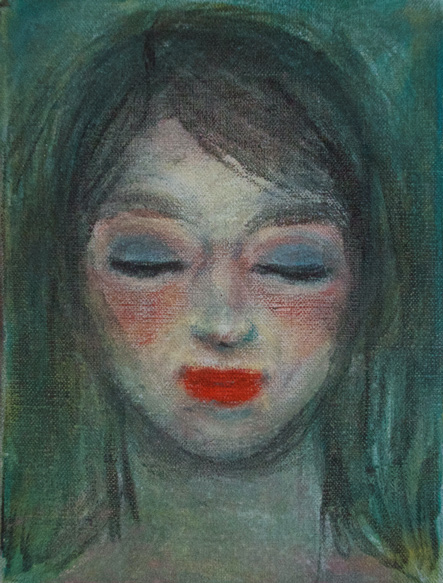 Guillaume Pinard
Portrait, 2022
acrylic and soft pastel on canvas
24 x 18 cm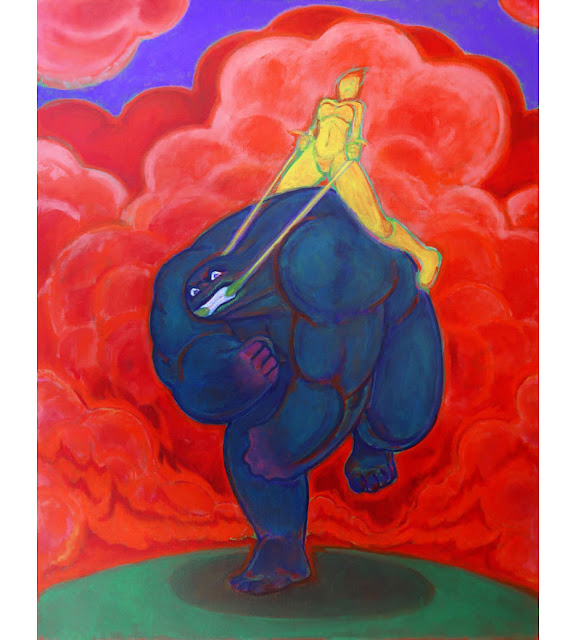 Guillaume Pinard
La flamme de l'épi, 2022
acrylic on canvas
80 x 64 cm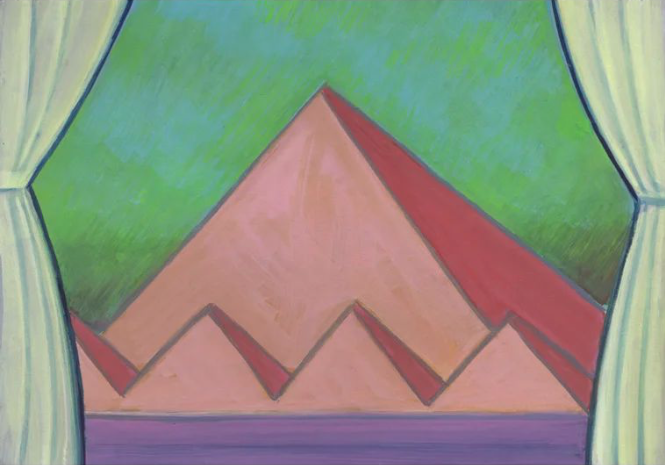 Bravo !, 2022
gouache on paper
14,8 x 21 cm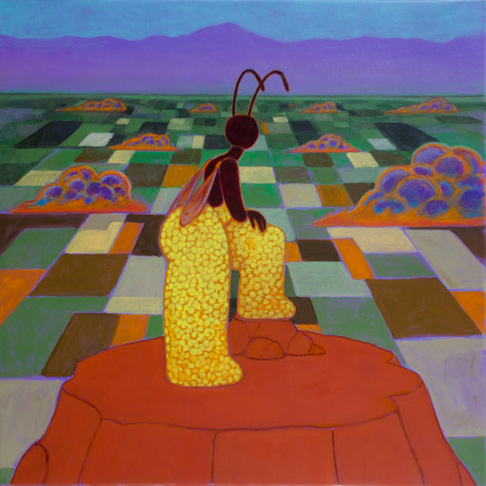 Guillaume Pinard
Pollen, 2022
acrylic on canvas
80 x 80 cm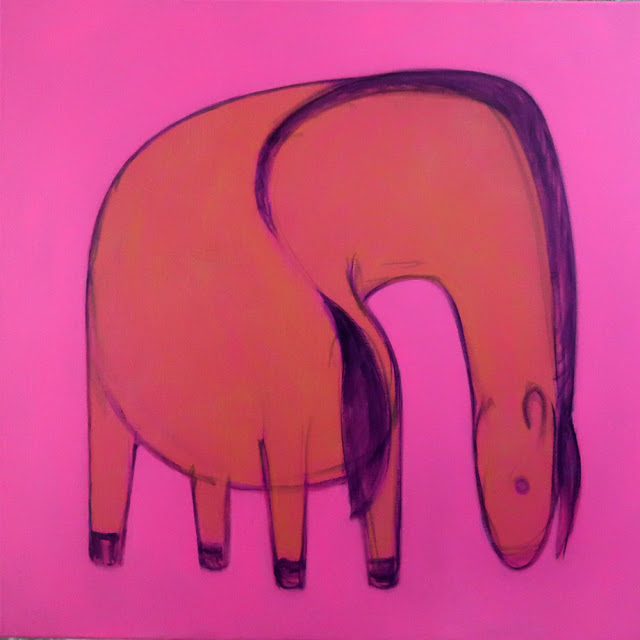 Guillaume Pinard
Retour au pâturage, 2021
acrylic on canvas
80 x 80 cm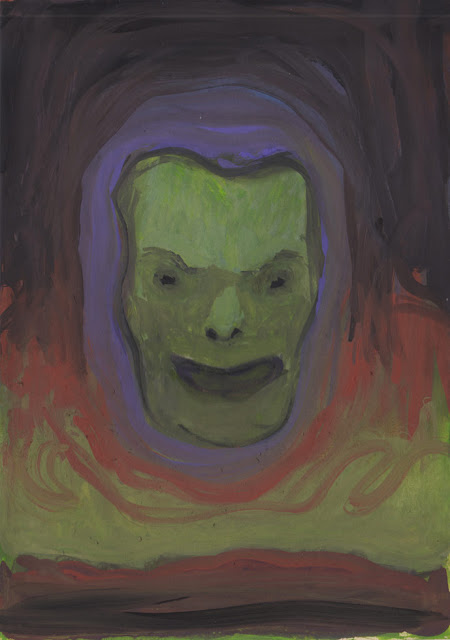 Guillaume Pinard
Gnac-Gnac-Gnac !, 2022
gouache on paper
21 x 14,8 cm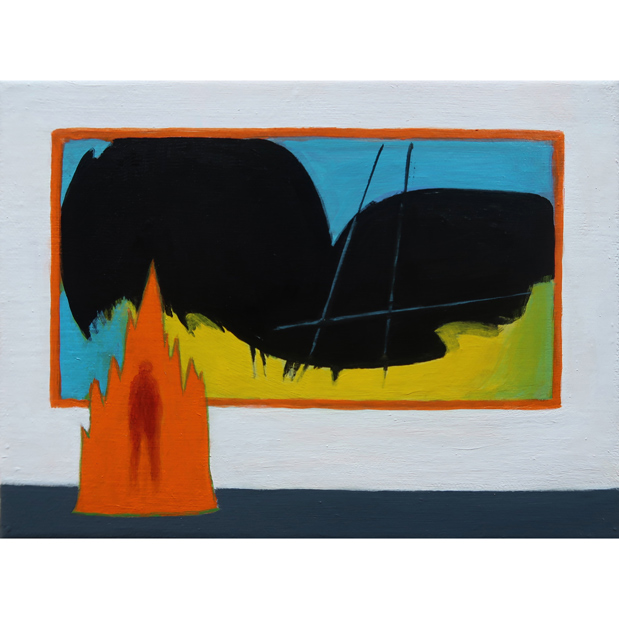 Guillaume Pinard
Quand je me suis enflammé devant HH723-0 de Hans Hartung
, 2022
acrylic on canvas
18 x 24 cm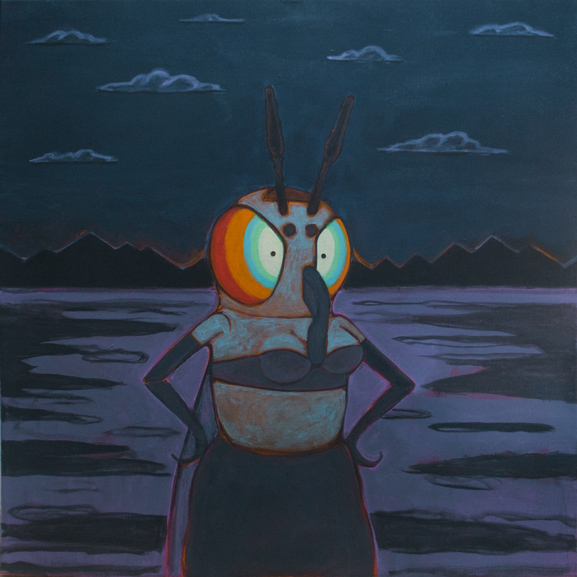 Guillaume Pinard
Panique au haras, 2022
acrylic on canvas
80 x 80 cm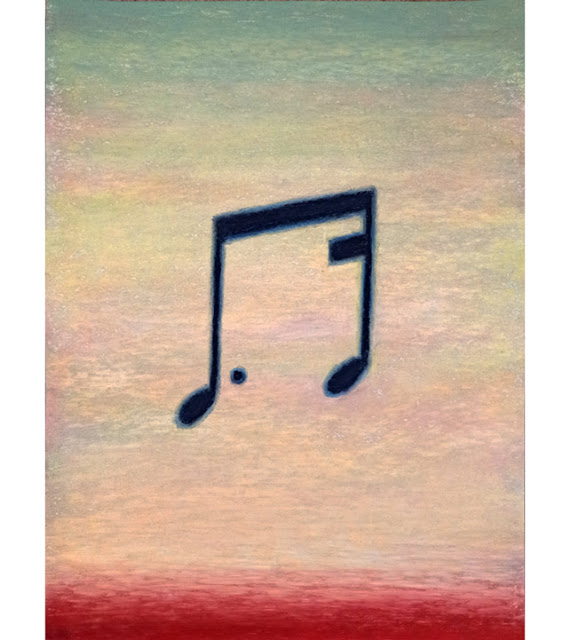 Guillaume Pinard
Croche pointée-double, 2021
pastel on paper
40 x 30 cm / with frame : 44,5 x 34,5 cm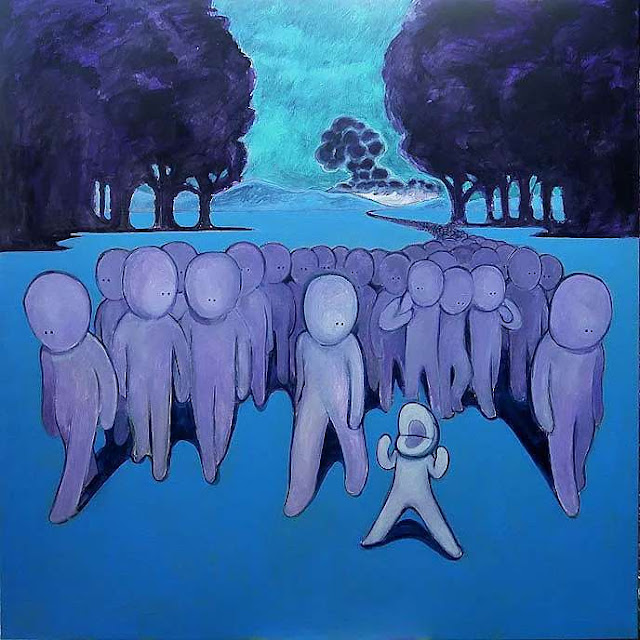 Guillaume Pinard
La fuite, 2021
acrylic on canvas
150 x 150 cm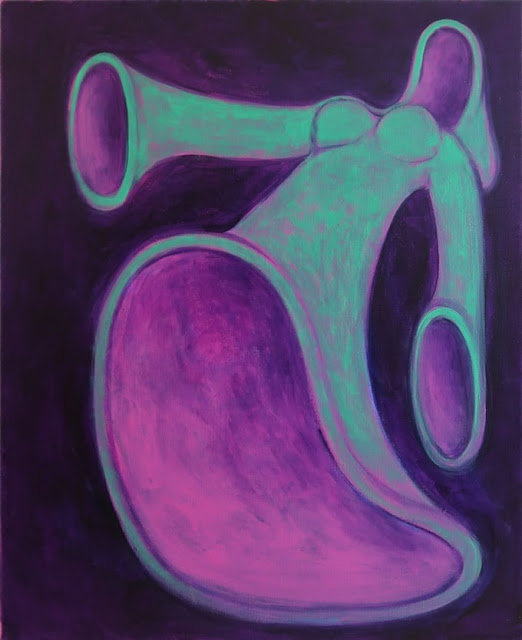 Guillaume Pinard
Sorcerer, 2021
acrylic on canvas
81 x 65 cm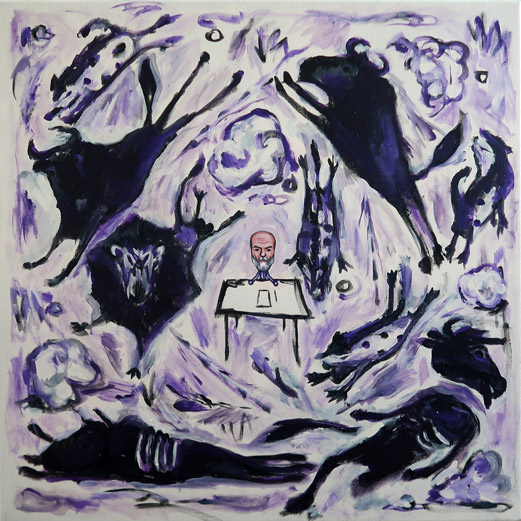 Guillaume Pinard
Le cri des gnous, 2021
acrylic on canvas
80 x 80 cm / 83 x 83 cm (with frame)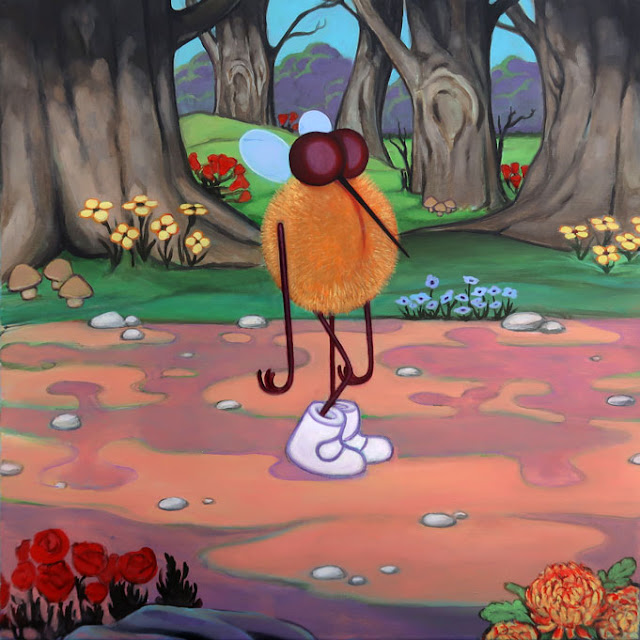 Guillaume Pinard
Bombyle en goguette, 2022
acrylic on canvas
80 x 80 cm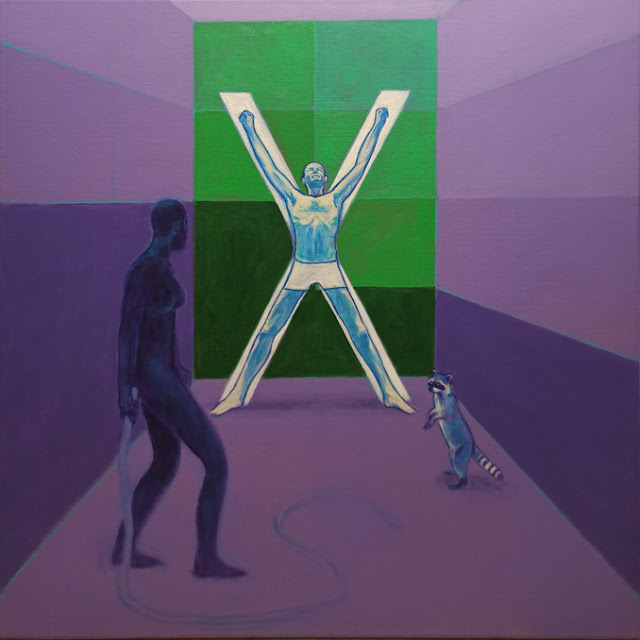 Guillaume Pinard
La chambre Excel de la Racoon Academy, 2021
acrylic on canvas 80 x 80 cm / 83 x 83 cm (with frame)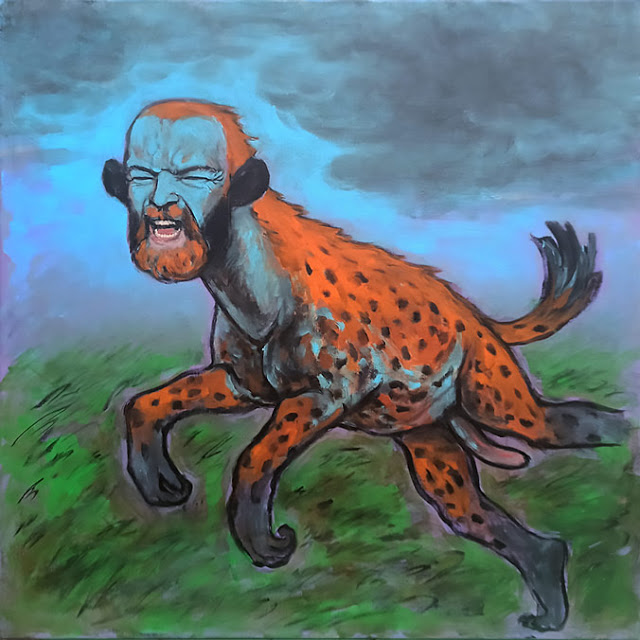 Guillaume Pinard
Beautiful female spotted hyena evolving in the savannah, 2021
acrylic on canvas
80 x 80 cm / 83 x 83 cm (with frame)

Guillaume Pinard
Andréa, 2020
acrylic paint on canvas
65 x 65 cm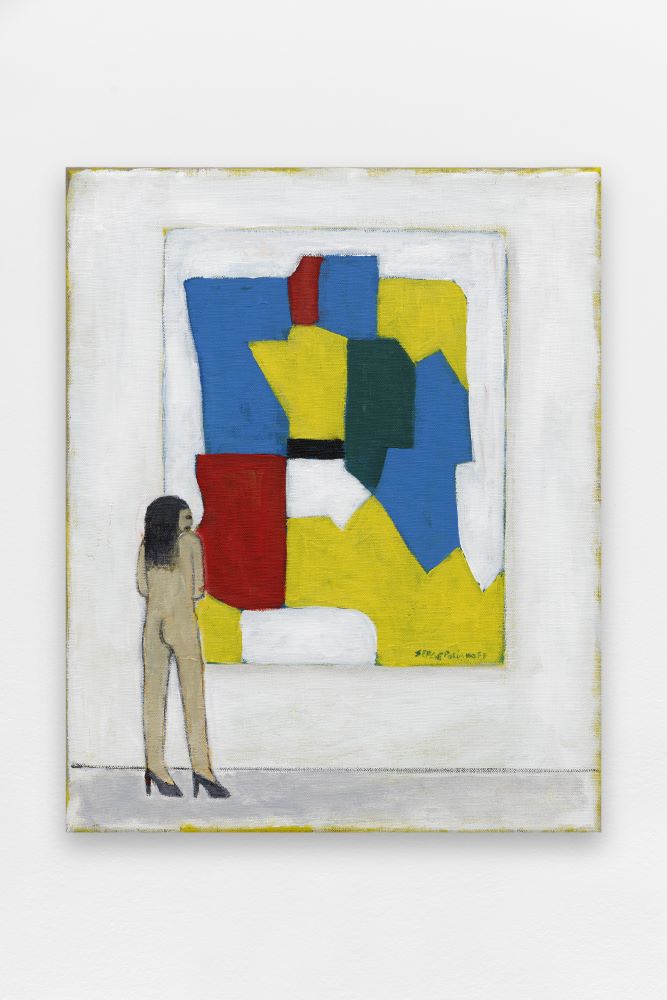 Guillaume Pinard
Quand j'étais nu devant Serge Poliakoff, 2020
acrylic on canvas
40 x 30 cm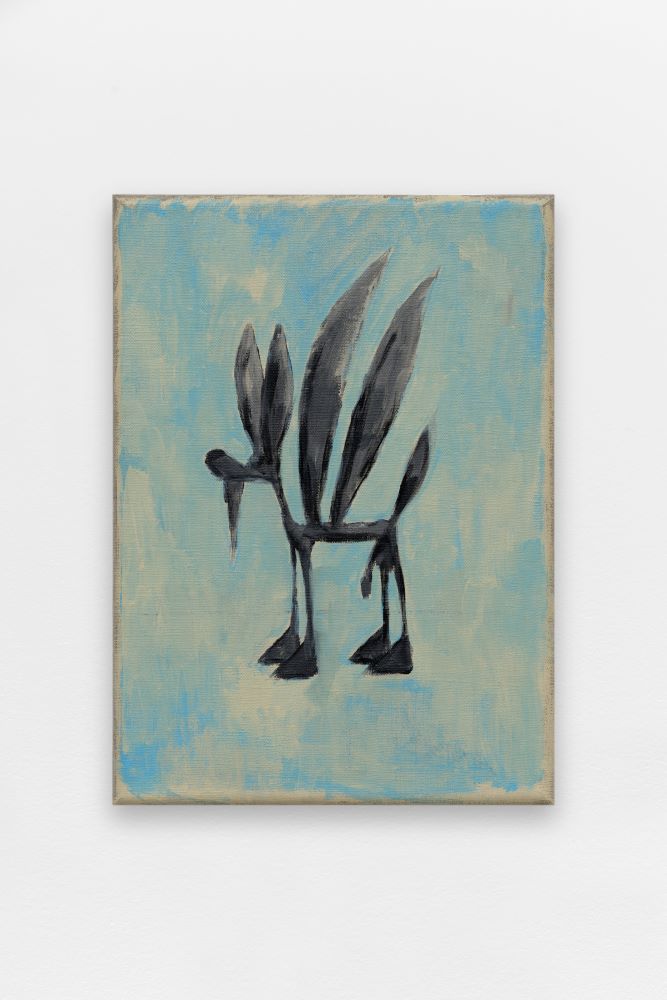 Guillaume Pinard
Pégase en vol stationnaire au dessus du désastre, 2020
acrylic on canvas
33 x 24 cm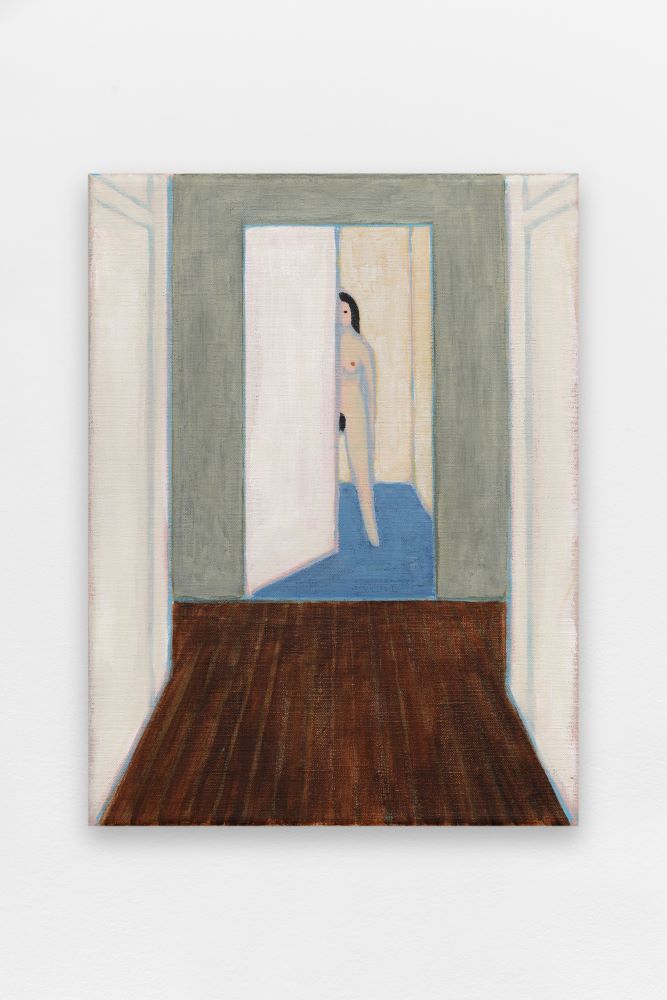 Guillaume Pinard
Conjonction, 2020
acrylic on canvas
40 x 30 cm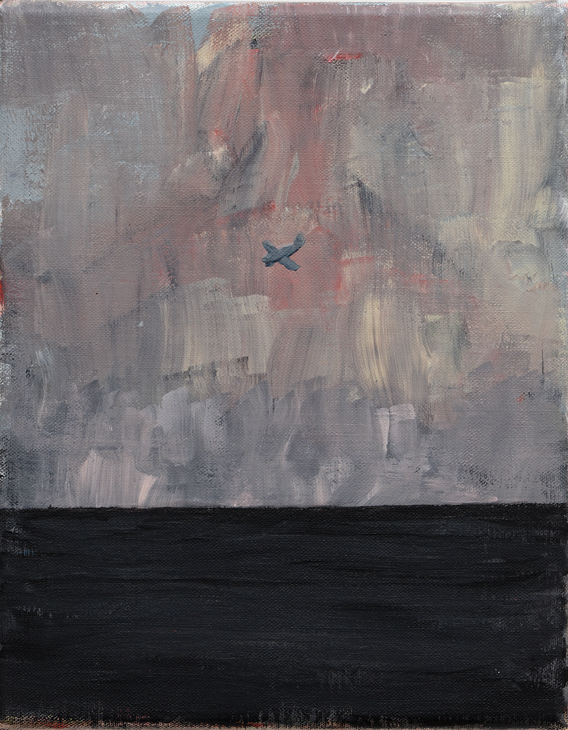 Guillaume Pinard
Airplane, 2019
acrylic on canvas
30 x 24 cm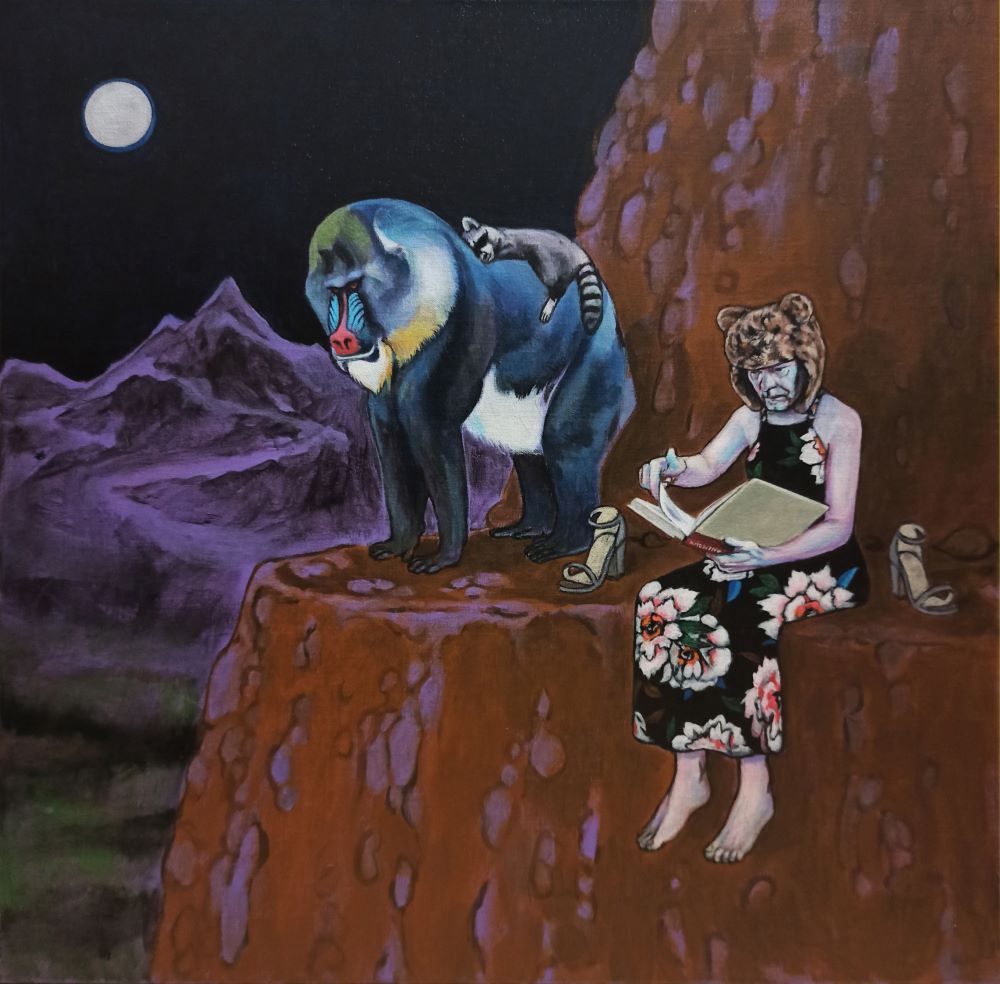 Guillaume Pinard
La veillée, 2020
acrylic on canvas
70 x 70 cm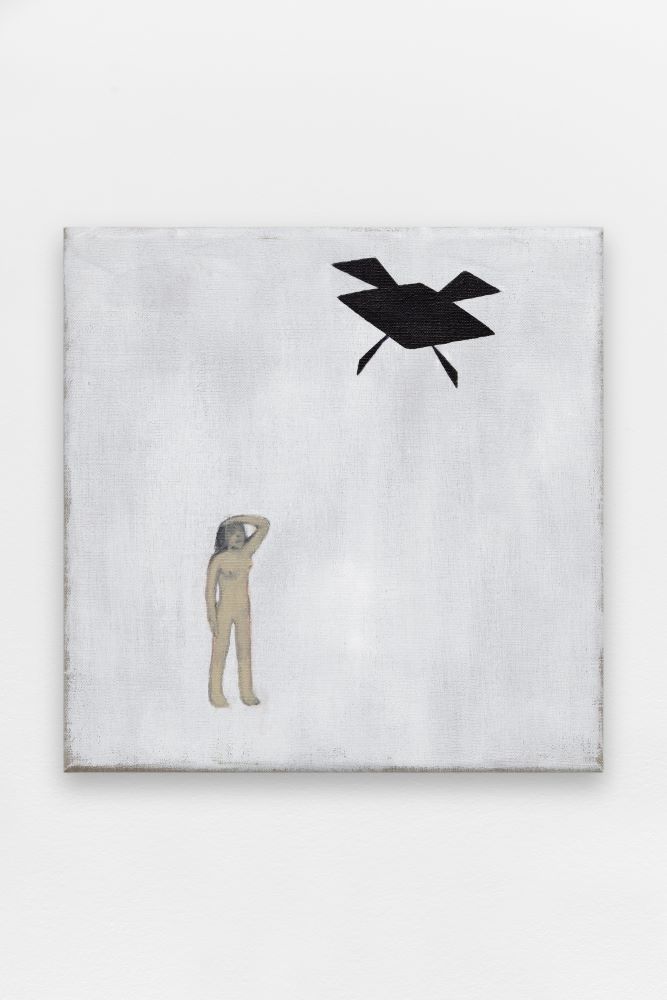 Guillaume Pinard
L'oiseau noir, 2020
acrylic on canvas
30 x 30 cm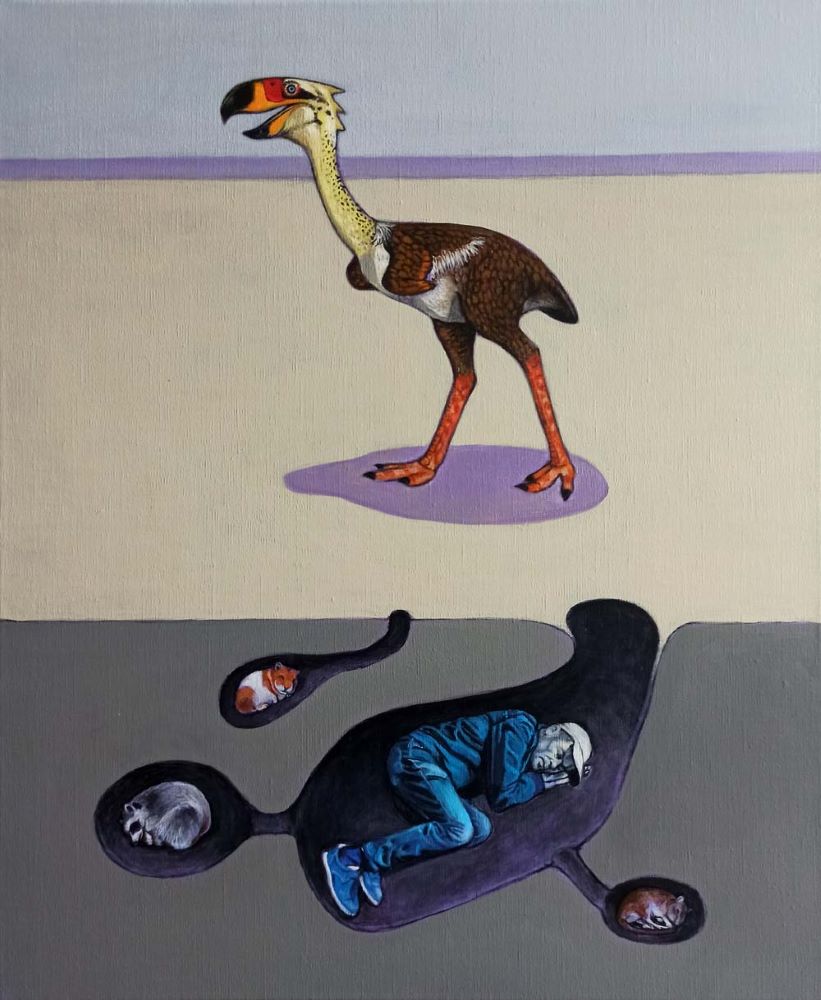 Guillaume Pinard
The bird of Terror, 2020
acrylic on canvas
65 x 54 cm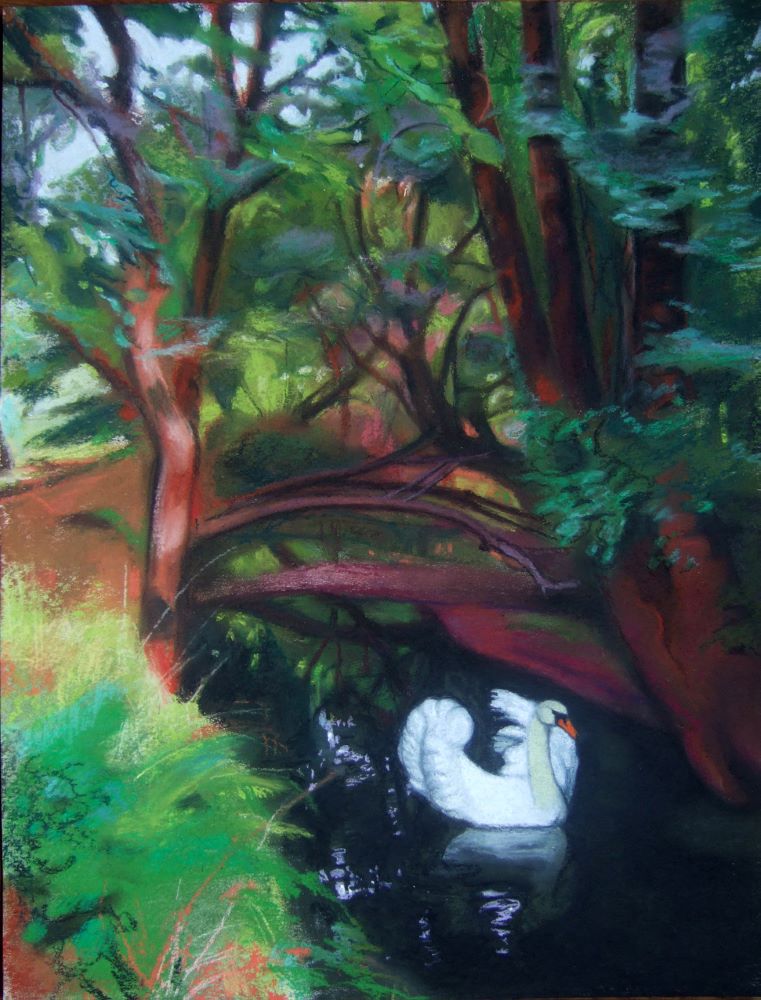 Guillaume Pinard
Cygne II, 2017
pastel sec sur papier
56 x 42 / 61 x 47 cm (avec cadre)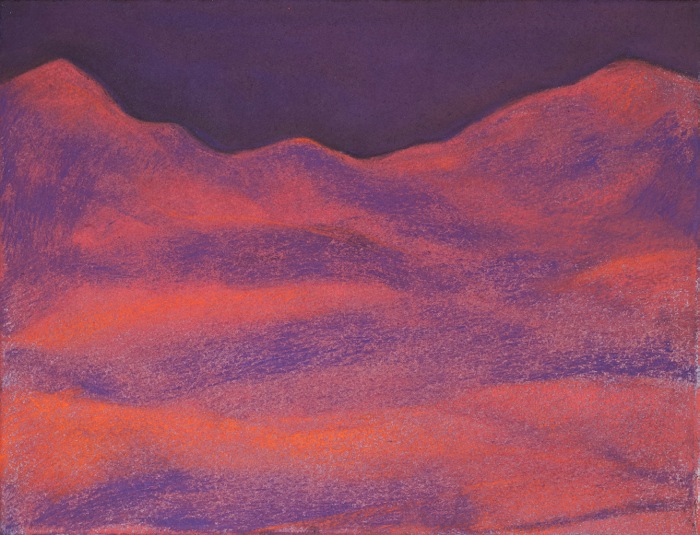 Guillaume Pinard
Swinging paysage incandescent, 2017
pastel on paper
25 x 33,4 cm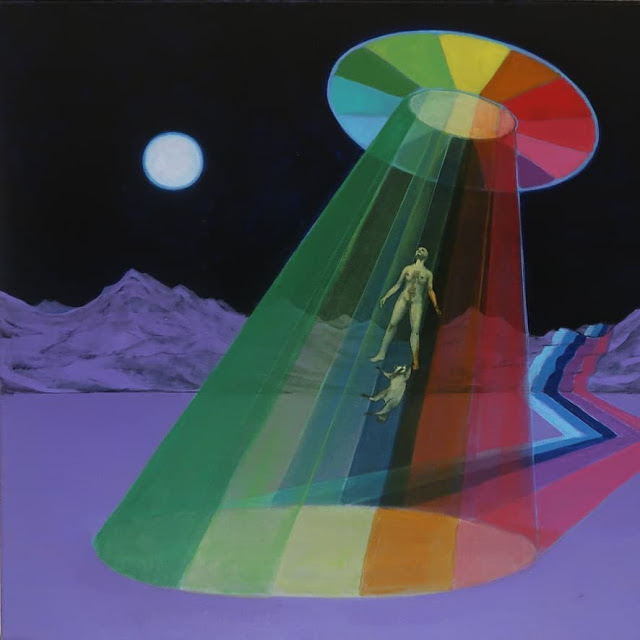 Guillaume Pinard
La Raccoon Academy : un modèle pédagogique qui s'exporte !, 2020
acrylic on canvas
70 x 70 cm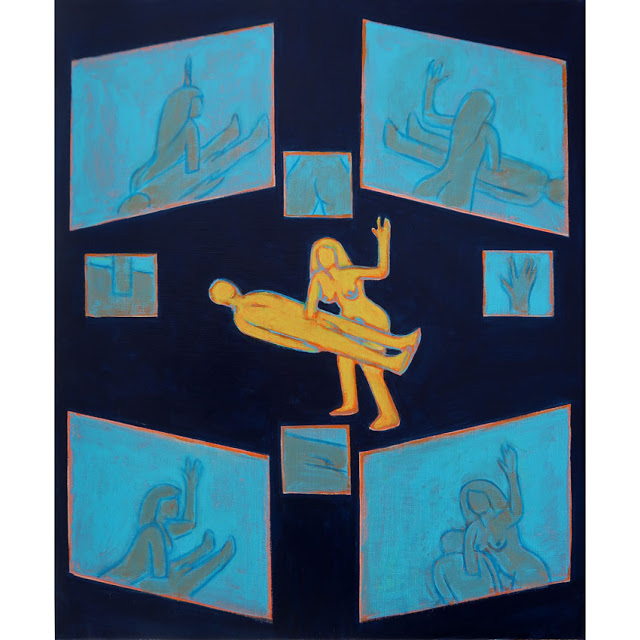 Guillaume Pinard
Coucou !, 2020
acrylic on canvas
30 x 30 cm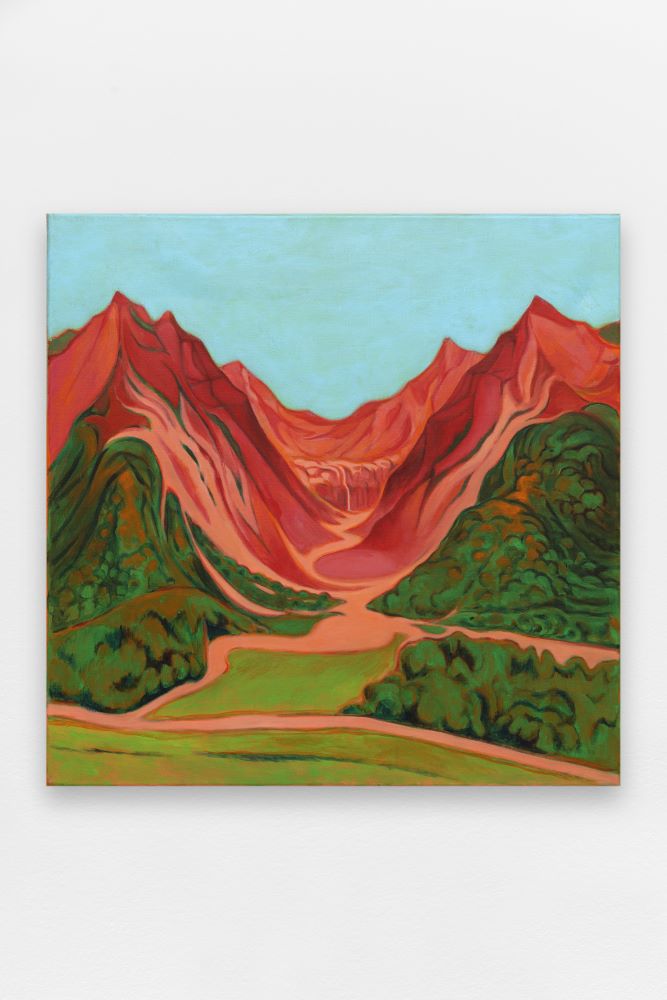 Guillaume Pinard
Retour à l'Hospice de France, 2020
acrylic on canvas
80 x 80 cm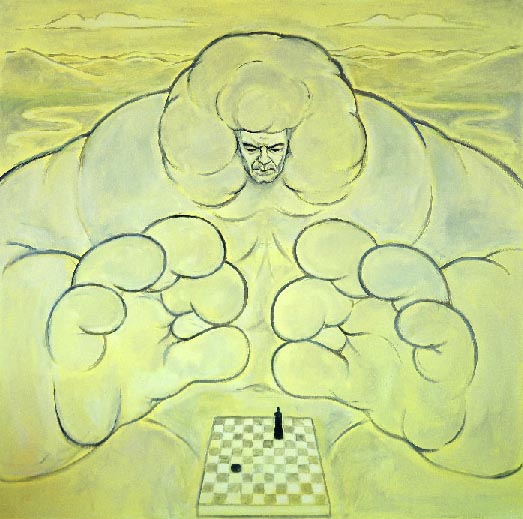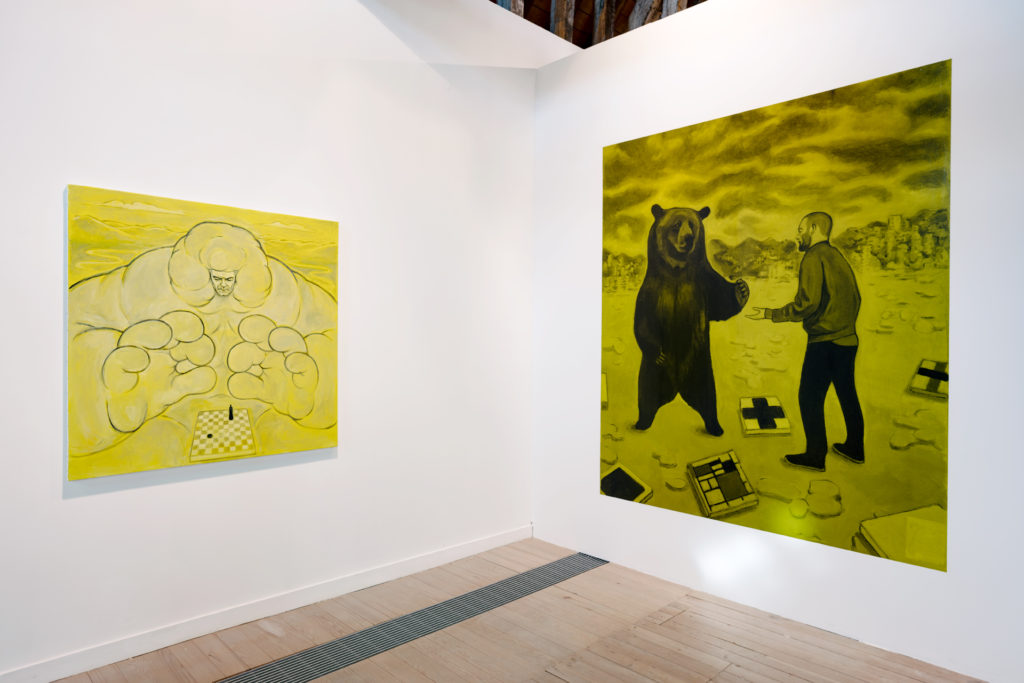 Exhibition view "La Racoon Academy", Artothèque de Caen, 2020 (photograph by Mathieu Lion)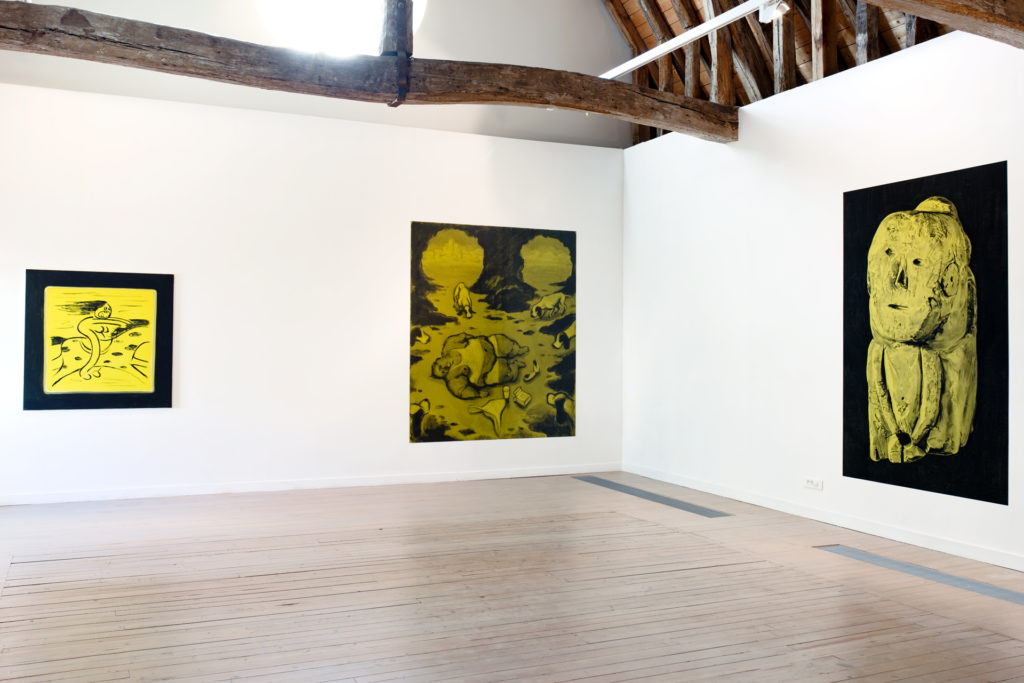 Exhibition view "La Racoon Academy", Artothèque de Caen, 2020 (photograph by Mathieu Lion)
Silo, 2020 wall drawing, painting & charcoal 220 x 150 cm (photograph by Mathieu Lion)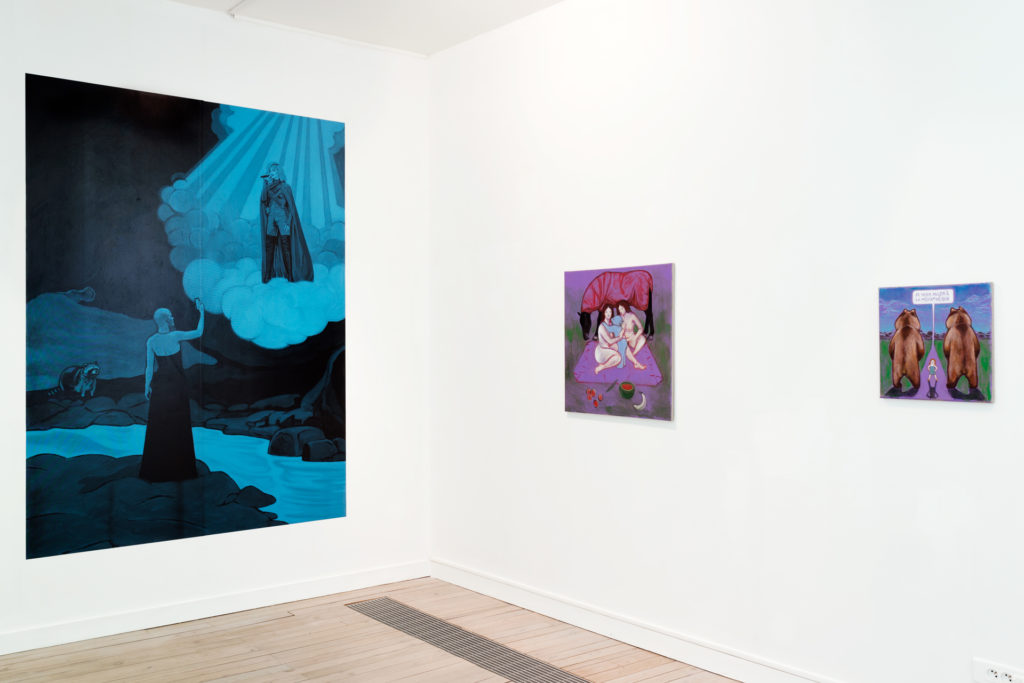 Exhibition view "La Racoon Academy", Artothèque de Caen, 2020 (photograph by Mathieu Lion)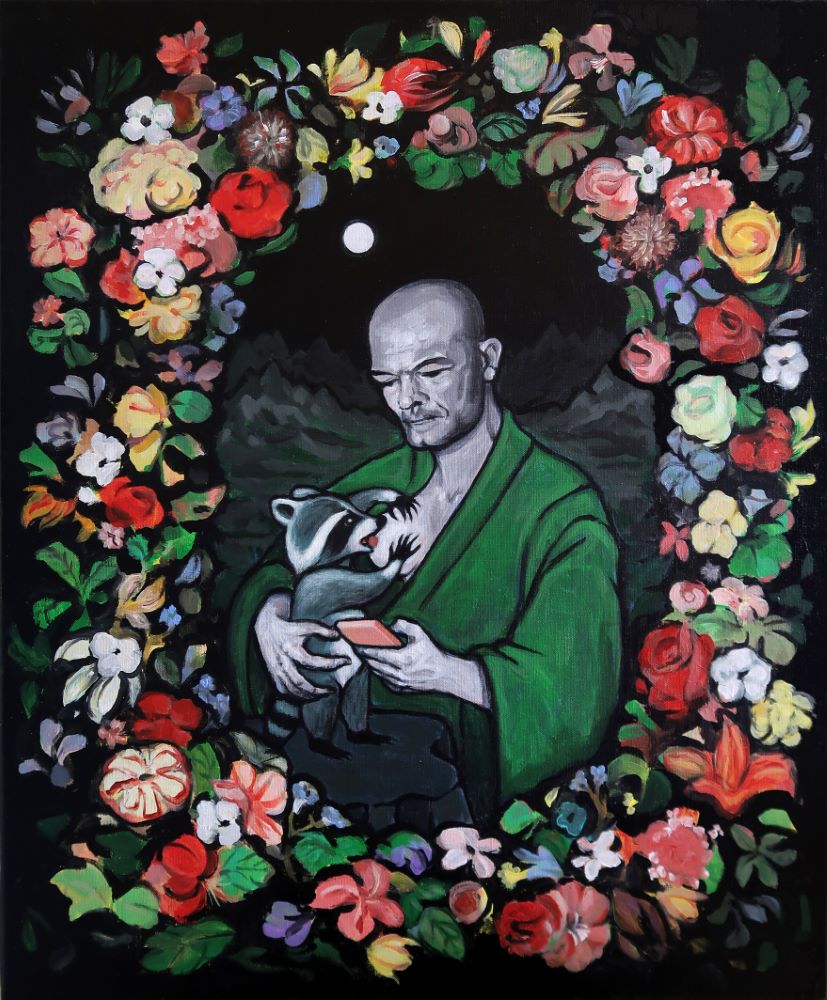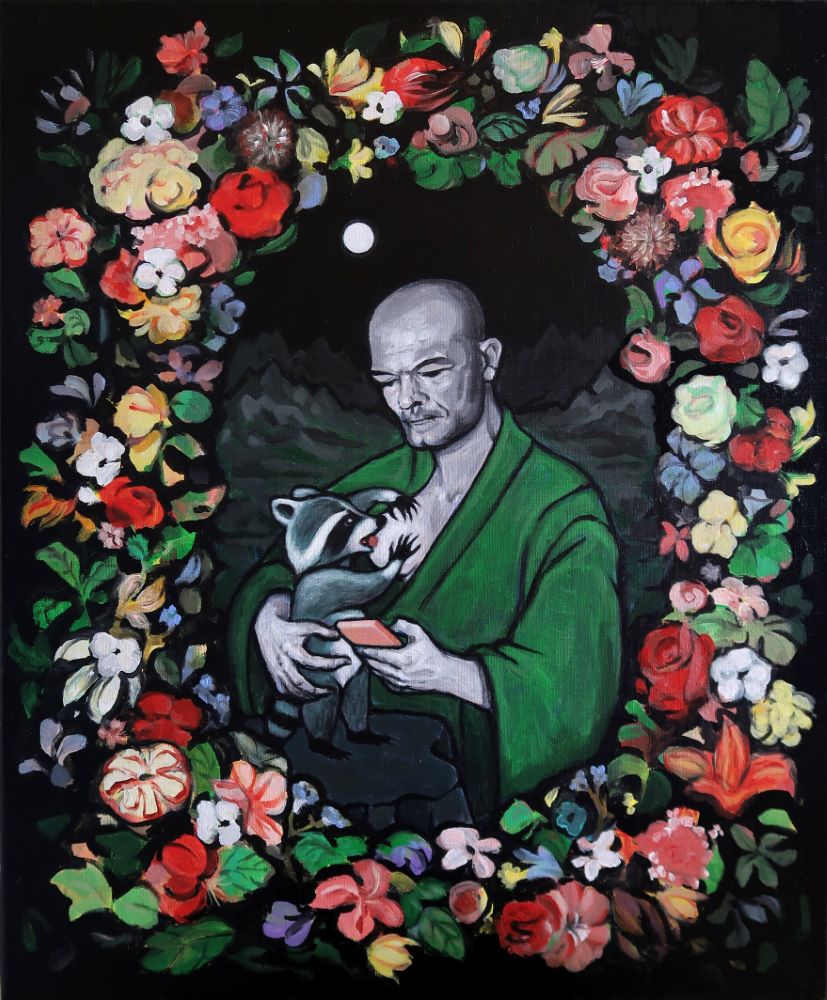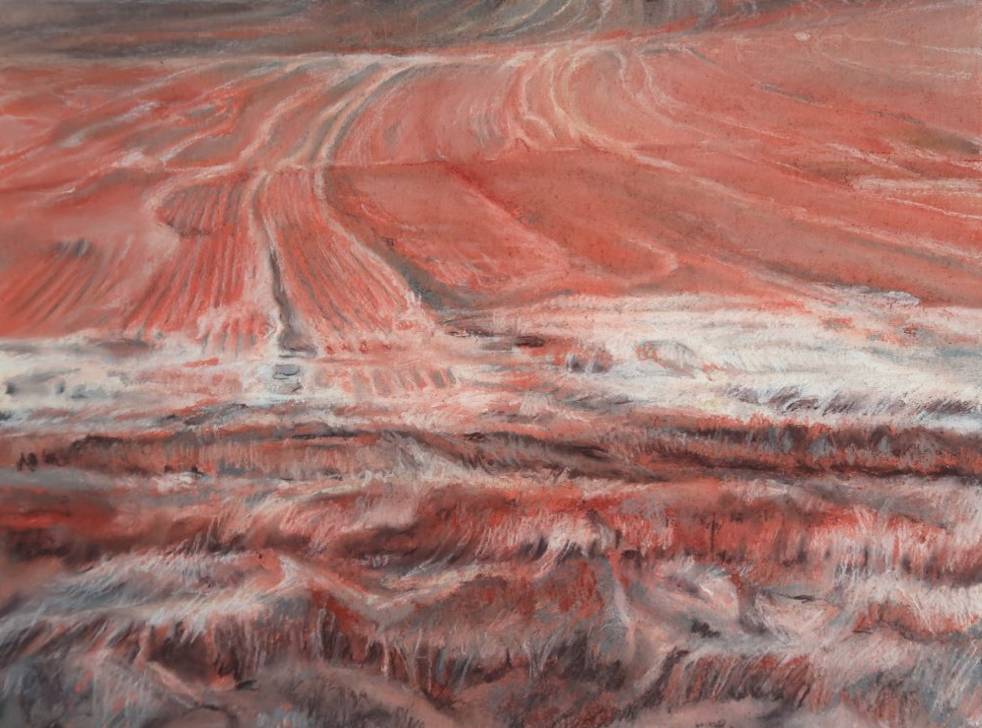 Curçay, 2019
pastel on paper
42 x 56 cm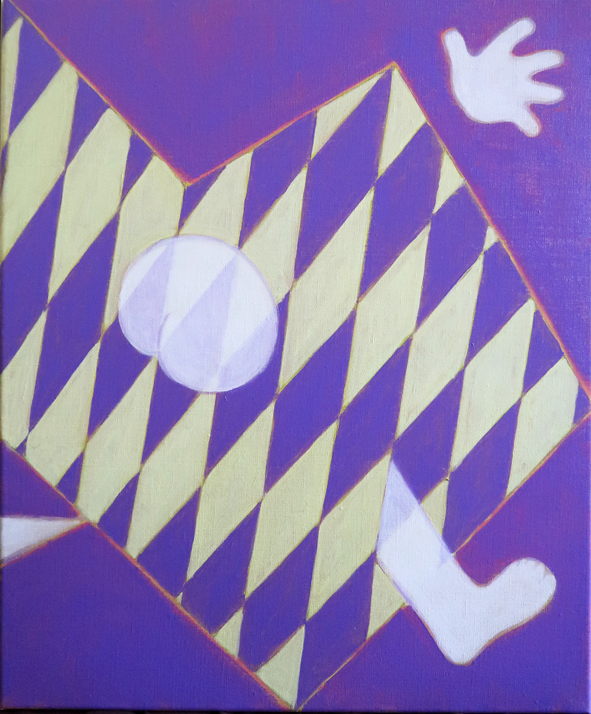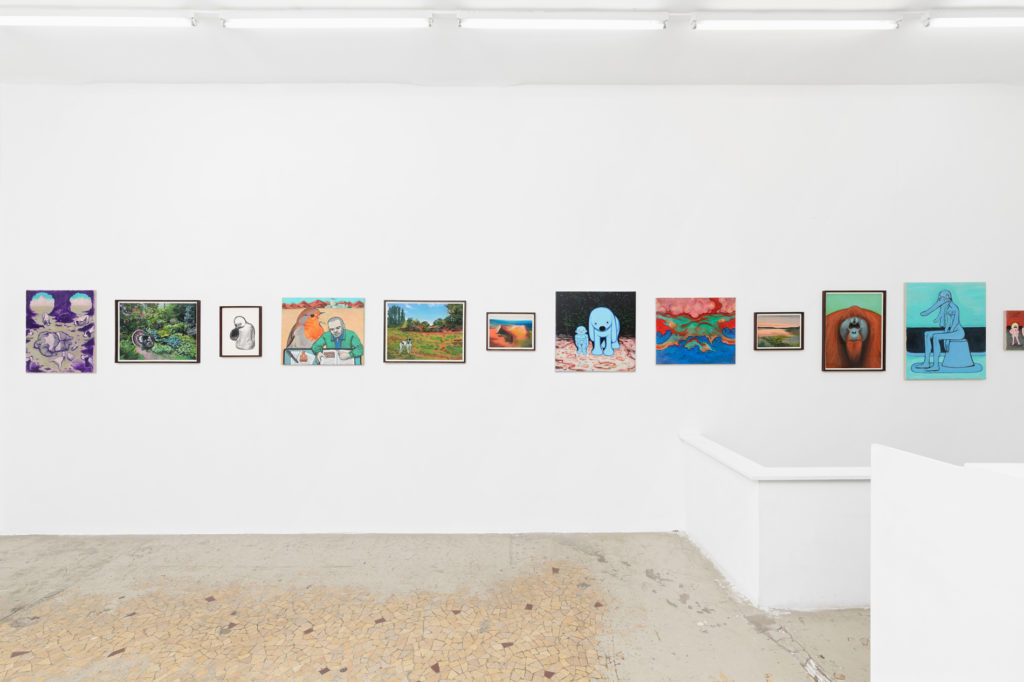 Exhibition view Bébé Lune, galerie anne barrault, 2019 (photograph by Aurélien Mole)
biography
Guillaume Pinard was born in Nantes, France in 1971. Today he lives and works in Rennes.

In his artistic approach, Guillaume Pinard develops a polymorphous work in which drawing, painting and writing are equally prominent.
An artist endowed with an immense graphic vocabulary, Guillaume Pinard, with soft irony, scrutinizes the occurrences and meanings hidden in every form of views by attempting to taint hierarchies.
He explores all the aids used to show. From his interest in dictionaries, painting and also any kind of image found on the web, the artist, all along his exhibitions, gives new impulse to the bits of a narrative, the structures of a fragmented world. Guillaume Pinard has become the archaeologist of his own practice. He makes us enter his cranium, an eclectic, illogical and restless brain soup. He is always oscillating between what is prosaic and great reference, between everyday nature and the great pictorial tradition.

His work was presented during solo exhibitions such as "La Raccoon Academy" at the Artothèque de Caen in 2020, "Bébé Lune" (2019) and "La diligence" (2016) at galerie Anne Barrault in Paris, "Où la ronce croissait on a planté des roses" (2017) at the Artothèque de Pessac, "Du Fennec au Sahara" at the Chapelle du Genêteil in Château-Gonthier and "Un Trou dans le décor at Quartier" in Quimper both in 2015. Furthermore his artworks were shown in the exhibitions "Vandale" at BBB de Toulouse in 2013 and "Trésor" at Centre d'Art de Cajarc in 2012.
As part of group shows his work was presented at FRAC Bretagne, Musée des Beaux Arts de Rennes, Musée des Beaux-Arts de Brest, MIAM in Sète, Musée des Beaux-Arts d'Angers, FRAC Limousin, BBB : Centre d'art Toulouse , at galerie Edouard Manet, Gennevilliers, at the TEAM gallery in New York, galerie Thaddaeus Ropac, Paris and Salzburg, at Portique, le Havre, La Station in Nice and at the gallery of the Atlanta College of Art.

As an author he published the works "AMOR" (2015), "Un art sans destinataire" (2012), "Le Clou sans tête" (2008) and his first monograph "Du Fennec au Sahara" which has been published by Tombolo Presses in 2019.

Today Guillaume Pinard's work can be found in many private and public collections, amongst them the Musée Ingres, Frac PACA, FRAC Bretagne, FRAC Limousin, FRAC Corse, Les Abattoirs, FRAC Midi-Pyrénées, Centre National des Arts Plastiques : CNAP, Château de Tarascon, Ville de Marseille, and the Musée des Beaux-Arts de Rennes.
Solo exhibitions
2022
Voyage en Intérieur, le French art de vivre | galerie du VIA, Paris
2021
Tits Street | Tits Street | Galerie anne barrault – Paris
Salir le perron | galerie Telmah art contemporain, Rouen
Je vous arracherai le cœur avec les dents | La Tôlerie, Clermont-Ferrand
2020
La Raccoon Academy | Artothèque de Caen
Presentation of the monograph of Guillaume Pinard at Tombolo Presses, with Guillaume Pinard, Julie Portier and Franck Balland meet for a discussion. | Fondation d'entreprise Ricard - Paris
2019
Crâne souple, tête entière | Nina Childress & Guillaume Pinard | Ecole des Beaux-Arts de Nantes
Bienvenue | Cité internationale des arts, Paris
Guillaume Pinard | Galerie Lendroit, Rennes
Guillaume Pinard | Madoura, Vallauris
Bébé Lune - Moon Baby | Galerie anne barrault – Paris
2018
Fruits charmants moulés sur une seule tige | Nina Childress & Guillaume Pinard | Moments artistiques, Paris
2017
Guillaume Pinard & Bertrand Burgalat | Galerie anne barrault – Paris
Où la ronce croissait on a planté des roses | Artothèque, Pessac
Le navire Argo | Maison des Arts, Grand-Quevilly
2016
La Diligence | Galerie anne barrault – Paris
2015
Du Fennec au Sahara | Chapelle du Genêteil | Chapelle du Genêteil, Château-Gonthier
Vandale | le Quartier, Quimper
2014
Royal Iris | Galerie anne barrault – Paris
2012
Trésor | Centre d'art de Cajarc
Bijou | Iconoscope, Montpellier
2011
Macumba | Galerie Bien
Service public | Centre d'Art Contemporain de Pau
Des dessins d'art de Guillaume Pinard : Claude | Galerie MAM, Rouen
2010
Tomate | Galerie anne barrault – Paris
Otto | le Portique, le Havre
2009
| galerie Layr Wuestenhagen garage, Vienne
| galerie Vera Gliem, Cologne
Vladimir | Iconoscope, Montpellier
2008
Gibbon | Galerie du Bellay, Rouen
| lieu commun, espace d'art contemporain, Toulouse
Mur du lapin agile | ESAC de Pau
2007
Primalab | EESI de Poitiers
Très chère Anne | Galerie anne barrault – Paris
2006 Provisional End, Galerie Vera Gliem, Cologne 2005 Expresso, team gallery, New York 2004 Galerie Vera Gliem, Cologne, Allemagne 2003 Le syndrome du trapeze, Frac paca, marseille Le roi du caca, Galerie des grands bains douches de marseille La griffe et l'ongle, château de Tarascon Chtong, CAPC, Bordeaux Galerie du tableau, Marseille 2002 Galerie Roger Pailhas (project room), Marseille con-con : Generiques, Oberwelt, Stuttgart, Allemagne con-con & ses avatars, Galerie Artem, Quimper 2001 Iconoscope, Montpellier 2000 con-con & la bete, Tohu-Bohu, Marseille 1999 Le soma de con-con, RLBQ, Marseille
Group exhibitions
2023
NADA, New York | 548 West, New York
Immortelle | MO.CO, Montpellier | Curated by: Numa Hambursin, Amélie Adamo, Anya Harrison
2022
Mettre au monde | L'Artsenal, centre d'art contemporain, Dreux | Curated by: Amélie Adamo, Lucile Hitier
Drawing Now, Paris | le Carreau du Temple, Paris
La vallée des merveilles | Espace à vendre, Nice | Curated by: Nina Leger et Karine Rougier
2021
FIAC | with Marie Losier, Guillaume Pinard, Roland Topor | Grand Palais Ephémère, Paris
Empire et royaume | Art-o-Rama, Marseille | Curated by: Joël Riff
Affinités | FRAC Corsica, Corte | Curated by: Anne Alessandri
Le Voyageur, l'Obstacle, la Grâce | Centre d'Art contemporain de Briançon | Curated by: Akim Pasquet
Bande Animée un programme de courts-métrages, films et vidéos animés | Nouveau Musée National de Monaco - Théâtre du Fort Antoine
Ils ont dit oui | Galerie Marguerite Milin, Paris
2020
| Halle Victor Hugo, Luxembourg
"La vie dans l'espace". Accrochage des collections | Musée régional d'art contemporain Occitanie / Pyrénées-Méditerranée, Sérignan | Curated by: Jill Gasparina
Screeners | Provisional End, Suggested by Benjamin Tischer | Helena Anrather, NY
Une saison au Paradis | Union Syndicale Solidaires, Paris | Curated by: Stéphane Bérard et Vanessa Morrisset
Étonnants donateurs | Musée des Beaux-Arts de Rennes
2019
À la croisée des chemins | Espace Culturel Lamanon, Salon de Provence | Curated by: FRAC PACA
2018 Construire une collection, Musée des Beaux-Arts de Rennes Héritages, Ar(T)senal, Dreux Mon enfant peut en faire autant, galerie anne barrault 2017 Artist First, Francis Boeske Projects, Amsterdam Zoocryptage, commissaires : Clara Djian et Nicolas Leto, en collaboration avec Philippe Djian, Crypte Sainte Eugénie, Biarritz Mme Orain et la mogette magique, commissaire David Michael Clarke, La Cuisine, centre d'art et de design, Nègrepelisse Les retrouvailles, commissaire Guillaume Pinard, Musée des Beaux-Arts de Brest En toute modestie – Archipel Di Rosa, commissaire Julie Crenn, Musée international des Arts Modestes, Sète La troisième narine, Espace à vendre, Nice Collective collection #2 : Jacques Girard, le BBB, centre d'art Toulouse 2016 Carte blanche à Richard Fauguet, FRAC-Artothèque du Limousin, Limoges La French Touch, Espace Boan 1942, Séoul, Corée Le dessin d'abord ! Musée Chateau Saint-Jean, Nogent-le-Rotrou Dreamtime VI, Grotte du Mas d'Azil La maison d'Edvard, Mam galerie, Rouen Les chutes du Niagara, Phakt, Rennes 2015 Mécaniques du dessin, FRAC Limousin, Limoges Intentions graphiques, Musée des beaux-arts d'Angers Le noir et blanc en couleurs, une proposition de Philippe Ducat, Lizières Peinture(s), Galerie Anne Barrault, Paris Rêve caverne, Château musée, Tournon-sur-Rhône Post-it, Le Portique, Le Havre 2014 la vie est un collage (2 Oh cet écho 2), une proposition de Philippe Ducat, galerie anne barrault, Paris Un nouveau depart en quelque sorte, commissariat Manuela Pomar, La Station, Nice Les inconnus dans la maison, Musée des Beaux-Arts, Rennes Léonard, Raphaël, Michel Ange, dessins italiens du  Musée des Beaux Arts de Rennes (scénographie), Musée des Beaux Arts, Rennes 2013 les douceurs du péché : domaines étendus du livres, FRAC PACA, Marseille 3 DAYS IN PARIS, galerie anne barrault, Paris Bonjour Monsieur Matisse, Musée d'Art Moderne et d'Art Contemporain, Nice .doc, commissariat Label hyptohèse, EMBA – galerie Edouard Manet, Gennevilliers Mystère et boule de gomme, centre d'art contemporain, Cajarc Les inconnus dans la maison, Musée des Beaux-Arts de Rennes Re, Institut supérieur des Beaux-Arts de Besançon. Graphic, Phakt, centre culturel Colombier, Rennes 2012 Restons courtois, Galerie Anne Barrault, Paris stratégies des espaces, séquence #2, Centre d'art le BBB, Toulouse Pas si bête. Histoire comme ci, galerie Villa des Tourelles, Nanterre 2011 Artothèque, les acquisitions 2011, Artothèque d'Angers Les Amateurs. Avec les étudiants de l'école des Beaux-Art de Toulouse, Plateforme d'Art de Muret Habiter, Collection du Frac Midi-Pyrénées, Musée des Abattoirs, Toulouse Galerie Anne Barrault, Paris Brise, Galerie Vera Gliem, Cologne 2010 Dream Time 2, Grotte du Mas d'Azil Éditions P, La station, Nice. Hybrides et Chimères, Le Parvis, Ibos. Fantasmagoria, Musée des Abattoirs, Toulouse Fabula Graphica, Ecole des Beaux-Arts de Rouen 2009 Planète cerveau, œuvres de la collection des Abattoirs, Musée des Beaux-Arts Denys Puech, Rodez Suspect Reason, ArtLexis Gallery, New York L'esprit des lieux, Domaine départemental de Chamarande. 30 ans – Pas nécessaire et pourtant indispensable, CAC Meymac. Cory Arcangel, Guillaume Pinard, and Jon Routson, Team Galery, New York Comic strip, Musée de Sérignan grand hotel orbis, l'atelier, Nantes mes belles éditions dans ton bel intérieur, galerie sémiose, Paris 2008 out of office, Institut d'art contemporain, Bruxelles la galerie télévisuelle : dessins animés, FRAC Limousin, Limoges landscope, curated by Matthieu Poirier, galerie Thaddaeus Ropac, Salzburg, Austria La dégelée Rabelais, carré Sainte-Anne,FRAC Languedoc Roussilon galerie Vera Gliem, Cologne landscope, curated by Matthieu Poirier, galerie Thaddaeus Ropac, Paris "the unfair fair" curated by Cecilai Canziani and Vincent Honoré, Roma, Italy 2007 "conversations" curated by Cécile Marie, gallerie faf, Helsinki, Finland Hairy tales, micro onde, Vélizy-Villacoublay "série noire" villa Bernasconi, Grand-Lancy 5 jahre, Galerie Vera Gliem Dessine le, Espace culturel François Mitterand, Périgueux 2006 Grandes vacances, Galerie Anne Barrault, Paris Nouvelles fabriques d'images et de sons, Frac Limousin Until it makes sense, Galerie Thaddaeus Ropac, Paris Wa, CCCL, Vientiane, Laos Until it makes sense, seventeen gallery, Londres Pas de copyright sur les rêves # 2, Galerie anne Barrault, Paris 2005 Galerie Jacques Girard, Toulouse Acid rain, Glassbox, Paris Pas de copyright sur les reves, Institut francais de Prague 4X4, A la plage, Toulouse Tout le monde peut apprendre à dessiner, E.R.B.A de Valence Rouge Gorge, Maison folie wazemmes, Lille 2004 The ice age, Team gallery, New York Grotesque, burlesque et parodies, Cac de Meymac L'autre metissage, Musee ethnographique de la Paz, Bolivie Mire couleurs, le Logoscope, Monaco Le complexe du cul de sac, Bureau des hypotheses, Universite Paris 1 Galerie Corentin Hamel, Paris Un conte d'hiver, Frac Limousin Toc mural, Cac de Sete. 2003 Lee 3 tau ceti central armory show, villa arson, Nice Lick the Window, Buy-sellf – Atlanta College of Art Gallery, Atlanta, Etats-Unis New York on sex & violence, F.I.N. Arts, New York Kunst macht schule, Saarland Museum, Sarrebrucken, Allemagne 2002 con-con & sheila, Le Logoscope, Monaco Kein Ort, nirgends, Kunstverein, Freiburg, Allemagne Self/In Material Conscience, une exposition du Frac Paca, Fondazione Sandretto, Guarene, Italie XXL, section dessins animes, Le Lieu Unique, Nantes Association Pollen, artistes en residence, Monflanquin Stop making sense, Galerie Corinne Caminade, Paris 2001 Ipso-Facto, Nantes Vanites contemporaines, A La Plage, Toulouse 1999 Folies, jardin public de Fougères 1998 Ateliers associatifs l'igloo, Nantes 1996 Inter-Faces, Galerie du cloitre, Erba de Rennes Saga-cites, Galerie de la criee, Rennes
Bibliography
Books 2019 Du Fennec au Sahara, éditions Tombolo Presses 2015 Amor, éditions Sémiose 2009 un arbre, un mur, un bassin, éditions Sémiose 2008 le clou sans tête, texte illustré, éditions Sémiose 2007 Guillaume Pinard, livre de dessins, éditions Semiose 2003 Tetanies, édition Christoph Merian chtong Cd rom/catalogue de l'exposition au CAPC (galerie des projets), Bordeaux 2002 Catalogue de residence a Montflanquin, 2002 Catalogue de l'exposition a la Galerie Roger Pailhas (Project room), 2002     Catalogues 2007 1996/2006 troisième époque, catalogue des acquisitions du FRAC Limousin Hary Tales, catalogue de l'exposition au "micro onde", Vélizy-Villacoublay 2006 Until it makes sense / drawing as a time based medium, catalogue de l'exposition collective "Until it makes sense" 2005 Prêt à Prêter, catalogue des acquisitions 2000 – 2004 du FRAC PACA, éditions Michel Baverey Armpit of the mole, publication de dessins. Ed : fundacio trenta quilometres per segon. Rouge Gorge, publication de dessins, Ed : Allotopie WA, catalogue de dessins muraux. Ed. l'AFAA 2004 L'autre metissage, catalogue de l'exposition au Musee ethnographique de la Paz, Bolivie 72 projets pour ne plus y penser, Livre de projets d'artistes réalisé par le Frac Paca 1999 Folies/Jardin public, jardins secrets, 1999
Collections
Musée Ingres Musée des Beaux-Arts de Rennes FRAC PACA FRAC Bretagne FRAC Limousin FRAC Corse Les Abattoirs FRAC Midi-Pyrénées Centre National des Arts Plastiques : CNAP Ecole des Beaux-Arts de Nantes Château de Tarascon Ville de Marseille
films
press
exhibitions
books & prints