works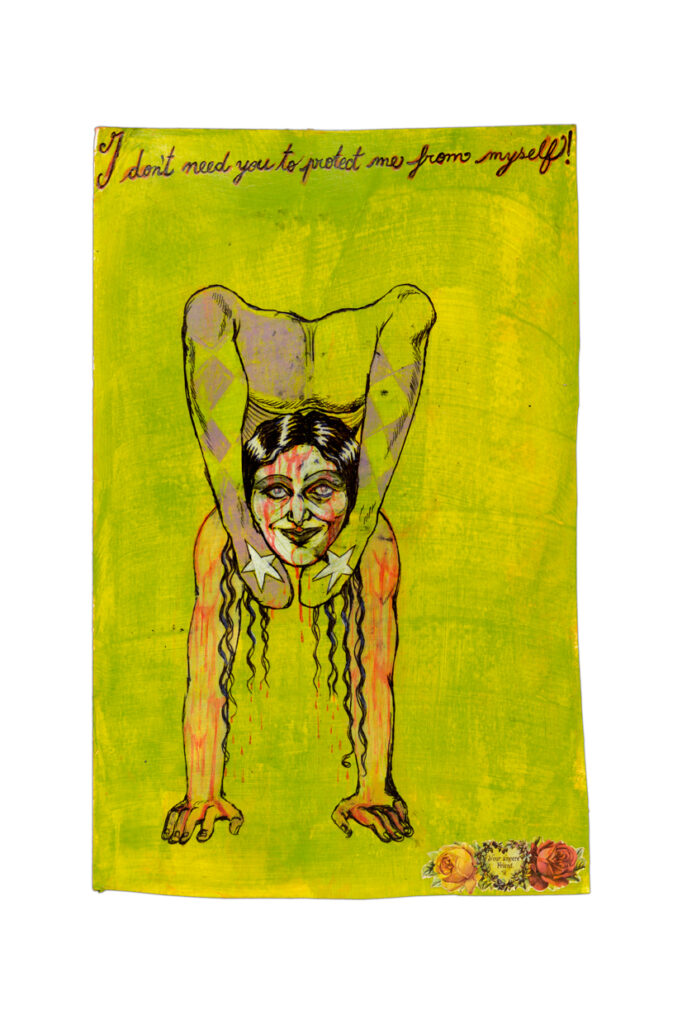 Neïla Czermak Ichti
I don't need you to protect me from myself !, 2022
acrylic, ink and collage on cardboard
29,5 x 19 cm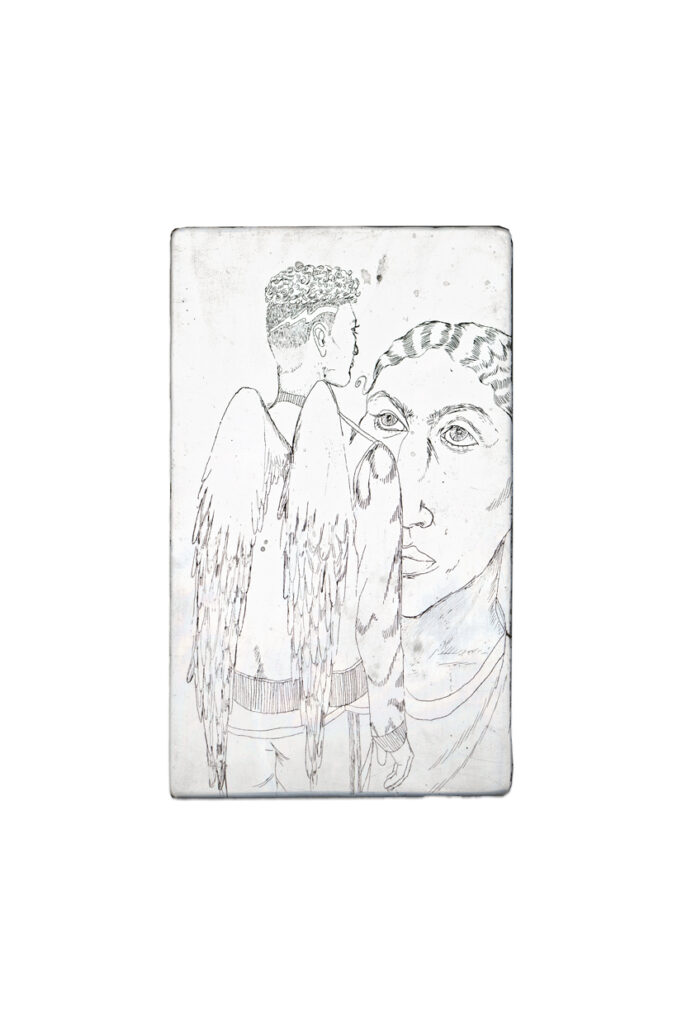 Neïla Czermak Ichti
sans titre, 2022
metal engraving
15 x 9 cm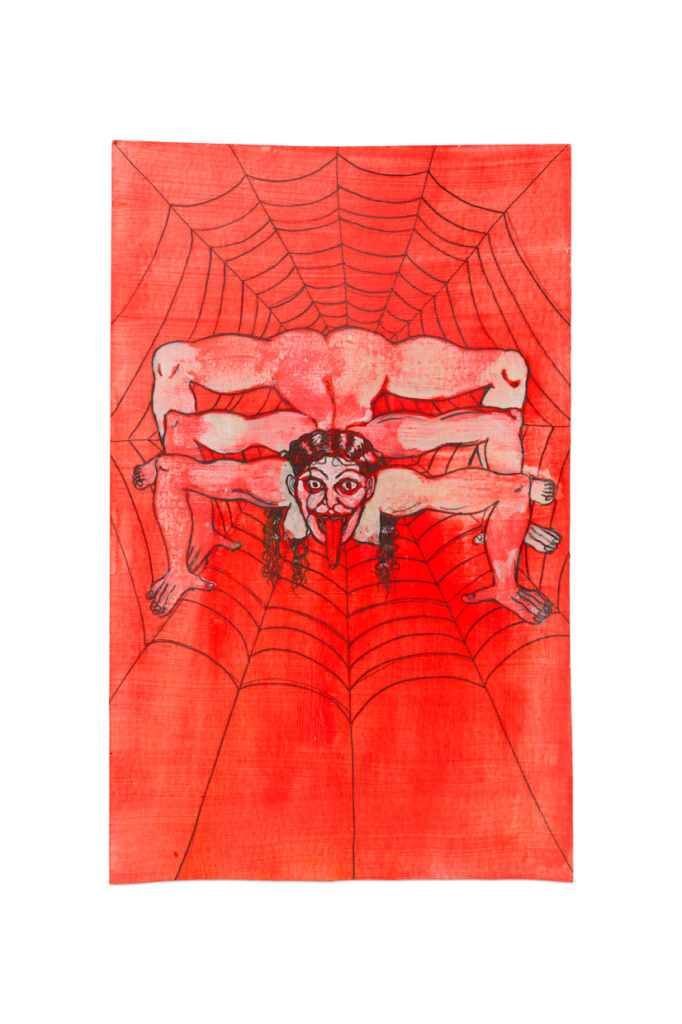 Neïla Czermak Ichti
sans titre, 2022
acrylic, ink and collage on cardboard
32 x 20 cm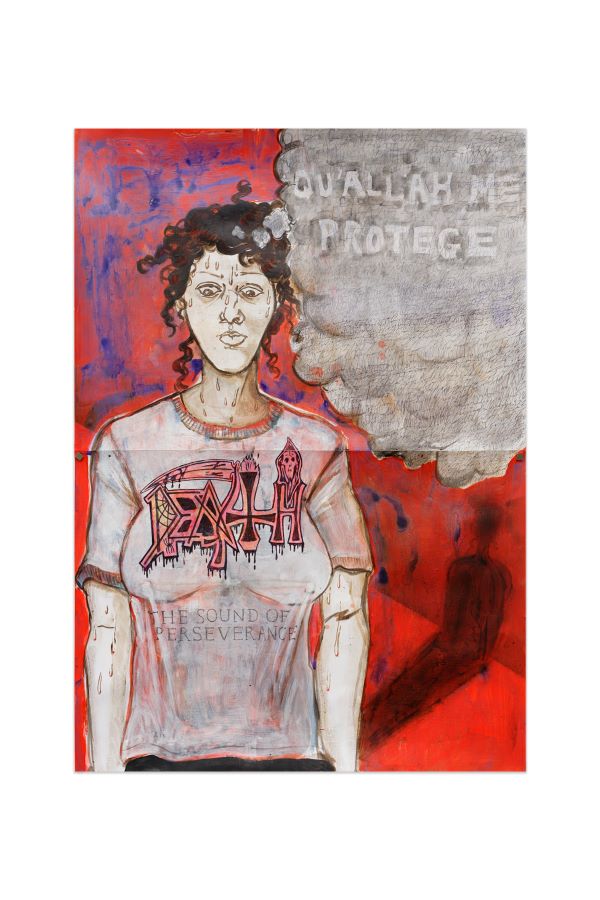 Neïla Czermak Ichti
The Sound of Perseverance (sweat and ocd/ Toc et transpiration), 2022
acrylic and pen on paper
100 x 69,5 cm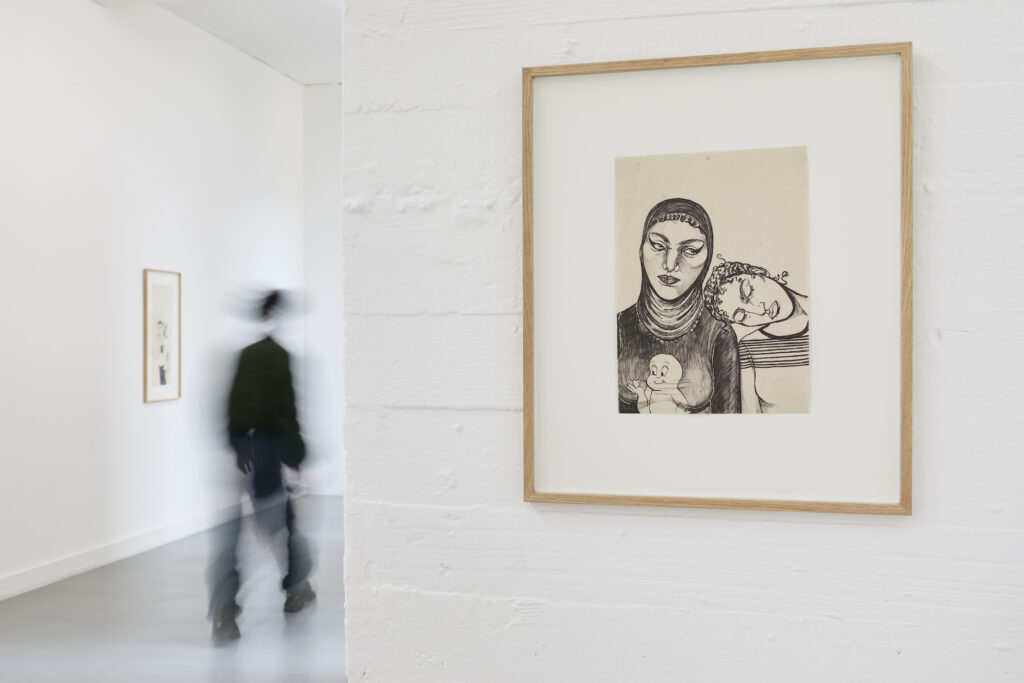 to The Fire Next Time | centre d'art de la Villa Arson, Nice, 2023 | curated by Mawena Yehouessi & Rosanna Puyol / photo Jean-Christophe Lett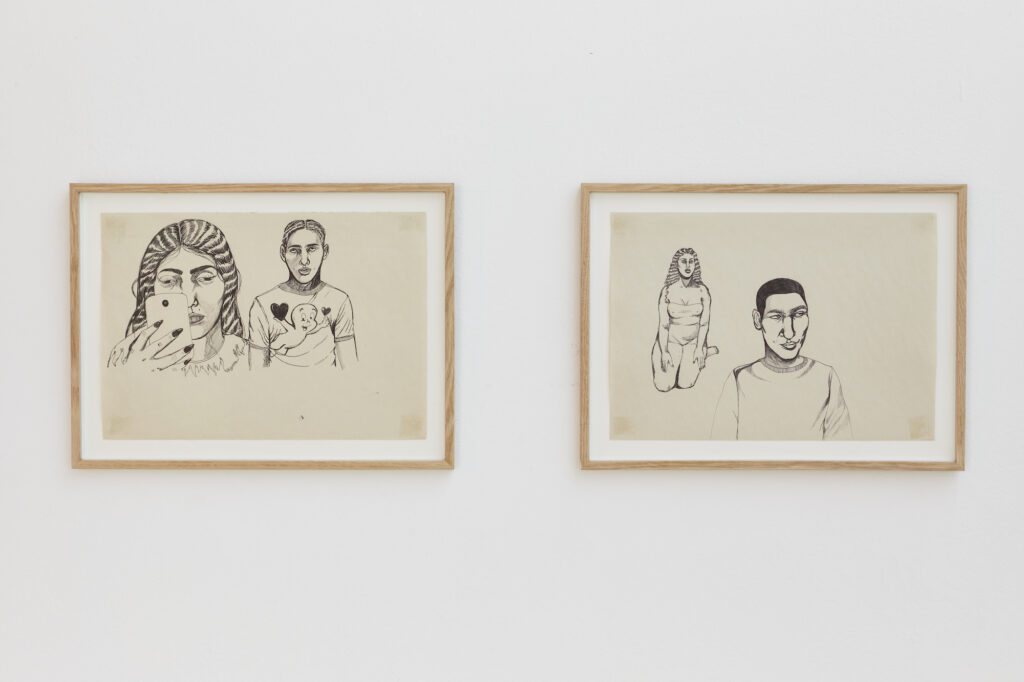 to The Fire Next Time | centre d'art de la Villa Arson, Nice, 2023 | curated by Mawena Yehouessi & Rosanna Puyol / photo Jean-Christophe Lett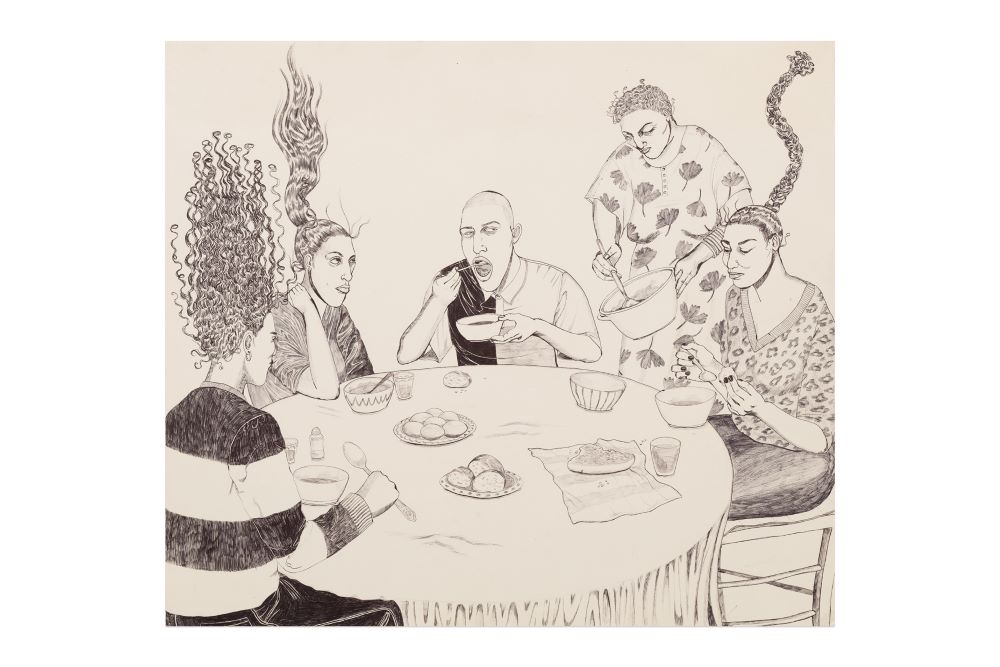 Neïla Czermak IchtiChorba glacée, 2019ballpoint pen on paper
70,5 x 79,7 cm / 80 x 89 cm with frame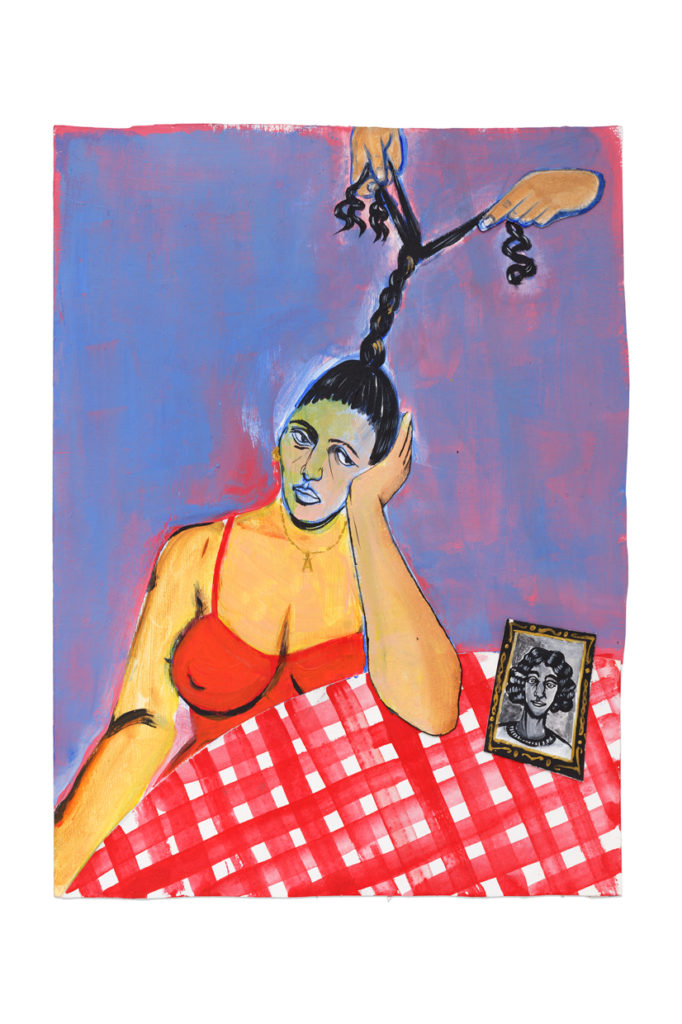 Neïla Czermak Ichti
Trop fatiguée pour se tresser, 2020
acrylique sur papier cartonnée / acrylic paint on paper cardboard
35,5 x 27 cm / 45,7 x 36,6 cm (encadré / framed)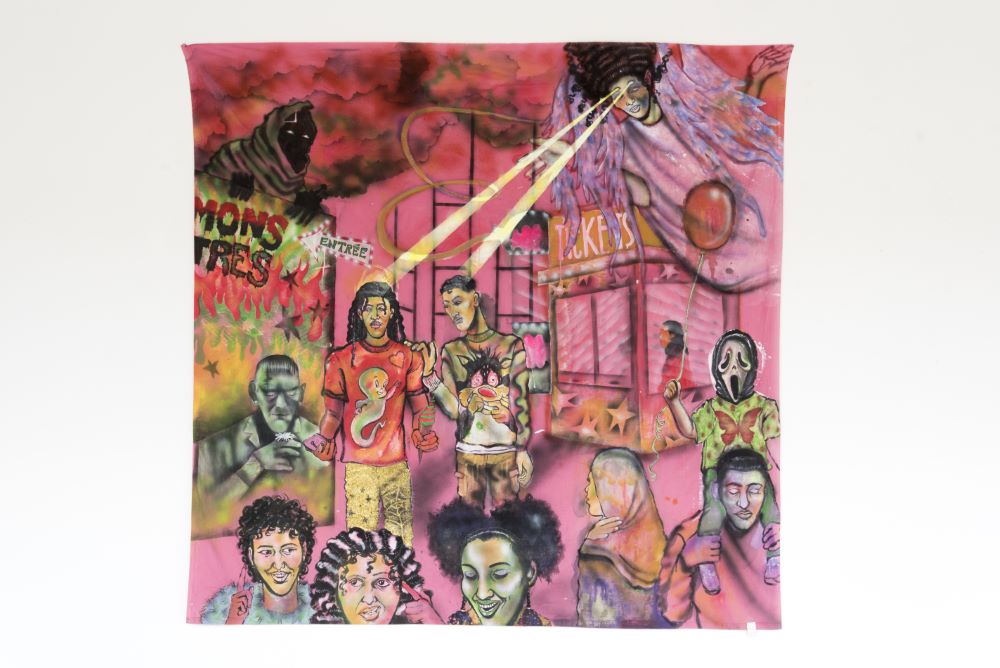 Neïla Czermak Ichti
Les anges de Porte Dorée, 2021
acrylic on cotton sheet
170 x 170  cm
Neïla Czermak Ichti Aziz at the fun fair, angel passing by, 2020 screen print on cotton sheet
110 x 110 cm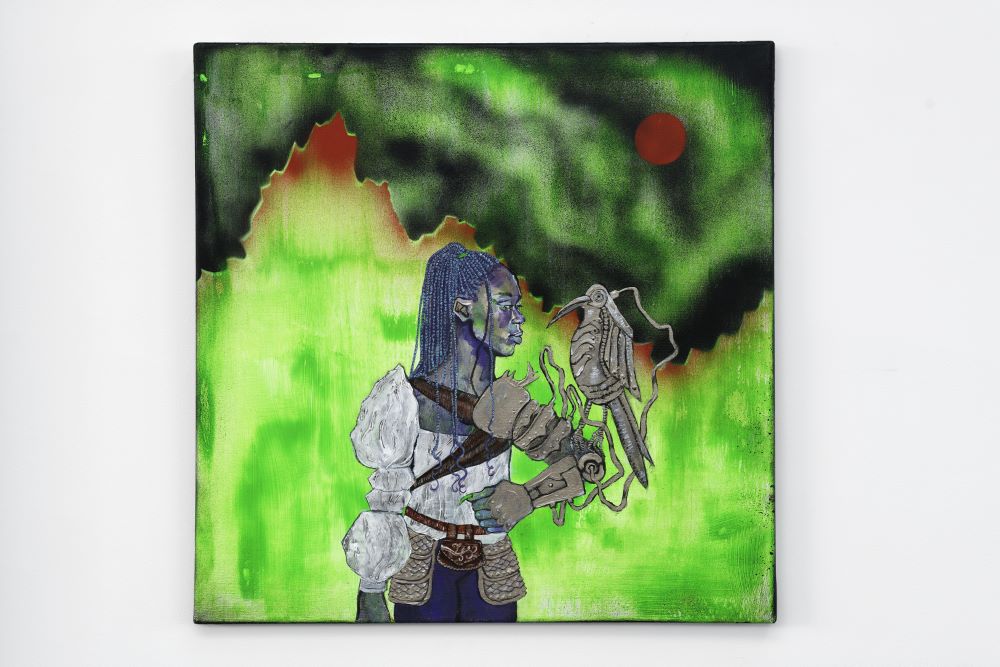 Neïla Czermak Ichti
Girl with the eagle eye, 2020
acrylic on canvas
60 x 60  cm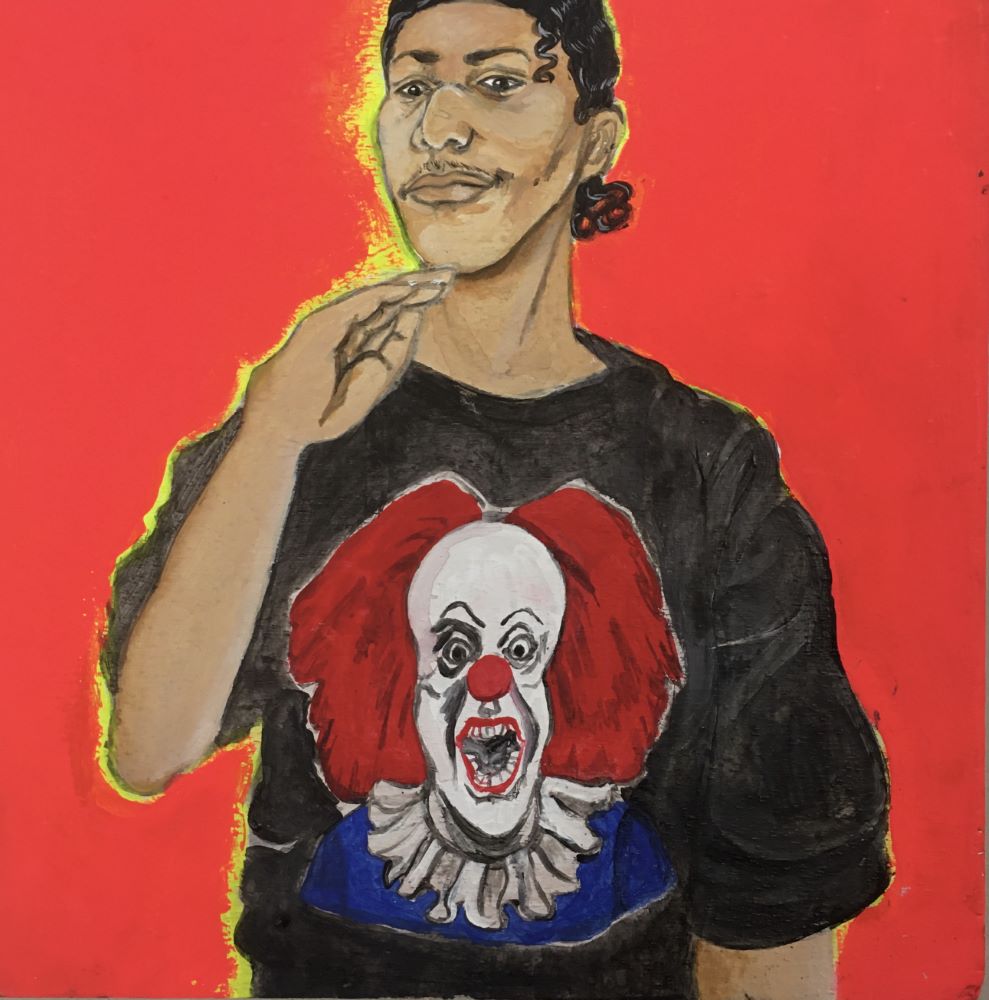 Neïla Czermak Ichti
De quoi être fier, 2019
acrylic on wood 20 x 20 cm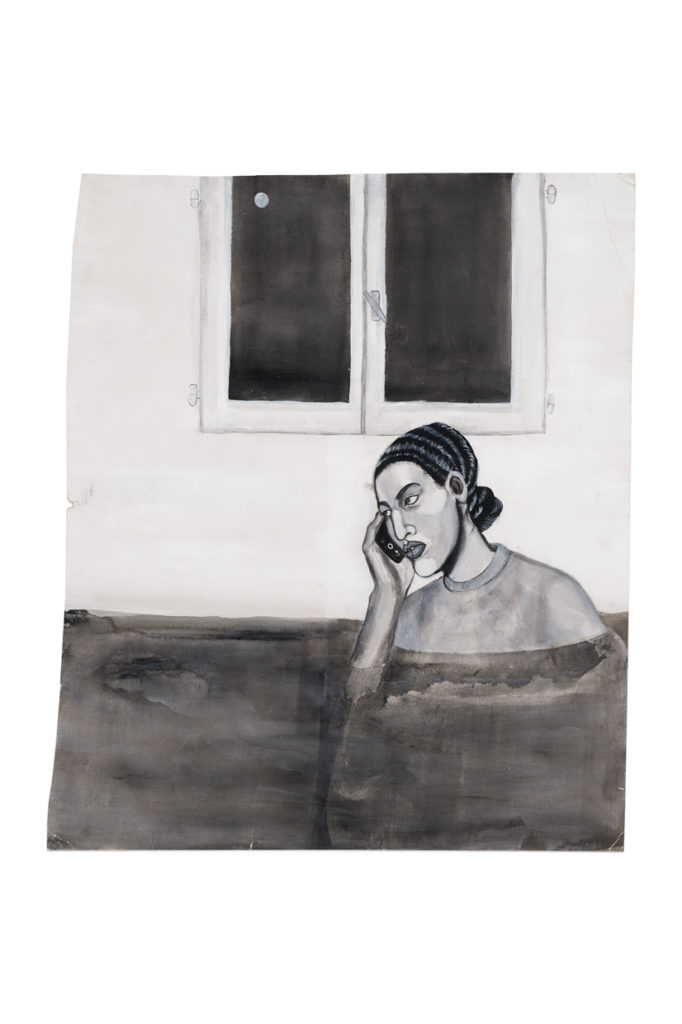 Neïla Czermak Ichti
Allo, ouais il se passe des trucs chelous, rappelle moi, 2019
gouache on paper
68,5 x 59,2 cm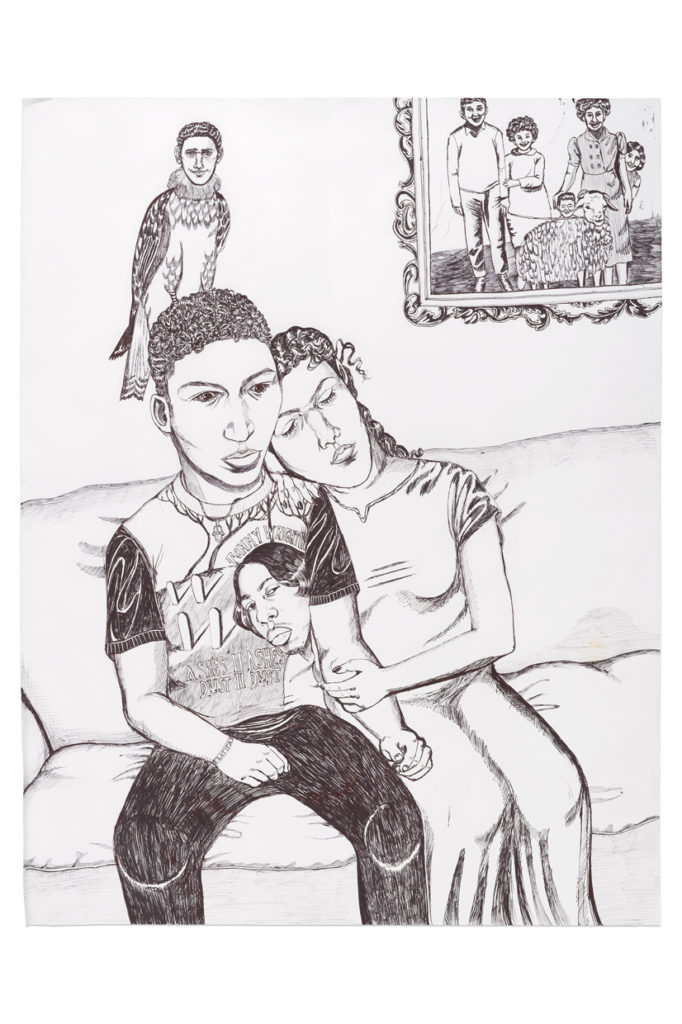 Neïla Czermak Ichti
Ça va, 2019
ink on paper
64,5 x 50  cm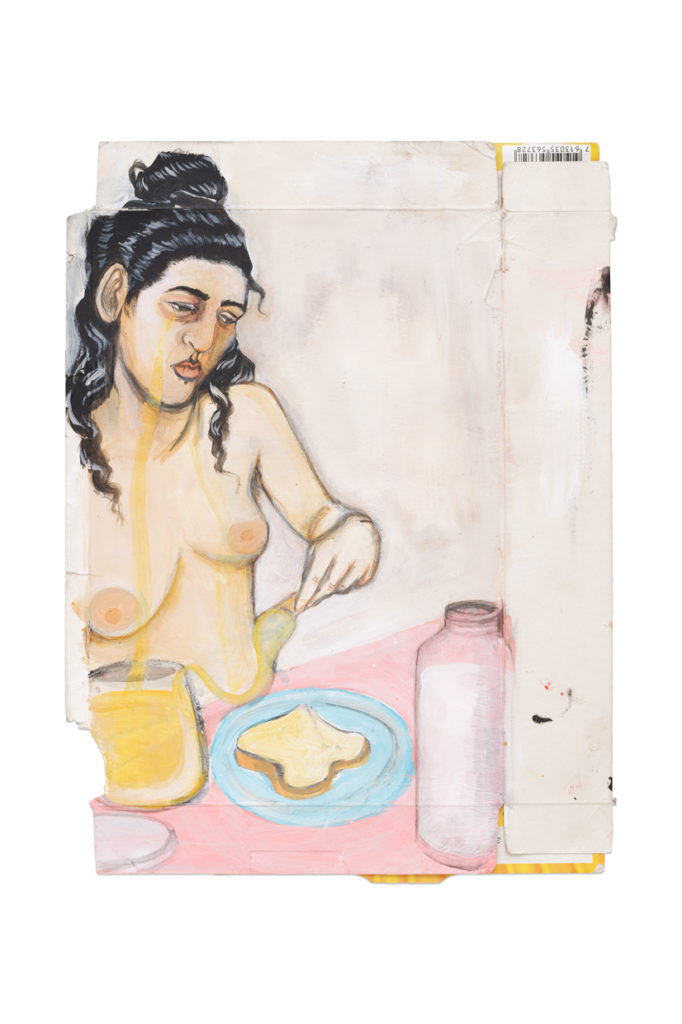 Neïla Czermak Ichti
De mes yeux coulent du miel, 2019 acrylic on cardboard (cereal box)
33,5 x 25 cm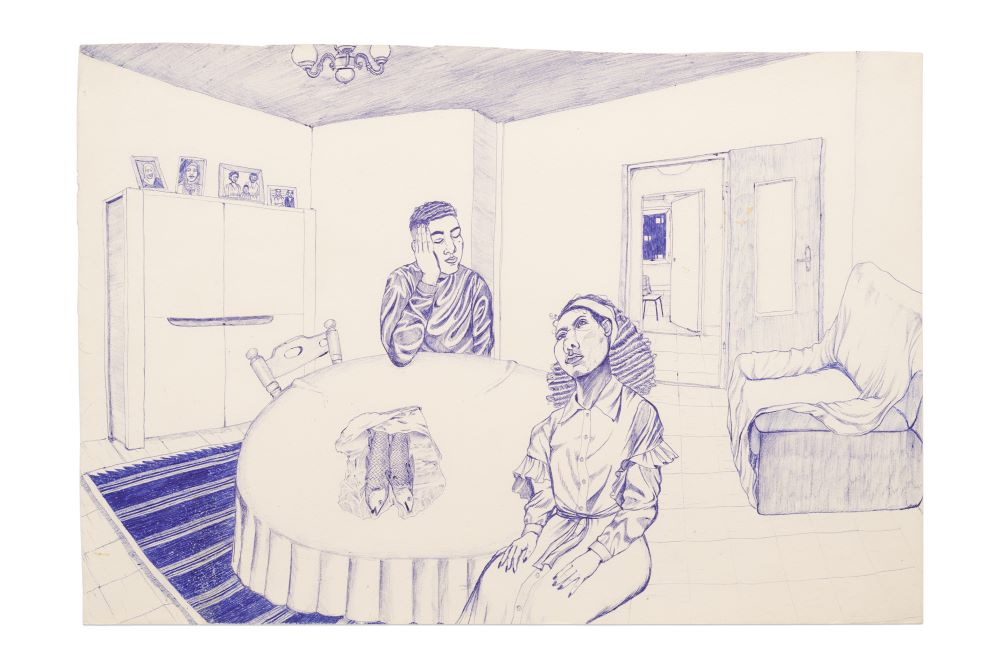 Neïla Czermak Ichti Sans titre (salon d'Aziza), 2018 ballpoint pen on paper 39,7 x 57 cm
biography
Neïla Czermak Ichti was born in Bondy in 1996. She lives and works in Marseilles.
Through drawings and paintings, she depicts her family and her friends . The representation of apparently ordinary and trivial scenes refers to her beliefs, her cultures, and takes on magic and invisible dimensions.
Graduating from the École des Beaux-Arts de Marseille in 2021, her work has recently been shown at the Villa Arson in Nice, at MO.CO in Montpellier, at CAC Brétigny, and in the "Désolé" exhibition at the Edouard Manet gallery in Gennevilliers, curated by Mohamed Bourouissa.
At the invitation of Anna Labouze and Keimis Henni, Neïla Czermak Ichti is currently taking part in the "Après l'éclipse" exhibition at the Magasins Généraux in Pantin, and will be taking part in the Nîmes Triennale in 2024.
Solo exhibitions
Group exhibitions
2023
Paris+ by ArtBasel | Neïla Czermak Ichti - Rayane Mcirdi - Ibrahim Meïté Sikely | Grand Palais Ephémère, Paris
Après l'éclipse | Les Magasins Généraux, Pantin | Curated by: Anna Labouze et Keimis Henni
Césure fait sa nuit blanche | Césure, Paris | Curated by: Horya Makhlouf
100% L'EXPO | La Villette, Paris | Curated by: Inès Geoffroy
Immortelle | MO.CO, Montpellier | Curated by: Numa Hambursin, Amélie Adamo, Anya Harrison
༎ຶ‿༎ຶ mimicry | Sissi Club, Marseille
to The Fire Next Time | centre d'art de la Villa Arson, Nice | Curated by: Mawena Yehouessi & Rosanna Puyol
2022
De Toi à Moi | Fondation Fiminco, Romainville | Curated by: Jennifer Flay
les amis durent | Neïla Czermak Ichti, Ibrahim Meïté Sikely, Luna Petit, Lassana Sarre, Flo*Souad Benaddi | Galerie anne barrault – Paris
Neïla Czermak Ichti & Tarek Lakhrissi | Nir Altman / Artorama, Marseille | Curated by: Ndayé Kouagou
Drawing Now, Paris | le Carreau du Temple, Paris
La vallée des merveilles | Espace à vendre, Nice | Curated by: Nina Leger et Karine Rougier
2021
Tricksters | Gianni Manhattan, Vienne | Curated by: Sarah Johanna Theurer
2020
Be my Guest (1) | Galerie anne barrault – Paris
2020
Hamdoulah, ça va, lieu d'exposition « DADA », dans le cadre de la foire d'art contemporain Africain « 1-54 », Marrakech, curated by Mohamed Bourouissa & Sonia Perrin
2019
Désolé, commissaire : Mohamed Bourouissa, galerie Edouard Manet, Gennevilliers
First sight, galerie Sissi Club, Marseille Identifi.é.e.s ?, espace culturel Main Libres, Saint-Ouen
2018
Outrage collectif, Théâtre de l'usine dans le cadre du festival antiraciste « Paraponera » Genève, Suisse Les temps Sauvages II, espace culturel  Brasserie Atlas organisé par LEAVING LIVING DAKOTA et NMT, Bruxelles, Belgique
Femmes cachées, galerie Ausgang Plaza, Montréal, Canada
Beurettocratie, espace culturel Les Woraces, organisé par le collectif féministe et antiraciste «Collectif Des Raciné.e.s », Lyon
2017
Exposition collective organisée par le GDS (GoodDirtySound), Asnières-sur-seine.
press
exhibitions
Current exhibitions
Après l'éclipse
Les Magasins Généraux, Pantin
Curated by: Anna Labouze et Keimis Henni
30 June - 22 October 2023
Upcoming exhibitions
Paris+ by ArtBasel
Grand Palais Ephémère, Paris
18 - 22 October 2023
Neïla Czermak Ichti


Galerie anne barrault – Paris


14 October -25 November 2023
Gallery exhibitions
books & prints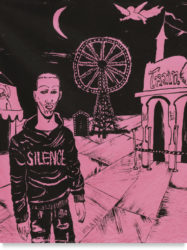 Neïla Czermak Ichti
éditions P
2021
23 x 30 cm
80 pages
25 €