works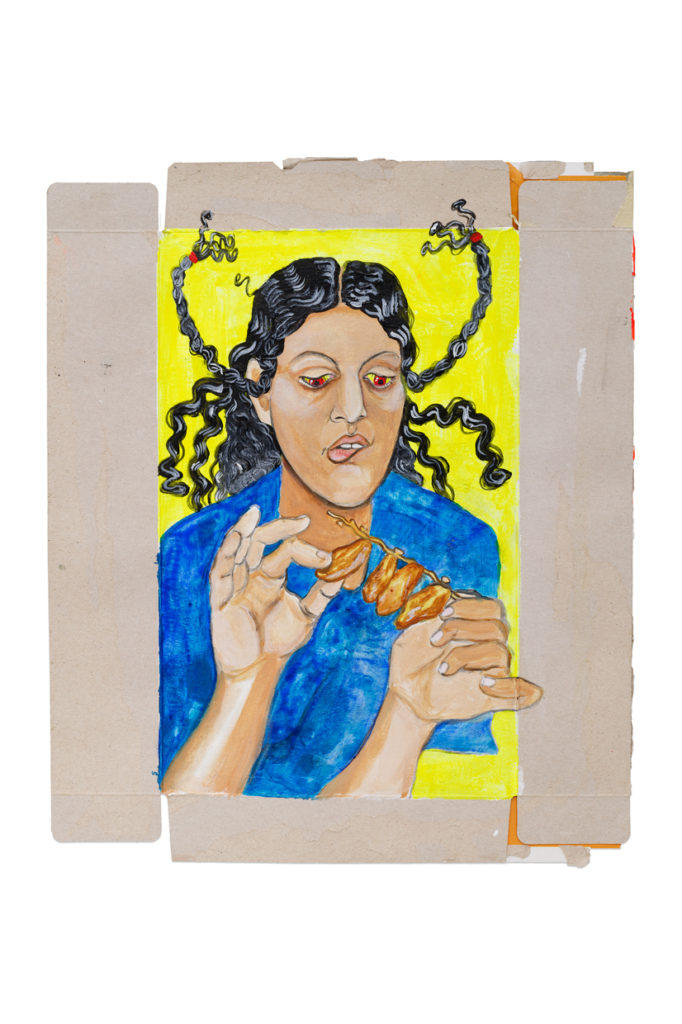 Neïla Czermak Ichti
Monstresse qui aime le sucre, 2019
acrylique sur carton
37,2 x 31 cm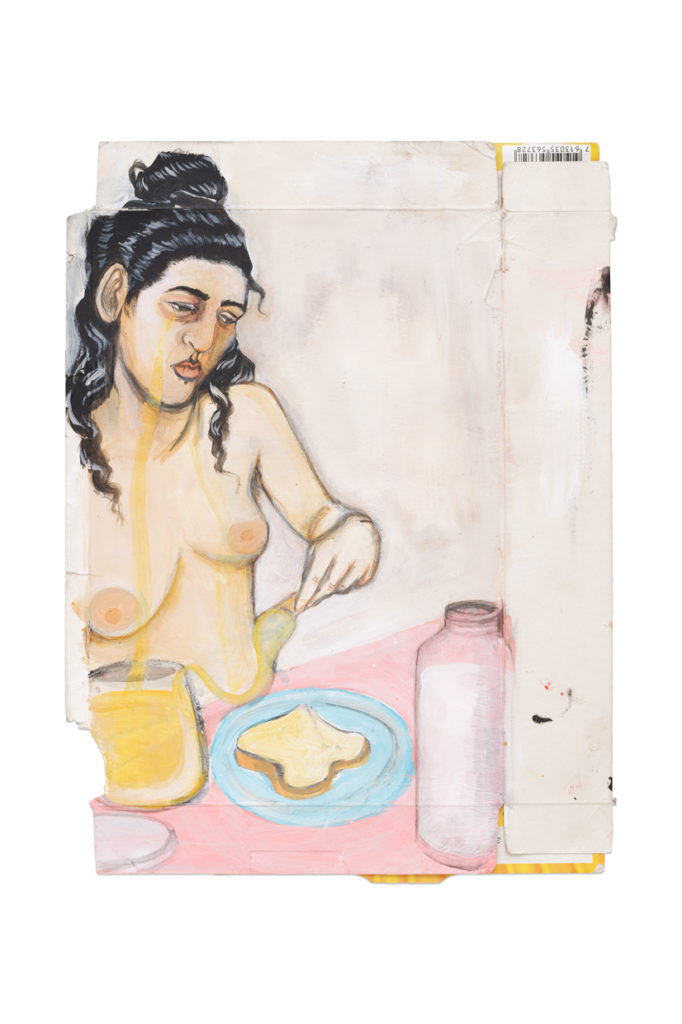 Neïla Czermak Ichti
De mes yeux coulent du miel, 2019
acrylique sur carton
33,5 x 25 cm
biography
Née à Paris en 1996, vit et travaille à Marseille
Neïla Czermak Ichti lives and works in Marseille and is a student at the Ecole des Beaux-Arts. Through drawings and paintings, she depicts her family and her friends. The representation of apparently ordinary and trivial scenes refers to her beliefs, her cultures, and takes on magical and invisible dimensions which are influenced by popular culture.
Solo exhibitions
2021
Neïla Czermak Ichti | Neïla Czermak Ichti | Galerie anne barrault – Paris
Neïla Czermak Ichti et Ibrahim Meïté Sikely | CAC Brétigny
Group exhibitions
2020
Hamdoulah, ça va, lieu d'exposition « DADA », dans le cadre de la foire d'art contemporain Africain « 1-54 », Marrakech
2019
Désolé, commissaire : Mohamed Bourouissa, galerie Edouard Manet, Gennevilliers
First sight, galerie Sissi Club, Marseille
Identifi.é.e.s ?, espace culturel Main Libres, Saint-Ouen
2018
Outrage collectif, Théâtre de l'usine dans le cadre du festival antiraciste « Paraponera » Genève, Suisse
Les temps Sauvages II, espace culturel  Brasserie Atlas organisé par LEAVING LIVING DAKOTA et NMT, Bruxelles, Belgique
Femmes cachées, galerie Ausgang Plaza, Montréal, Canada
Beurettocratie, espace culturel Les Woraces, organisé par le collectif féministe et antiraciste «Collectif Des Raciné.e.s », Lyon
2017
Exposition collective organisée par le GDS (GoodDirtySound), Asnières-sur-seine.
exhibitions
Current exhibitions
Neïla Czermak Ichti et Ibrahim Meïté Sikely
CAC Brétigny
15 January - 17 April 2021
Gallery exhibitions
28 August - 9 October 2021