works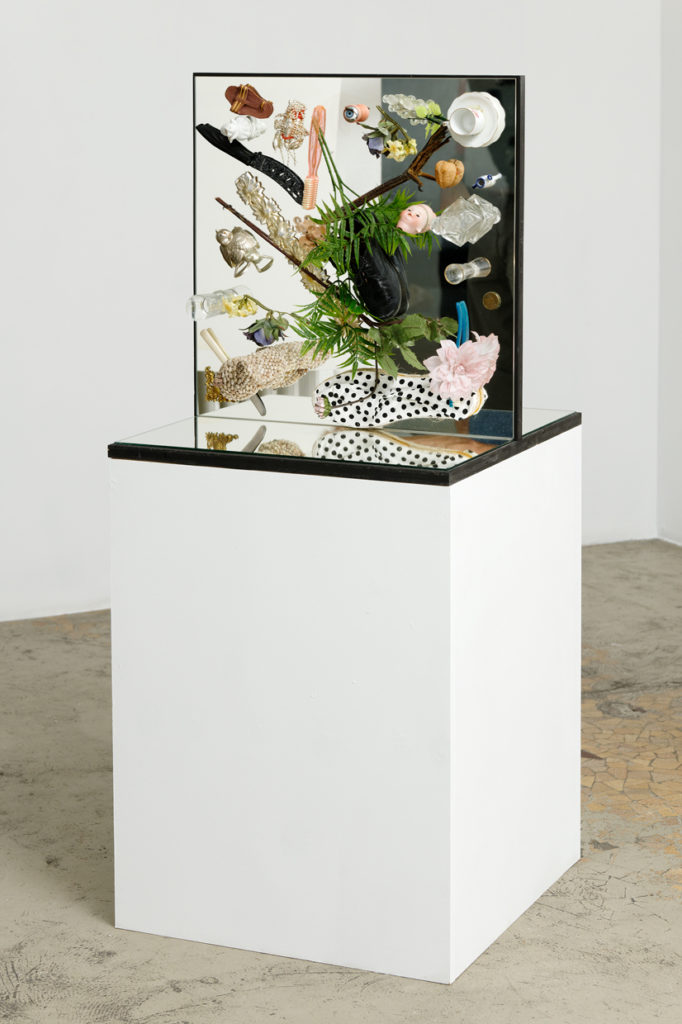 Daniel Spoerri
La realité est congruente avec l'imagination, 2018
mix media
50 x 100  cm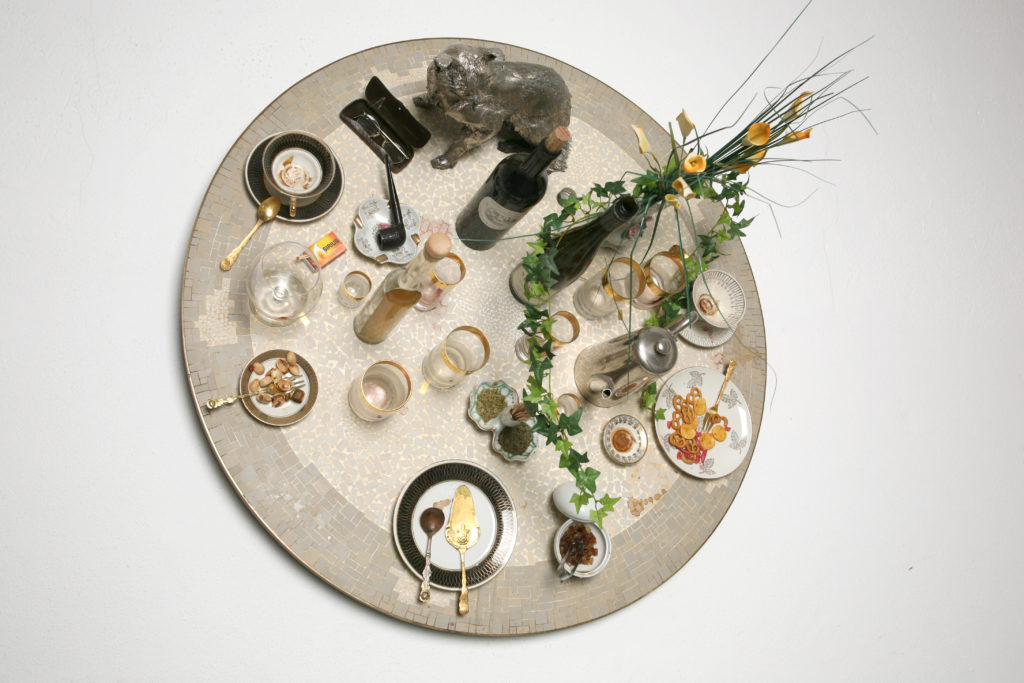 sans titre, 2012
Faux tableaux piège
Mosaiques années cinquante
70 x 100 cm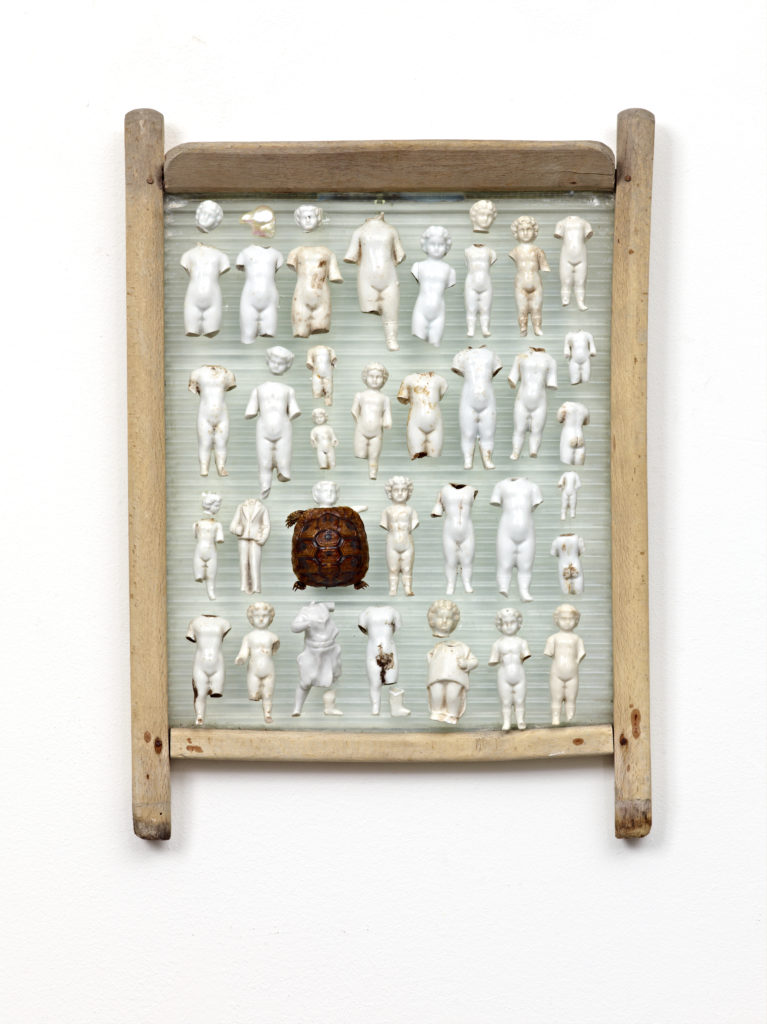 Die Ausnahme, 2012
Waschrumpeln
technique mixte
60 x 46  x 12 cm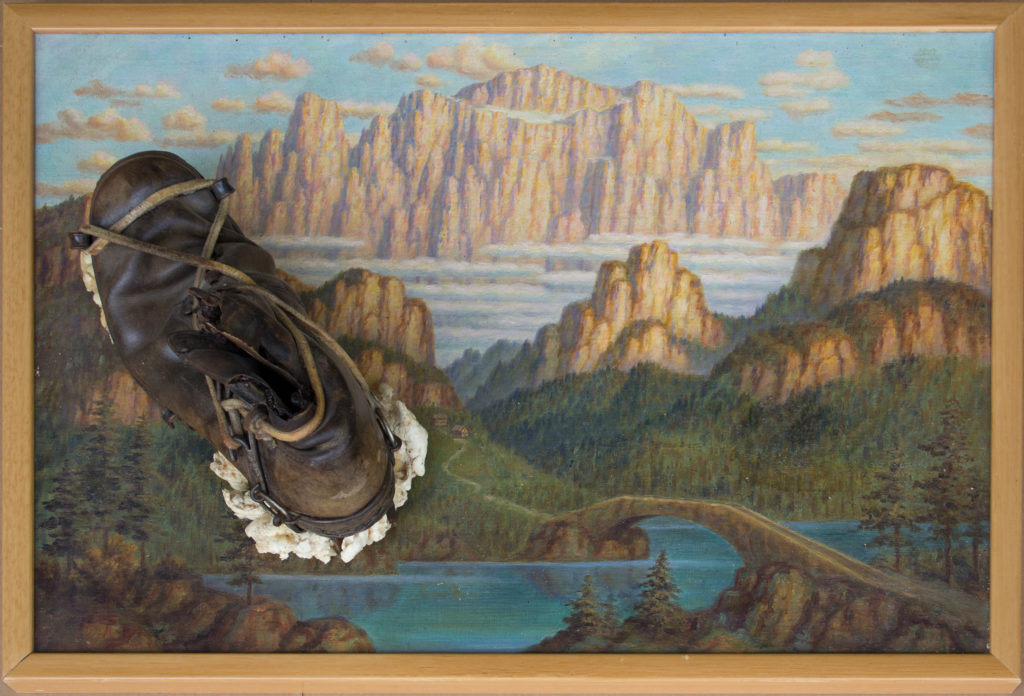 Bamler "Bergsteiger" / "L'alpiniste", 1998
Détrompe l'oeil
technique mixte
50 x 65 x 15 cm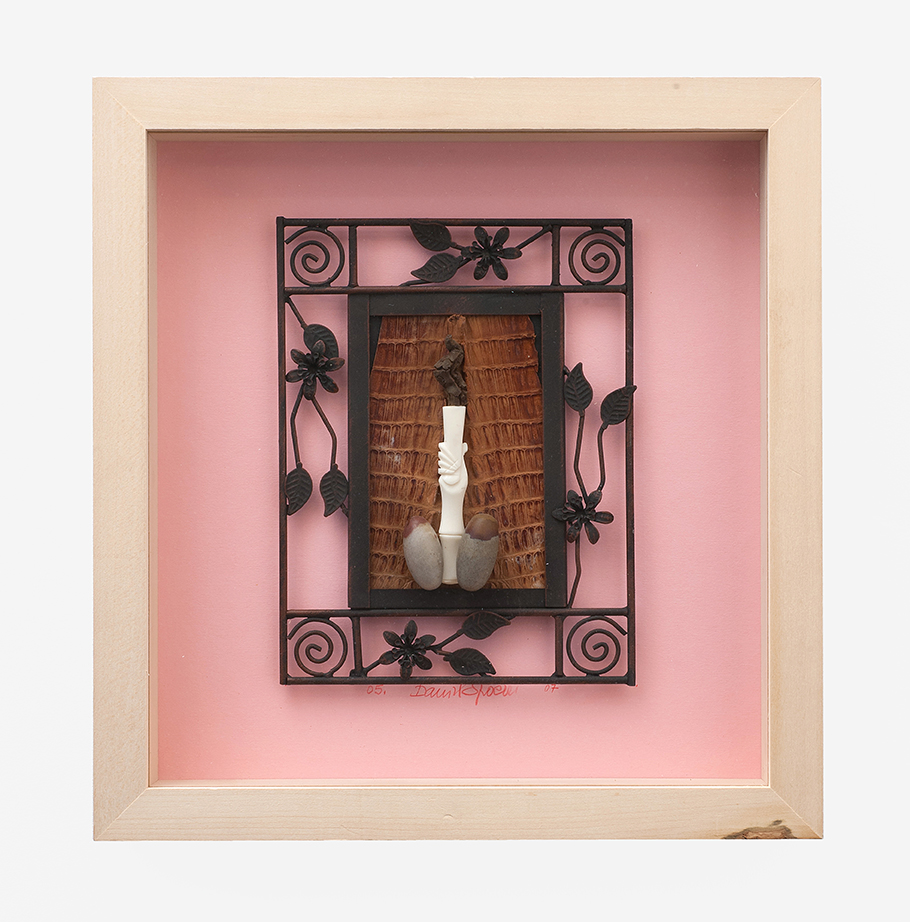 sans titre, 2007
assemblage, technique mixte
49,5 x 39 cm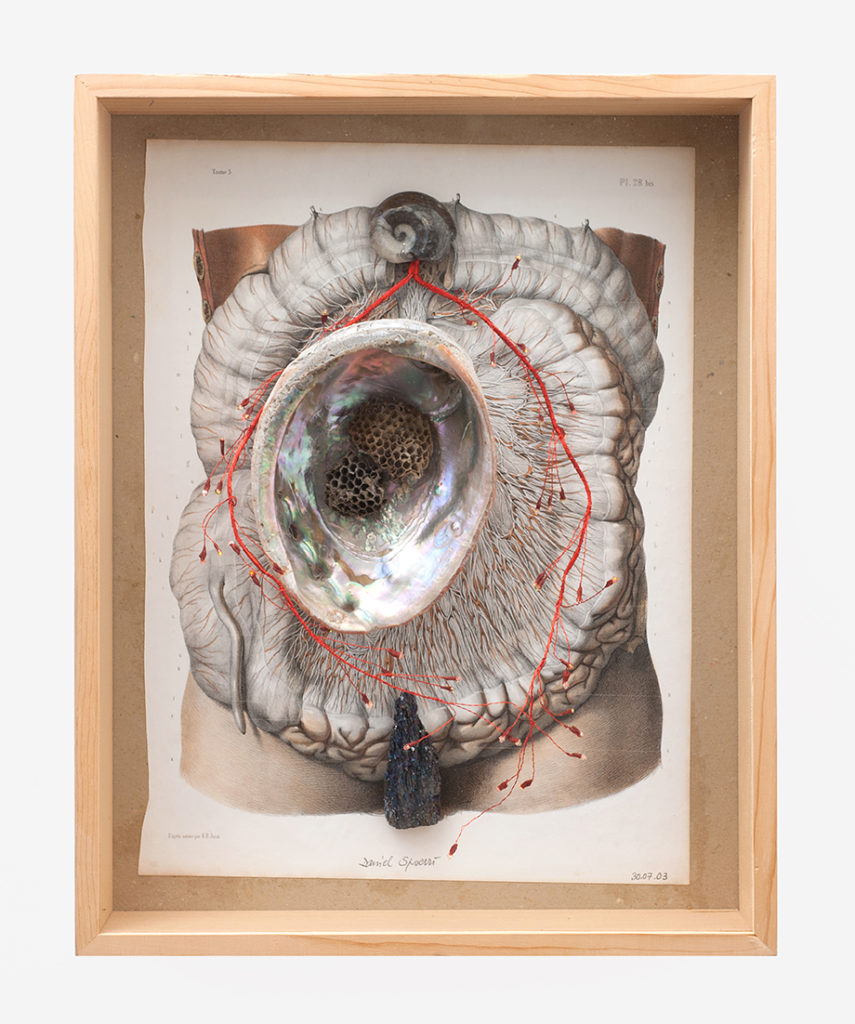 sans titre, 2003
cabinet anatomique : le colon
assemblage, technique mixte
36,5 x 34,5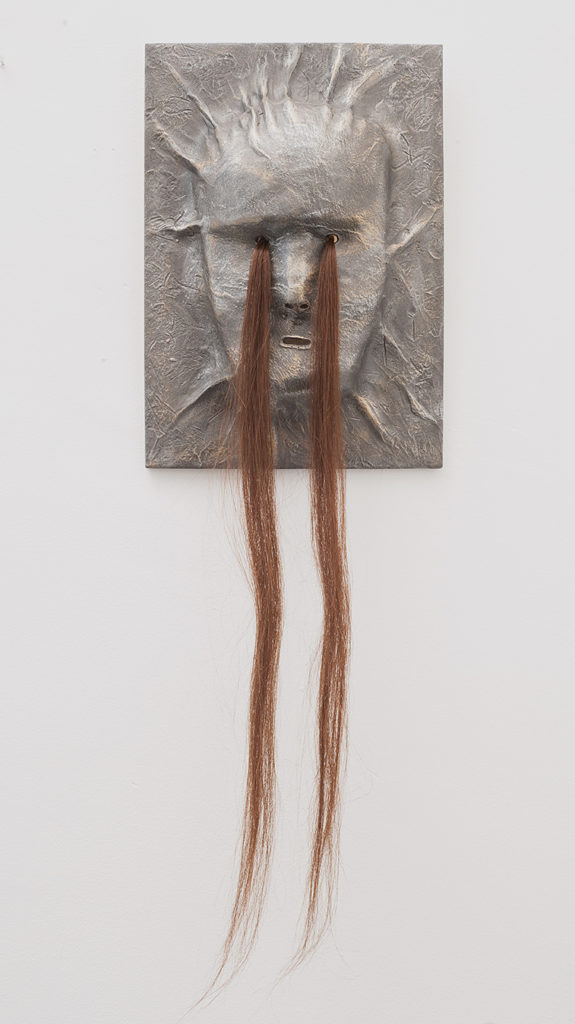 Haar-Weinende (Pleurant des cheveux), 2008
résine et cheveux
32 x 22,5 cm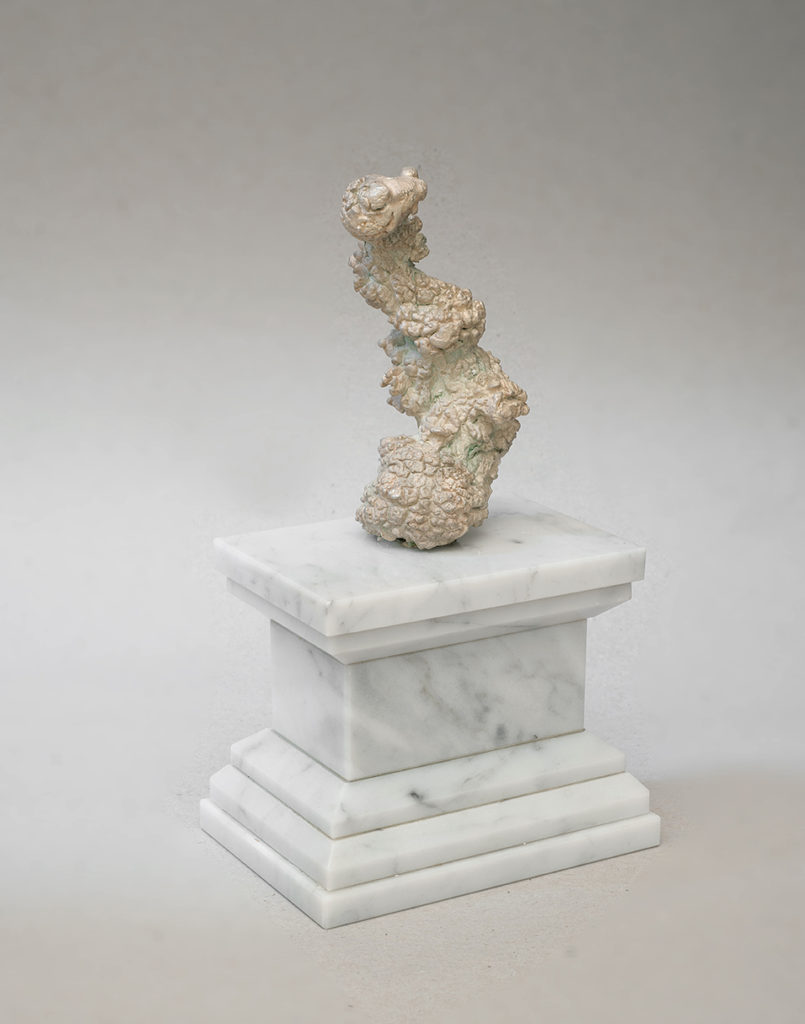 Petit monument à la merde, 2008
koprolith, bronze et marbre
21 x 12,5 cm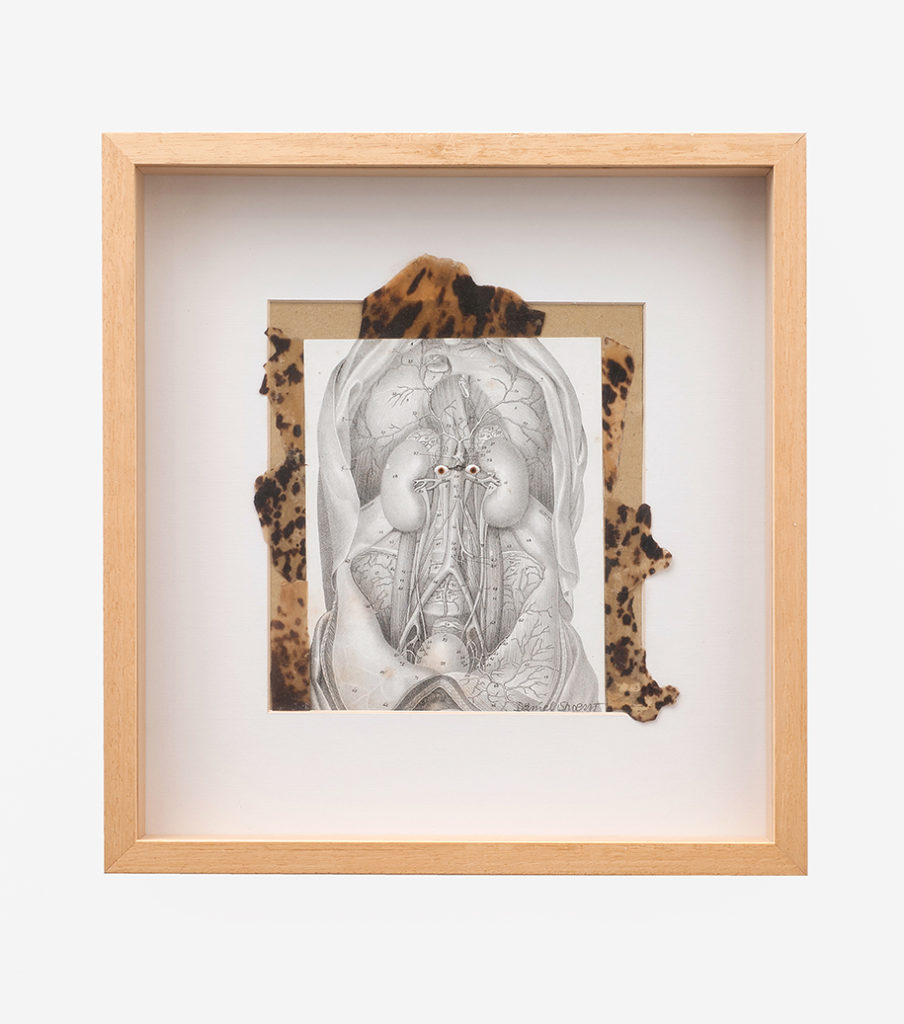 sans titre, 2012
cabinet anatomique
assemblage, technique mixte
36 x 34 cm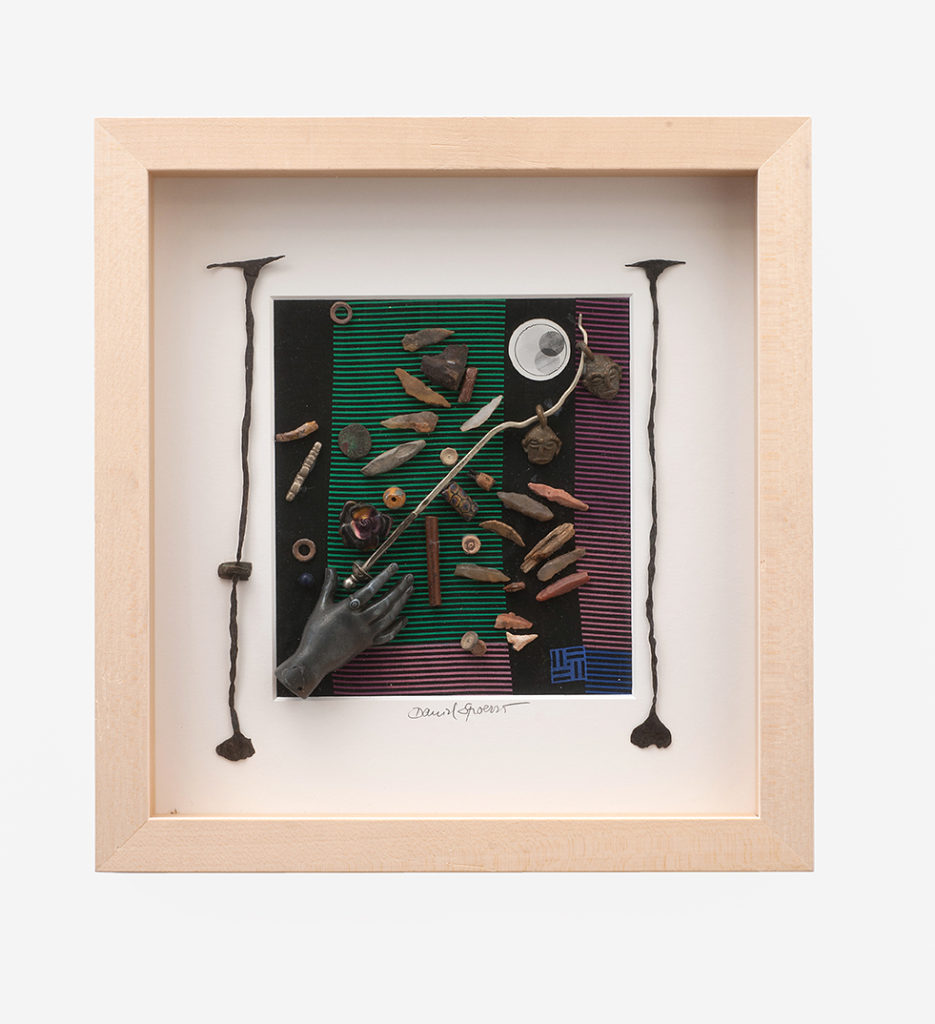 Background Fürtler, 2008
assemblage, technique mixte
37,5 x 35,5 cm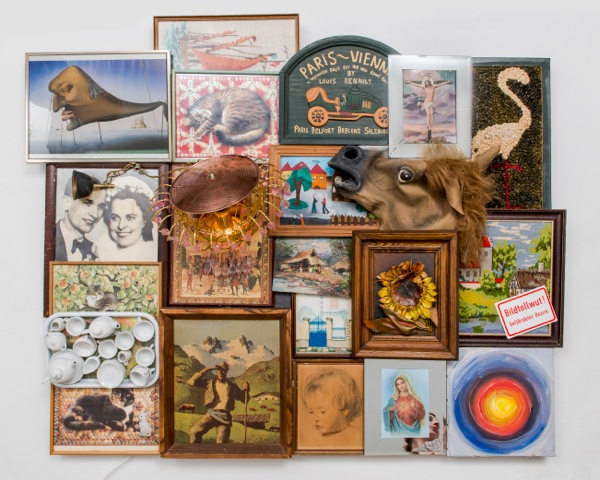 sans titre, 3 octobre 2015
rage de tableaux
technique mixte
125 x 160 x 45 cm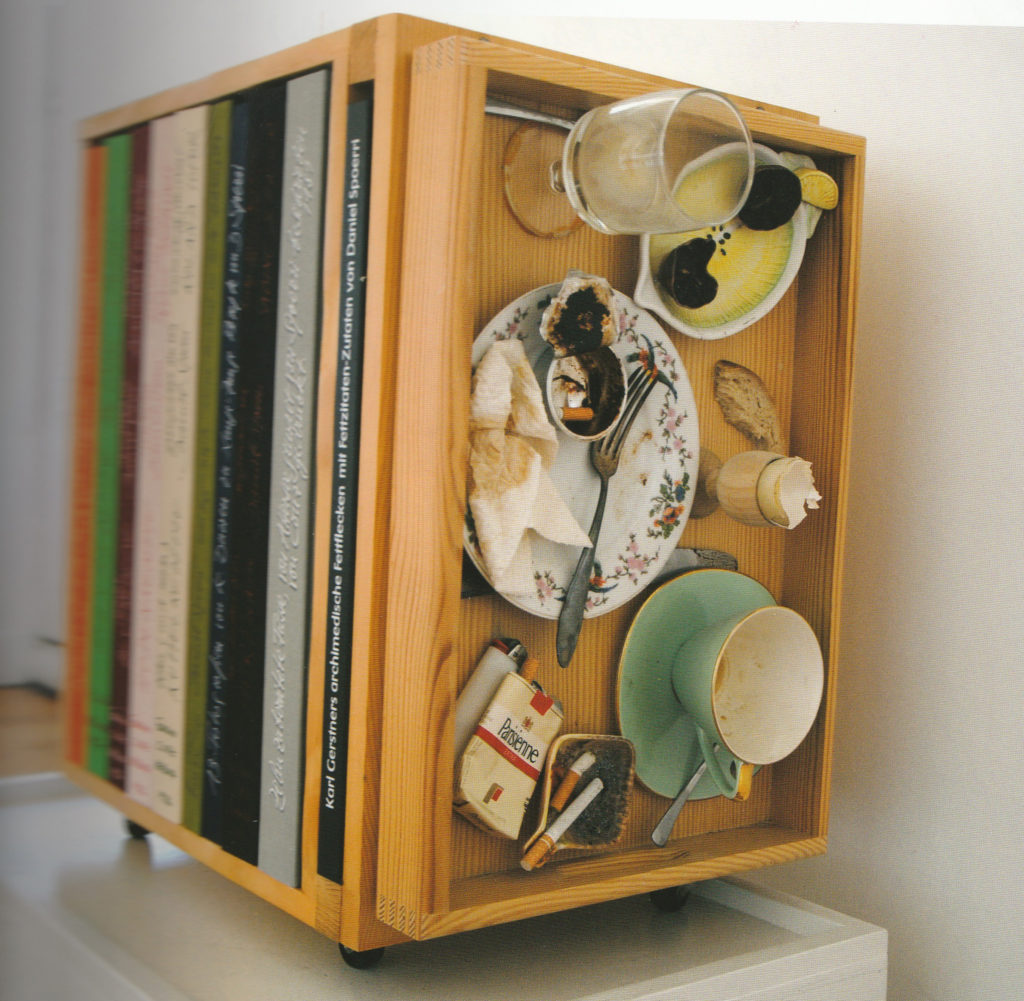 La bibliothèque de livres de recettes, 1990
avec les estampes de Roland Topor, Dieter Roth, Alfred Hofkunst, Bernhard Luginbuhl, Karl Gerstner, Christian Ludwig Attersee, Bernard Blume, Katharina Duwen, Sabine Schroer, Fritz Scwegler
59 x 55 x 34,5 cm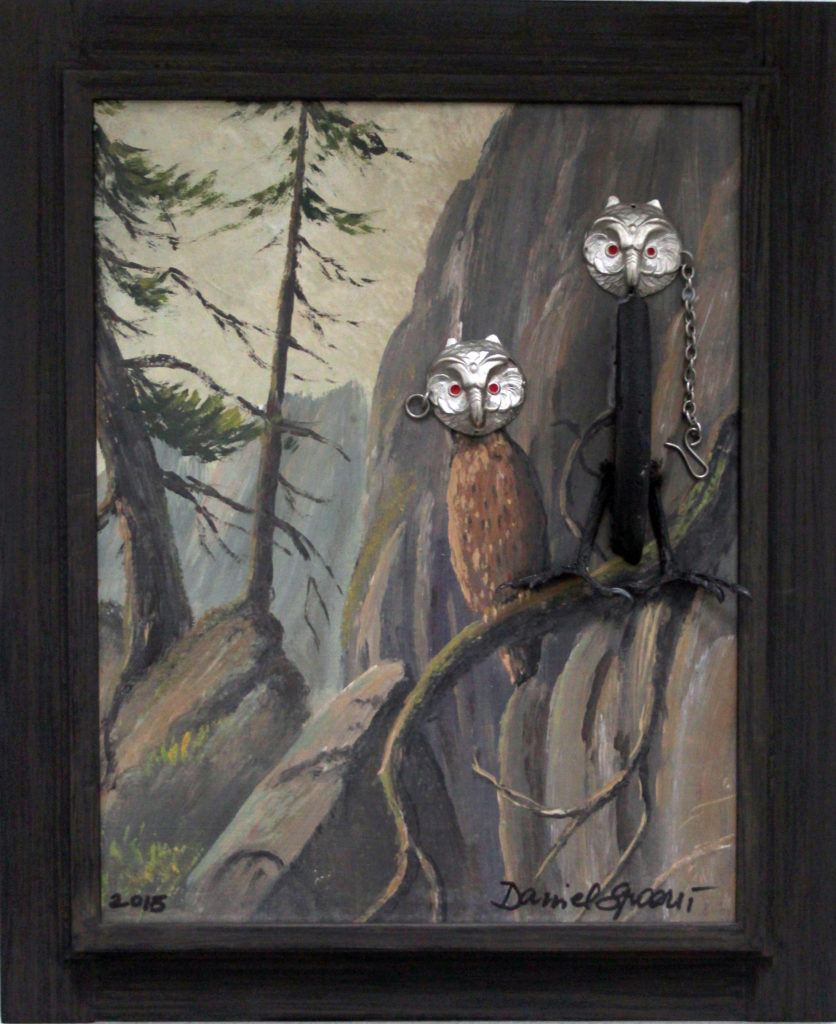 sans titre, 2016
détrompe l'œil
assemblage
42 x 34 x 6 cm
biography
Daniel Spoerri was born on March 27th1930 in Galati, Romania. His father was killed during Lasi pogrom in June 1941. With his family, he seeks refuge in Switzerland.
He starts his career as a dancer in 1954, and becomes the first dancer of Berne Opera. Then, from 1957 to 1959 he is the assistant stage director at Darmstadt Landestheater and creates the magazine of avant-garde poetry  "MATERIAL".
In 1960, he makes his first snare-pictures, and later explains their process in "Topographie anecdotée du Hasard" in 1962.
Living in Paris in 1960, he founds MAT (Multiplication d'Art Transformable), a publishing house, and publishes multiples (artist's books, boxes with objects, sculptures…) of Yaacov Agam, Josef Albers, Pol Bury, Marcel Duchamp, Heinz Mack, Dieter Roth, Jesus-Rafael Soto, Jean Tinguely, François Morellet, Victor Vasarely and many others.
Close to Tinguely and Yves Klein since 1949, he signs the aesthetic declaration of New Realism.
A friend of Robert Filliou (1926-1987) since 1959, he approaches George Brecht and George Maciuna, the creators of Fluxus.
After converting gallery J. into a restaurant and the dinner tables with the meals eaten by friends into works of art, Spoerri opens a restaurant in Dusseldorf and the Eat-Art Gallery where, among others, Joseph Beuys, Nikki de Saint Phalle, Richard Lindner, François Morellet and Roland Topor are exhibited.
Today, Daniel Spoerri exploits the magic characteristic of found objects, assembling skulls of animals, orthopedic instruments, meat mincers, which become the idols of an invented primitive art, mocking artistic beliefs and conventions. On this principle, he conceives "les Corps en Morceaux" at château d'Oiron (Béarn des Gaves) in 1993, a parody of trophies made of armor pieces, prostheses, African masks, heads of wooden horses…
Spoerri opens a foundation in Tuscany in 1997 with sculptures in the garden.
Solo exhibitions
2021
Daniel Spoerri | MAMAC - Musée d'Art Moderne et d'Art Contemporain de Nice | Curated by: Rébecca François
Daniel Spoerri | Kunstforum Wien | Curated by: Veronika Rudorfer
2020
Happy Birthday Mr Spoerri ! | Galerie anne barrault – Paris
2017
Daniel Spoerri | Galerie anne barrault – Paris
2018
Riordinare il mondo | Boxart Galleria d'Arte, Verona, Italie
2017
Les dadas des deux Daniel | les Abattoirs – FRAC Midi-Pyrénées, Toulouse, France
Daniel Spoerri | Galerie anne barrault, Paris, France
Nil Mors Est Ad Nos: Der Tod Betrifft Uns Nicht | WeGallery, Berlin, Allemagne
Daniel Spoerri Détromb-l'oeil | Smolka Contemporary, Vienne, Autriche
2016
Was Bleibt / Bildertollwut | Galerie Krinzinger, Vienne, Autriche
Lovis-Corinth-Preis 2016, "Daniel Spoerri – Das offene Kunstwerk" | Kunstforum Ostdeutsche Galerie Regensburg, Allemagne
Daniel Spoerri – Neue Arbeiten | Galerie Geiger, Konstanz, Allemagne
"Eine schöne Bescherung" | Art Box – Museumsquartier, Vienne, Autriche
2015
Daniel Spoerri: Eat Art in Transformation | Galleria Civicadino, Modena, Italie
Il SPOERRI Oder es gibt, Hommage zu Daniel Spoerris 85. Geburtstag | Galerie Levy, Hambourg, Allemagne
Einweihung der Skulptur "Dead End" | Museumsgarten des Landesmuseums Niederösterreich, St. Pölten, Autriche
Daniel Spoerri: "Eat art" | Le Musée Le Carroi, Chinon, France
Retrospektive Daniel Spoerri | MOCAK – Musée pour l'Art Contemporaine, Cracovie, Pologne
2014
Rost Idole & Fadenscheinige Orakel | Galerie Krinzinger, Vienne, Autriche
Speckner – Spoerri | Schmuckmuseum Pfortsheim, Allemagne
2013
Waschrumpeln | Galerie Levy, Hambourg, Allemagne
Skulpturen-garten | Galerie Henze & Ketterer, Wichtrach/Bern, Suisse
2012
"G R A Z G E F L Ü S T E R" | Stadtmuseum Graz, Graz, Autriche
Faux tableaux – Pièges: Serie mosaiques années 50 | Galerie Krinzinger, Vienne, Autriche
Naturhistorisches Museum, Vienne, Autriche
2011
Ein Augenblick für eine Ewigkeit | Sammlung Essl, Klosterneuburg, Autriche
Daniel Spoerri | Kisterem, Budapest, Hongrie
2010
Daniel Spoerri | Villa Croce Museo d´Arte Contemporanea, Genova, Italie
2009
Daniel Spoerri | Ludwig Museum im Deutschherrenhaus, Koblenz, Allemagne
NEUE BRONZEN | Galerie 422, Gmunden, Autriche
Neue Werke | LEVY Galerie, Hambourg, Allemagne
2008
Assemblagen und Bronzen | Galerie Geiger, Konstanz, Allemagne
2007
Assemblagen & Sculpturen | Galerie Willy Schoots, Eindhoven, Pays-Bas
Opere scelte 1963-90 | Galleria Arte e Arte, Bologne, Italie
Non per Caso | Centro per l´Arte Contemporanea Luigi Pecci, Prato, Italie
2006
Anatomie des Zufalls | Kunstsammlung Neubrandenburg, Neubrandenburg, Allemagne
Prillwitzer Idole – Kunst nach Kunst nach Kunst | Staatliches Museum Schwerin, Schwerin, Allemagne
2005
110 Jahre Spoerri und Galerie Levy | LEVY Galerie, Hambourg, Allemagne
Opere Anni '70 – '80 | Galleria Arte e Arte, Bologne, Italie
A Fribourg | Musée d'art et d'histoire, Fribourg, France
Bronzen | Galerie Henze & Ketterer & Triebold, Riehen, Wichtrach/Bern, Suisse
2004
Assemblagen aus zwei Jahrzehnten | Galerie Geiger, Konstanz, Allemagne
Daniel Spoerri | Galerie Charlotte Moser, Genève, Suisse
Restaurant Spoerri au Jeu de Paume | Galerie Henze & Ketterer, Wichtrach/Bern, Suisse
Le Cabinet Anatomique | Galerie im Theater – Kunstverein Ingolstadt, Ingolstadt, Allemagne
Daniel Spoerri | Palazzo Magnani, Reggio Emilia, Italie
2003
Der Zufall als Meister | Stadtgalerie Klagenfurt, Klagenfurt, Autriche
Daniel Spoerri | Galerie 3, Klagenfurt, Autriche
Der Zufall als Meister | Galerie 422, Gmunden, Autriche
Works 1960-2001 | The Brno House of Art – Central Building, Brno, République Tchèque
Fake poetic breakfast plate No 1 – 9 | Haus der Kunst St. Josef, Solothurn, Suisse
Coincidence as Master | Kunsthaus Wien, Vienne, Autriche
2002
Works 1960-2001 | Ludwig Museum, Vienne, Autriche
Daniel Spoerri | Museum of Contemporary Art – Budapest, Budapest, Hongrie
"La Médecine opératoire dessinée d'après nature par N. H. Jacob (1839)" | Galerie Geiger, Konstanz, Allemagne
2001
Daniel Spoerri | Kunsthalle Villa Kobe, Halle (Saale), Allemagne
Daniel Spoerri presents Eat-art | Aktionsforum Praterinsel, Munich, Allemagne
Daniel Spoerri | Galerie Henze & Ketterer, Wichtrach/Bern, Suisse
Daniel Spoerri | Arbeiten von 1995 – 2000 – Raab Galerie, Berlin, Allemagne
Memories International II – Europa | Galerie Jöllenbeck GmbH, Cologne, Allemagne
1999
Daniel Spoerri | Galleria Davide Di Maggio – Milano, Milan, Italie
1998
Daniel Spoerri | Galerie Charlotte Moser, Genève, Suisse
Daniel Spoerri – Die Bronzeplastiken. Aus Anlass der Eröffnung von ´Il Giardino´ | Galerie Henze & Ketterer, Wichtrach/Bern, Suisse
Daniel Spoerri – Karneval der Tiere | Kasseler Kunstverein, Kassel, Allemagne
Daniel Spoerri – Karneval der Tiere | Raab Galerie, Berlin, Allemagne
1996
Daniel Spoerri – Arbeiten aus Serien der letzten sieben Jahre | Bawag Foundation, Vienne, Autriche
1990
Daniel Spoerri | Centre Pompidou – Musée National d´Art Moderne, Paris, France
Group exhibitions
2023
Les Furtifs | Appartement de Jacques Prévert, Paris | Curated by: galerie Pauline Pavec
2022
Le biscuit à soupe | Hight Art, Arles
Le Musée sentimental d'Eva Aeppli | Centre Pompidou Metz | Curated by: Chiara Parisi et Anne Horvath
2021
Face à Arcimboldo | Centre Pompidou Metz | Curated by: Chiara Parisi
2019
Vera Mercer & Daniel Spoerri | Künstlerhaus Marktoberdorf, Marktoberdorf, Allemagne
Topor n'est pas mort | galerie anne barrault, Paris
Gigantisme – art & industrie | FRAC Grand Large – Hauts de France
2018
Meret Oppenheim & Daniel Spoerri | Galerie Krinzinger, Vienne, Autriche
Take Me (I'm Yours) | Villa Médicis – Académia de France à Rome, Rome, Italie
Naturel pas Naturel | Musée Fesch, Ajaccio, France
Geld . Wahn . Sinn | Die Sammlung Haupt in den Reinbeckhallen Berlin, Berlin, Allemagne
Warum Kunst? | Ulmer Museum, Ulm, Allemagne
Le jardin du paradoxe – Regards sur le Cirque Divers à Liège | Musee de la vie Wallone, Liège, Liège, Belgique
2017
Never Ending Stories | Kunstmuseum Wolfsburg, Wolfsburg, Allemagne
Die Kraft des Alters | Unteres Belvedere, Vienne, Autriche
Kunst ins Leben! Der Sammler Wolfgang Hahn und die 60er Jahre | mumok, Vienne, Autriche
Blickachsen 11 | Skulpturenbiennale Blickachsen, Bad Homburg, Allemagne
Swiss Pop Art Formen und Tendenzen der Pop Art in der Schweiz | Aargauer Kunsthaus, Aarau, Suisse
Alles zur Zeit: Über den Takt, der unser Leben bestimmt | Vögele Kulturzentrum, Pfäffikon, Suisse
Modus Operandi | The Société, Brussels, Belgique
Kunstwerk Leben | Zentrum für verfolgte Künste, Solingen, Allemagne
First Star, Last Snowflake | Villa du Parc – Centre d'Art Contemporain, Annemasse, France
Espèce d'objet! | Maison des arts Georges & Claude Pompidou, Carjarc, France
Autour du Nouveau Réalisme | les Abattoirs – FRAC Midi Pyrénées, Toulouse, France
The multiple versus series versus a unique work | Galerie van Gelder, Amsterdam, Pays-Bas
Page Art – ein Sammlerprojekt | KunstRaum Bernusstrasse, Frankfort/Main, Allemagne
2016
"Una dura Seelta" | CAP (Centro Arte Plastiche), Carrara, Italie
Festival die 2 mondi "Danie Spoerri – Bronze Age" | Ex Museo Civio, Piazza del Duomo, Spleto, Italie
"Künstlerfreunde: Jean Tinguely und Daniel Spoerri" | Commissionnaire: Maxe Sommer | Ausstellungshaus
Topor, Morellet, Spoerri : une volonté de distance, curated by Alexandre Devaux| galerie anne barrault, Paris
Spoerri, Hadersdorf am Kamp, Autriche
"Mensch und Pferd" | Landesausstellung OÖ, Stift Lambach, Autriche
"Medicine in Art" | Museum für Gegenwartskunst, Cracovie, Pologne
"Objet oblige" | Verbeke Foundation, Kemzeke, Belgique
2015
VIENNA BIENNALE 2015, Mapping Bucharest: Art, Memory, and Revolution 1916-2016 | Museum für
Angewandte Kunst, Vienne, Autriche
TAKE ME (i'm Yours) | Commissariat: Christian Boltanski, Hans Ulirch Obrist and Chiara
Parisi | Monnnaie de Paris, Paris, France
2013
In Deed | Contemporary Art Centre (CAC), Vilnius, Lituanie
Gut aufgelegt. Die Sammlung Heinz Beck | Wilhelm Hack Museum, Ludwigshafen, Allemagne
sous influences – arts plastiques et psychotropes | La Maison Rouge, Paris, France
Ein Wald der Skulpturen. Die Sammlung Simon Spierer | Angermuseum Erfurt, Erfurt, Allemagne
In Deed: Certificates of Authenticity in Art | Weatherspoon Art Museum, Greensboro, États-Unis
2012
Künstler aus Rumänien im Ausland | Galerie Emilia Suciu – konstruktiv-konkrete Kunst, Ettlingen, Allemagne
Velkaite – Teil I – Goodbye | Galerie Heimeshoff, Essen, Allemagne
19. Triennale Grenchen: art limited – multiple art | Triennale Grenchen, Grenchen, Suisse
Hungry City. Landwirtschaft Und Essen In Der Zeitgenössischern Kunst | Kunstraum Kreuzberg / Bethanien, Berlin, Allemagne
afterartbodensee12 | Galerie Lisi Hämmerle, Bregenz, Autriche
The Small Utopia. Ars Multiplicata | Fondazione Prada, Venise, Italie
Addio Anni 70 | Palazzo Reale, Milan, Italie
new art in antwerp 1958-1962 – # 3 creating totally new media | MuHKA Museum voor Hedendaagse Kunst Antwerpen, Anvers, Belgique
Halali. Die Jagd Nach Dem Zeitgenössischen | Galerie Peithner-Lichtenfels, Vienne, Autriche
5. Schweizerische Triennale der Skulptur Bad Ragaz und Vaduz 2012 | Schweizerische Triennale der Skulptur Bad Ragaz und Vaduz, Bad Ragaz, Suisse
On The Road To Fluxus | Galerie Schüppenhauer, Cologne, Allemagne
On The Road To Fluxus | Die Kunstagentin, Cologne, Allemagne
Dancing towards the Essence | Kunsthaus Grenchen, Grenchen, Suisse
Atelier + Küche | MARTa Herford, Herford, Allemagne
Fluxus Jubileum | La Giarina – Arte Contemporanea, Verona, Italie
Ein Wald der Skulpturen | Opelvillen, Rüsselsheim, Allemagne
Ab in die Ecke! | Städtische Galerie Delmenhorst, Delmenhorst, Allemagne
Fluxus Jubileum – L'ultima Avanguardia Del Novecento Nelle Collezioni Venete | Associazione TRA – Treviso
Ricerca Arte, Treviso, Italie
Art = Life = Art | Dada > Fluxus | MUSEION – Museum für moderne und zeitgenössische Kunst , Bolzano
Animismus | Haus der Kulturen der Welt, Berlin, Allemagne
The Bellevue Bridge – Collages and Works on Paper | Galerie Roemerapotheke, Zurich, Suisse
Circus Wols – Weserburg | Museum für moderne Kunst, Bremen, Allemagne
Le Silence Une Fiction | Nouveau Musée National de Monaco, Monaco
O Mensch! | Galerie Henze & Ketterer, Wichtrach/Bern, Suisse
2011
Marilyn Monroe – Legende, Mythos, Ikone | LEVY Galerie, Hambourg, Allemagne
arkhaiologia, Archäologie in der zeitgenössischen Kunst | Kunsthaus CentrePasqArt, Centre d'Art, Biel, Bienne, Suisse
Dreißig Silberlinge Kunst und Geld | Sammlung Haupt, Berlin, Allemagne
Herman de vries 80 | Art Affairs Gallery, Amsterdam, Pays-Bas
Selected works August 2011 | Stalke Gallery, Kirke Saaby, Danemark
Kunstkörperlich-Körperkünstlich 3 | Kunsthalle Dominikanerkirche, Osnabrück, Allemagne
Vermessung der Welt | Kunsthaus Graz, Graz, Autriche
Antidepressica | Galerie Peithner – Lichtenfels, Vienne, Autriche
Page Art | KunstRaum Bernusstraße, Frankfort/Main, Allemagne
La Biennale de Montreal | 2011 Montreal, Canada
Aphasic Disturbance | Chelsea College of Art and Design, Londres, Angleterre
Schönheit und Vergänglichkeit | Sammlung Essl, Klosterneuburg, Allemagne
The Last Grand Tour | Museum of Cycladic Art, Athens, Grèce
München retour – Sammlungspräsentation | Kunstmuseum Bern, Bern, Suissee
Von Engeln und Bengeln | Kunsthalle Krems, Krems, Autriche
2010
Realismus – Das Abenteuer der Wirklichkeit | Kunsthalle der Hypo-Kulturstiftung, Munich, Allemagne
Eating the Universe – Vom Essen in der Kunst | Galerie im Taxispalais, Innsbruck, Autriche
C'est la vie ! Vanités de Caravage à Damien Hirst | Musée Maillol – Fondation Dina Vierny, Paris, France
Daniel Spoerri | Villa Croce Museo d´Arte Contemporanea, Genoa, Italie
Scarecrow | The Douglas F. Cooley Memorial Art Gallery, Portland, États-Unis
Augenschmaus – Vom Essen im Stilllebben | Bank Austria Kunstforum, Vienne, Autriche
Realismus – das Abenteuer der Wirklichkeit. Courbet – Hopper – Gursky | Kunsthalle in Emden, Emden, Allemagne
Life as a Legend: Marilyn Monroe | MOCA Museum of Contemporary Art, Jacksonville, États-Unis
2009
Daniel Spoerri | Ludwig Museum im Deutschherrenhaus, Koblenz, Allemagne
ADVENT & WEIHNACHTEN IM KUNSTSPEICHER | Galerie 422, Gmunden, Autriche
IMPRESSION – Ausstellung für Druckgrafik | Kunsthaus Grenchen, Grenche, Suisse
Eating the Universe. Vom Essen in der Kunst | Kunsthalle Düsseldorf, Dusseldorf, Allemagne
Twentysix Gasoline Stations ed altri libri d'Artista – Una collezione | Museo Regionale di Messina, Messina, Italie
Das Fundament der Kunst – Die Skulptur und ihr Sockel seit Alberto Giacometti | Städtische Museen Heilbronn, Heilbronn, Allemagne
A Hartung a Warhol. Presenze internazionali nella collezione Cozzani. Opere dalle
raccolte del CAMeC | Centro de Arte Moderna e Contemporanea della Spezia, La Spezia, Italie
Meret Oppenheim / Daniel Spoerri | LEVY Galerie, Berlin, Allemagne
Gestern oder im 2. Stock – Karl Valentin, Komik und Kunst seit 1948 | Münchner Stadtmuseum, Munich, Allemagne
Mahlzeit! (Essen in der Kunst) | Galerie im Traklhaus, Salzburg, Autriche
13 PARADISO (cantico) / Paradies – der dreizehnte Gesang | Lo Spirito del Lago, Stresa, Italie
Gefrorene Momente | Bündner Kunstmuseum Chur, Chur, Suisse
In The Making… – Werke aus den Sammlungen | Hamburger Bahnhof, Museum für Gegenwart, Berlin, Allemagne
4. Schweizerische Triennale der Skulptur Bad Ragaz und Vaduz 2009 | Schweizerische Triennale der Skulptur | Bad Ragaz, Vaduz, Suisse
Da Hartung a Warhol | CAMeC – Centro de Arte Moderna e Contemporanea della Spezia, Italie
Esposizione Universale | GAMeC – Galleria d´Arte Moderna e Contemporanea di Bergamo, Italie
It is natural | Zonca & Zonca, Milan, Italie
Spazio Libro d'Artista | Palazzo Manganelli , Catania, Italie
L'arte è in… tavola | Galleria Arte e Arte, Bologna, Italie
2008
A Forest of Sculptures. The Simon Spierer Collection | National Museum of Contemporary Art (MNAC), Bucarest, Roumanie
10 JAHRE GALERIE 422 | Galerie 422, Gmunden, Autriche
Sehen & sammeln | Heck-Art-Galerie Kunst für Chemnitz e.V. , Chemnitz, Allemagne
1968 Kunstverein Kärnten | Künstlerhaus Klagenfurt, Klagenfurt, Allemagne
Il Nouveau Réalisme dal 1970 ad oggi. Omaggio a Pierre Restany | PAC – Padiglione d'Arte Contemporanea, Milan, Italie
Anatomie | les peaux du dessin – collection Florence et Daniel Guerlain | FRAC – Picardie, Amiens, France
ZERO lebt–europäische Avantgarde der 50er und 60er Jahre | Kunsthalle Weishaupt, Ulm, Allemagne
IM WALD. Gemälde und Arbeiten auf Papier von 1906 bis heute | Galerie Henze & Ketterer & Triebold, Riehen, Autriche
FATTO BENE! | Centro per l´Arte Contemporanea Luigi Pecci, Prato, Italie
Fluxus partiturer og instruktioner | Museet for Samtidskunst / Museum of Contemporary Art, Roskilde, Danemark
Tschau Sepp | Museum Tinguely, Basel, Suisse
The Photograph: Fluxus in Germany from 1962 – 1994 | National Gallery of Modern Art – New Delhi, New Dehli, Inde
Ad Absurdum | MARTa Herford, Herford, Allemagne
Glück- welches Glück | Deutsches Hygiene Museum, Dresden, Allemagne
Martian Museum of Terrestrial Art | Barbican, Londres, Angleterre
Konkret! Mappenwerke aus vier Jahrzehnten | KOG, Regensburg, Allemagne
'Choices' | Galerie Willy Schoots, Eindhoven, Pays-Bas
Jean Tinguely e Daniel Spoerri | Galleria Arte e Arte, Bologna, Italie
Skulpturen im Blickpunkt | Städtische Kunsthalle Mannheim, Mannheim, Allemagne
Accidental Modernism | Leslie Tonkonow Artworks + Projects, New York City, États-Unis
2007
Group exhibition | Galerie & Edition Marlene Frei, Zurich, Suisse
Christmas Special – mit Arbeiten von Künstlerinnen und Künstlern der Galerie | Galerie 422, Gmunden, Suisse
Visionäre Sammlung Vol. 5: Sammlung Gutmann | Haus Konstruktiv, Stiftung für konstruktive und konkrete Kunst, Zurich, Suisse
Wenn Handlungen Form werden – Ein neuer Realismus in der Kunst seit den fünfziger Jahren | Neues Museum – Staatliches Museum für Kunst und Design in Nürnberg, Nuremberg, Allemagne
Du Nord. Collections du XVe siècle à nos jours | Musée cantonal des Beaux-Arts, Lausanne, Suisse
Marilyn Monroe, Life as a Legend | Sioux City Art Center, Sioux City, États-Unis
Match Race – Modernistic remixes between now and then | KUNSTEN Museum of Modern Art Aalborg, Aalborg, Danemark
Vom Expressionismus zur Expressivität | Galerie Henze & Ketterer & Triebold, Riehen, Suisse
Klio – Eine kurze Geschichte der Kunst in Euramerika nach 1945 | ZKM – Zentrum für Kunst und
Medientechnologie Karlsruhe, Karlsruhe, Allemagne
Collectors 1 – Collezione La Gaia | Cesac – Centro Sperimentale per le Arti Contemporanee, Caraglio, Italie
There is never a stop and never a finish | Hamburger Bahnhof, Museum für Gegenwart, Berlin, Allemagne
100 Jahre Kunsthalle Mannheim | Städtische Kunsthalle Mannheim, Mannheim, Allemagne
Marilyn Monroe – Life as a Legend | The Dayton Art Institute, Dayton, États-Unis
Die Kunst zu Sammeln | Stiftung Museum Kunst Palast, Dusseldorf, Allemagne
Fluxus. Una larga historia con muchos nudos. Alemania 1962-1994 | Centro Andaluz de Arte Contemporáneo (CAAC), Sevilla, Espagne
Artisti, parole, immagini dal 1960 al 1968 | Fondazione Sandretto Re Rebaudengo – Ciriè, Turin, Italie
"Almost nothing-group show" | Galerie Oliver Schweden, Munich, Allemagne
Schwarzweiß-Weißschwarz- Uecker,Chillida,Venet und andere | Fischerplatz Galerie, Ulm, Allemagne
2006
Tuttolibri | Galleria Milano, Milan, Italie
Life as a Legend – Marilyn Monroe | Boca Raton Museum of Art, Boca Raton , États-Unis
Nach dem Beischlaf ist die Seele traurig | The CourtYard Gallery, Beijing, Chine
Una larga historia con muchos nudos. Fluxus en Alemania 1962-1994 | MALBA Colección Costantini – Museo
de Arte Latinoamericano de Buenos Aires, Buenos Aires, Argentine
Peter Weiss und die Avantgarde – Fluchtpunkt Paris | Kunstmuseum Bochum, Bochum, Allemagne
Six Feet Under; Autopsie unseres Umgang mit Toten | Kunstmuseum Bern, Bern, Suisse
busy going crazy. the Sylvio Perlstein collection | La Maison Rouge, Paris, France
Pianofortissiomo | Museo Vostell Malpartida, Malpartida de Cáceres, Cáceres, Espagne
Diagnose [Kunst] – Die Medizin im Spiegel der zeitgenössischen Kunst | Kunstmuseum Ahlen, Ahlen, Allemagne
Eye on Europe – Prints, Books & Multiples, 1960 to Now | MoMA Museum of Modern Art, New York City, États-Unis
Bon Appétit | Galerie Lisi Hämmerle, Bregenz, Autriche
Après dAdA ? | Galerie Lara Vincy, Paris, France
Marilyn | The Women's Museum, Dallas, États-Unis
Zéro | Musée d'Art moderne de Saint-Etienne, Saint-Etienne, France
Was ist Plastik? 100 Jahre – 100 Köpfe- Das Jahrhundert moderner Skulptur | Stiftung Wilhelm Lehmbruck
Museum, Center of International Sculpture, Duisburg, Allemagne
Fluxus & Non Fluxus Fluxus | Randers Kunstmuseum, Randers, Danemark
Les Livres de Vie – Eva Aeppli und ihre Künstlerfreunde | Kunstmuseum Solothurn, Solothurn, Suisse
Fluxus – Alemanha 1962 – 1994 | Instituto Tomie Ohtake, São Paulo, Brasil
FOOD | Studio Guastalla, Milan, Italie
Chairs | Galerie Bruno Bischofberger, Zurich, Suisse
ZERO – Internationale Künstler-Avantgarde der 50er/60er Jahre | Stiftung Museum Kunst Palast, Dusseldorf, Allemagne
Der Schuh in der Kunst | Galerie im Traklhaus, Salzburg, Suisse
Opere della Collezione | Palazzo Forti – Galleria d'Arte Moderna e Contemporanea, Verona, Italie
Hundert Küsse sind besser als einer (Hundred Kisses are better than one) | Krinzinger Projekte, Vienne, Autriche
DIE OBERE HÄLFTE. Die Büste von Rodin bis Wang Du | Museum Liner, Appenzell, Suisse
2005
Tombola | Kasseler Kunstverein, Kassel, Allemagne
Die obere Hälfte – Die Büste von Rodin bis Funakoshi | Kunsthalle in Emden, Emden, Allemagne
Rundlederwelten | Martin-Gropius-Bau, Berlin, Allemagne
"15 aus 30" | Galerie Geiger, Konstanz, Allemagne
FLUXUS llega al MAC – una larga historia con muchos nudos – Fluxus en Alemania 1 | MAC Museo de Arte
Contemporáneo. Universidad de Chile, Santiago, Chile
Nouveau Réalisme | Museum Moderner Kunst Stiftung Ludwig – MUMOK , Vienne, Autriche
Die obere Hälfte – Die Büste von Rodin bis Funakoshi | Städtische Museen Heilbronn, Allemagne
Area '70 | Cannaviello, Milan, Italie
Fluxus und Freunde | Kunstmuseum Magdeburg – Kloster Unser Lieben Frauen, Magdeburg, Allemagne
Ben et Daniel Spoerri | LAAC – Lieu d'Art et Action Contemporaine de Dunkerque, Dunkerque, France
Réouverture du LAAC | LAAC – Lieu d'Art et Action Contemporaine de Dunkerque, Dunkerque, France
BIG BANG | Centre Pompidou – Musée National d´Art Moderne, Paris, France
La main dans la main | Kunstverein Bad Salzdetfurth e.V., Bodenburg, Allemagne
9e triennale de sculpture contemporaine | Bex Arts – Triennale de sculpture contemporaine suisse en plein air, Bex, Suisse
Outdoor 05 | Galerie Henze & Ketterer & Triebold, Riehen, Suisse
Fil Rouge in Progress | Galerie René Steiner, Erlach, Allemagne
Hors d'oeuvre : ordre et désordres de la nourriture | CAPC – Musée d'art contemporain, Bordeaux, France
EXIT- Ausstieg aus dem Bild | ZKM Zentrum für Kunst und Medientechnologie, Karlsruhe, Allemagne
2004
Neuerwerbungen für die Sammlung 2004 | Neue Galerie, Universalmuseum Joanneum, Graz, Autriche
Attraversare Genova. Percorsi e linguaggi internazionali del contemporaneo | Villa Croce, Museo d´Arte Contemporanea, Genoa, Italie
Leib | Galerie 3, Klagenfurt, Allemagne
SAMEDI RIEN – Französisches aus den Siebzigern | Galerie Jöllenbeck GmbH, Cologne, Allemagne
Hic terminus haeret – Die Künstler im Giardino di Daniel Spoerri | Kunsthaus Granges, Suisse
Printed light – photographic vision and the modern print | National Gallery of Australia, Canberra, Australie
Neuerwerbungen zeitgenössischer Kunst 2001 – 2004 | KOG – Kunstforum Ostdeutsche Galerie, Regensburg, Allemagne
Die Welt der stillen Dinge | Neue Galerie, Universalmuseum Joanneum, Graz, Autriche
La sculpture des années 50-70 | Marion Meyer Contemporain, Paris, France
Una larga historia con muchos nudos. Fluxus en Alemania: 1962 –1994 | Museo Tamayo, Mexico City, Mexique
Daniel Spoerri / Fritz Schwegler | Dany Keller Galerie, Munich, Allemagne
Support – Die Neue Galerie als Sammlung – 1950 – Heute | Neue Galerie, Universalmuseum Joanneum, Graz, Autriche
Ambulantes. Cultura portátil | Centro Andaluz de Arte Contemporáneo (CAAC), Sevilla, Espagne
Element ZEIT | Krypta 182 Kunstverein Bergisch Gladbach, Bergisch Gladbach, Allemagne
Familienfest | Seedamm Kulturzentrum, Pfäffikon, Suisse
cremers haufen. alltag, prozesse, handlungen: kunst der 60er jahre und heute | LWL – Westfälisches
Landesmuseum für Kunst und Kulturgeschichte Münster, Münster, Allemagne
Roma, London, Paris | Galleria Il Ponte, Florence, Italie
Fluxus in Germany 1962 – 1994 | Listasafn Islands – National Gallery of Iceland, Reykjavik, Islande
2003
Geschenkte Kunst | Ludwig Museum im Deutschherrenhaus, Koblenz, Allemagne
Fluxus und Freunde – Sammlung Walter und Maria Schnepel | Kunstmuseum Bonn, Bonn, Allemagne
Permanent 04 | Essl Museum, Klosterneuburg, Autriche
Dintorni Dada | Galleria Arte e Arte, Bologna, Italie
Assemblage | Hauser & Wirth, New York City, États-Unis
banquete_ | MediaLab Prado, Madrid, Espagne
Das Recht des Bildes | Kunstmuseum Bochum, Bochum, Allemagne
Große Kunstausstellung | Kunsthalle Villa Kobe, Halle (Saale), Allemagne
Teddybär & Co – Die Suche nach Mythen in der Kunst | Galerie Ernst Hilger, Vienne, Autriche
Banquete,Metabolism and Communication | ZKM Zentrum für Kunst und Medientechnologie Karlsruhe, Karlsruhe, Allemagne
Sculpture | Carré d´art – Musée d´art contemporain de Nîmes, Nîmes, France
"Marilyn. The life of a legend" | County Hall Gallery, London, Angleterre
Beaufort: kunst aan zee | Oostende, Belgique
Het kunstenaarsboek als wetenschappelijke bron | Centraal Museum, Utrecht, Pays-Bas
Sammlung Beat H. Koenig | Kunsthaus Langenthal, Langenthal, Suisse
"Der Text ist eine Lüge" | Dany Keller Galerie, Munich, Allemagne
2002
Fluxus in Deutschland 1962 – 1994 | Kunsthalle Fridericianum, Kassel, Allemagne
Utopie Quotidiane – L'uomo e i suoi sogni nell'arte dal 1960 ad oggi | PAC – Padiglione d'Arte Contemporanea, Milan, Italie
Hoorn des Overvloeds – Zeven eeuwen eten en drinken in de kunst | Rijksmuseum, Amsterdam, Pays-Bas
Twenthe | Museum voor oude en moderne Kunst, Enschede, Pays-Bas
Meisterwerke aus der Sammlung des Kunstmuseums Solothurn | Kunstmuseum Solothurn, Solothurn, Suisse
8e triennale de sculpture contemporaine | Bex Arts – Triennale de sculpture contemporaine suisse en plein air, Bex, Suisse
Oeil pour oeil: Collection Privée de Lyon | Le RECTANGLE – Centre d´Art de la Ville de Lyon, Lyon, France
Art That Heals | Apexart, New York City, États-Unis
La Fluxus Constellation | Villa Croce Museo d´Arte Contemporanea, Genoa, Italie
2001
Museumsshop | Galerie Lisi Hämmerle, Bregenz, Autriche
Joe Jones und Daniel Spoerri | Krypta 182 Kunstverein Bergisch Gladbach, Allemagne
COLLAGEN | Galerie 422, Gmunden, Autriche
Macht der Dinge – Nouveau Réalisme – POP ART – Hyperrealismus | Stadtgalerie Klagenfurt, Klagenfurt, Allemagne
Fallobst – Witz Ironie Kunst | Essl Museum, Klosterneuburg, Autriche
2000
Dinge in der Kunst des XX. Jahrhundert | HDK – Haus der Kunst – München, Munich, Allemagne
Aller Anfang ist MERZ – Von Kurt Schwitters bis heute | Sprengel Museum Hannover, Allemagne
Tempo! Viaggio nell'idea e nella rappresentazione del tempo | Palazzo delle Esposizioni, Rome, Italie
Skulpturenpark Ismaning 2000 | Kallmann-Museum, Ismaning, Allemagne
Anableps | Studio Stefania Miscetti, Rome, Italie
1999
Zeitschnitt 1900-2000 – 100 Jahre, 100 Werke | Lentos Kunstmuseum Linz, Linz, Autriche
Über den Tellerrand | Galerie Claudia Böer, Hannover, Allemagne
Originale echt/falsch | Neues Museum Weserburg Bremen, Bremen, Allemagne
Jürgen Brodwolf & Daniel Sperri – Skulptur ´99 | Galerie Henze & Ketterer, Wichtrach/Bern, Suisse
ROTE LIEBE – Leinwände – Arbeiten auf Papier – Photographien | Raab Galerie, Berlin, Allemagne
Dialog zwischen Künstlern aus Deutschland, Österreich und der Schweiz | Galerie Doris Wullkopf, Lindau, Allemagne
FLUXUS 1962-1994 – Pictorial art-film-music-poetry | ARKEN Museum for Moderne Kunst, Copenhague, Danemark
Out of actions | MOT Museum of Contemporary Art, Tokyo, Japon
Deep Storage – Arsenale der Erinnerung | Stiftung Museum Kunst Palast, Dusseldorf, Allemagne
1998
Review 98 | Galerie Lisi Hämmerle, Bregenz, Autriche
Deep Storage: The Arsenal of Memory | Henry Art Gallery, Seattle, Etats-Unis
Arte y acción | MACBA, Museu d´Art Contemporani de Barcelona, Barcelona, Espagne
Premises – invested spaces in visual arts, architecture and design from France | Solomon R. Guggenheim
Museum, New York City, États-Unis
Gedankenwelten. Bilder – Zeichnungen – Skulpturen | Galerie Henze & Ketterer & Triebold, Riehen, Suisse
Deep Storage, Arsenale der Erinnerung | P.S.1 Contemporary Art Center, New York City, États-Unis
Out of actions – Aktionismus, Body Art & Performances 1949-1979 | Museum für angewandte Kunst (MAK), Vienne, Autriche
The '60s in the Seventies | Ubu Gallery, New York City, États-Unis
Produkt Kunst: Wo bleibt das Original? | Ludwig Museum im Deutschherrenhaus, Koblenz, Allemagne
Out of Actions: Between Performance and the Object, 1949-1979 | The Geffen Contemporary at MOCA, Los Angeles, États-Unis
1997
Produkt Kunst: Wo bleibt das Original? | Kunstsammlung Gera – Orangerie, Gera, Allemagne
Deep Storage – Sammeln, Speichern, Archivieren in der Kunst | Kulturforum Potsdamer Platz, Berlin, Allemagne
Produkt: Kunst! Wo bleibt das Original? | Neues Museum Weserburg Bremen, Bremen, Allemagne
Deep Storage – Arsenale der Erinnerung | HDK – Haus der Kunst – München, Munich, Allemagne
Produkt Kunst: Wo bleibt das Original? | Kunstmuseum Solothurn, Solothurn, Suisse
Deep Storage – Arsenale der Erinnerung | Neue Nationalgalerie, Berlin, Allemagne
1996
The pleasure of aesthetic life | The Showroom, London, Angleterre
Werkstatt Kollerschlag | Künstlerhaus Palais Thurn & Taxis BV:BKV, Bregenz, Autriche
Identités et affinités | FRAC – Franche-Comté, Besançon, France
1995
Au rendez-vous des amis, coll. A. L'H. | Mamco, Geneva, Suisse
Identités et affinités | Musée cantonal des Beaux-Arts, Lausanne, Suisse
Neo-Dada: Redefining Art 1958–1962 | Contemporary Arts Museum Houston, Houston, États-Unis
Môtiers 1995. Exposition suisse de sculpture | Art Môtiers, Môtiers, France
Chocolate! | SI Swiss Institute, New York City, États-Unis
1994
En el espíritu de Fluxus | Fundación Antoni Tàpies, Barcelona, Espagne
1992
Visionäre Schweiz | Kunsthalle Düsseldorf, Dusseldorf, Allemagne
Sans og samling | Museet for Samtidskunst / Museum of Contemporary Art, Roskilde, Danemark
Visionäre Schweiz | Museo Nacional Centro de Arte Reina Sofía, Madrid, Espagne
Zufall als Prinzip , Spielwelt, Methode und System in der Kunst des 20.Jhd. | Wilhelm Hack Museum, Ludwigshafen, Allemagne
1991
Visionäre Schweiz | Kunsthaus Zürich, Zurich, Suisse
Fluxus! | Gertrude contemporary art spaces, Melbourne, Australie
1990
Status | Stalke Galleri / Stalke Out Of Space, Kirke Saaby, Danemark
XLIV. Esposizione Biennale Internazionale d'Arte 1990 | La Biennale di Venezia, Venise, Italie
1988
Porkkana – kokoelma: nykytaiteen museon puolesta | Kiasma – Museum of Contemporary Art, Helsinki, Finlande
Vraiment faux | Fondation Cartier pour l'art contemporain, Paris, France
Schweizer Kunst der Gegenwart. Die Sammlung der Gotthard Bank | Kunstmuseum St. Gallen, St. Gallen, Suisse
1985
1954-1985 – Kunst in der Bundesrepublik Deutschland | Neue Nationalgalerie, Berlin, Allemagne
1984
Fluxus, etc.: The Gilbert and Lila Silverman Collection | Contemporary Arts Museum Houston, Houston, États-Unis
1982
Heiter bis aggressiv – Skulpturen und Objekte von Künstlern der Gegenwart | Museum Bellerive, Zurich, Suisse
The Book of the Arts of Artists' Books | Tehran Museum of Contemporary Art, Tehran, Iran
1977
Documenta 6 | Documenta, Kassel, Allemagne
1976
Schuh-Werke. Aspekte zum Menschenbild | Kunsthalle Nürnberg, Nuremberg, Allemagne
1974
Konjuktionen – 25 Arbeiten von Daniel Spoerri und Claude Torey | Kunsthalle Düsseldorf, Dusseldorf, Allemagne
1969
Freunde-Friends-d'Fründ | Kunsthalle Düsseldorf, Dusseldorf, Allemagne
1963
III Biennale de Paris | Biennale de Paris, Paris, France
press
exhibitions
Gallery exhibitions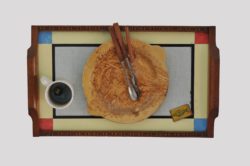 29th August - 10 October 2020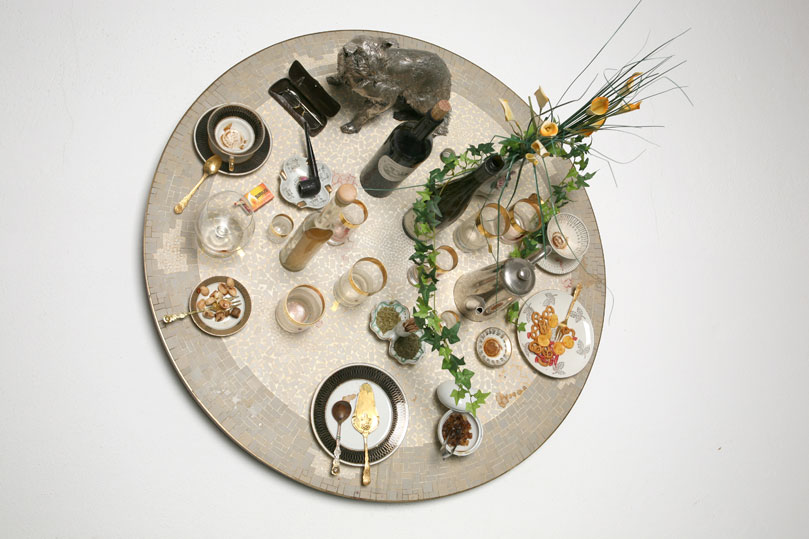 2 September - 28 October 2017
books & prints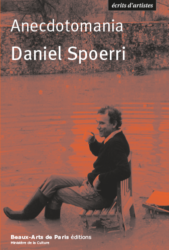 Daniel Spoerri
Beaux-Arts de Paris éditions
2021
14 x 20,5 cm
200 pages
24 €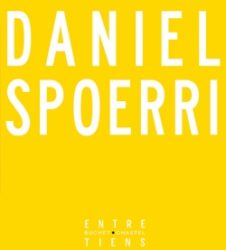 Daniel Spoerri and Alexandre Devaux
Buchet Chastel
2018
18,5 x 20,5 cm
160 pages
19 €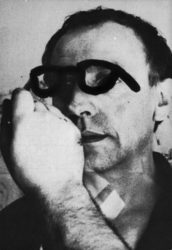 Robert Filliou, Daniel Spoerri, Roland Topor
galerie anne barrault / Panique Publishers
2017
45 €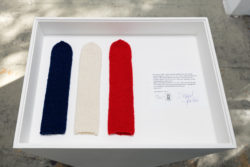 3 préservatifs tricotés, tripotés, tricolores
Daniel Spoerri
1972-2019
23 x 5,5 cm (1 préservatif)
500 €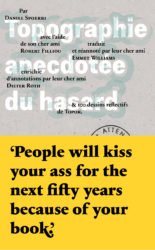 Topographie anecdotée du hasard
Le Nouvel Attila and le Bureau des Activités Littéraires
1961 - 2016
396 pages
25 €