works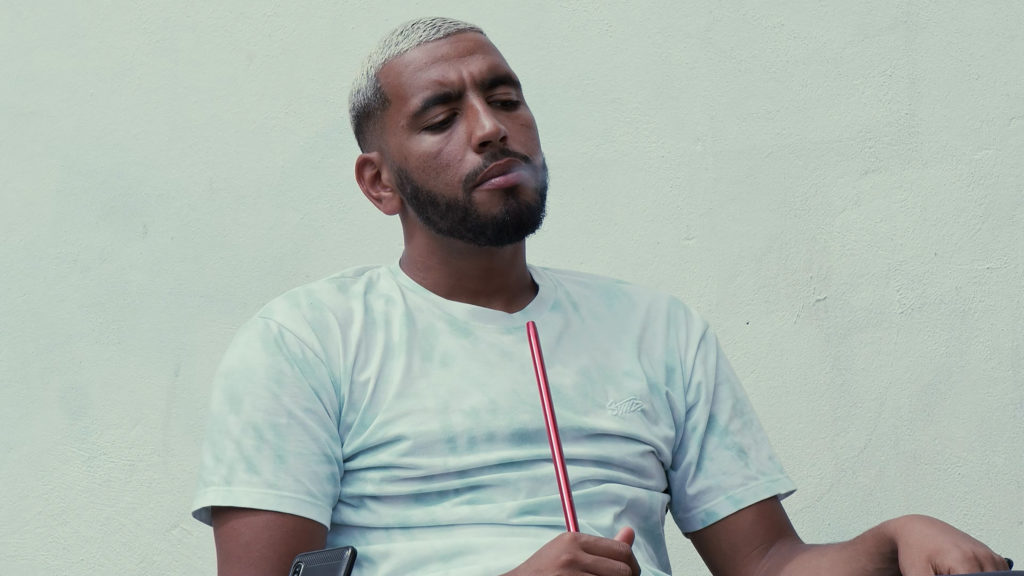 Rayane Mcirdi
Le Croissant de feu, 2021
video
35'46"
"Le croissant de feu" is a family story. The series of films presented in Rayane Mcirdi's first solo exhibition is a collection of micro-stories collected by the artist from different generations of his entourage. Through a series of films and archival images that he has compiled, his relatives tell stories of migration from Algeria to France, of settling in the Mourinoux neighborhood, of gentrification and of the transmission of memories from one generation to the next.
The ensemble draws, in hollow, the intimate and collective portrait of a family, of a neighborhood, but also of a global society in constant evolution, made of plural identities and experiences.
text Horya Makhlouf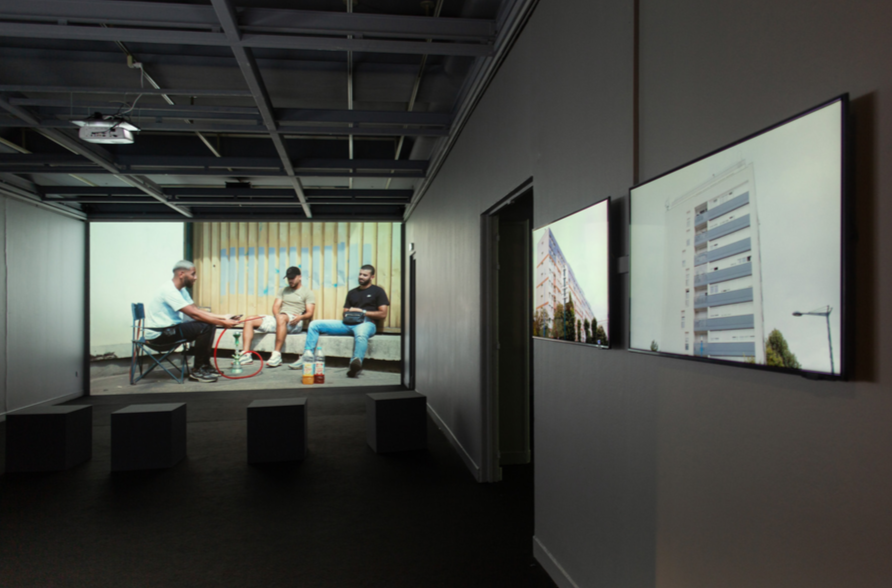 exhibition view "Le Croissant de feu", 2021, galerie Edouard Manet, Gennevilliers.
© Photo : Margot Montigny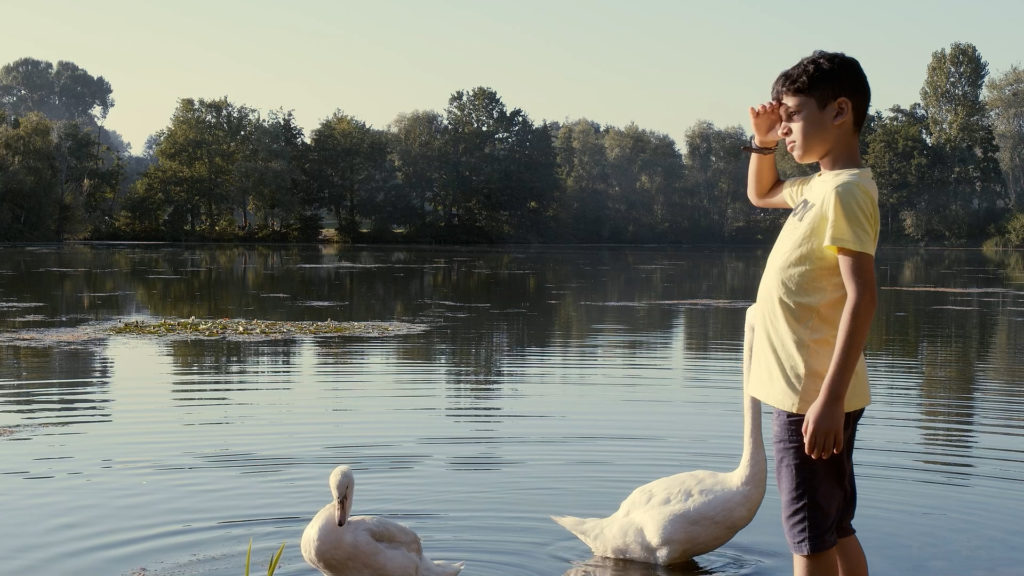 Rayane Mcirdi
Le Jardin, 2021
video
22'29''
In a park, a lunch on the grass, by the water and with the family. Rayane Mcirdi's aunts and mother, born in the 1960s, recount their childhood memories, their passage from the slums of Sartrouville to the Mourinoux district, and their attachment to the city in which they grew up.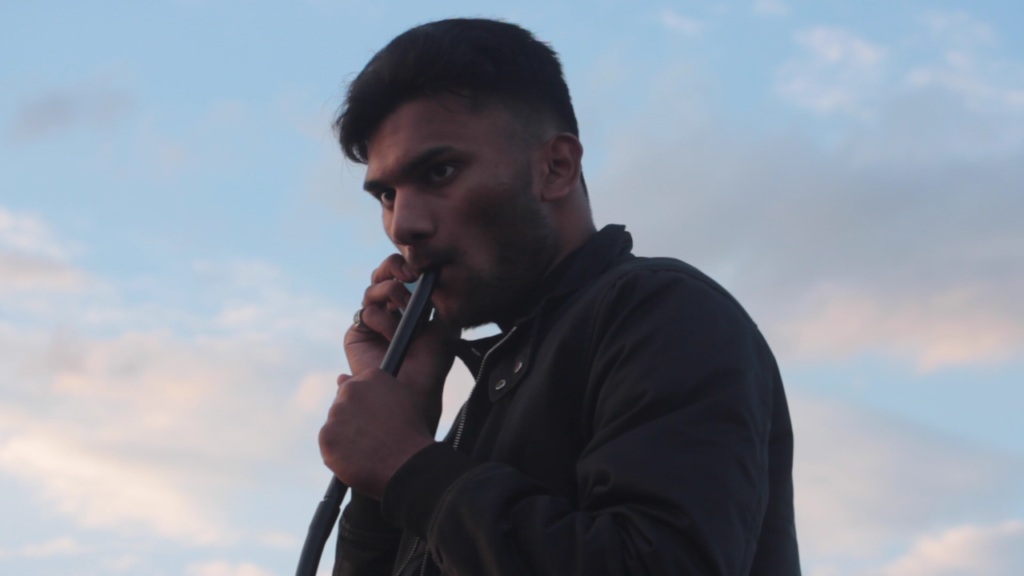 Rayane Mcirdi
Le Toit, 2018
video
6'41"
"Les princes de la ville" is a series of five documentary films based on stories collected from residents of the cities of Asnières-sur-Seine and Gennevilliers, in the Hauts-de-Seine.
From the Roof to Asnières-Gennevilliers, through Love Will Come Later, Legba and One Two Three, these short films are the filmic transcriptions of personal and anecdotal stories entrusted to the artist in the form of confidences by his relatives – friends, cousins, neighbors. They are the material of a collection, in the ethnographic sense of the term, which, put together, form a collection, drawing the contours of a community made of heritages, histories and cultures sometimes distant but constitutive of singular identities.
The political and sociological dimensions of this collection are mixed with cinematographic and poetic ones; between the authenticity of the story and the heroisation of the protagonists who try to give an almost cinematographic rhythm to their adventures, it is the way in which the stories can be written that is finally questioned here. At the heart of the very language in which the stories are expressed, their implicit components are revealed: in them, touches of French, Arabic, Mina, slang of the three and Derija are mixed, and raise to the rank of poetry this "language of the suburbs" everywhere else stigmatized.
text Horya Makhlouf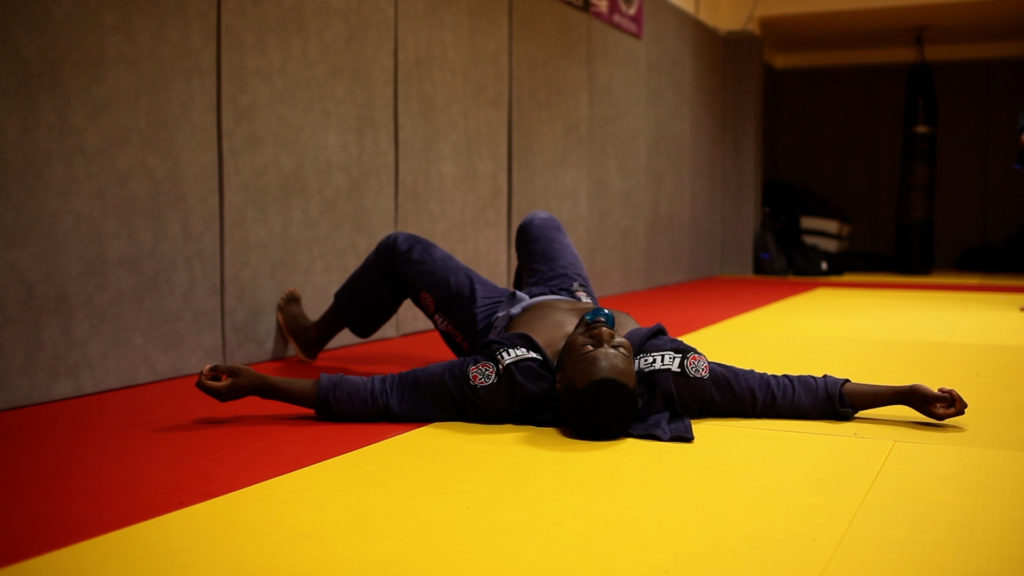 Rayane Mcirdi
Love will come later, 2019
video
6'08"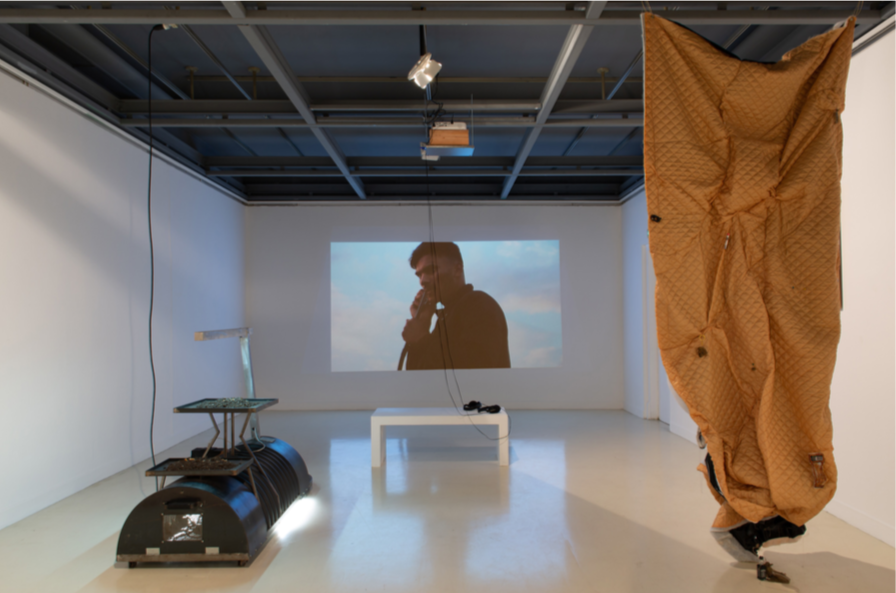 Le toit, 2018
exhibition view Désolé, Galerie Edouard Manet, Gennevilliers
© Photo : Margot Montigny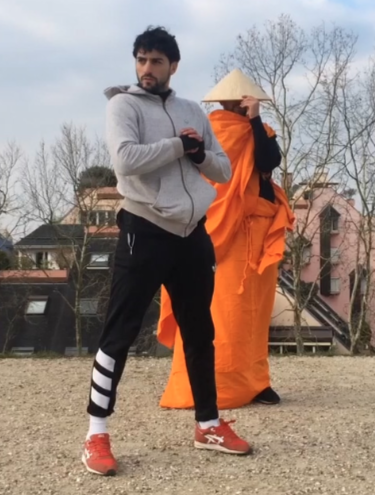 Rayane Mcirdi
La Légende d'Y.Z., 2016/2017
video
14'09"
This film explores the links between fiction and reality. It features Yacine Zerguit, an action movie fan who has always imitated the stunts and performances of his favorite stars: Bruce Lee or Jean-Claude Van Damme, until he makes them his own.
Seeing his cousin imitate his icons gave Rayane Mcirdi the desire to allow him to become one in his turn, in his own film. Yacine was thus entrusted with writing the script of the action film in which he is the hero. Becoming "Y.Z. "He embarks on a quest for revenge for the death of his brother, murdered by the terrifying Brali. The hero begins a quest and adventure film, worthy of a blockbuster. He must learn the rudiments of the art of combat from three legendary sages in order to master the secret techniques that will allow him to accomplish his mission.
A game about remaking and staging oneself, The Legend of Y.Z. also portrays the construction of oneself with regard to the models and principles that each person decides to give himself. In this fictional quest, as in his real life, religion and sports allow Yacine-Y.Z. to achieve personal absolution and fulfillment. He learned the rigor with which he performs every action from the action movies he watched on TV, almost all of which were of Asian origin. Or how fiction can become life, and vice versa.
text Horya Makhlouf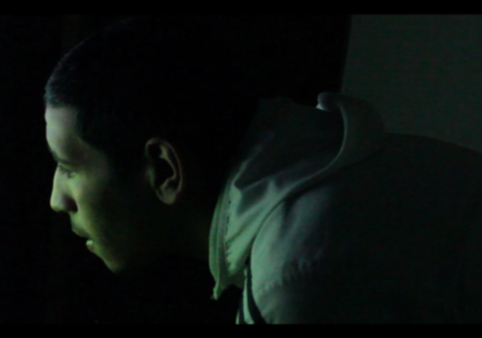 Rayane Mcirdi
You'll Never Walk Never Alone, 2014/2015
video
15'24"
Samir, a Liverpool fan since he was a child, has watched so many soccer games and played FIFA – the world's best-selling soccer video game – that he has learned the language, including grammar, speech patterns, and other elements of speech that make it up.
You'll Never Walk Alone captures and retransmits live the manifestations of the linguistic codes he has made his own while playing FIFA on the network. An actor's game is then created, which makes the borders of the realitý of his room and the virtuality of his position as a player porous. As the game progresses, Samir is in turn – and all at once – player, commentator or coach. The quasi-schizophrenia to which the protagonist succumbs stages and plays out the links that unite real and virtual, image and language, hobby and "real life."
text Horya Makhlouf
biography
Rayane Mcirdi was born in 1993 in Asnières in France.
He graduated of the École nationale supérieure des Beaux-Arts de Paris in 2019 after having passed through the École des Beaux-Arts d'Angers, Rayane Mcirdi produces a video work between documentary and fiction whose actors are members of his family or close friends filmed at home or in places that are familiar to them. His films capture intimate or collective events rooted in daily life.
Rayane Mcirdi presented his first solo exhibition in 2021 at the Galerie Édouard Manet, Gennevilliers. He has participated in several group exhibitions: in 2021, "100% L'expo", curated by Inès Geoffroy, at La Villette (Paris); in 2019, "Sorry" , curated by Mohamed Bourouissa, at Galerie Édouard Manet, Gennevilliers; "Écuries Nord", curated by Clément Cogitore, at 104Centquatre, Paris ; in 2018, " Par amour du jeu ", curated by Anna Labouze and Keimis Henni, Magasins Généraux, Pantin ; " La Fureur du Dragon ", curated by Mohamed Bourouissa, Centre Pompidou, 2018, Paris.
In 2022, Le Croissant de Feu was showed at the Passerelle Art Center in Brest, in the exhibition "A fleur de peau", curated by Loïc Le Gall. His film Le Jardin was presented at Palais de Tokyo in the frame of the screening "L'ami intérieur" curated by Stéphanie Cottin. He also had his first solo exhibition at Anne Barrault gallery in Paris the same year.
At the invitation of Zineb Sedira, he has recently completed a new film dedicated to the Chibanis (literally white hair in dialectal Arabic).
Rayane Mcirdi recently showed The Croissant de feu (Crescent of Fire) trilogy at the Centre Pompidou, Paris in 2023 in the frame of the "Prospective Cinema » cycle.  
He has presented at the Jameel Arts Centre, Dubai his film Le Jardin in the frame of My Mother's Nose, a film programme curated by Lucas Morin focusing on self-reinvention, family and lineage, and finding strength, love and community.
Solo exhibitions
2023
Rayane Mcirdi | Les ateliers Médicis, Clichy-sous-Bois
Prospectif cinéma | Screening followed by a conversation between Rayane Mcirdi and Seumboy Vrainom: €. | Cinéma 1, Centre Pompidou, Paris
B93 Prequel | Silina Siane & Rayane Mcirdi | Le sample, Bagnolet | Curated by: Inès Geoffroy
2022
screening | Le St André des Arts, Paris
Rayane Mcirdi | Le début de la fin | Galerie anne barrault – Paris
Around Video | Hôtel Moxy – Marriott, Lille
2021
Le Croissant de Feu. A Fatima Mahli, curated by Lionel Balouin, Galerie Edouard-Manet, Gennevilliers, (France)
Group exhibitions
2023
Paris+ by ArtBasel | Neïla Czermak Ichti - Rayane Mcirdi - Ibrahim Meïté Sikely | Grand Palais Ephémère, Paris
Après l'éclipse | Les Magasins Généraux, Pantin | Curated by: Anna Labouze et Keimis Henni
My Mother's Nose | Jameel Arts Centre, Dubai | Curated by: Lucas Morin
Césure fait sa nuit blanche | Césure, Paris | Curated by: Horya Makhlouf
Changing Track | P21 Gallery, Londres | Curated by: Estelle Marois
De leur temps (7) – Un regard sur les collections privées françaises » en partenariat avec l'ADIAF | Frac Grand Large — Hauts-de-France, Dunkerque | Curated by: Keren Detton et Michel Poitevin
Raccrocher les wagons | Galerie Edouard Manet, Gennevilliers
Nouveaux Hérauts | Centre culturel Jean Cocteau, Les Lilas | Curated by: Audrey Illouz et Luca Avanzini
2022
L'ami intérieur | Palais de Tokyo, Paris
2022
À fleur de peau, curated by Loïc Le Gall – CAC Passerelle (Brest)
2021
100% L'EXPO, curated by Inès Geoffroy- La Villette, Paris, (France)
Glad to take height and see the slow-motion world– curated by Mathilda Portoghese, galerie Jeune Création, Romainville, (France)
Mohamed Bourouissa Filmprogram, Kunsthal Charlottenborg (Danemark) 71eme Edition, Jeune Création – Fondation Fiminco, Romainville, (France)
2020
The Plates of The Present, So Far, curated by Thomas Fougeirol & Jo-Ey Tang, Centre Pompidou, Paris, (France)
Hamdoulah ça va,curated by Mohamed Bourouissa & Sonia Perrin, DADA, Marrakech, (Maroc)
2019
Detroit City Guide Book Vol.4 Rise From The Ashes, curated by Julien Sirjacq, Galerie P38, Paris, (France)
Désolé, curated by Mohamed Bourouissa, Galerie Edouard-Manet, Gennevilliers, (France)
A.C. Star, curated by Mohamed Bourouissa, Rencontres de la photographie, Arles, (France)
Écuries Nord, curated by Clément Cogitore, 104Centquatre, Paris, (France)
Detroit City Guide Book Vol.3 High-Tech Dream Low-Tech Reality, curated by Julien Sirjacq, Le Point Ephémère, Paris, (France)
Detroit City Guide Book Vol.2 Sport Complex, curated by Julien Sirjacq, Le DOC, Paris, (France)
2018
Par amour du jeu, curated by Anna Labouze & Keimis Henni, Magasins Generaux, Pantin, (France)
I-n-t-o-t-o 6, curated by Thomas Fougeirol & Julien Carreyn, Fondation d'entreprise Ricard, Paris, (France)
2017
La Fureur du Dragon, curated by Mohamed Bourouissa, Centre Pompidou, Paris, (France)
Sharjah Biennial 13 – Act II, An unpredictable expression of human potential – curated by Hicham Khalidi, Christine Tohmé, Beirut Art Center, Beyrouth, (Liban)
Bibliography
2022
Biennale de Venise: «Le politique doit aussi passer par la joie», entretien croisé avec Rayane Mcirdi et Zineb Sedira, Claire Moulène pour Libération, Avril
2021
Rayane Mcirdi – Guillaume Lasserre pour 02, version numérique, Décembre
2020
"Refus d'obéissance" – Ingrid Luquet-Gad pour Les Inrockuptibles #1254, Mai
2019
"Rayane Mcirdi, une autre image de la banlieue" – Horya Makhlouf pour Jeunes Critiques d'Art/YACI International, Décembre
2018
Portfolio – Entretien, Causette #89, Mai
presse
exhibitions
Current exhibitions
Après l'éclipse
Les Magasins Généraux, Pantin
Curated by: Anna Labouze et Keimis Henni
30 June - 22 October 2023
Upcoming exhibitions
Festival des Gestes de la Recherche
Le Magasin, Grenoble
Curated by: Simone Frangi and Katia Schneller
29 - 30 November 2023
Paris+ by ArtBasel
Grand Palais Ephémère, Paris
18 - 22 October 2023
Gallery exhibitions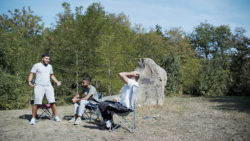 15 October - 27 November 2022