works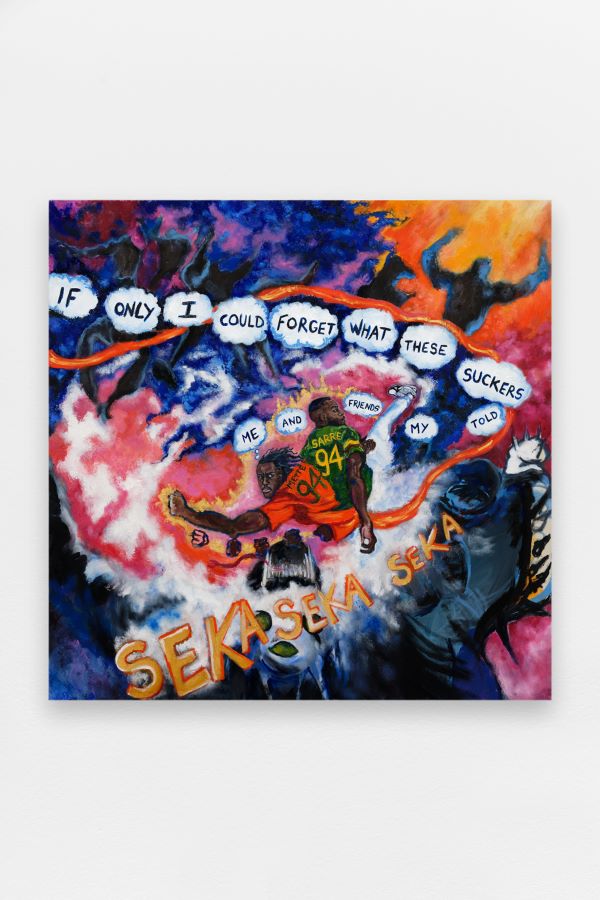 Ibrahim Meïté Sikely
If only I could forget what these suckers told my friends and me, 2022
huile sur toile / oil on canvas
110 x 110 cm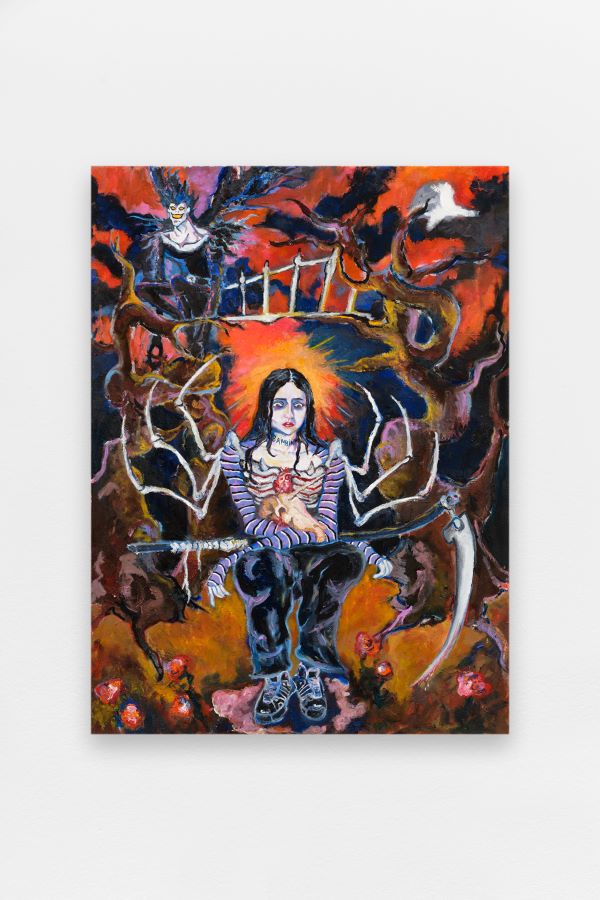 Ibrahim Meïté Sikely
Shine and Struggle in Shinigami Realm, 2021
huile sur toile / oil on canvas
60 x 40 cm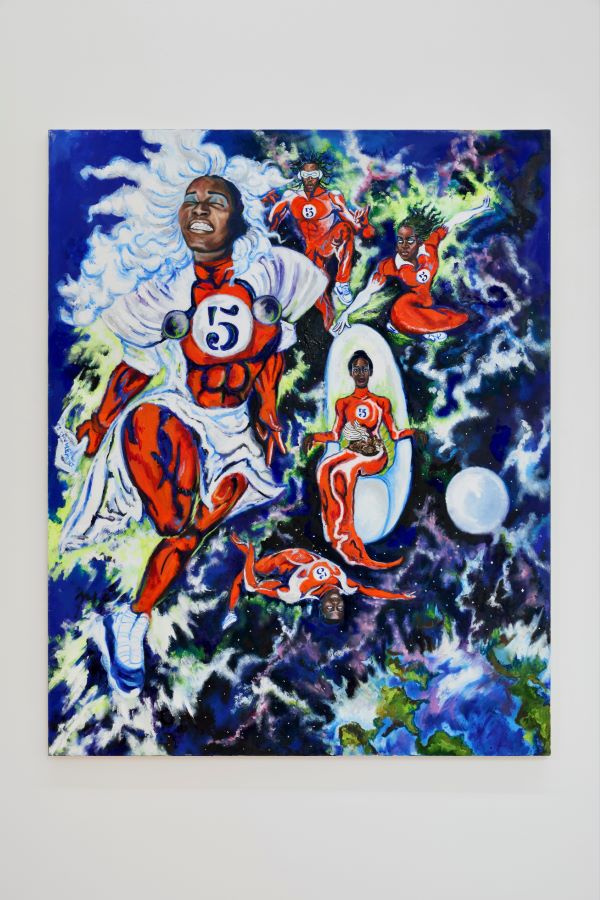 Ibrahim Meïté Sikely
The Five Marvelous Neighbors from the 5th Floor, 2023
huile sur toile / oil on canvas
162 x 114 cm
biography
Ibrahim Meïté Sikely was born in 1996, he lives and works in Paris and Marseille.
He has just graduated from the Villa Arson, Nice and is currently studying at the Ecole des Beaux-Arts de Paris.
Ibrahim Meïté Sikely crosses in his paintings the symbolism of the romantic paintings of the 19th century drawing from the heritage of Géricault, Courbet or Goya and also in his contemporary references going from video games, to the bronze age of co- mics, to mangas such as Akira, Gantz, Shingeki No Kyojin or Dragon Ball Z.
The formal vocabulary and themes he explores are also derived from his own personal and family mythology, particularly from his youth spent between Marseille and Pantin (93) and then Champigny-sur-Marne (94), his pictorial work functions as overlapping allegories with the aim of confronting narratives of resistance alongside moments of tranquility. This is part of a constantly evolving reflection on his own experiences and hopes in relation to the society around him.
Invited by Tarek Lakhrissi his work was shown in 2021 in the group exhibition "À plusieurs" at the Frac Lorraine, in duo with Neïla Czermak at the CAC Brétigny, and at the SISSI Club gallery in Marseille.
His works are currently presented at 100% Villette, Paris.
Solo exhibitions
Group exhibitions
2023
Paris+ by ArtBasel | Grand Palais Ephémère, Paris
Vous n'avez pas besoin d'y croire pour que ça existe | FRAC Pays-de-Loire, Nantes | Curated by: Théo Casciani
Après l'éclipse | Les Magasins Généraux, Pantin | Curated by: Anna Labouze et Keimis Henni
Césure fait sa nuit blanche | Césure, Paris | Curated by: Horya Makhlouf
༎ຶ‿༎ຶ mimicry | Sissi Club, Marseille
to The Fire Next Time | centre d'art de la Villa Arson, Nice | Curated by: Mawena Yehouessi & Rosanna Puyol
2022
les amis durent | Neïla Czermak Ichti, Ibrahim Meïté Sikely, Luna Petit, Lassana Sarre, Flo*Souad Benaddi | Galerie anne barrault – Paris
exhibitions
Upcoming exhibitions
Paris+ by ArtBasel
Grand Palais Ephémère, Paris
18 - 22 October 2023
Vous n'avez pas besoin d'y croire pour que ça existe
FRAC Pays-de-Loire, Nantes
Curated by: Théo Casciani
1st July - 15 October 2023
Après l'éclipse
Les Magasins Généraux, Pantin
Curated by: Anna Labouze et Keimis Henni
30 June - 22 October 2023
Gallery exhibitions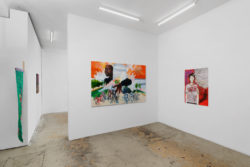 3 September - 8 October 2022