works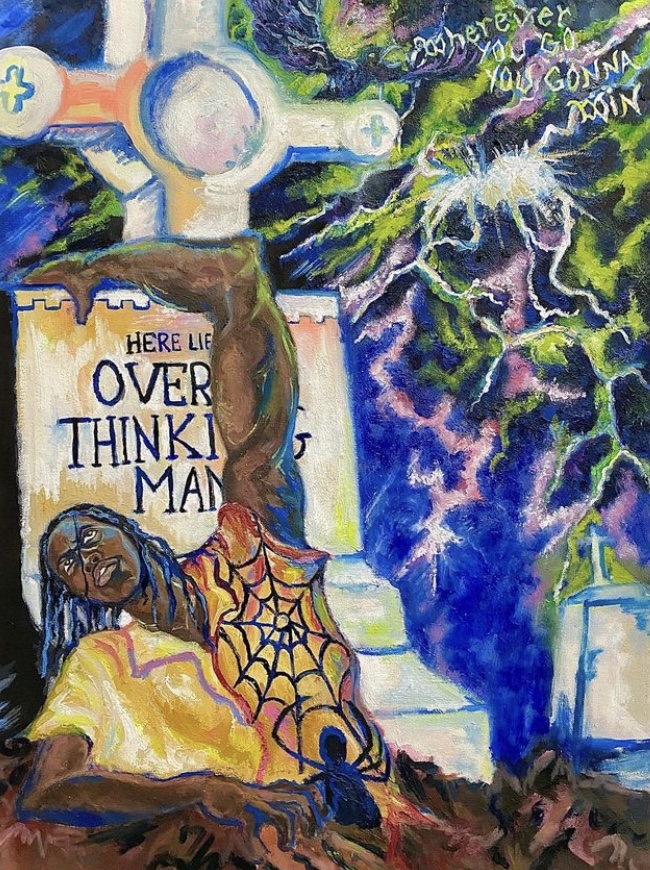 Ibrahim Meïté Sikely
Overthinkingman, 2023
huile sur toile / oil on canvas
61 x 45 cm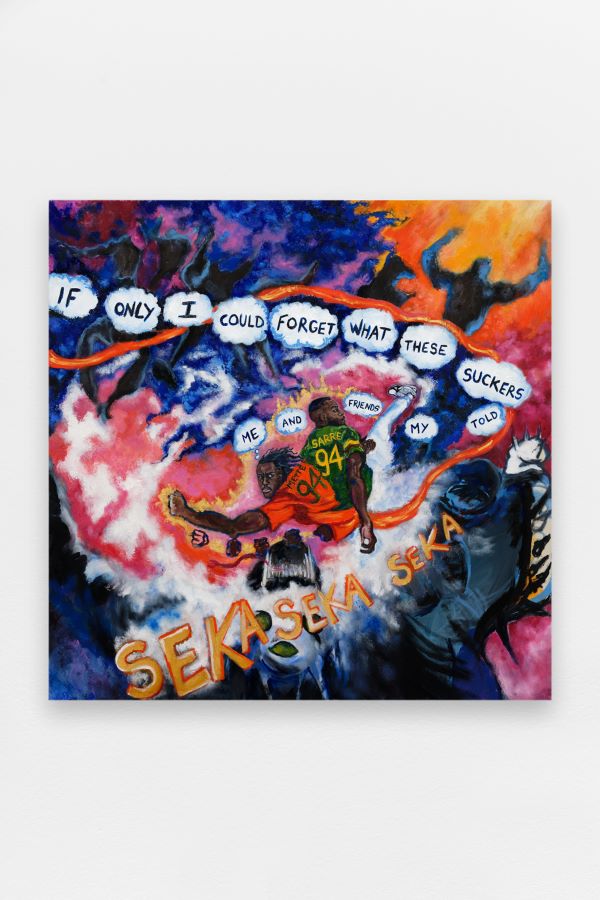 Ibrahim Meïté Sikely
If only I could forget what these suckers told my friends and me, 2022
huile sur toile / oil on canvas
110 x 110 cm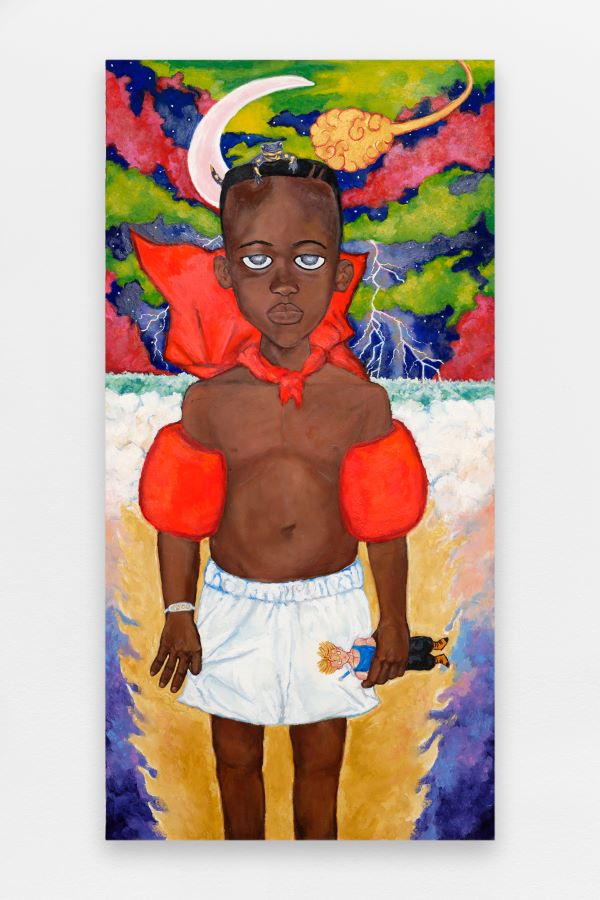 Ibrahim Meïté Sikely
Tête d'étoile, 2021
huile sur toile / oil on canvas
150 x 70 cm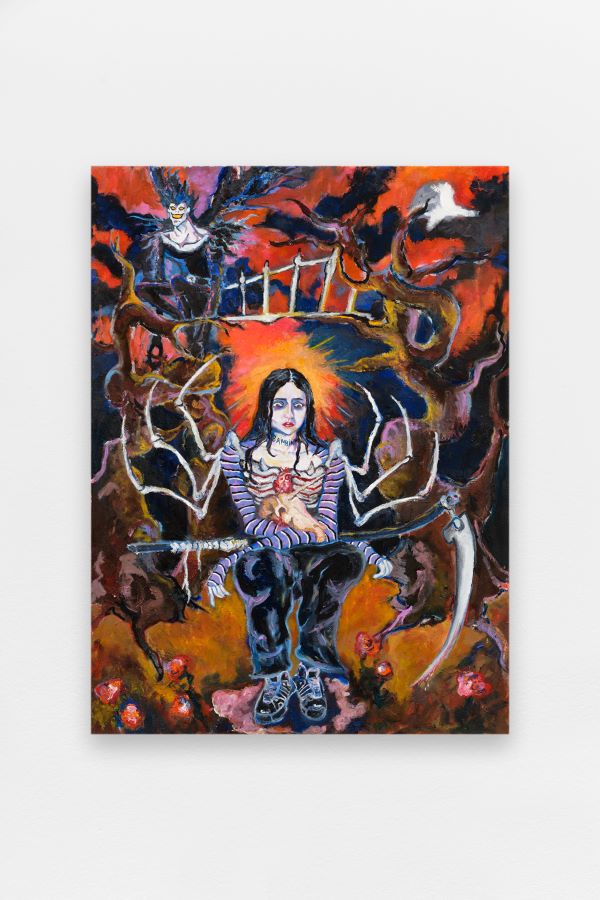 Ibrahim Meïté Sikely
Shine and Struggle in Shinigami Realm, 2021
huile sur toile / oil on canvas
60 x 40 cm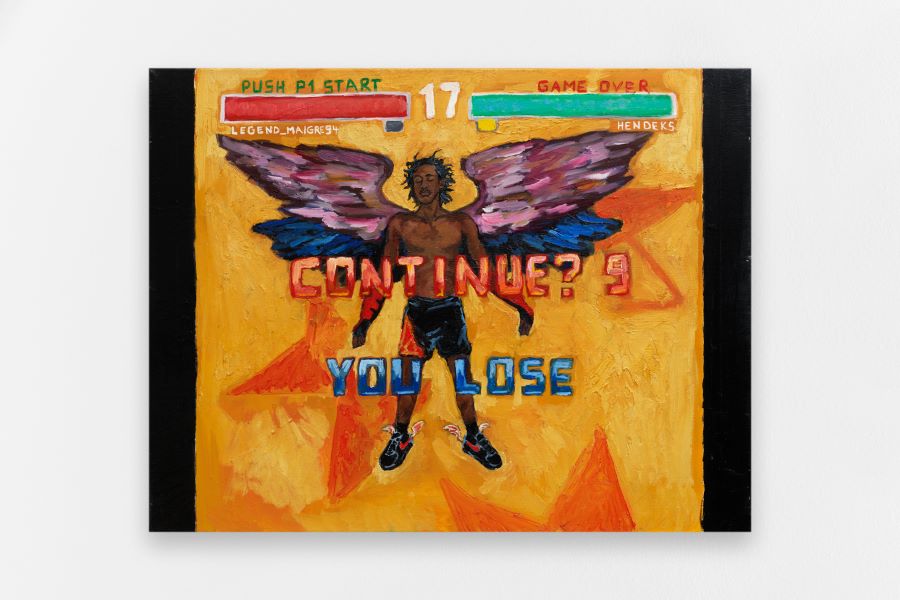 Ibrahim Meïté Sikely
Get ready for the next battle, 2021
huile sur toile / oil on canvas
50 x 65 cm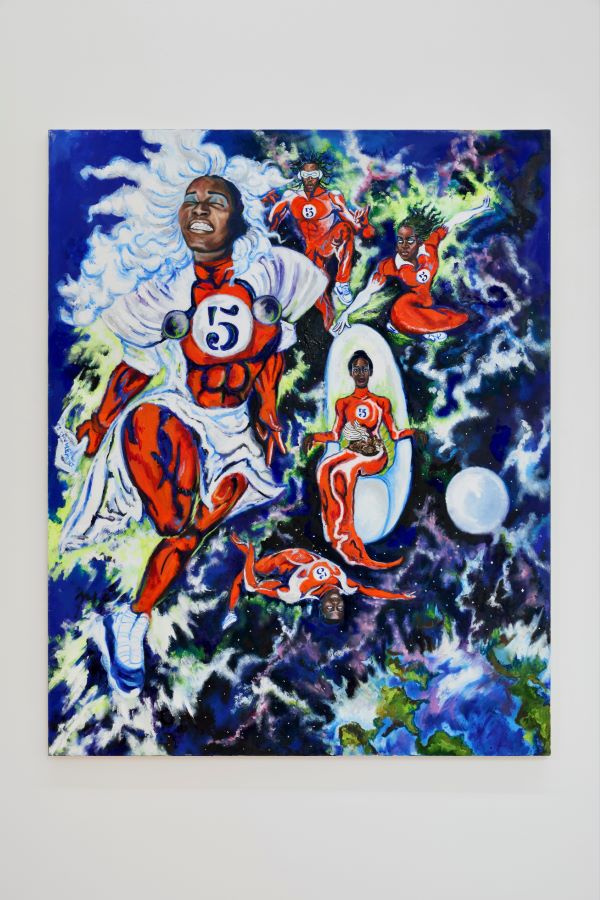 Ibrahim Meïté Sikely
The Five Marvelous Neighbors from the 5th Floor, 2023
huile sur toile / oil on canvas
162 x 114 cm
biography
Born in 1996, Ibrahim Meïté Sikely lives and works in Champigny-sur-Marne and Paris. He obtained his DNSEP from the Villa Arson in Nice in 2022 and is currently a student at the Ecole Nationale Supérieure des Beaux-Arts in Paris.
He has recently taken part in several exhibitions at CAC Brétigny, FRAC Lorraine, Metz, FRAC Pays-de-Loire, Nantes, Villa Arson, Nice, 100% L'EXPO at La Villette, Paris, as well as at the Centre d'Art Contemporain de Cajarc and Les Tanneries, Amilly.
He is currently taking part in the "Après l'éclipse" exhibition at the Magasins Généraux in Pantin and will be exhibiting at the Salon de Montrouge this year. He will present his first solo show at galerie anne barrault in 2024.
Strongly influenced by his environment and history, Ibrahim Meïté Sikely's practice fuses the visual languages of classic art-historical iconography, comics, manga and video games. Using colorful, shimmering brushwork, tranquil scenes alternate with epic ones, whose fantastic, dreamlike universe recalls the works of Goya and their trenchant social critique, as well as the poetry of Martin Wong's tales of marginal communities. Through portraiture and allegory, his paintings refer to issues of struggle and justice, trauma and healing.
Solo exhibitions
2024
Ibrahim Meïté Sikely & Josefa Ntjam | Nir Altman, Munich, Germany
Group exhibitions
2023
Paris+ by ArtBasel | Neïla Czermak Ichti - Rayane Mcirdi - Ibrahim Meïté Sikely | Grand Palais Ephémère, Paris
le salon de Montrouge | Curated by: Guillaume Désanges & Coline Davenne
Ce qui nous oblige | exposition des diplômés.e.s | Villa Arson, NIce | Curated by: Sophie Lapalu
Vous n'avez pas besoin d'y croire pour que ça existe | FRAC Pays-de-Loire, Nantes | Curated by: Théo Casciani
Après l'éclipse | Les Magasins Généraux, Pantin | Curated by: Anna Labouze et Keimis Henni
Césure fait sa nuit blanche | Césure, Paris | Curated by: Horya Makhlouf
༎ຶ‿༎ຶ mimicry | Sissi Club, Marseille
to The Fire Next Time | centre d'art de la Villa Arson, Nice | Curated by: Mawena Yehouessi & Rosanna Puyol
2022
les amis durent | Neïla Czermak Ichti, Ibrahim Meïté Sikely, Luna Petit, Lassana Sarre, Flo*Souad Benaddi | Galerie anne barrault – Paris
2021
à plusieurs | FRAC Lorraine, Metz
exhibitions
Current exhibitions
Dans ma chambre
Centre Culturel Jean Cocteau, Les Lilas
Curated by: Simon Bruneel-Millon, Luca Avanzini et Anna Milone
28 September - 13 January 2024
Ce qui nous oblige
Villa Arson, NIce
Curated by: Sophie Lapalu
29 September - 28 January 2024
Upcoming exhibitions
Ibrahim Meïté Sikely & Josefa Ntjam
Nir Altman, Munich, Germany
11 January - 24 February 2024
Gallery exhibitions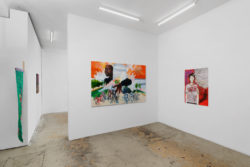 3 September - 8 October 2022