works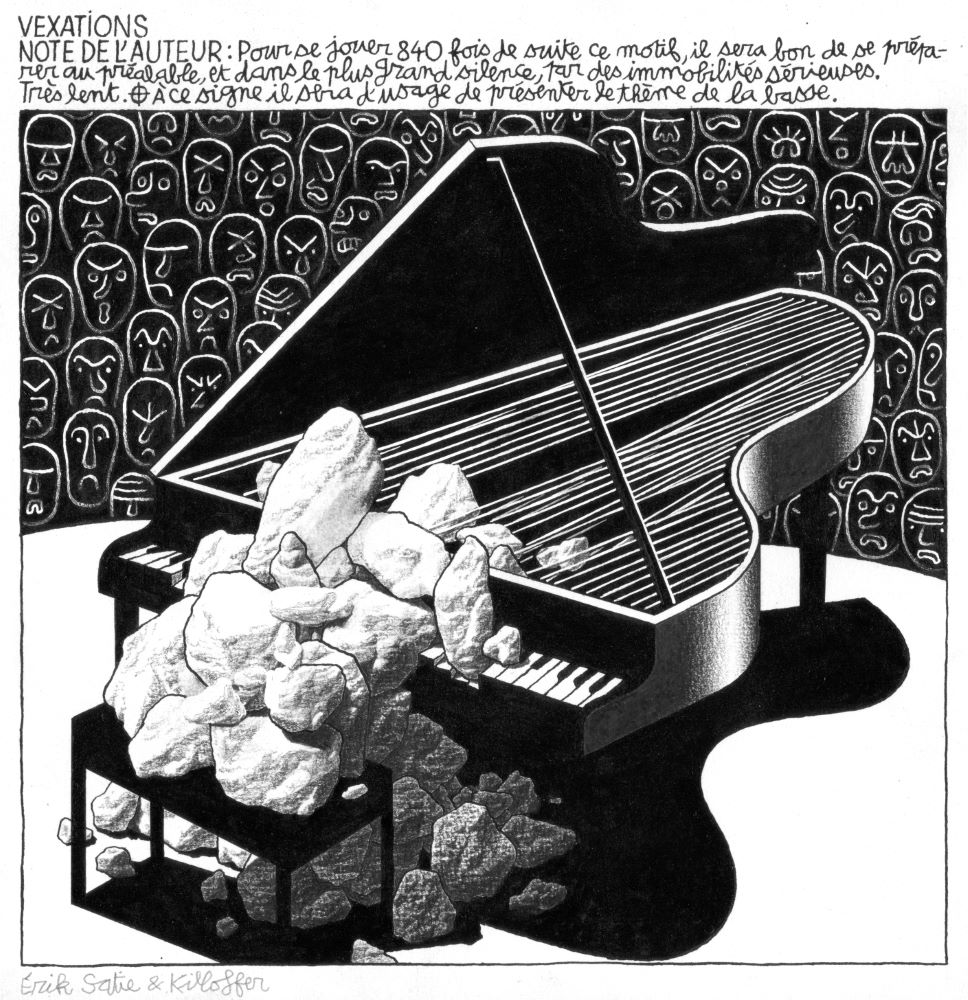 Killoffer
Vexations, 2021
series Erik Satie
black ink on paper
25,5 x 25 cm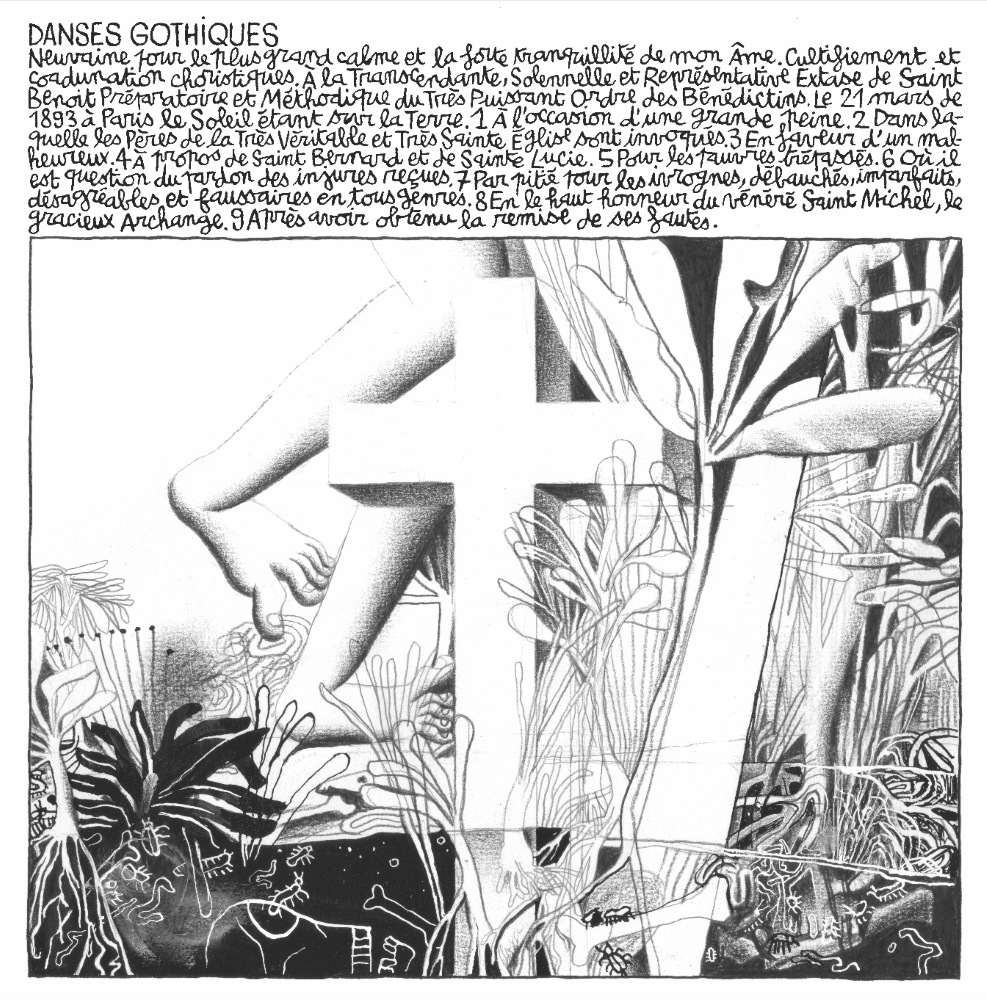 Killoffer
Danses gothiques, 2021
series Erik Satie
black ink on paper
25,5 x 25 cm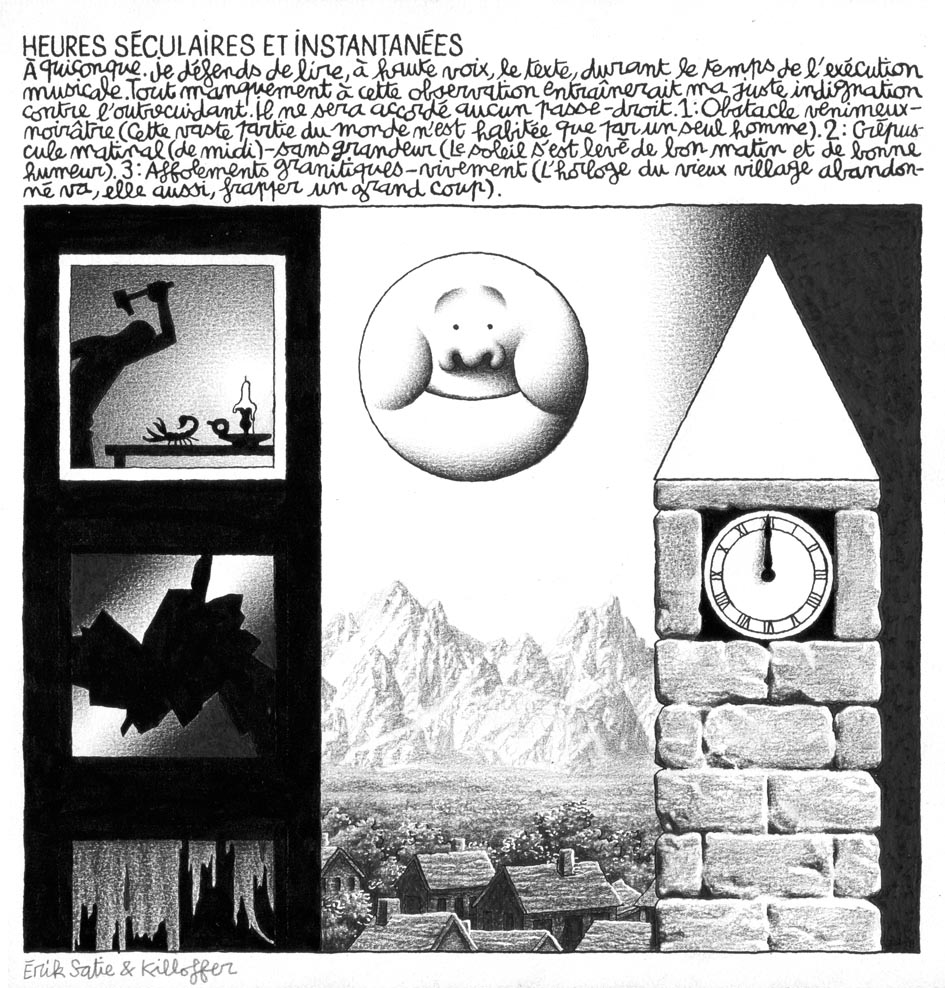 Killoffer
Heures Séculaires et Instantanées, 2021
series Erik Satie
black ink on paper
25,4 x 24,8 cm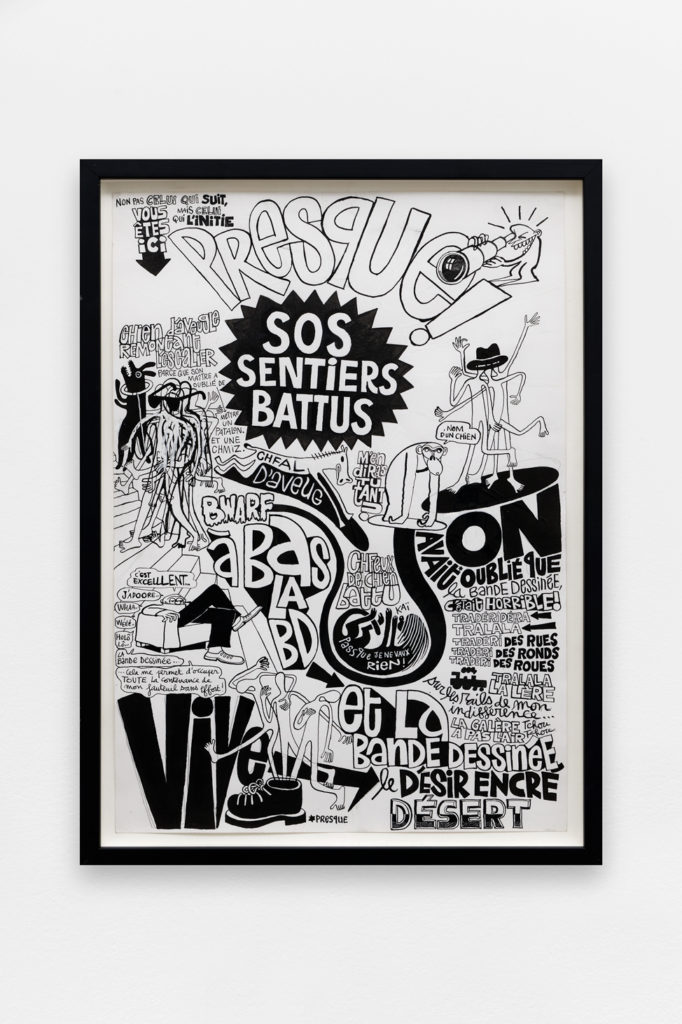 Killoffer & Duhoo
SOS sentiers battus, 2008
Encre sur papier
42 x 30 cm / 46 x 34,2 cm (avec cadre)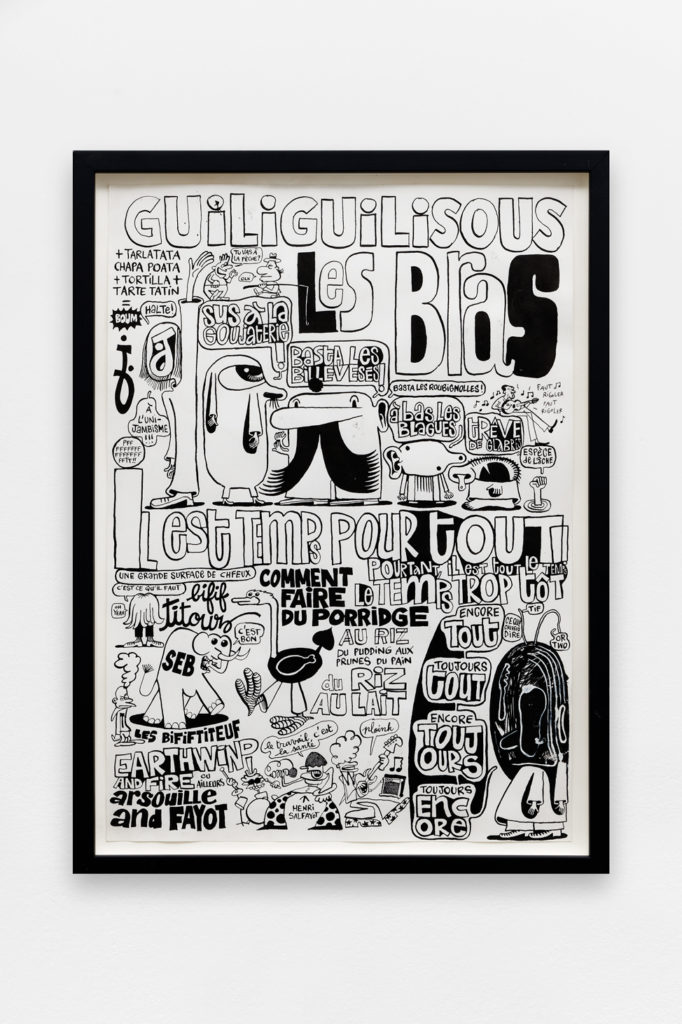 Killoffer & Duhoo
Guiliguilis sous les bras, 2008
Encre sur papier
42 x 30 cm / 46 x 34,2 cm (avec cadre)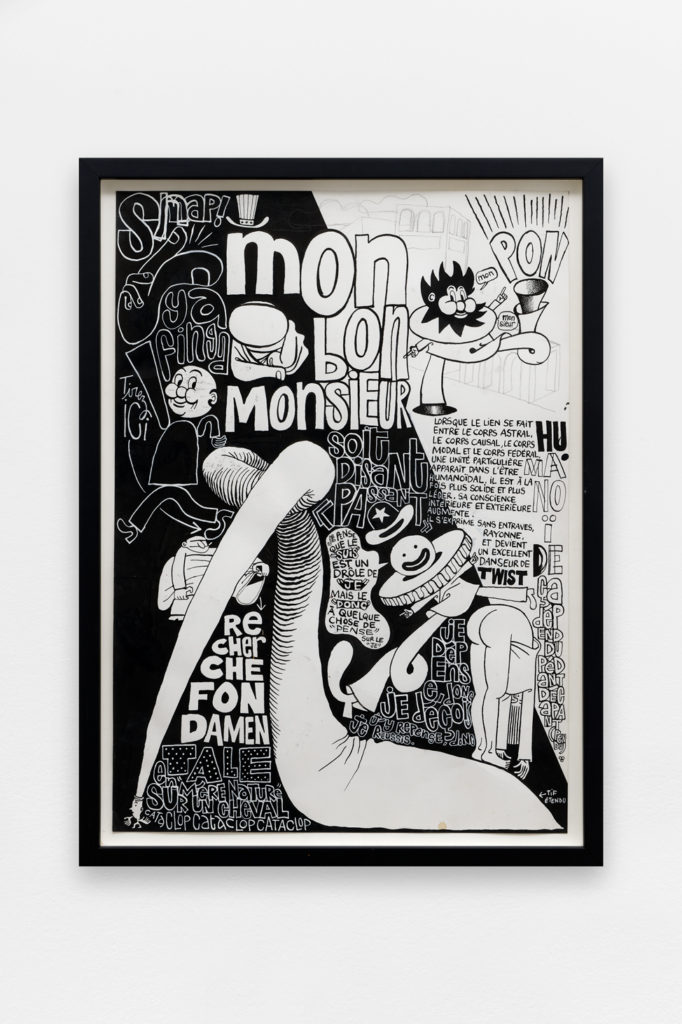 Killoffer & Duhoo
Mon bon monsieur, 2008
Encre sur papier
42 x 30 cm / 46 x 34,2 cm (avec cadre)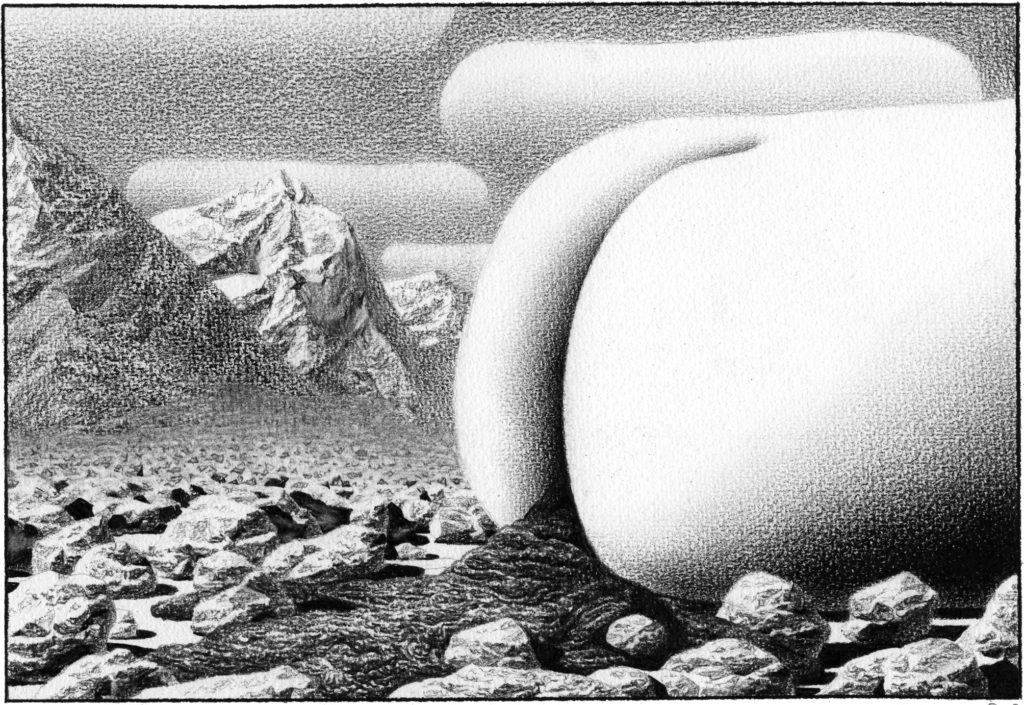 Qu, 2011
pencil on paper
21 x 29,7 cm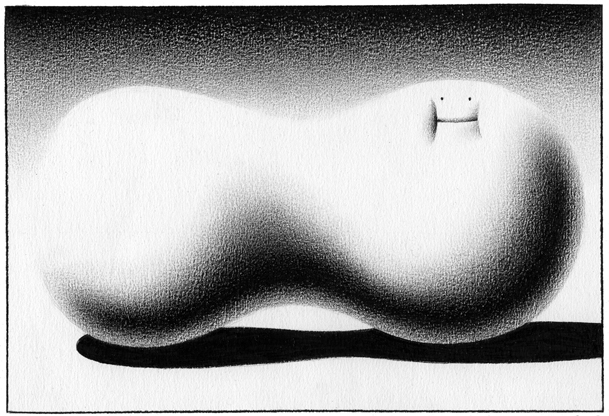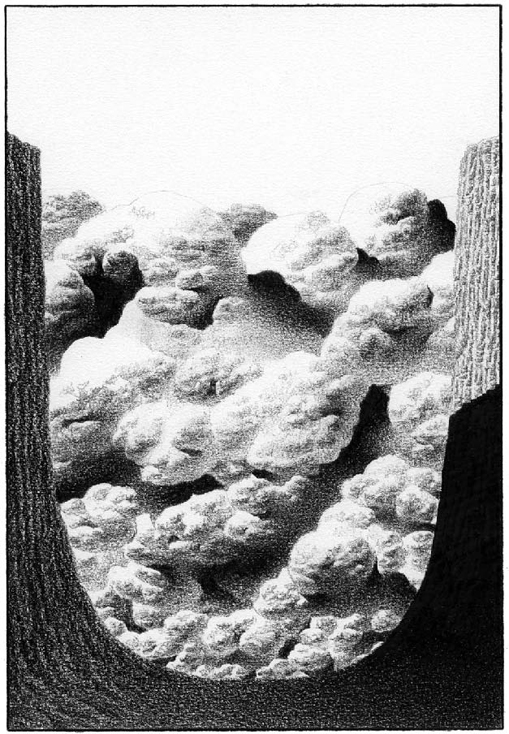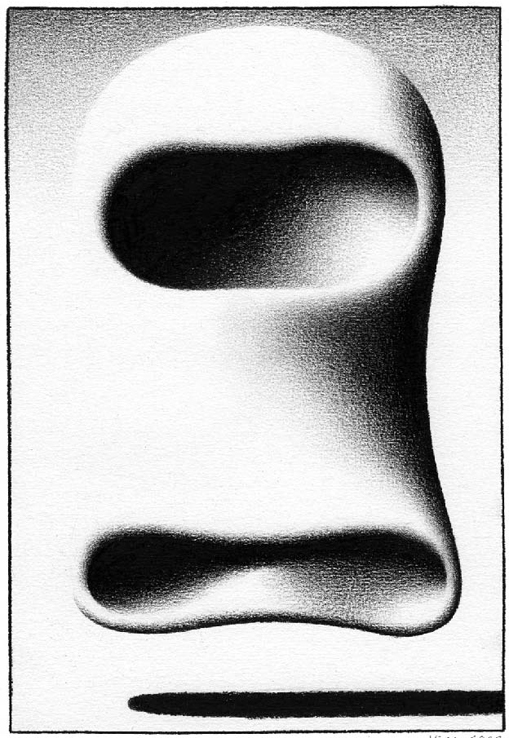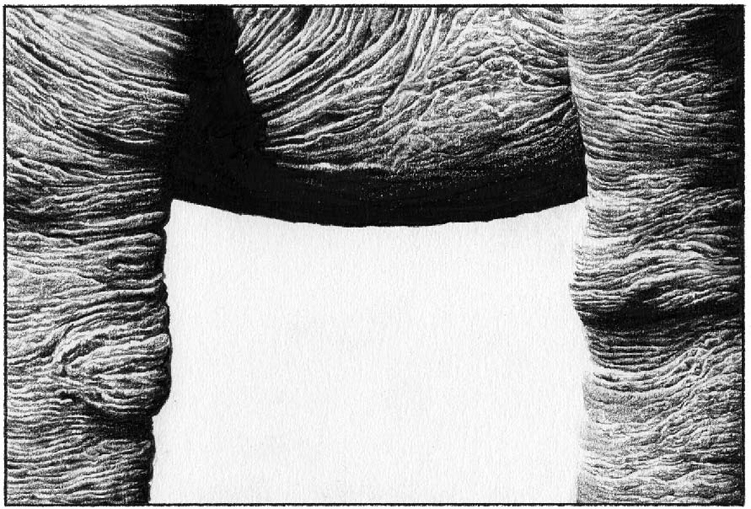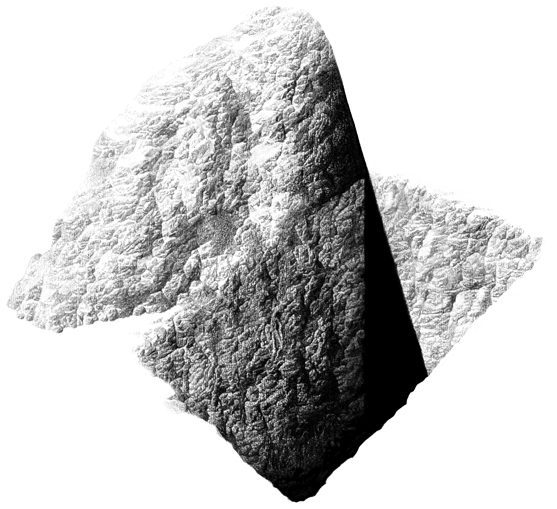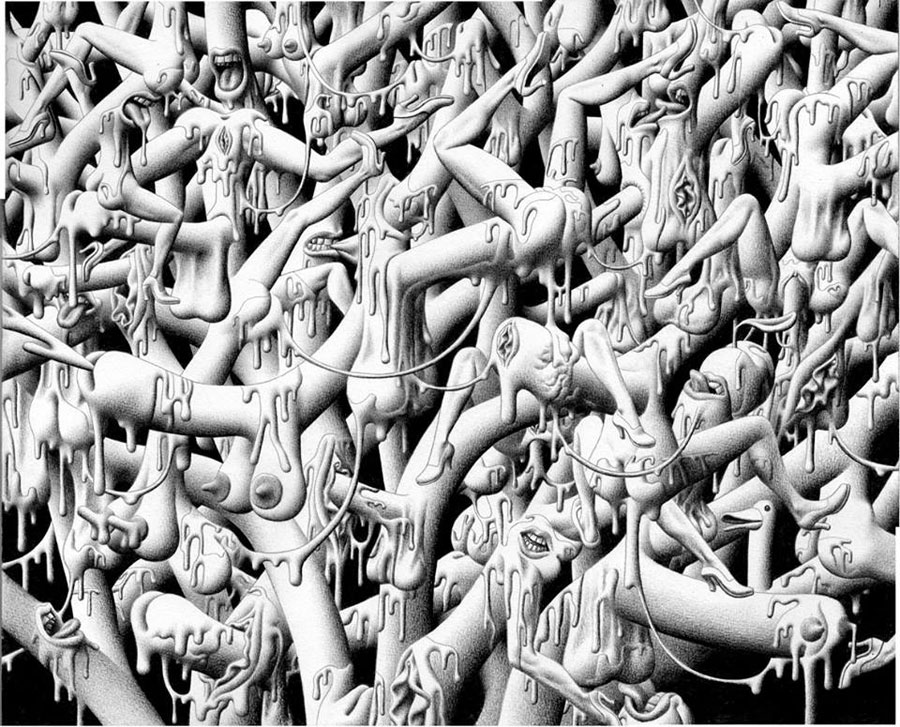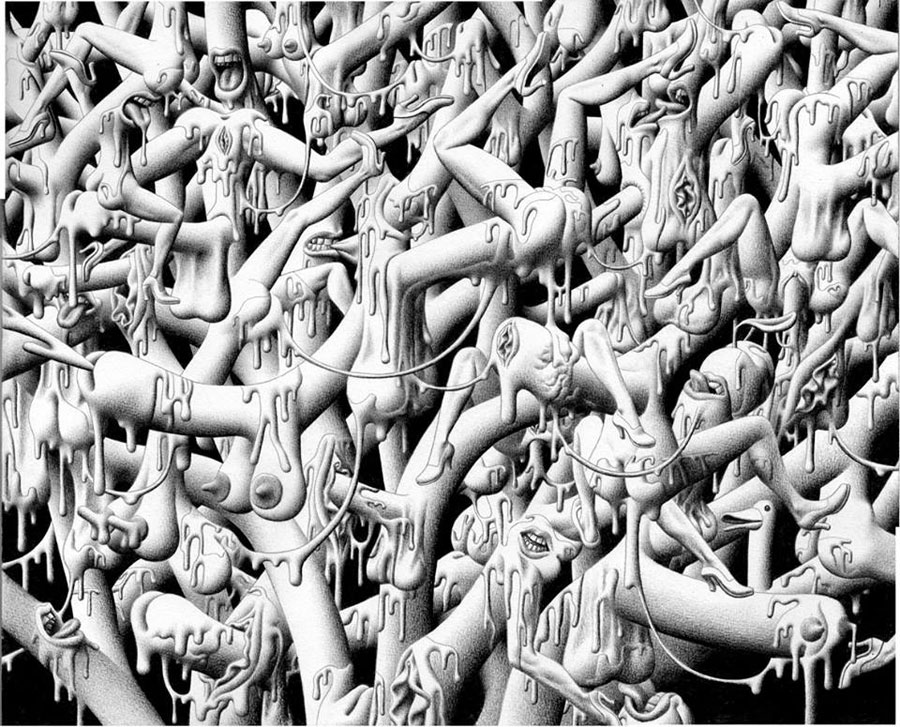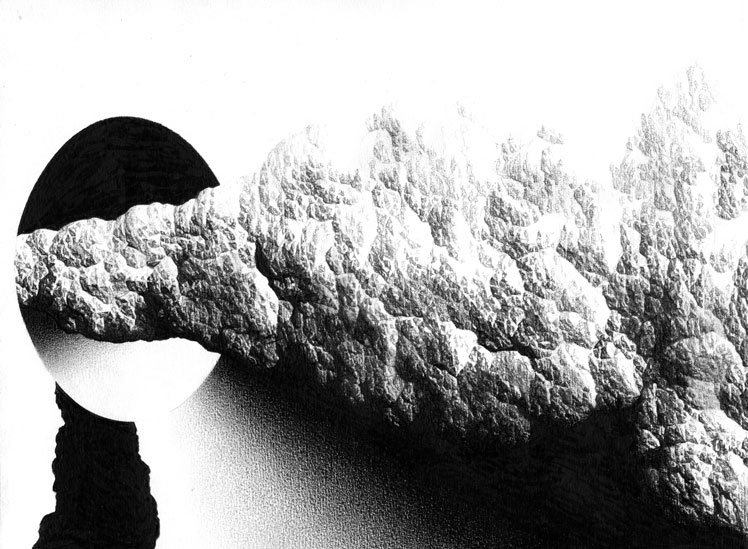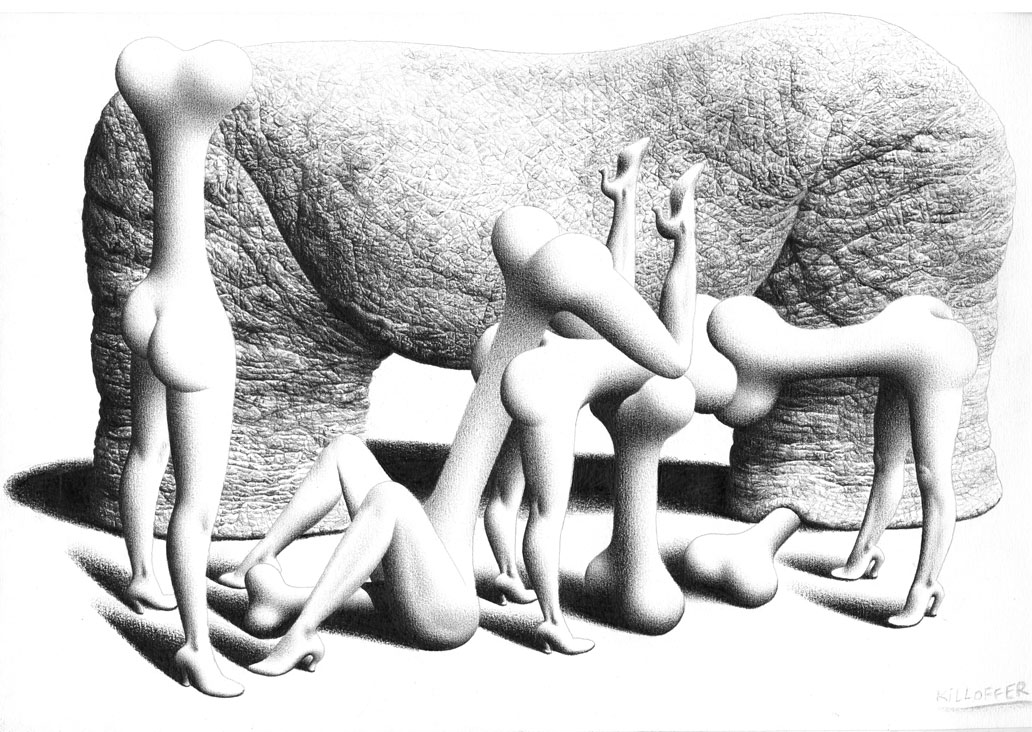 biography
Killoffer is one of the founding members of L'Association, a publishing house created in 1990 with Jean-Christophe Menu, Lewis Tondheim, David B., Mattt Konture, Stanislas and Mokeït.
He  is benefiting from a well-established reputation, both in the comic book universe, with his emblematic album "676 apparitions de Killoffer", as well as in the world of the press, especially with his drawings published in Libération.
He recently presented a solo exhibition at the Museum of the Abbaye of Sainte-Croix des Sables d'Olonne, at the Casa de Francia in Mexico City, at the Xalapa Art Center in Mexico, also at the Filbo in Bogota in Colombia and at the gallery anne barrault in Paris. 
He has also participated in collective exhibitions such as "Théâtre du monde", dedicated to David Walsh's collection, MONA (Museum of Old and New Art), at the Maison Rouge in Paris ; "quelques instants plus tard", at the Couvent des Cordeliers and at the Cité internationale de la bande dessinée et de l'image, in Angoulême ; "La ville dessinée", at the Cité de l'architecture et du Patrimoine, Palais de Chaillot in Paris ; "Comic Strip" at the Musée de Sérignan ; "Cult fiction" at the Walsall Art Gallery in England, an exhibition organised by the Haywars Gallery in London ; and "la nuit curieuse" at the Ferme du Buisson. 
His monographic book "Charbons" was published on the occasion of his personal exhibition at the Museum of the Abbey of Sainte-Croix des Sables d'Olonne and his last album Killoffer "Tel qu'en lui même enfin" has just been published by the Association.  
Killoffer is founder with Jean-Yves Duhoo of the quarterly "Mon Lapin Quotidien» (MLQ), also edited by L'Association whose first issue was released in February 2017.
The book "Craintif des falaises" by Eric Chevillard has just been published (editions de l'Arbre vengeur), with drawings by Killoffer. 
Solo exhibitions
2021
Au bain! avec Flaubert | Killoffer & Eric Chevillard | Maison de Maupassant - La Guillette, Etretat
2019
Killoffer | Espace Saint-Remi, Bordeaux
2016
Nourrir le monstre | Galerie anne barrault – Paris
Filbo, Bogota, Colombie
2015
Prix Töpffer, Genève, Suisse
2014
Galerie de la Casa de Francia et Galeria de Arte Contemporaneo de Xalapa, Mexique
2012
Houille ! galerie anne barrault, Paris
Charbons, Musée de l'Abbaye de Sainte-Croix, Les Sables d'Olonne
2011
Le Hublot d'Ivry-sur-seine
Killoffer, Point Ephémère, Paris
2010
Mauvais plis, galerie anne barrault, Paris
Espace Jean Legendre, Scène conventionnée pour le dialogue des arts, Compiègne
2009
J'y pense et puis…, Musée Saint-Jean, Nogent le Rotrou
2007
Récapitulation, galerie anne barrault, Paris
Festival Fumetto, Lucerne, Suisse
2006
Festival Livresse, Charleroi, Belgique
2002
Ecole Dupérré, Paris
2001
Le Regard Moderne, Paris
Group exhibitions
2021
Wszechświaty równoległe (Univers parallèles) | Académie des Beaux-arts de Katowice, Pologne | Curated by: Alexandre Devaux
Comics Strip ! | Collection Lambert, Avignon | Curated by: Stéphane Ibars
2020
Plan A | FRAC Poitou-Charente, Angoulême | Curated by: Jochen Gerner & Alexandre Bohn
2019
Histoire de l'art cherche personnages… | CAPC, Bordeaux | Curated by: Alice Motard avec Anne Cadenet et François Poisay (CAPC musée d'art contemporain de Bordeaux) ; Anne Hélène Hoog (Cité internationale de la bande dessinée et de l'image, Angoulême) ; Yan Schubert (Fondation Gandur pour l'Art, Genève)
2015
Salon Paréidolie, Marseille
Pulp Live – Exquise esquisse, La ferme du buisson, Noisiel
2014
Lancement de «Mon Lapin», Killoffer + Guests, galerie anne barrault, Paris
Drawing now, salon du dessin contemporain, avec la galerie anne barrault, Paris
Si on n'a pas vu le bonheur dans l'image, on en verra le noir, Chris Marker – une proposition de Ramuntcho Matta en collaboration avec la galerie Polaris, galerie anne barrault, Paris
Femmes, Galerie Petits Papiers, Bruxelles
La vie est un collage, une proposition de Philippe Ducat, galerie anne barrault, Paris
2013
Citadelles en Suspens, une proposition de Pacôme Thiellement | Scott Batty, Captain Cavern, Olivia Clavel, Gébé, Killoffer, Jean-Christophe Menu, Roland Topor
Théâtre du monde, une exposition des collections de David Walsh, MONA (Museum of Old and New Art), et du TMAG (Tasmanian Museum and Art Gallery), la Maison Rouge, Paris
quelques instants plus tard, Cité internationnale de la bande dessinée et de l'image, Angoulême
2012
quelques instants plus tard, le convent des Cordeliers, Paris
la nuit curieuse, la Ferme du Buisson, Noisel
2011
Killoffer/Anouk Ricard, Halls des Chars, Strasbourg
2010
La ville dessinée, architecture et bande dessinée, Cité de l'Architecture et du Patrimoine, Palais de Chaillot, Paris
Cent pour cent, Cité internationale de la bande dessinée et de l'image, Angoulême
Suspect Reason, ArtLexis, New York
2009
OH CET ECHO, collection Philippe Ducat, galerie Catherine Putman, Paris
Comic Strip, Musée de Sérignan
grand hotel orbis, l'atelier, Nantes
2008
COMIX, Kunsthallen Brandts, Odense, Dannemark
Salon du dessin contemporain, galerie anne barrault, Paris
2007
cult fiction, Walsall Art Gallery, Angleterre, exposition organisée par la Hayward gallery,
Londres
2006
Graphic session/01, espace éof, Art's Factory, Paris
Charles Burns / Killoffer, Madame Edgar, Montréal
2005
OuBaPo, CNBDI, Angoulême
2004
Fabio Viscogliosi / Killoffer, Art's factory, Paris
2003
OuBaPo, galerie anne barrault, Paris
2002
Anna Sommer / Jochen Gerner / Killoffer, Art's factory, Paris
Bibliography
Killoffer, tel qu'en lui même enfin, L'Association, août 2015
Viva Pâtàmâch, réédition, Cornelius Eds, 2013
Charbons, Killoffer, l'Association, Paris, 2011
Recapitation, l'Association, Paris, 2009
Pas un seul, Tome 1 : par Killoffer et Jean-Yves Duhoo, L'Association, 2008
Quand faut y aller, L'Association, coll. « Ciboulette », 2006.
Le Rock et si je ne m'abuse le roll, L'Association, coll. « Patte de mouche », 2006
Donjon Monsters t. 9 : Les Profondeurs (dessin), avec Lewis Trondheim et Joann Sfar (scénario), Delcourt
Six cent soixante-seize apparitions de Killoffer, L'Association, 2002
Viva Pâtàmâch ! (dessin), avec Jean-Louis Capron (scénario), Le Seuil, 2001
Deux planches dans le Rab de COmix 2000, L'Association, 1999
La montagne d'acier (dessin), avec Lewis Trondheim (scénario), dans Projets, Librairie Sans Titre, 1998
La Bactérie, Les 4 Mers, 1998
Participation aux Oupus 1 à 4, L'Association, coll. « Oubapo », 1997-2005
Un strip dans Hommage à M. Pinpon, L'Association, cadeau-adhérents, 1997
La Clef des champs, L'Association, coll. « Patte de Mouche », 1997
Billet SVP, L'Association, coll. « Éperluette », 1995
Une planche dans Raaan, L'Association, cadeau-adhérents, 1994
La plaine Saint-Denis, dans Périphéries, L'Association, cadeau-adhérents, 1994
Killoffer en la matière, L'Association, coll. « Patte de mouche », 1992
press
exhibitions
Gallery exhibitions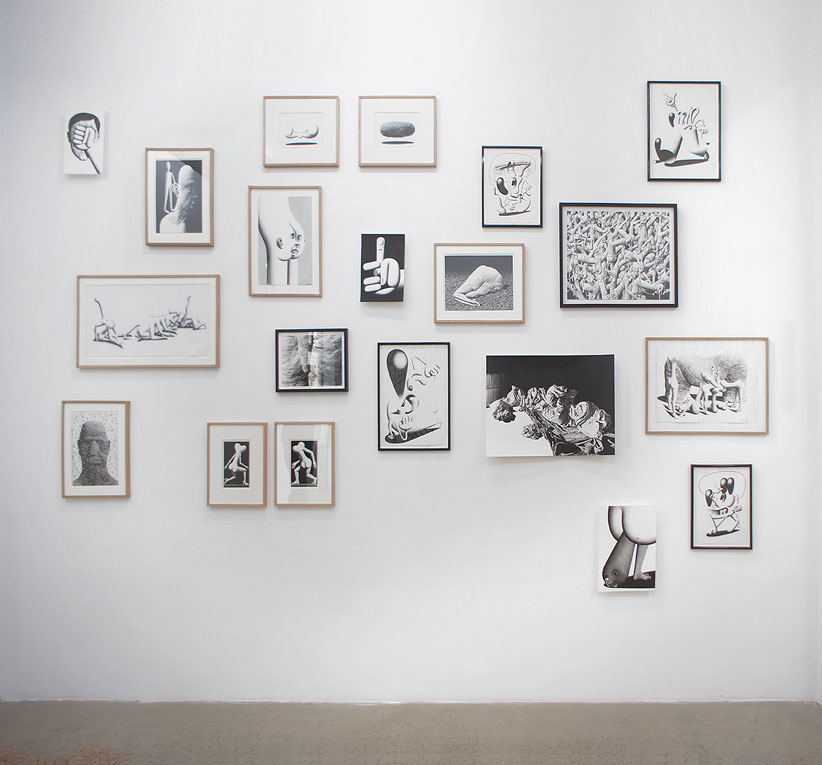 books & prints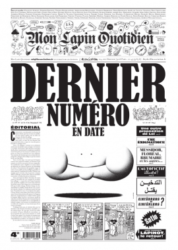 François Ayroles, Edmond Baudoin, Thomas Baumgartner, Abdelkader Benchamma, Charles Berberian, Denis Bourdaud, Chaumaz, Eric Chevillard, Jean-Luc Coudray, Fanny Dalle-Rive, Agnès de Cayeux, Nicolas de Crécy, Dorothée de Monfreid, Rachel Deville, Julie Doucet, Jean-Yves Duhoo, Jochen Gerner, Emmanuel Guibert, Joko, Joëlle Jolivet, Killoffer, Andréas Kündig, Hervé Le Tellier, Étienne Lécroart, Dominique Lestel, Christophe Levaux, Thierry Longé, Nicolas Mahler, Lisa Mandel, Clémentine Mélois, Raphaël Meltz, Morvandiau, Jérôme Mulot, Muzo, François Olislaeger, José Parrondo, Vincent Pianina, Placid, Frédéric Rébéna, Gabriel Rebufello, Denis Robert, Rocco, Christian Rosset, Florent Ruppert, Stanislas, Corinne Taunay, Pacôme Thiellement, Jean-Michel Thiriet, Stéphane Trapier, Lewis Trondheim, Vincent Vanoli, Fabio Viscogliosi, Aurélie William-Levaux
L'Association
2017
12 pages
4 €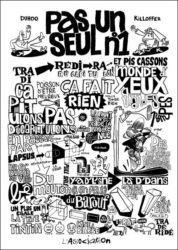 Duhoo & Killoffer
L'Association
2008
12 €