works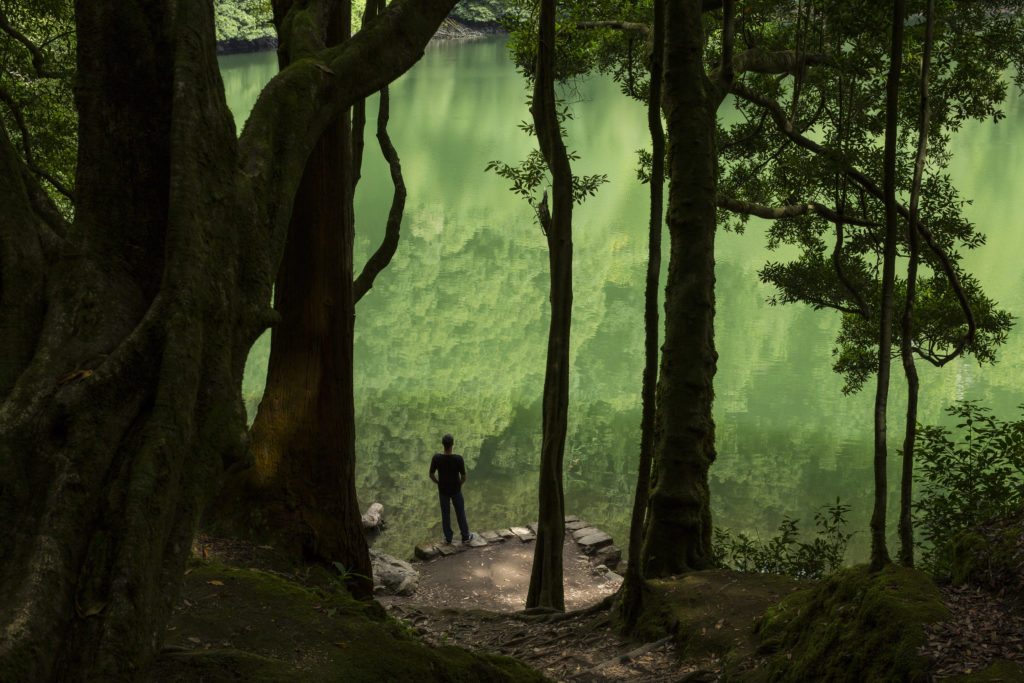 Point de fuite, 2019
impression  sur papier baryté,
110 x 165 cm
édition 3 + 1 ea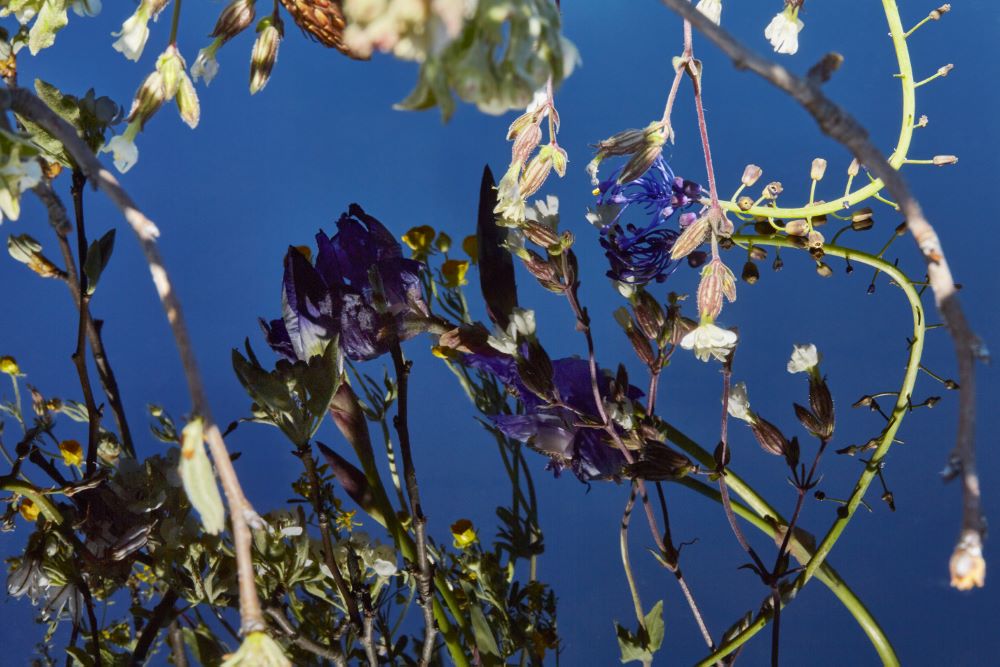 Lacis 3, 2018
photograph, 60 x 90 cm
edition : 1/3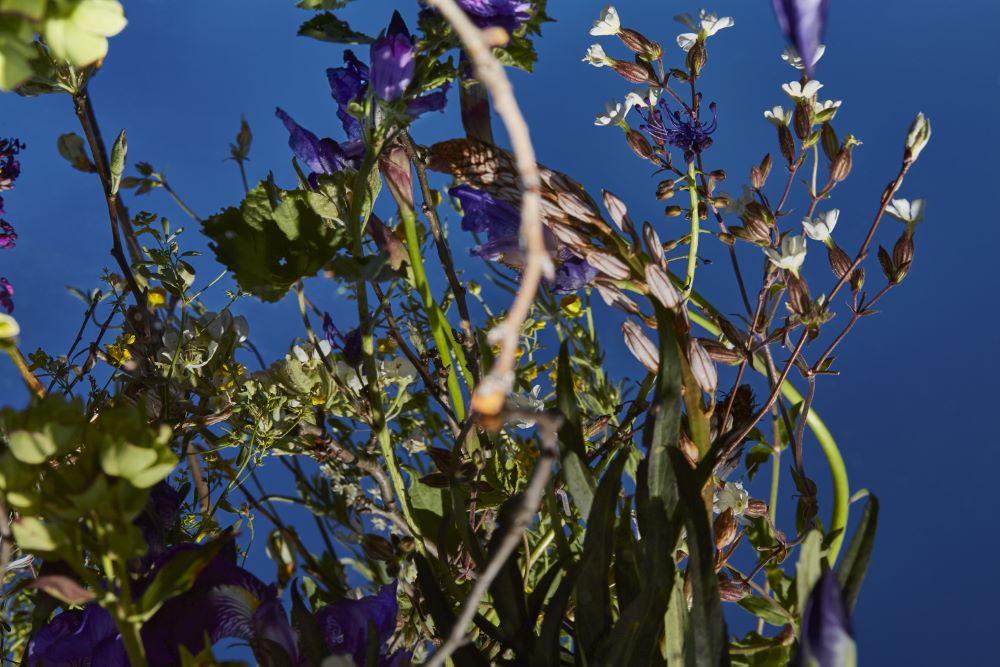 Lacis 5, 2018
photograph, 60 x 90 cm
edition : 1/3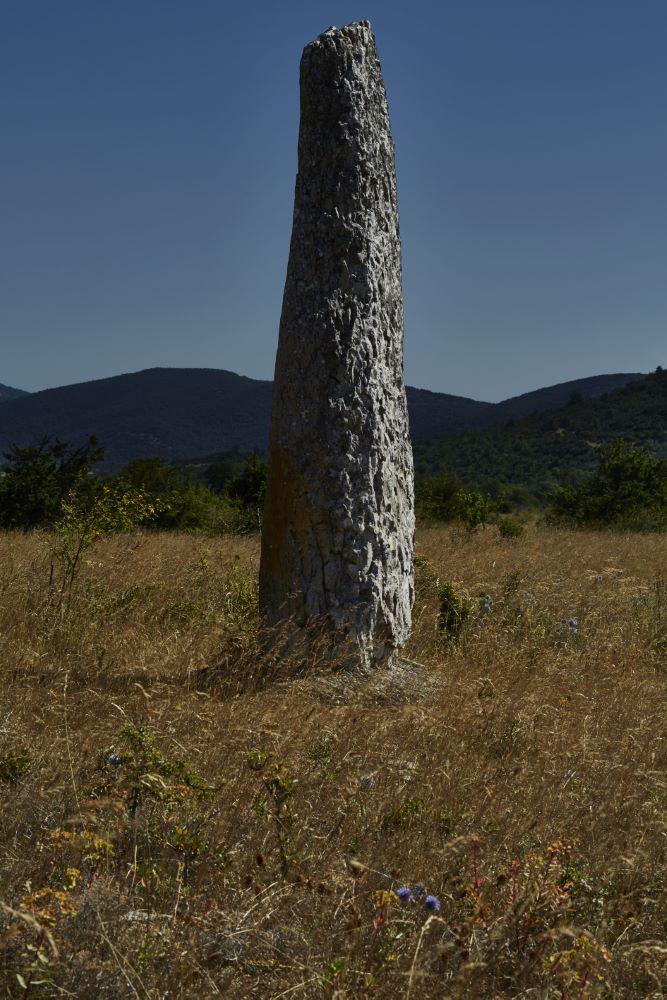 Porteur 2, 2019
photograph, 56 x 84 cm,
edition 3 + 1 ea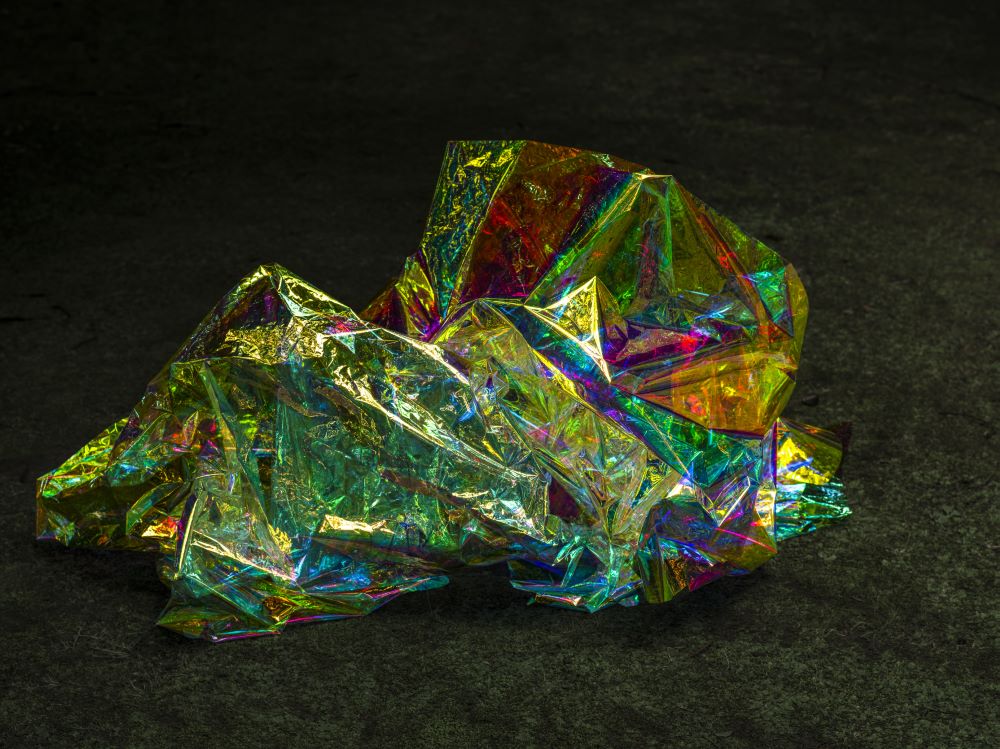 Surface sensible 4, 2019
photograph, 112 x 150 cm
edition : 1/3
phénomènes, 2018
diptyque 140 x 93 cm (each photograph)
impression sur papier baryté,
edition 3 + 1 ea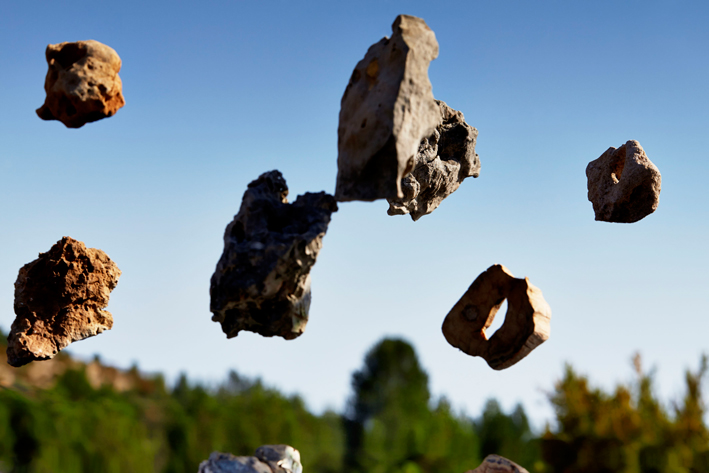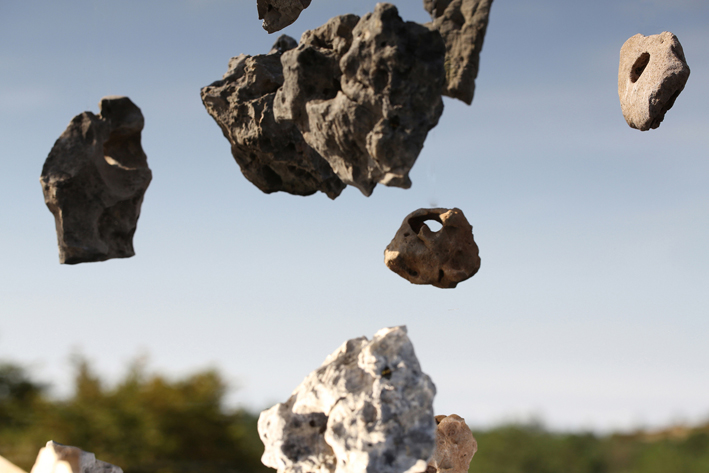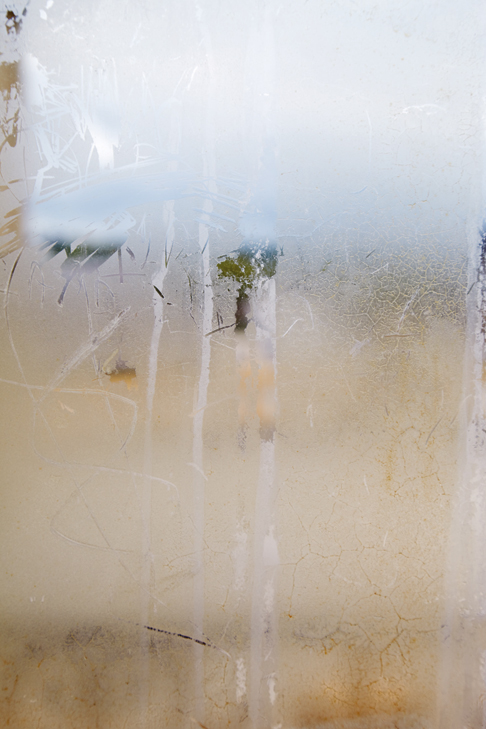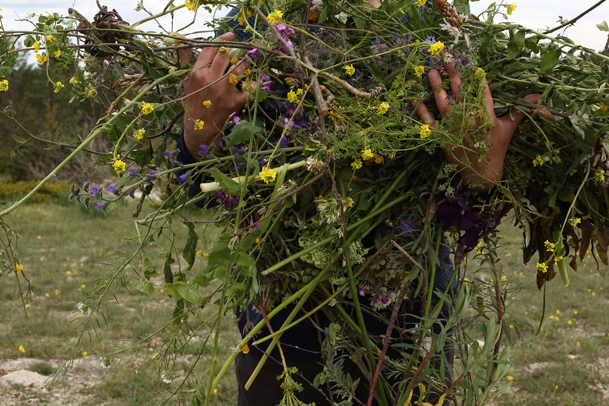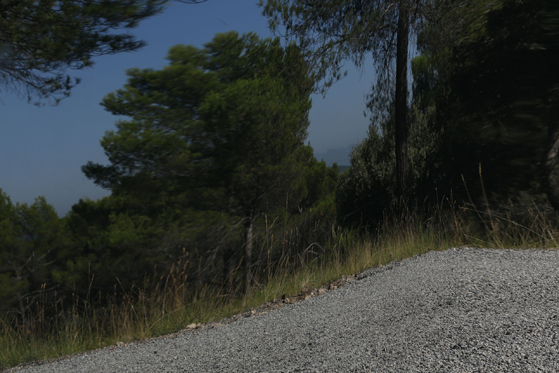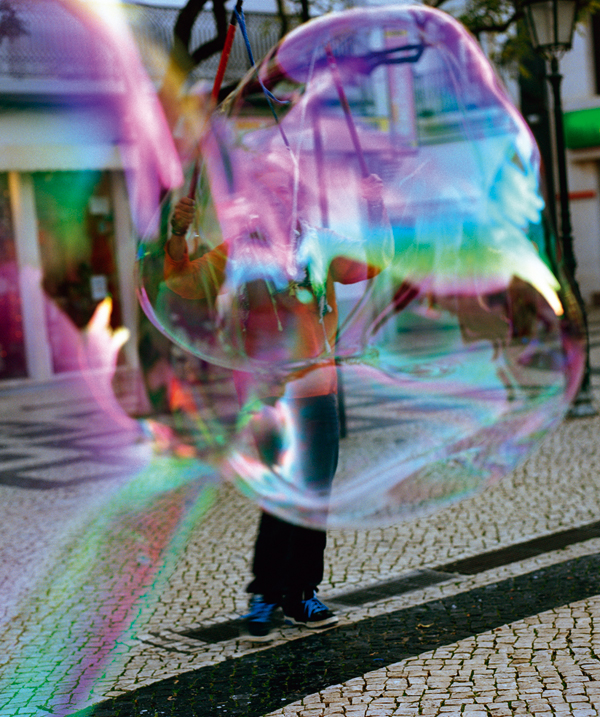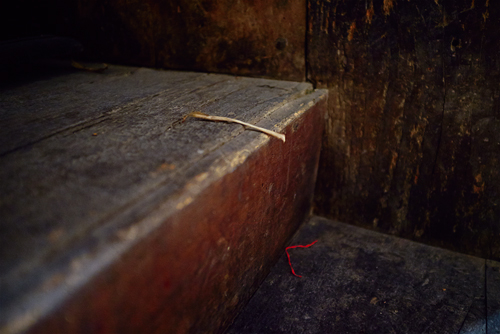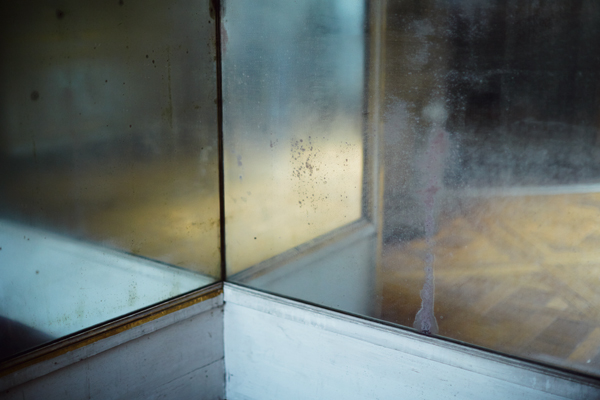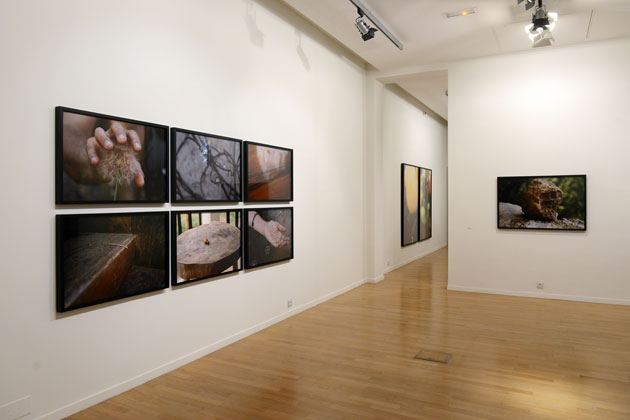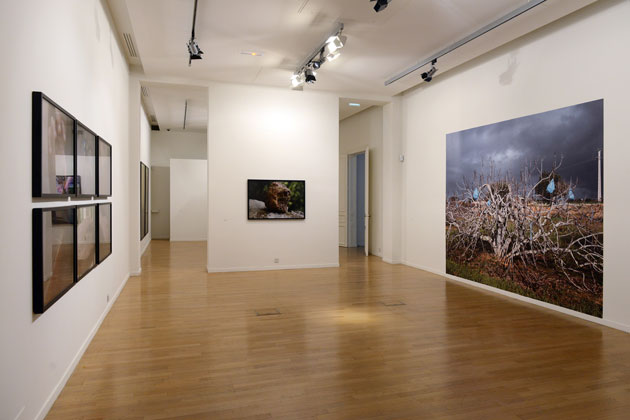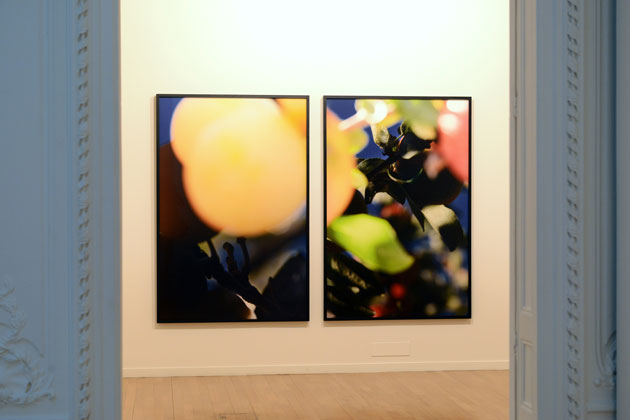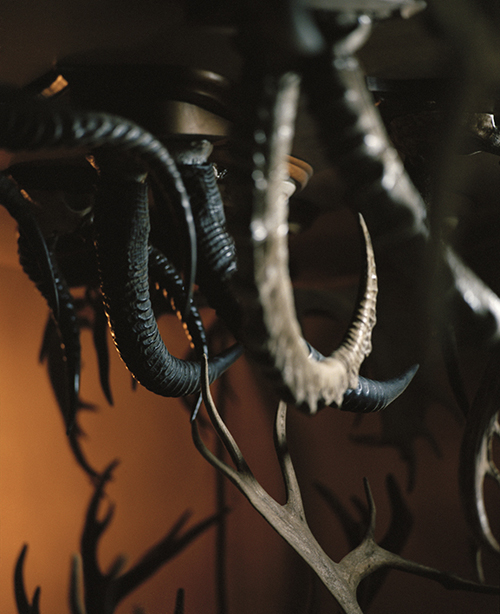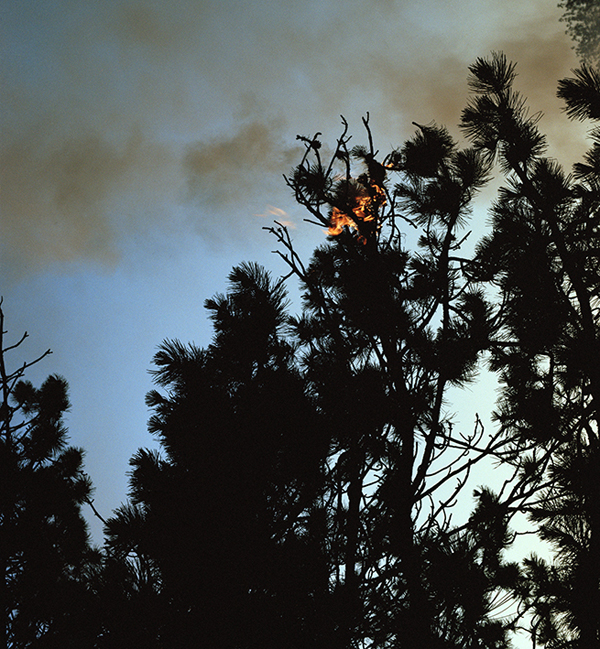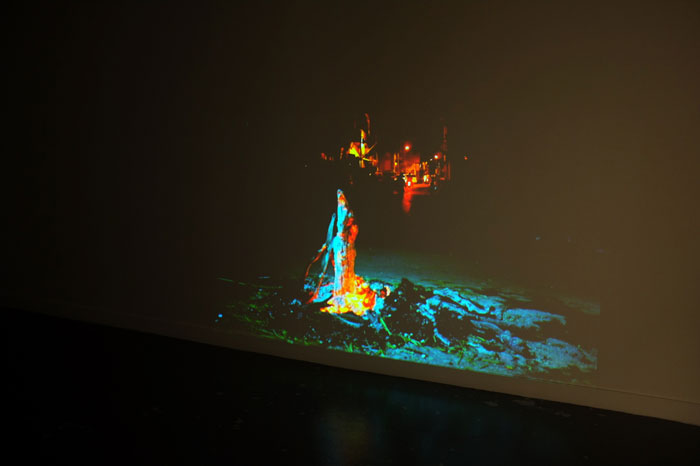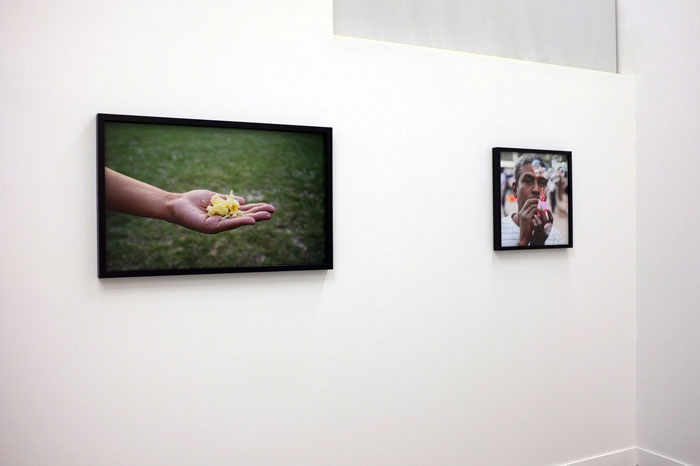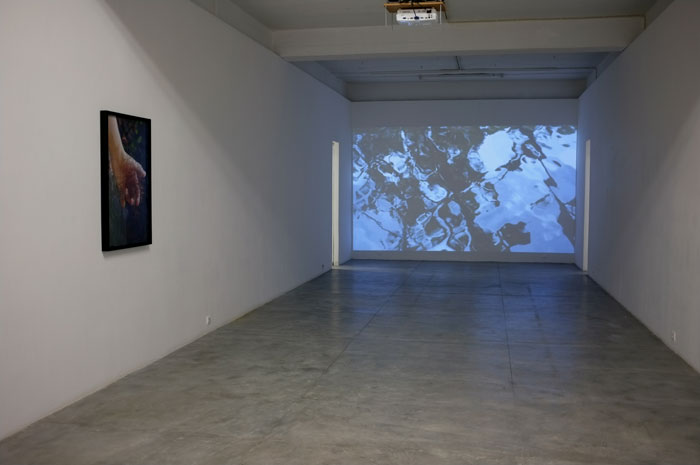 biography
Born in 1959 in Portugal. She lives and works in Paris.
Her photographs are fake snapshots: meticulous reconstructions of intimate or introspective moments when there are people, portraits, or bodies moving through space; or long waited for rendez-vous with nature, places, a specific light. Manuela Marques's production is not extensive, but sedimentary. That is why her images are characteristically intense, by making the matter of things the matter of her photograph, through the density of air shown in the dark; or the weight of objects and bodies prone to gravity; or the photographic cliché associated with the emotional cliché of the decorative object – the remnant of the longing for adventure in the conventional china shapes.
Manuela Marques recently had monographic exhibitions at the National Museum of Contemporary Art - Museu do Chiado, Lisboa (2022), the Museum of Modern Art André Malraux- MuMa, Le Havre (2022), the Arquipélago art center, Sao Miguel - Açores, and the Museum of Lodève (both 2019), at Calouste Gulbenkian Museum in Lisbon (2017), at Toulouse Château d'Eau (2016), at Circulo de Artes Plasticas in Coimbra (2015), at the Centre Régional de la Photographie, in Nord-Pas-de-Calais (2015), at Calouste Gulbenkian Foundation in Paris (2014).
Concurrently with her last exhibition, a new monograph entitled "Echoes of Nature" was published.
Solo exhibitions
2023
Festival OVNI | Nice
Manuela Marques | Répliques | Galerie anne barrault – Paris
2022
Echoes of Nature | Musée National d'Art Contemporain Do Chiado, Lisbonne | Curated by: Emilia Tavares
Lignes de failles | Centre d'art du Domaine de Kerguehennec
Répliques | MUMA, musée d'art moderne André Malraux, Le Havre
2019
Weather Station | Arquipélago art center, Sao Miguel - Açores | Curated by: Sérgio Mah
Et le bleu du ciel dans l'ombre-exposition personnelle | Solo exhibition | Musée de la Roche sur Yon
En Surface | Galerie anne barrault – Paris
Et le bleu du ciel dans l'ombre | Musée de Lodève
2018
Records | galerie Fonseca Macedo, Sao Miguel, Açores
Surfaces Sensibles | Caroline Pagès gallery, Lisbonne
2017
La face cachée du soleil | Musée Calouste Gulbenkian, Lisbonne
La force de Coriolis | Le Cellier, Reims
2016
La nature des choses | Musée d'art et d'archéologie, Aurillac
L'art dans les chapelles | Chapelle Notre-Dame des fleurs, Moric
2015
Fruits, oiseaux, pierres et cage  | Galerie anne barrault – Paris
Reprise | Círculo de Artes Plásticas de Coimbra, Portugal
2014
Backstage 2, Centre Régional de la Photographie Nord-Pas-de-Calais, Douchy-les-Mines
la taille de ce vent est un triangle dans l'eau, Fondation Calouste Gulbenkian, Paris
2013
Face à ce qui se dérobe Le Granit Scène Nationale, Belfort
Backstage, Galerie Caroline Pages , Lisbonne
2012 
Entrelacs, Galerie Anne Barrault, Paris (Mois de la photographie)
Aparté La Traverse-Les Ateliers de l'Image, Marseille
2011 
Manuela Marques ,  Galeria Vermelho, São Paulo, Brésil
BES Photo Prize ,  Estaçao Pinacotecade São Paulo , Brésil
Temporada,  Appleton Square, Lisbonne, Portugal
BES Photo Prize ,  Musée Collection Berardo, Lisbonne, Portugal
2010
Cour Intérieure ,  Festival Photo Levallois, Levallois-Perret
Zone(s) de contact,  Galerie Anne Barrault, Paris
O que o futuro foi ,  Laboratorio das Artes, Guimaraes, Portugal
In Situ ,  Caroline Pagès gallery, Lisbonne, Portugal
Manuela Marques ,  Galerie de l'École Supérieure des Beaux-Arts, Valenciennes
2008 
Still Nox ,  Caroline Pagès gallery, Lisbonne
2007 
Le Désespoir du Singe, Galeria Vermelho, São Paulo (Brésil)
Manuela Marques, Galerie Anne Barrault, Paris [www.artivi.com/vernissages/barrault.php]
Grandes galeries de l'École des Beaux-Arts de Rouen
2006
Manuela Marques, Centre Photographique d'Ile de France, Pontault-Combault, France [www.fluxdimages.com/manuela.html]
2005 
Manuela Marques: 1997-2006 Galerie Anne Barrault, Paris [www.fluxdimages.com/barrault.swf]
2004 
Hora Aberta, Galeria Vermelho, São Paulo, Brésil
2003 
Fragments, La Scène Watteau, Nogent-sur-Marne
2002 
Margens da Solidão, Encontros da Imagem, Braga (cat.)
Manuela Marques-Photographies 1995-2002, Institut Camoes, Paris, (cat.)
2000 
Manuela Marques, Galerie Anne Barrault, Paris
Une Improbable Intériorité, Musée Quesnel-Morinière, Coutances, France, (cat.)
1998 
Manuela Marques, Agnès b.,Paris
Group exhibitions
2023
Do Princípio do Mundo | Fundação Lapa do Lobo, Portugal
2022
Météorologiques | MuMa, musée d'art moderne André Malraux, Le Havre
Un été au Portugal | Villa Tamaris, La Seyne-sur-Mer
La vie invisible | Centre Photographique d'Ile-de-France, Pontault-Combault | Curated by: Raquel Guerra & Nathalie Giraudeau
Do funcionamento dos relógios e outros padrões. | Galeria Avenida da Índia, Lisbonne
Pensées Pierres | Galerie Jean Fournier, Paris
2021
Fondation des Treilles | La Criée, Marseille
Scénario 2 : Plan, image, séquence | FRAC Normandie Rouen
2020
| Halle Victor Hugo, Luxembourg
Lauréates du Prix de la Résidence pour la Photographie | Fondation des Treilles | Théâtre La Criée, Marseille | Curated by: Macha Makeïeff
Be my Guest (1) | Galerie anne barrault – Paris
2019
No Feminino, Galeria Fonseca-Macedo (Ponta-Delgada- Açores)
Contre-Histoires : Photographies Contemporaines | Hôtel Fontfreyde, Clermont Ferrand | curated by Pascal Beausse with Jean-Charles Vergne & François-Nicolas L'Hardy
Flora maxima, Domaine de Kerguéhennec
8 portuguese Women artists, Caroline Pagès gallery, Lisbonne
ElectroChic, L'Onde, Vélizy-Villacoublay
2018
Comme une histoire…Le Havre, MuMa, Le Havre
2017
Belle saison, Galerie Anne Barrault, Paris
2016
Nouvelles Vagues, Carré d'art, Musée d'art contemporain de Nîmes
Affinités Électives, Biennale de Gonesse
Photographies, Musée d'Art et d'Archéologie, Aurillac, France
À Quoi Tient la Beauté des Étreintes – La Collection du FRAC Auvergne, Clermont-Ferrand, France
2015
Jardiniers Terrestres Jardiniers Célestes – Biennale d'Art Contemporain, Melle,
Finissage, Les Ateliers de l'Image,La Traverse, Marseille
RE in-Utilitas, Galeria Fundação EDP, Porto, Portugal
2014
Grand Bazar, Le Granit, Belfort
2013 
Sociétés Secrètes,Collection FRAC Haute-Normandie, Musée Alfred Canel,Pont-Audemer
A Portée de Regard, Eglise des Trinitaires, Metz, France
Sous l'Amazone coule un fleuve-40 artistes de la collection, FRAC Auvergne, Clermont-Ferrand,France
Savoir c'est pouvoir, PHotoEspaña, Real Jardin Botanico, Madrid
2012 
Voir la vie, Galerie Duchamp, Yvetot
Fonds Commun, Platine de la Cité du design, Saint Etienne
Odires Mlaszho & Manuela Marques, Galerie Anne Barrault, Paris
Anywhere Gallery, Paris
2011 
Dix Ans, Galerie Agart, Amilly, France
Les Territoires du Désir ou les Métamorphoses d'un Musée Imaginaire, Musée d'Art Moderne André Malraux, Le Havre, France (cat.)
Laps, L'été Photographique de Lectoure, Centre de Photographie, Lectoure, France
Silent Significance, Galerie LMD, Paris
 2010 
Dans un Jardin, FRAC Haute Normandie, Sotteville-lès-Rouen (cat.)
Retratos de Cidades, Musée d'Art Moderne Brasilia, Brésil
Improvisation, Galerie Anne Barrault, Paris
Da Outra Margem do Atlántico, Hélio Oiticica Art Centre, Rio de Janeiro, Brésil
Images sur Commande, Musée d'Art Moderne André Malraux, Le Havre, France (cat.)
O que o futuro foi,  Laboratorio das Artes, Guimaraes, Portugal
2009
She is a Femme Fatale, Musée Collection Berardo, Lisbonne, Portugal
Retratos de Cidades, Musée d'art contemporain, Niteroi, Brésil
La Nuit des Musées, Collection Lambert, Avignon
La Rose Pourpre du Caire – Bande-Annonce, Musée d' Art et d'Archeologie, Aurillac
Lá Fora, Museu da Electricidade, Lisbonne, Portugal (cat.)
2008 
Silêncio, Galeria Vermelho, São Paulo, Brésil
Verbo, Galeria Vermelho, São Paulo, Brésil
Unknown Land, Elastic Gallery, Malmö, Suède
Lá Fora, Edifício Arq. Fernando Távora Viana do Castelo, Portugal
Le Bruissement des Images, Centre Photographique d'Ile-de-France, Pontault-Combault, France
2007
La Chute des Corps, FRAC Auvergne, Clermont-Ferrand, France
L'Ile de Morel, Centre Photographique d'Ile-de-France, Pontault-Combault, France
Singularités, Galerie Agart, Amilly France (cat.)
La Dimension Cachée, Forum d'Arts Plastiques d'Ile-de-France, Les Ulis (cat.)
2006
Empirismos, Musée de l'Image et du Son, São Paolo, Brésil
Empirismos, Espaço Cultural Contemporâneo (Ecco), Brasília, Brésil
Grandes Vacances, Galerie Anne Barrault, Paris
2005
Empirismos, Palacio da Ajuda, LisboaPhoto 2005 (cat.)
A Table(s), Domaine départemental de Chamarande, France
Apparemment Léger, Musée d'Art Moderne André Malraux , Le Havre (cat.)
2004
Vagues II- Hommages et Digressions, Musée d'Art Moderne André Malraux, Le Havre, (cat.)
Paris_Brooklyn, Schroeder/Romero Gallery, New York
 2003 
Montagnes, Galerie Anne Barrault,Paris
2002
Paris/Brooklyn Exchange ,Schroeder/Romero Gallery, New York
2000 
La Collection de Photographie d'Agnès b., Centre National de la Photographie, Paris (cat.)
1996 
Photo Leurres, Galerie Agnès b., Mois de la Photo, Paris [catalogue]
1995 
Galerie de l'Uquam : Montréal, Québec
1994
Saint Mary's University Art Gallery, Halifax, Canada
1993 
Musée de la Photographie Canadienne, Ottawa, Canada
1992
Hôtel d'Albret, Mois de la Photo, Paris , (cat.)
Bibliography
Monograph

Echoes of nature, Editions Loco, 2022
Et le bleu du ciel dans l'ombre, Editions Loco, 2019
La taille de ce vent est un triangle dans l'eau, Editions Loco, 2014
Still Nox, Editions Marval, 2008

Press

Un été au Portugal, Var-matin, Karine michel, 3 juin 2022
Manuela Marques, Artpress, Julie Chaizemartin, juin 2022
Dans les tremblements de la terre, Beaux Arts Magazine, Emmanuelle Lequeux, mai 2022
Le monde flottant de Manuela Marques, Relikto, Maryse Bunel, mars 2022
Paris-Normandie, Karine Leroy, mars 2022
Les paysages intranquilles de Manuela Marques, Christine Coste, L'oeil, avril 2022
Mondes flottants, Transfuge, Julie Chaizemartin, avril 2022
Tellurique, de l'Air, Stéphane Brasca, avril-mai-juin 2022
Paris-Normandie, Vanessa Leroy, 5 mars 2022
Ipsilon, Público, José Marmeleira, 1 mai 2020
Exposiçoes, Público, Luísa Soares de Oliveira, 20 décembre 2019
Manuela Marques, le voyage des fleurs, Maïlys Celeux-Lanval, Le quotidien de l'art,28 septembre 2019
"Weather Station", Artforum, Cristina Sanchez-Kozyreva, août 2019
De l'Air, avril-mai-juin 2019
La Nature Chamanique de Manuela Marques, Christine Coste, Le Journal des arts,12 mars 2019
Manuela Marques, jouer avec les reflets de la nature, Patricia, Bussy, IDEM, mars 2019
L'Intervalle, Fabien Ribery
https://lintervalle.blog/2019/02/26/un-leger-tremblement-de-tout-par-manuela-marques-photographe/
Entre nature et artifice, Jean-Marie Gavalda, Midi Libre, 3 février 2019
Larzac enchanté, Anna Zisman, Zibeline, 1er février 2019
Manuela Marques, l'empreinte de la pluie, Guillaume Lasserre,Mediapart, 25 janvier 2019
https://blogs.mediapart.fr/guillaume-lasserre/blog/130119/manuela-marques-lempreinte-de-la-pluie
Questions de Point de vue,Carmen Ibanez, Parcours des arts, janvier-mars 2019
Musée de Lodève: Et le bleu du ciel dans l'ombre de Manuela Marques, Nadira Belkacem,e-Metropolitain 10 janvier 2019
Les cueillettes de Manuela Marques, Melanie Bulan, La Gazette de Montpellier, janvier 2019
Manuela Marques, Loeil, Christine Coste, 2019
Manuela Marques, Audrey Illouz, Art Press, juin 2017
Versalhes entre a luz e a sombra,  Luísa Soares de Oliveira, Público, 17 Mars, 2017
Manuela Marques convoque les esprits du grand siècle,  Christine Coste, Le journal des arts, mars-avril 2017
Diario de noticias, Lina santos, 3 mars 2017
La nature, invitée de marque(s) dans la Sellerie, Patrick Delobelle, La voix du Cantal, Juillet 2016
La Sellerie présente l'exposition La nature des choses, La Montagne,Charlotte Lesprit, juillet 2016
Lodève : Manuela Marques, une artiste en résidence sur le site de Cantercel, Sabrina Chinni, Midi Libre, juillet 2016
Le Musée de Lodève dévoile en avant-première deux des premières oeuvres de la résidence d'artiste de ManuelaMarques,Céline Demarcq, La Tribune de l'hérault, 15 novembre 2015
Saisir l'insaississable à la Galerie du Château D'Eau, Yves Gabay, La Depeche, 13 Novembre, 2015
Manuela Marques' Singular Photos at Gallery Anne Barrault, by Rachel Will, Blouin ArtInfo, 1 Septembre, 2015
Manuela Marques, in Contemporânea, Juillet/Août, 2015
Les correspondances de Manuela Marques, A.C., Connaissance des Arts, p. 30, Juin 2014
Les belles vibrations de Manuela Marques, Natacha Wolinski, Le Quotidien de l'Art, pp. 6-7, 22 Mai, 2014
Ce qui se cache sous le regard, Arts Magazine, p. 120, 14 Mai, 2014
Mondes fragiles, Claire Guillot, in Le Monde (Magazine), p. 95, 9 Mai, 2014
Não vemos só com os olhos, Sérgio B. Gomes, iÍpsilon, pp. 16-17, May 9, 2014
Rencontre avec Manuela Marques, by Louise Tessier, in Actuphoto.com, May 7, 2014
Marques, l'écho des chamans, by Elisabeth Franck-Dumas, in Libération, p. 46, May 2, 2014
São Paulo Interlope,Roxana Azimi, Le Quotidien de l'Art, nº 261, p. 9,16 Novembre 2012
Top 5 des galeries parisiennes à voir cette semaine, Céline Piettre, ,5 Novembre 2012
Manuela Marques, Claire Guillot, Le Monde, 4 Novembre 2012
The Art Collector: Kenneth Montague, Bomi Odufunade, Ariselive.com, 9 Octobre 2012
Xavier Richard, Journal officiel n° 51p.20-21,- juillet 2012
A Travessia das Imagens,  Celso Martins, Expresso-Atual, p. 14, 27août 2011
Para Manuela Marques, o real é um saco vazio, par José Marmeleira, Publico-Ipsilon, p.20, 22 avril  2011
Sob o Foco_Manuela Marques, Elsa Garcia, Time Out Lisboa, p.40, 20-26 avril 2011
Daqui para fora, par Celso Martins,Expresso-Actual, p.22, 26 mars 2011
Uma Exposiçao de fotografia, José Marmeleira, Publico-Ipsilon, p.38, 25 mars 2011
Imagens com Sotaque, par Silvia Souto Cunha,Visao, pp. 102-103, 10 mars 2011
Manuela Marques, Troublantes Extases, par Anne Kerner, page 44, janvier-février 2011
Manuela Marques, Zone(s) de contact, par Leïla Elyaakabi,Paris-art.com,  novembre 2010
Manuela Marques, Cour Intérieure, pp 14-21, Photos Nouvelles #66,Nov-décembre 2010
Manuela Marques, Galerie Anne Barrault, par Claire Guillot, Le Monde, 14-15 novembre 2010
Fines Herbes [portfolio], Brigitte Ollier, Libération, 14 et 15 Août, 2010
Territorios Improvaveis, Filipa Oliveira,  L+Arte n°71, p. 69, Mai 2010
Le Havre parie sur la photographie pour se refaire une image, Claire Guillot, Le Monde, 6 avril, 2010
Still Nox, Béatrice Andrieux,Connaissance des Arts,  Septembre-Octobre 2008
Still Nox, Michelle Debat,www.lacritique.org,  Septembre, 2008
L'Invention de Morel revue et corrigée, Connaissance des Arts, Béatrice Andrieux, Juin-Août, 2007
Paris para Fotógrafos, João Grama,Expresso-ÚNICA,  Juin, 2007
Manuela Marques, Zaha Redman,La Gazette de l'Hôtel Drouot,  Avril, 2007
L'Ile de Morel, Karine Claeren, www.mouvement.net, Avril 2007
Manuela Marques, Hélène Simon, Le Monde, Avril 2007
Marques, instants attendus, Brigitte Ollier, Libération , Avril 2007
Manuela Marques, Antoine Isenbrandt,www.paris-art.com,  Avril 2007
Centres de gravité, Frédérique Chapuis, Télérama, Mars 2007
Exporama, Art Press, Mars 2007
Un Monde Énigmatique, Paris-Normandie, Février 2007
Identification d'une ville, Dominique Baqué, Ed. du Regard, octobre 2006
Claire Guillot, Le Monde, 29 juillet 2006
26 juillet 2006 interview par Christine André,www.paris-art.com ,
À l'ombre du paradoxe, Frédérique Fanchette, Libération, 15 juillet 2006
Une éblouissante pénombre, Claude Postel,Connaissance des Arts, juin-août 2006
Manuela Marques cultive l'ombre Claire Guillot,Le Monde,  mars 2005
Manuela Marques, en état de grâce, Bénédicte Ramade, L'Œil, mars 2005
L'Autre, Elisabeth Do, vol 5, n°3,octobre 2004
Hora Aberta, Lisette lagnado,Tropico, www.uol.com.br,
Obras provocam deslocamento do olhar, Fábio Cypriano, Folha de São Paulo, août 2004
Vermelho exibe obras da francesa Manuela Marques, Camila Molina, O Estado de São Paulo, août 2004
Art Press, mars 2002
Le Point, mars 2002
Ouest-France, avril 2000
Le Monde, Paris, octobre 1998
Collections
Ministère de l'Europe et des affaires étrangères
FRAC Auvergne, Clermont-Ferrand, France
FRAC Haute Normandie, France
Musée d'Art Moderne André Malraux, Le Havre
Büyükkuşoğlu Collection, Bodrum, Turquie
Museu Calouste Gulbenkian Lisbonne
Linklaters
EDP Foundation, Lisbon
Museu da Cidade de Lisboa, Câmara Municipal de Lisboa
Domaine de Chamarande, France
MG Collection, Alvito, Portugal
Idealista, Lisbon
Centre National des Arts Plastiques
Fonds départemental d'art contemporain de l'Essonne
Collection Agnès b., Paris
Banco Espirito Santo Art Collection, Lisbonne, Portugal
Berardo Museum Foundation, Lisbonne, Portugal
Banco Espirito Santo Investment, Brésil
Museu da Imagem, Braga, Portugal
Collection Institut Camoes, Paris
Museu da Imagem, Braga, Portugal
Wedge Collection, Toronto, Canada
Grants and residencies
Résidence au Domaine de Kerguéhennec, 2018-2019-2020
Résidence Fonseca-Macedo, Açores, 2017
Résidence photographique, Amilly, France, 2017
Résidence photographique, Musée de Lodève, 2015-2016
Résidence photographique, Fondation des Treilles, 2013
Lauréate du Prix BES , Lisbonne, Portugal, 2011
Allocation de recherche et de séjour (CNAP), Sao Paulo, 2009
Commande Ville du Havre, 2008
Brasilia et São Paulo, Programme à la Carte ,Institut français, 2004
films
MANUELA MARQUES
Girouette, 2017


MANUELA MARQUES
Construction, 2019
exhibitions
Upcoming exhibitions
Festival OVNI
Nice
17 November - 3 December 2023
Gallery exhibitions
books & prints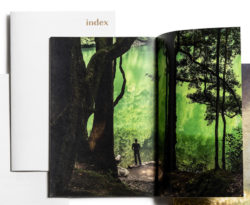 Manuela Marques
éditions Loco
2022
20,7 cm × 30,7 cm × 2,2 cm
144 pages
35 €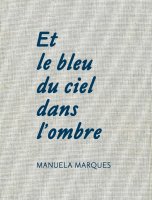 Et le bleu du ciel dans l'ombre
Manuela Marques, Gilles Tiberghien
Loco
2018
28,5 x 22 cm
128 pages
32 €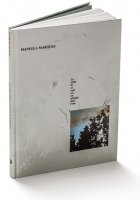 La taille de ce vent est un triangle dans l'eau
Manuela Marques, Serge Poivert, Sergio Mah
Loco
2014
28 x 22 cm
144 pages
35 €