works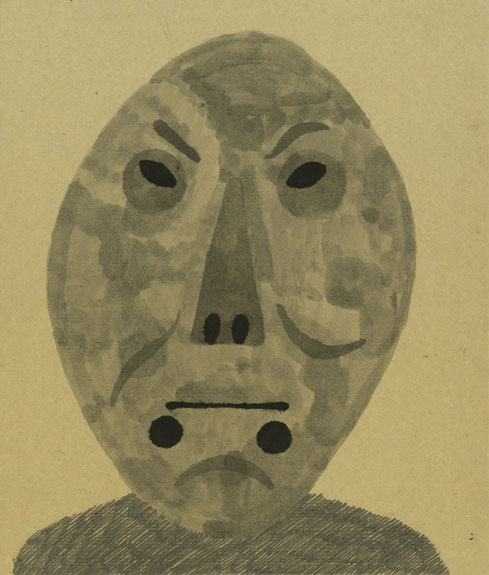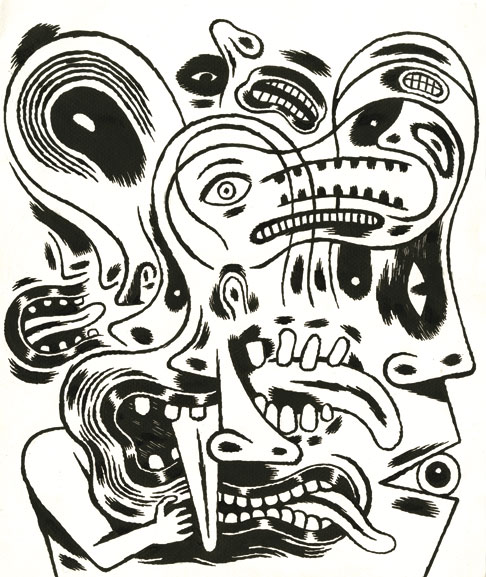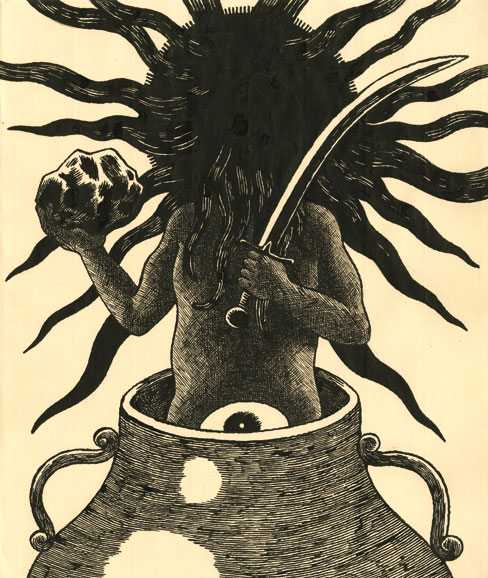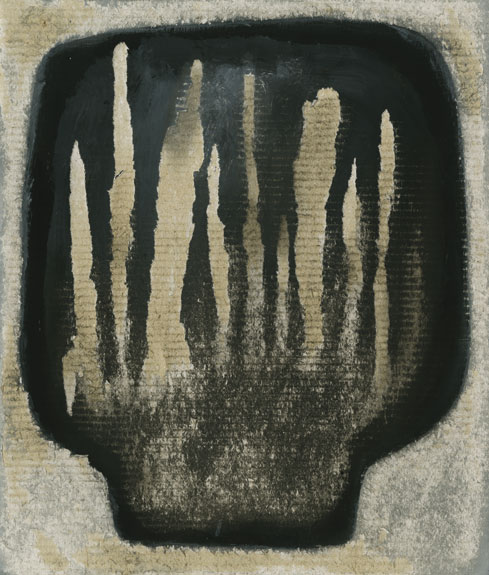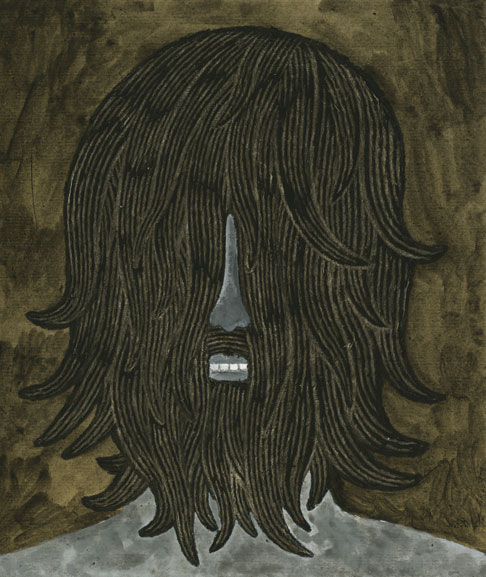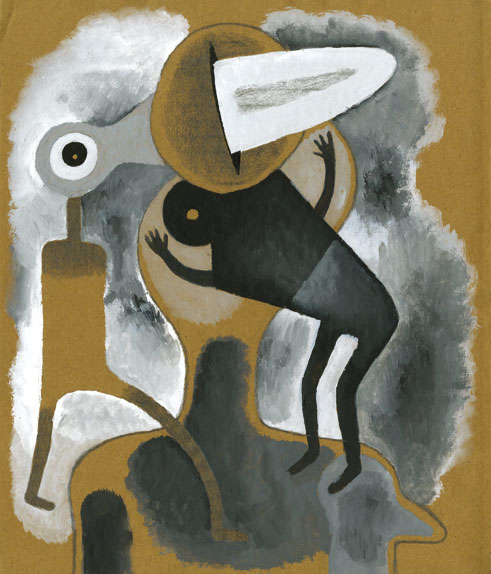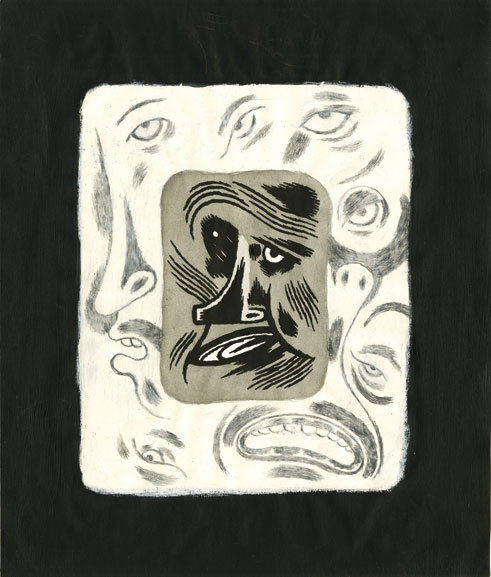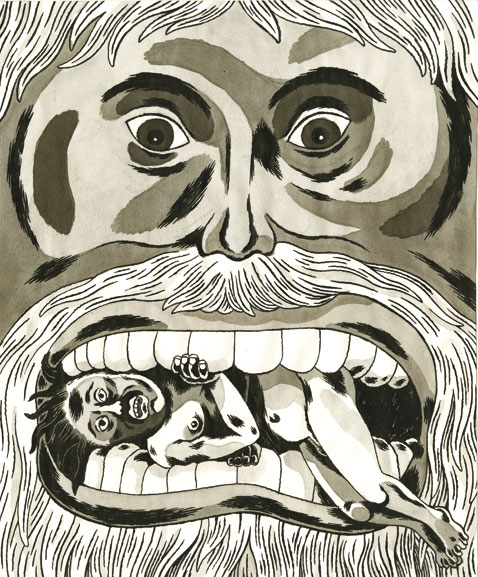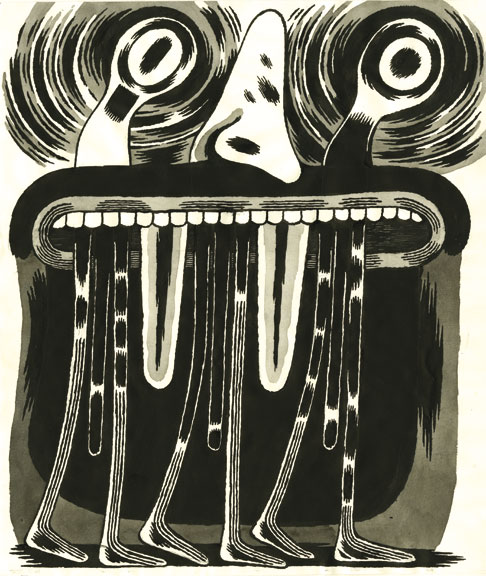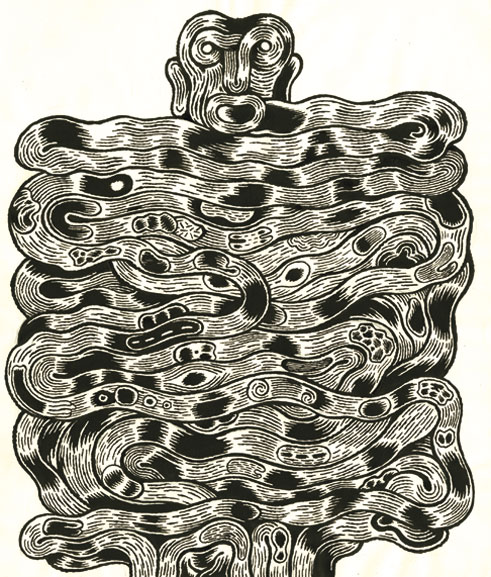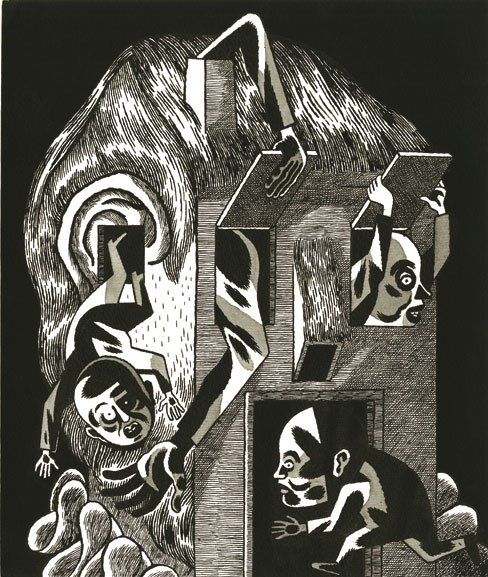 biography
David B. was born in France in 1959. He lives and works in Bologna, Italy.David B. is one of the founders of "L'Association, a cult publishing house on the French new comic strip scene. After studying art deco, David B. has his first drawings published in various magazines ( "A suivre", Chic, Circus...) . His dream books, or rather nightmare books, published by "L'Association" won him attention. The intrinsic power of his world of dreamlike images is emphasized by his mastery of black and white.Today, in about fifteen years, his bibliography is already prolific.
Today, in some twenty years, he can claim an already extensive bibliography, of which the emblematic and autobiographic series "L'Ascension du Haut-Mal".
In 2016, he has a solo show at Le Pavillon Art Center in Colomiers, at the Abbaye Sainte-Croix Museum in les Sables d'Olonne.
He participates in many collective exhibitions, among which, recently, at the Museum of American Illustration in New York, at the Cultural Center in Chicago, FRAC Aquitaine, CAPC and at gallery anne barrault.
Solo exhibitions
2020
David B. | Galerie anne barrault – Paris
2017
My Brother and the King of the World | Galerie anne barrault – Paris
2016
Mon frère et le roi du monde | Musée de l'Abbaye Saint-Croix des Sables d'Olonne
2015
Mon frère et du roi du monde | Pavillon Blanc, Centre d'art de Colomiers
2008
la guerre sainte | Galerie anne barrault – Paris
Group exhibitions
2020
Plan A | FRAC Poitou-Charente, Angoulême | Curated by: Jochen Gerner & Alexandre Bohn
2019
Histoire de l'art cherche personnages… | CAPC, Bordeaux | Curated by: Alice Motard avec Anne Cadenet et François Poisay (CAPC musée d'art contemporain de Bordeaux) ; Anne Hélène Hoog (Cité internationale de la bande dessinée et de l'image, Angoulême) ; Yan Schubert (Fondation Gandur pour l'Art, Genève)
2018
My child could do as well | Galerie anne barrault – Paris
À mon seul désir, 20 ans de mauvais genres chez agnès b., Galerie du jour agnès b., Paris
BD/Drawing : correspondances, Cité internationale de la Bande Dessinée et de l'image
2017
Shoah et Bande-dessinée, Mémorial de la Shoah
Tomi Ungerer Forever, Musée Tomi Ungerer, Strasbourg
Zoocryptage, Crypte Saint-Eugénie, curated by Clara Djian et Nicolas Leto, Biarritz
BD Factory, avec Jim Shaw, Ernest T., Philippe Parreno, Pierre Huygue, Winschluss…, FRAC Aquitaine, Bordeaux
Tomi Ungerer Forever, Musée Tomi Ungerer, Strasbourg
Bibliography
Le Timbre maudit (Bayard, 1986)
Les Leçons du nourrisson savant (Le Seuil, 1990)
Le Cheval blême (L'Association,1992)
Le Cercueil de course (L'Association, 1993)
Le Livre somnambule (Automne 67, 1994)
Le Messie discret in le Retour de Dieu (Autrement, 1994)
Le Nain jaune (Cornélius, 1993-1994), tomes 1 à 5
La Bombe familiale (L'Association, 1997)
Le Tengu carré (Dargaud, 1997)
Les 4 Savants (Cornélius, 1996-1998) tomes 1 à 3
L'Association en Égypte (avec Golo, Edmond Baudoin,Jean-Christophe Menu) (L'Association, 1998)
Maman a des problèmes (avec Anne Baraou) (L'Association, 1999)
Hiram Lowatt et Placido (avec Christophe Blain) (Dargaud, 2000
La Ville des mauvais rêves (avec Joann Sfar) (Dargaud, 2000)
Le Capitaine écarlate (avec Emmanuel Guibert) (Dupuis, 2000)
La Lecture des ruines (Dupuis, 2001)
Les Incidents de la nuit (L'Association, 1999-2002) tomes 1 à 3
L'Ascension du Haut Mal (Epilecptic) (L'Association, 1996-2003) tomes 1 à 6
Les Chercheurs de trésors (Dargaud, 2003-2004)
Babel (Coconino Press, 2004)
Les complots nocturnes (Futuropolis, 2005)
Le jardin armé et autre histoires (Futuropolis, 2006)
Par les chemins noirs, (Futuropolis)

tome 1. les Prologues, 2007
tome 2. Les fantômes, 2008

Terre de feu, avec Hugues Micol (dessin), (Futuropolis)

tome 1. L'archer rouge, 2008
tome 2. Les noctambules

Roi rose,Gallimard 2009
Journal d'Italie, Delcourt

Trieste Bologne, 2010
Hong Kong Osaka, 2018

La lecture des ruines, (Dupuis, coll. Aire Libre, 2011)
Quoi, collectif (L'Association, 2011)
Les faux visages – Une vie imaginaire du Gang des Postiches, avec Tanquerelle, (Futuropolis, 2012)
Les Incidents de la nuit

Tome 1, (L'Association, 2012)
Tome 2, (L'Association, 2013)

Mon Lapin, David B et Andrea Bruno, (L'Association, 2014)
Maudite !, collectif (L'Association, 2016)
Mon Frère et le Roi du Monde (L'Association, 2016)
Hâsib et la Reine des Serpents

Tome 1 (Gallimard, 2015)
Tome 2 (Gallimard, 2016)

Les meilleurs ennemis – Une histoire des relations entre les États-Unis et le Moyen-Orient avec Jean-Pierre Filiu (Futuropolis)

Première partie : 1783-1953, 2011
Deuxième partie : 1953-1984, 2014
Troisième partie : 1984-2003, 2016
exhibitions
Current exhibitions
Histoire de l'art cherche personnages…
CAPC, Bordeaux
Curated by: Alice Motard avec Anne Cadenet et François Poisay (CAPC musée d'art contemporain de Bordeaux) ; Anne Hélène Hoog (Cité internationale de la bande dessinée et de l'image, Angoulême) ; Yan Schubert (Fondation Gandur pour l'Art, Genève)
20 June - 2 February 2020
Plan A
FRAC Poitou-Charente, Angoulême
Curated by: Jochen Gerner & Alexandre Bohn
22 January - 16 May 2020
Upcoming exhibitions
David B.


Galerie anne barrault – Paris


29 February - 28 March 2020
Gallery exhibitions
books & prints