works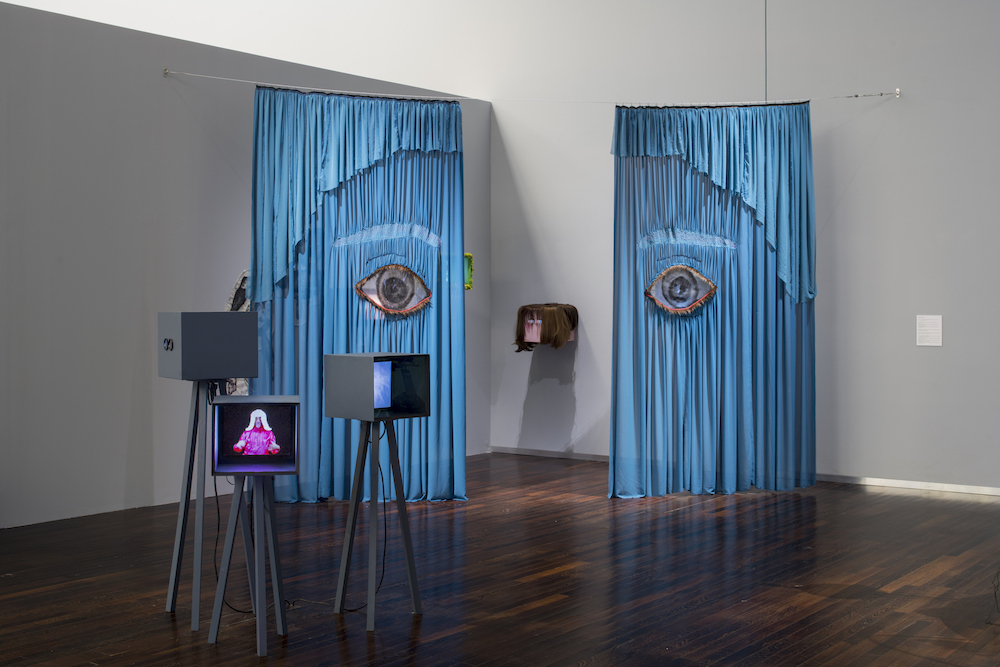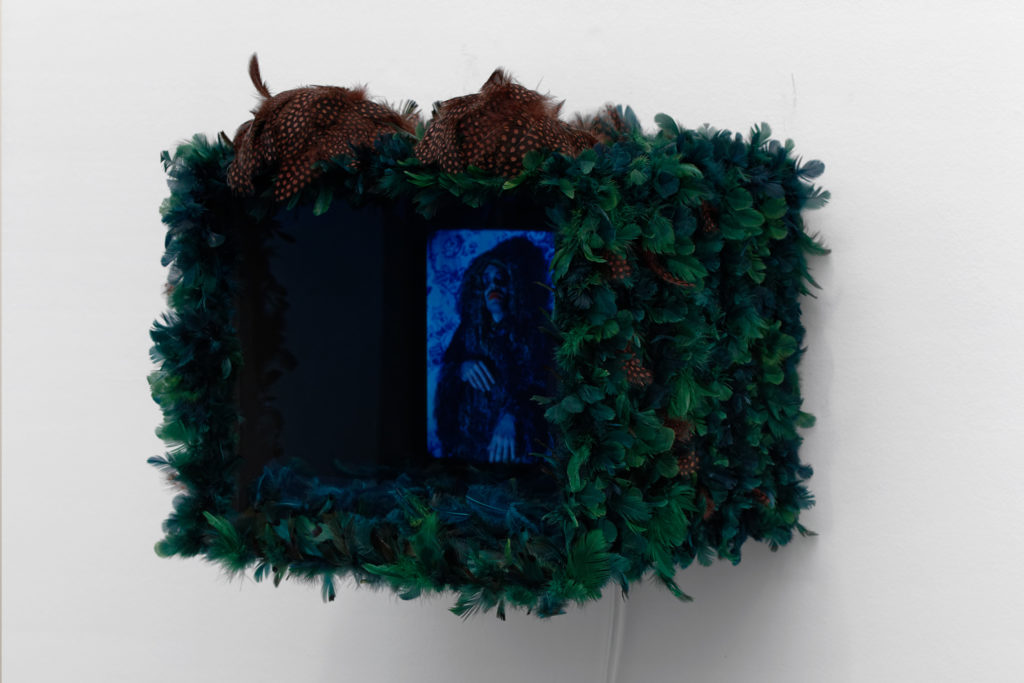 Marie Losier
Taxidermisez-moi, 2021
video (2021), feathers and acrylic on wood
ed. 1/3
41 x 43 x 43 cm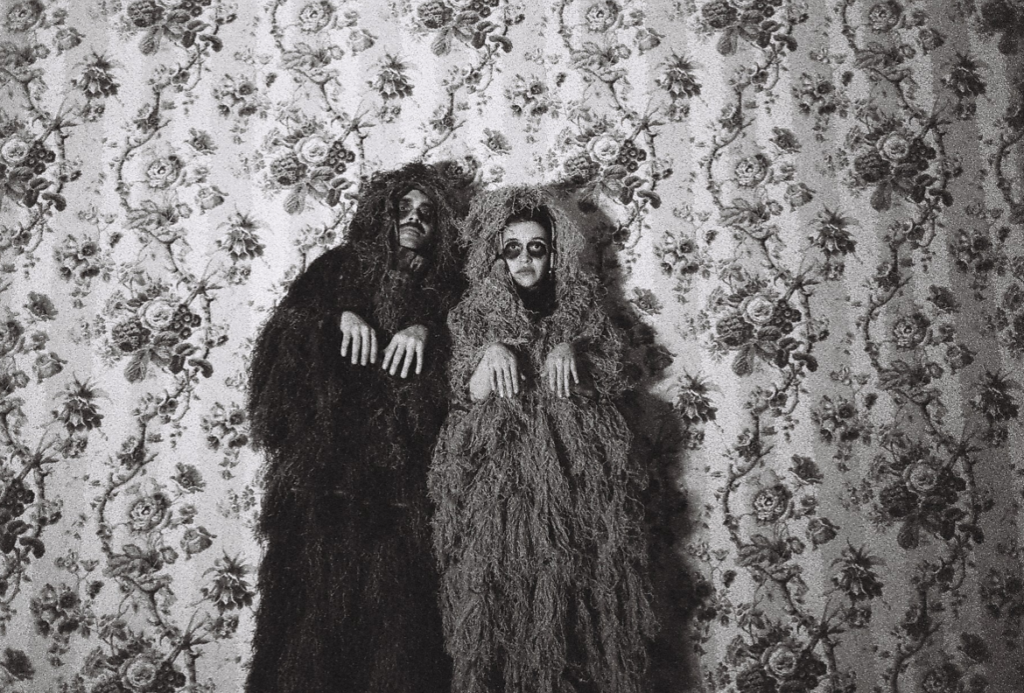 Marie Losier
Taxidermisez-moi , 2021
camera 16mm, 9.45'min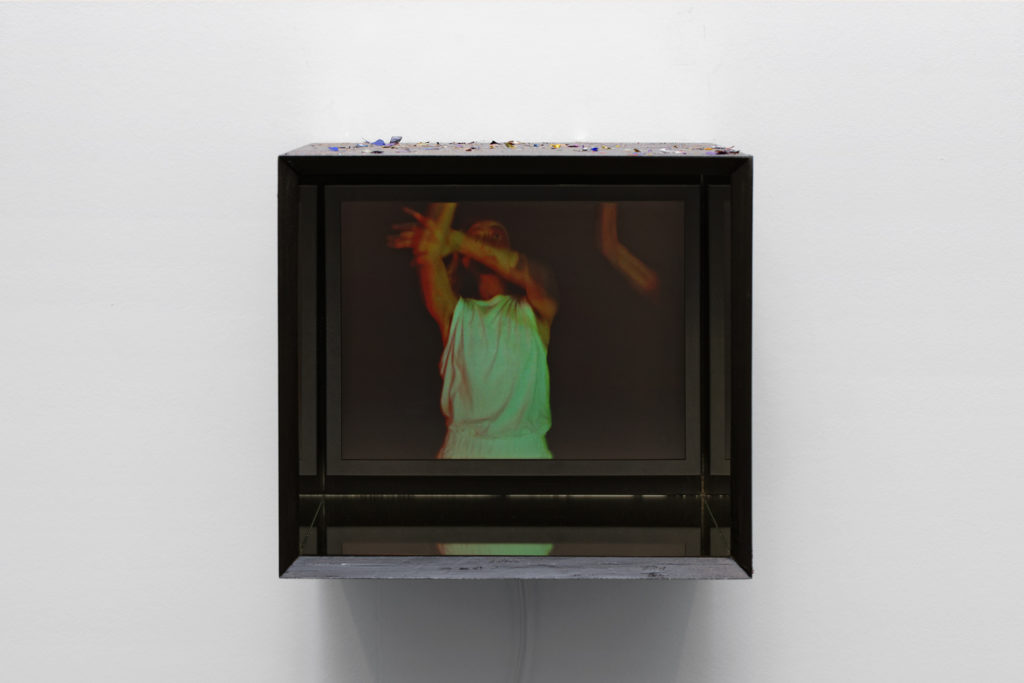 Marie Losier Rire et Dance, 2021
video (2021), glitter, mirrors and acrylic on wood
ed. 1/3
33,5 x 37 x 40cm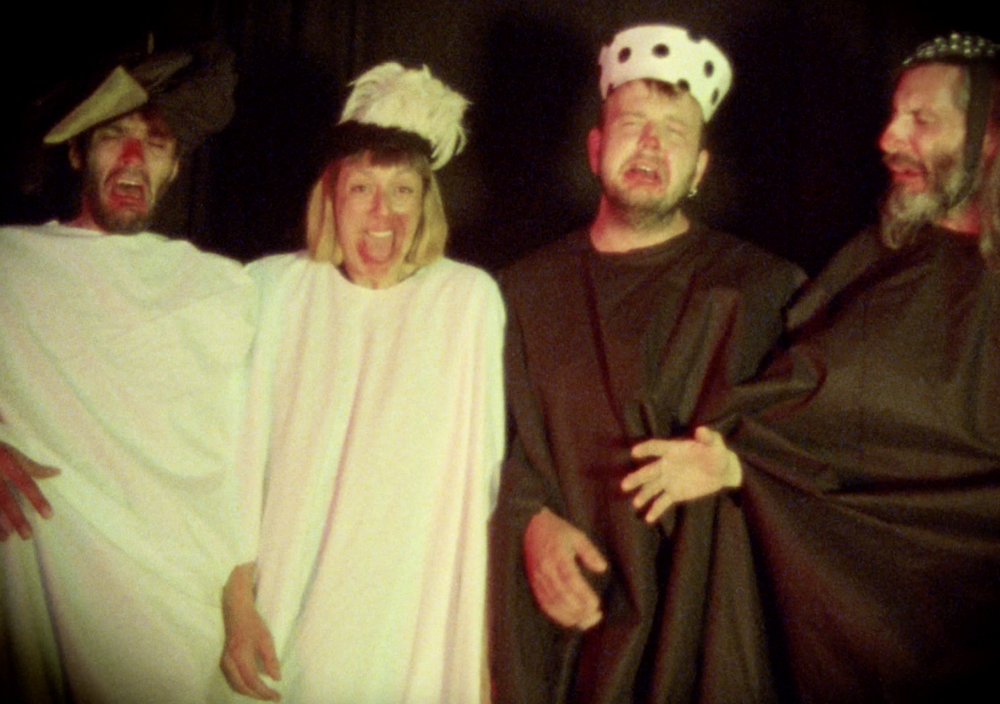 Marie Losier
Rire et Dance, 2021
with camera 16mm
ed. 1/3
5.22'min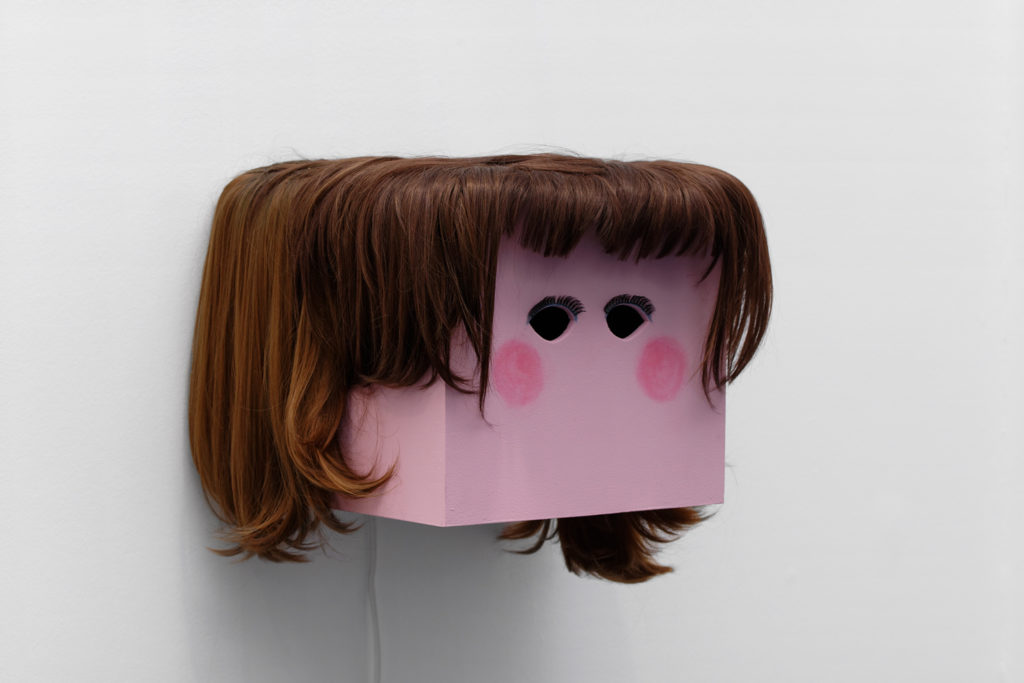 Marie Losier
Lunch Break on the Xerox Machine, 2019
wig and acrylic on wood
film : 1.59′ / box : 37 x 40 x 33 cm
ed. 2/3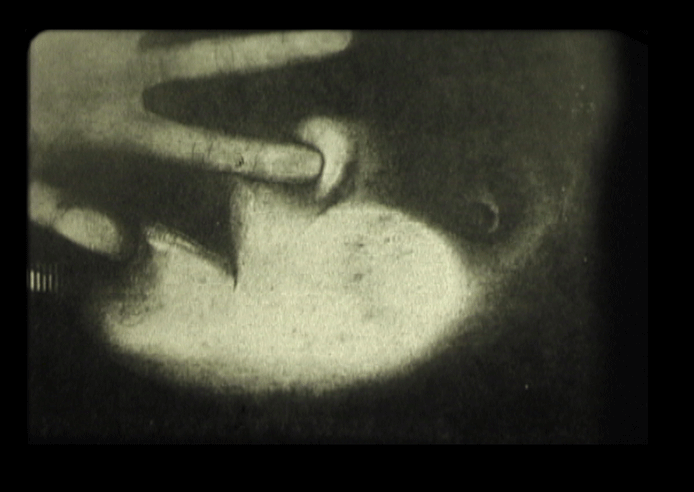 Marie Losier
Lunch break on the xerox machine, 2003
with a camera 16mm
3 minutes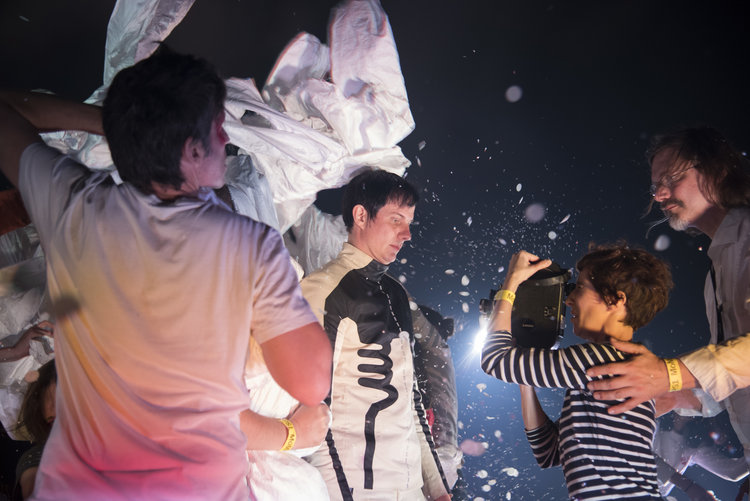 MoMA, performance with Felix Kubin New York November 2018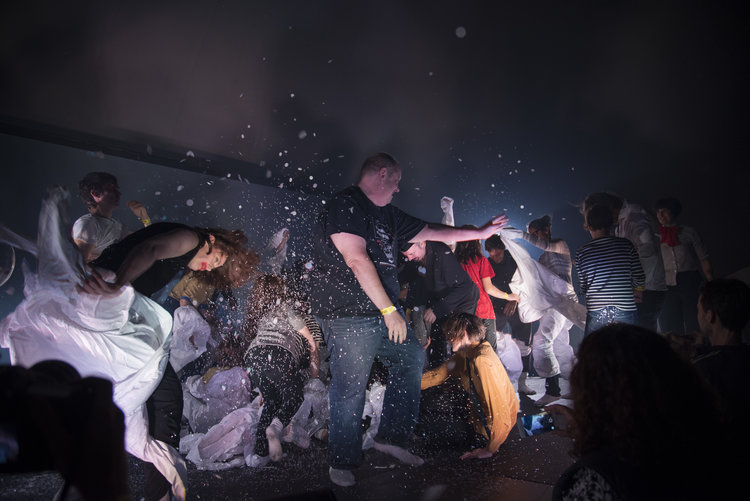 MoMA, performance with Felix Kubin New York November 2018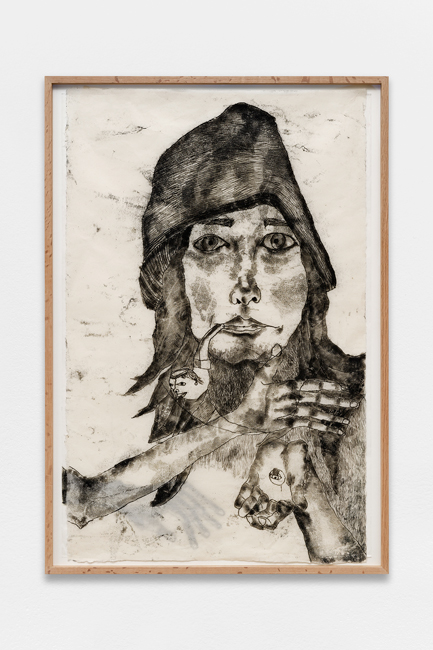 Elina Lowenshon, 2019 oil paint on rice paper 98 x 65 cm / 104 x 72 cm (with frame) (photograph Aurélien Mole)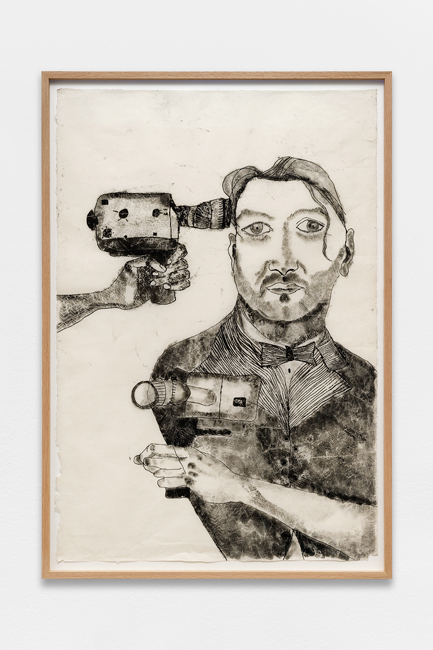 David Legrand, 2019 oil paint on rice paper 98 x 61 cm  / 104 x 72 cm (with frame) (photograph Aurélien Mole)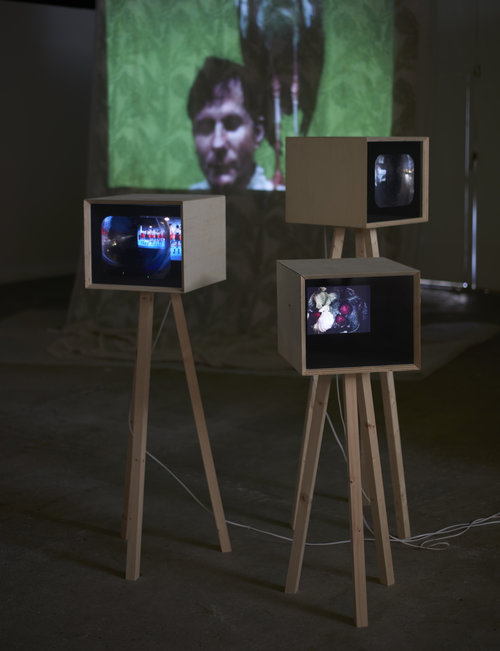 exhibition Hello Hapiness, centre d'art le BBB, Toulouse le Printemps de Septembre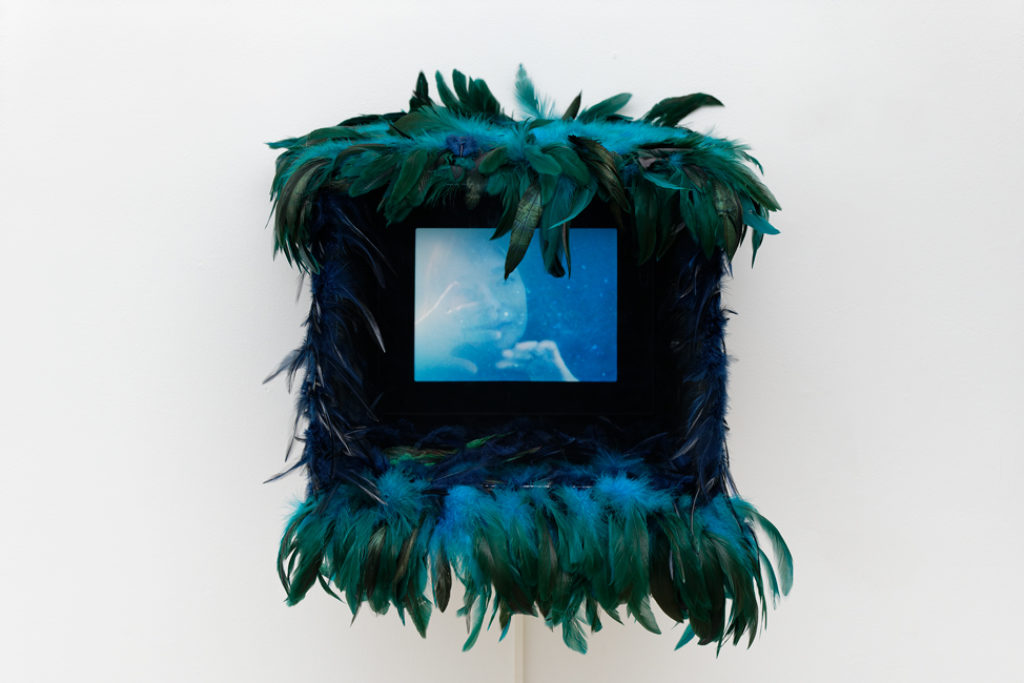 Elina et les paillettes, 2019 film 9 minutes, wooden box and feathers 37 x 40 x 33 cm (photograph Aurélien Mole)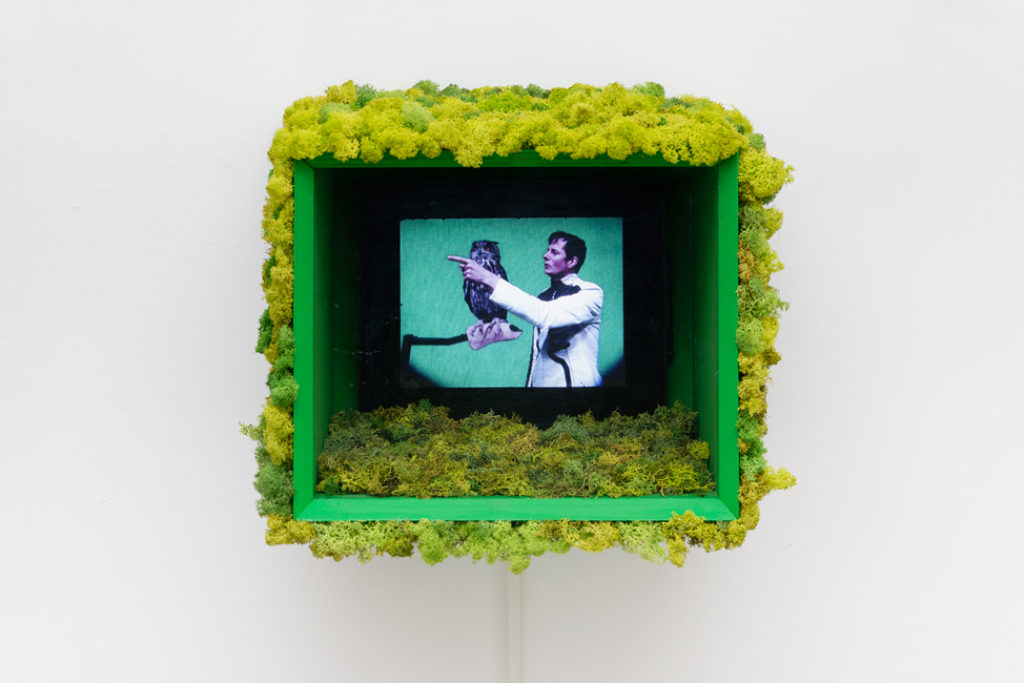 Felix aux pays des merveilles, 2019 film / box and green moss 37 x 41 x 38 cm (photograph by Aurélien Mole)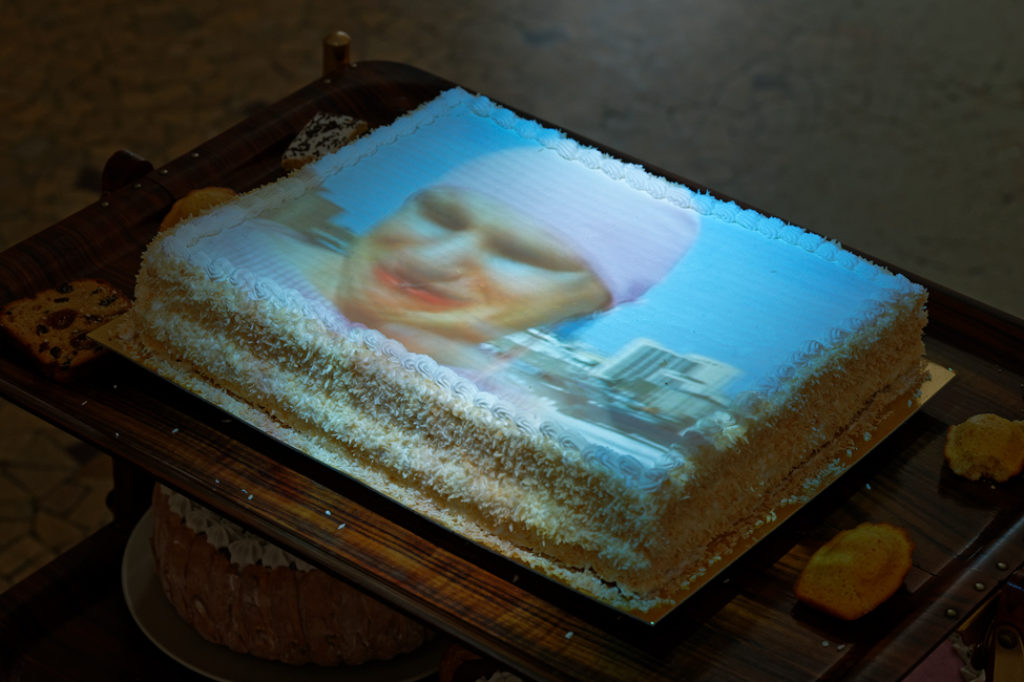 installation Eat My Make-up! film 6', 2005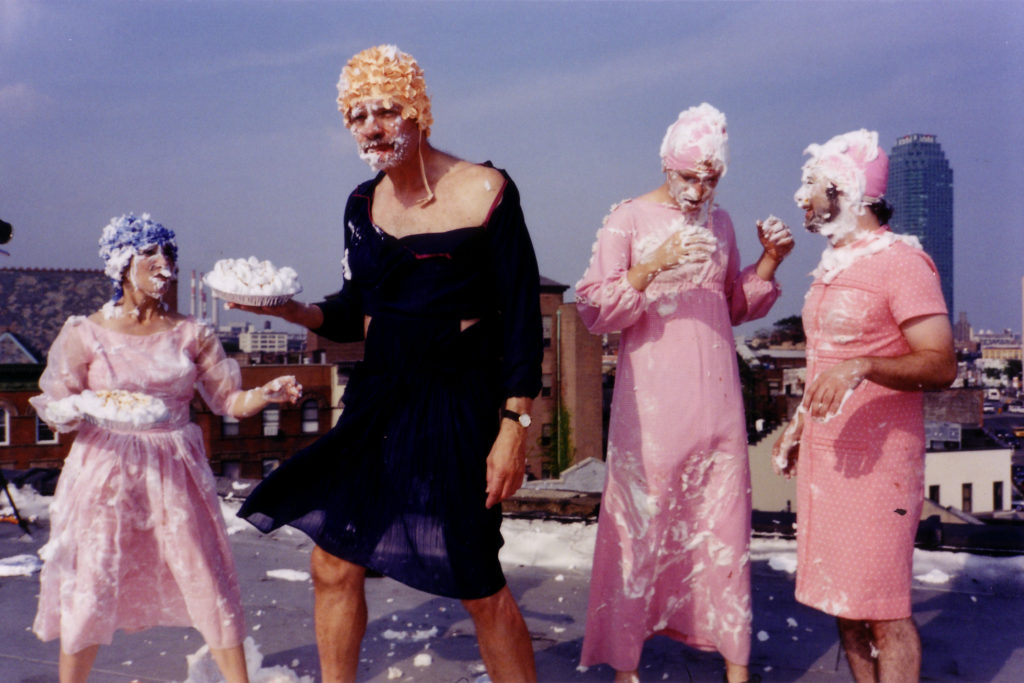 Eat My Make-up! film 6', 2005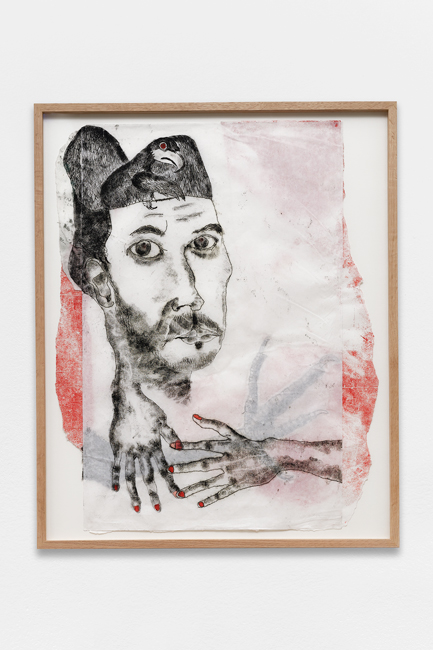 Tim Tim, 2019 oil paint on rice paper 71,5 x 56  / 78 x 64 cm (with frame) (photograph Aurélien Mole)
biography
Marie Losier (b.France,1972), studied literature at the University of Nanterre (France, BA, 1995) and Fine Arts at Hunter College, City University of New York (MFA, 2003). She has made a number of film portraits on avant-garde directors, musicians and composers, such as the Kuchar brothers, Guy Maddin, Richard Foreman, Tony Conrad, Genesis P-Orridge, Alan Vega, Peter Hristoff and Felix Kubin. Whimsical, poetic, dreamlike and unconventional, her films explore the life and work of these artists.
Losier's films are regularly shown at prestigious venues such as The Cannes Film Festival, The Berlinale, The Rotterdam Film Festival, IDFA, The Tate Modern, MoMA, Le Palais de Tokyo, Le Centre Georges Pompidou and La Cinémathèque Francaise. She was included in the 2006 Whitney Biennial (Whitney Museum, N.Y.C).
Losier's first feature film was a portrait of pioneering musician-artist Genesis Breyer P-Orridge (of Throbbing Gristle and Psychic TV) and their partner Lady Jaye. The Ballad of Genesis and Lady Jaye premiered at the Berlin Film Festival in February 2011, winning the Caligary and the Teddy Awards. She also won the Grand Prize at Indielisboa, the Prix Louis Marcorelles and the Prix des Bibliothèques at Cinéma du Réel; the film was released in France, Canada, Mexico, Germany and in the USA.
In 2013/14 Losier was awarded the prestigious DAAD Residency Award in Berlin and the Guggenheim Award to work on her new feature film Cassandro The Exotico!, a portraitof the celebrated Mexican wrestler Saul Almendariz. She is currently an artist-in-residence at La Cité des Arts, Paris and her feature film Cassandro The Exotico! premiered at The Cannes Film Festival in May of 2018. It was released in France in December 2018 and will be in theaters in the US, opening at the Metrograph NYC in the summer of 2019.
In 2018, MoMA presented her entire work up to that point in a retrospective and acquired several of her films for its permanent collection.
Marie Losier also had a solo exhibition at the BBB Contemporary Art Gallery in Toulouse during their Spring Festival in September 2018 and curated an exhibition in collaboration with Eric Mangion and Pauline Curnier-Jardin at the Ricard Foundation Paris in May 2019.
That same year, her cinematographic work was honored by two large retrospectives at the Festival d'Automne as well as the Jeu de Paume in Paris and received praise by the Athens Cinematheque.
For 2022 Marie Losier's work will be shown at the Brussels Cinematheque.
She is preparing a solo exhibition at the Solar/Vila Do Conde Gallery (Portugal) that will open this July.
She is currently working on 3 films: a portrait on the singer/performer, Peaches (Peaches Goes Bananas), a portrait on the musical group The Residents (Behind The Mask) and a musical, Sugar Bomb.
Solo exhibitions
2023
Marie Losier | Galerie anne barrault – Paris
2022
Marie Losier | Saison France-Portugal | Festival Curtas Vila do Conde, Portugal
Marie Losier | retrospective & carte blanche | Cinematek, Bruxelles
2021
Marie Losier | TheFilmGallery, Paris
Marie Losier | Launch and signature of Pleased to Meet You | Galerie anne barrault – Paris
2020
Eat my Makeup! | Galerie anne barrault – Paris
2019
Confettis atomiques ! | Retrospective | Musée du Jeu de Paume
Parties, sans éteindre la lumière | Pauline Curnier-Jardin et Marie Losier | Fondation d'entreprise Ricard - Paris | Curated by: Eric Mangion
2018
Just a Million Dreams | MoMA, New York | Curated by: Sophie Cavoulacos
Hello Happiness ! | Printemps de Septembre | BBB, Toulouse
2017 la face cachée de la réalisatrice, Printemps de Septembre, Toulouse
2016 Hello Happiness, Centre national des arts modernes de la République du Bélarus La Parole du Hibou, Festival (TJCC), vidéo et performance, programmation de Joris Lacoste au théâtre de Gennevilliers 2015 Villa Arson – L'ECLAT, résidence et commission film, Galerie Carrée, L'Échappée Vive, Nice L'art de s'égarer ou l'image du bonheur . Installation Cinéma Apollo, décors, Triennale de Vendôme, costumes et performance sur une proposition de Marie Losier et La Galerie du Cartable (Vendôme, France) – Festival (TJCC), Théâtre de Gennevilliers. Vidéo et performance. Programmation Joris Lacoste, proposition de Simon Fravega (Gennevilliers, France) Festival Rencontres Internationales, Transpalette – Centre d'Art Contemporain. Performance avec Felix Kubin, Bandits-Mages (Bourges, France) St Petersburg Contemporary Art Museum, Russie A Paradise Built in Hel, Kunstverein in Hamburg, Allemagne 2014 Cassandro El Exotico !  avec Cassandro, Barbara Carlotti, Simon Fravega, Louise de Ville… Les Soirées Nomades, Fondation Cartier. Biopic, avec Jonathan Caouette et Bertrand Burgalat, Festival Hors Pistes, Centre Pompidou, Paris 2013 Marie Déménage !  avec Joana Preiss, Peaches, Pauline Curnier Jardin, Simon Fravega, Jonathan Caouette… Les Soirées Nomades, Fondation Cartier Célébration, proposition de Simon Fravega, galerie Préface
Group exhibitions
2023
NADA, New York | 548 West, New York
Molinier rose saumon | Frac Nouvelle-Aquitaine MÉCA, Bordeaux | Curated by: Arnaud Labelle-Rojoux
Chrysalide, Le rêve du papillon | Centre d'Art Contemporain Genève
2022
Drawing Now, Paris | le Carreau du Temple, Paris
2021
FIAC | with Marie Losier, Guillaume Pinard, Roland Topor | Grand Palais Ephémère, Paris
Festival Jogging | Carreau du Temple, Paris
Das Dritte Geschlecht (The Third Gender) | A.K.T; Pforzheim, Germany
2020
Carnaval & Mascarades | Institut pour la photographie, Lille
2019
La société du spectral | Caroline Deruas, Yann Gonzalez, Alain José Garcia Vergara, Marie Losier, Bertrand Mandico | galerie Cinéma, Paris
D'une rive à l'autre | Mairie de Ayguesvives | Curated by: les Abattoirs, Musée - Frac Occitanie Toulouse
Ce sont les îles qui se déplacent | La Passerelle, Brest | Curated by: Alessandra Prandin
2015 looping films ! BUREAU, New York Chercher le Garçon, MAC VAL, Vitry
Filmography
Electric Storm, 100 Years of Theremine -music video- (2020), 16mm, 6 min, film, color, music by Dorit Chrysler, produced by Moog and Tamara Films, with Dorit Chrysler Download Yourself – music video – (2020), 16mm, 5 min, film, color, music composed and sung by Felix Kubin, with Felix Kubin, Sophie Cavoulacos, Tony Torn, Juliana & M.J Francis Kelly, Oleg and Dima Dubson, Guy Greenberg, Dorit & Eik Chrysler, Marianne Shaneen, Victoria Keddie, M.V Carbon, Bradley Eros, Sam, Angie & Anna Diiorio, Margarita Jimeno, Joel Schlemowitz, Rachael & Gabriel Guma Rene Abernathy, Amelie Garin Davet, Steve Dalachinsky Whitch is witch? (2020), 16mm, 6 min, film, color, with Felix Kubin, Joana Preiss, Claire Doyon and Elina Lowenhson Felix in Wonderland! (2019), 16mm, 52 min, film, color and B&W, sound, music by Felix Kubin, with Felix Kubin Cassandro, The Exotico! (2018), 16mm, 73 min, film, color, sound, with Cassandro alias Saul Almendariz Images of a Work #22 : Infinite Now (2017), video, 20 min, color, sound, commissioned by IRCAM and Cinéma Du Réel, film on Chaya Czernowin, composer and Professor of music at Harvard University L'Oiseau de la Nuit (2015), 16mm, 20 min, color, with Deborah Kristal, Joao Pedro Rodriguez, Joao Rui Guerra DaMata… Omnibus Film, HERE LISBON, produced by Indielisboa with Denis Cote, Gabriel Abrantes and Dominga Sotomaya L'échappée Vive (2015), video, 24 min, color, co-directed with Catherine Libert, with Noël Dola & Ben Vaultier Peaches and Jesper are on a boat, who stays afloat ? (2014), video, color, 5 min, with Peaches and Jesper Just / Venice Biennial Bim, Bam, Boom, Las Luchas Morenas! (2014), 16mm, color, 13 min, with The Moreno Sisters Alan Vega, Just a Million Dreams (2013), 16mm, color, 13 min, with Alan Vega, Liz Lamere and Dante Vega The Ballad of Genesis and Lady Jaye (2011), 16mm, color, sound, 72 min, with Genesis P-Orridge, Lady Jaye, Psychic TV… Buyn, Objet Trouvé (2012), 16mm, color, 6min, with Byun Chong and Kiya Chong Cet Air Là (2010), 16 mm, B&W, 3 min, with April March and Julien Gasc Slap the Gondola! (2010), 16 mm, 15min, music April March, with April March, Tony Conrad and Genesis P-Orridge Papal Broken Dance (2009), super 8 & 16 mm, 6 min, music PTV3, with Genesis P-Orridge Tony Conrad, Dreaminimalist (2008), 16mm, sound, 27 min, with Tony Conrad Jaye Lady Jaye (2008), 16 mm, sound, 3 min, with Lady Jaye and PTV3 Snow Beard (2008), 16 mm, sound, 3 min, with Mike Kuchar Manuelle Labor (2007), 16 mm, super 8, sound, 10 min, collaboration with Guy Maddin Flying Saucey! (2006), 16 mm, color, sound, 9 min, with Flux Factory The Ontological Cowboy (2005), 16 mm, color, sound, 15min, with Richard Foreman Eat Your Makeup! (2005), 16 mm, color, sound, 6 min, with George Kuchar
Electrocute Your Stars (2004), 16 mm, color, sound, 10 min, with George Kuchar Bird, Bath, and Beyond (2003), 16 mm, color, sound, 13 min, with Mike Kuchar Lunch Break on the Xerox Machine (2003), 16 mm, B&W, silent, 3 minSanitarium Cinema (2002), video, color, sound, 9 min The Passion of Joan Arc (2002), video, color, sound, 9 min Broken Blossoms (2002), video, color, sound, 10 min Loula Meets Charlie (2002), video performance at the Ontological Theater, 7 min The Touch Retouched (2002), video, color, sound, 6 min
Collections
MoMA, New York
Centre National des Arts Plastiques
Musée FRAC Occitanie, les Abattoirs SEM
Collection, Monaco
Fonds d'art contemporain – Paris Collections
FRAC-Artothèque Nouvelle Aquitaine
press
entretiens
exhibitions
Current exhibitions
Chrysalide, Le rêve du papillon
Centre d'Art Contemporain Genève
25 January- 4 June 2023
des histoires vraies
le MAC VAL, Vitry-sur-Seine
Curated by: Frank Lamy
4 February - 17 September 2023
Upcoming exhibitions
Marie Losier


Galerie anne barrault – Paris


10 June - 29 July 2023
NADA, New York
548 West, New York
18 - 21 May 2023
Molinier rose saumon
Frac Nouvelle-Aquitaine MÉCA, Bordeaux
Curated by: Arnaud Labelle-Rojoux
31 March - 17 September 2023
Gallery exhibitions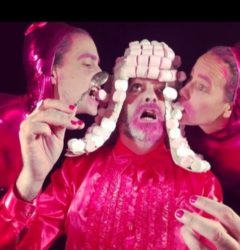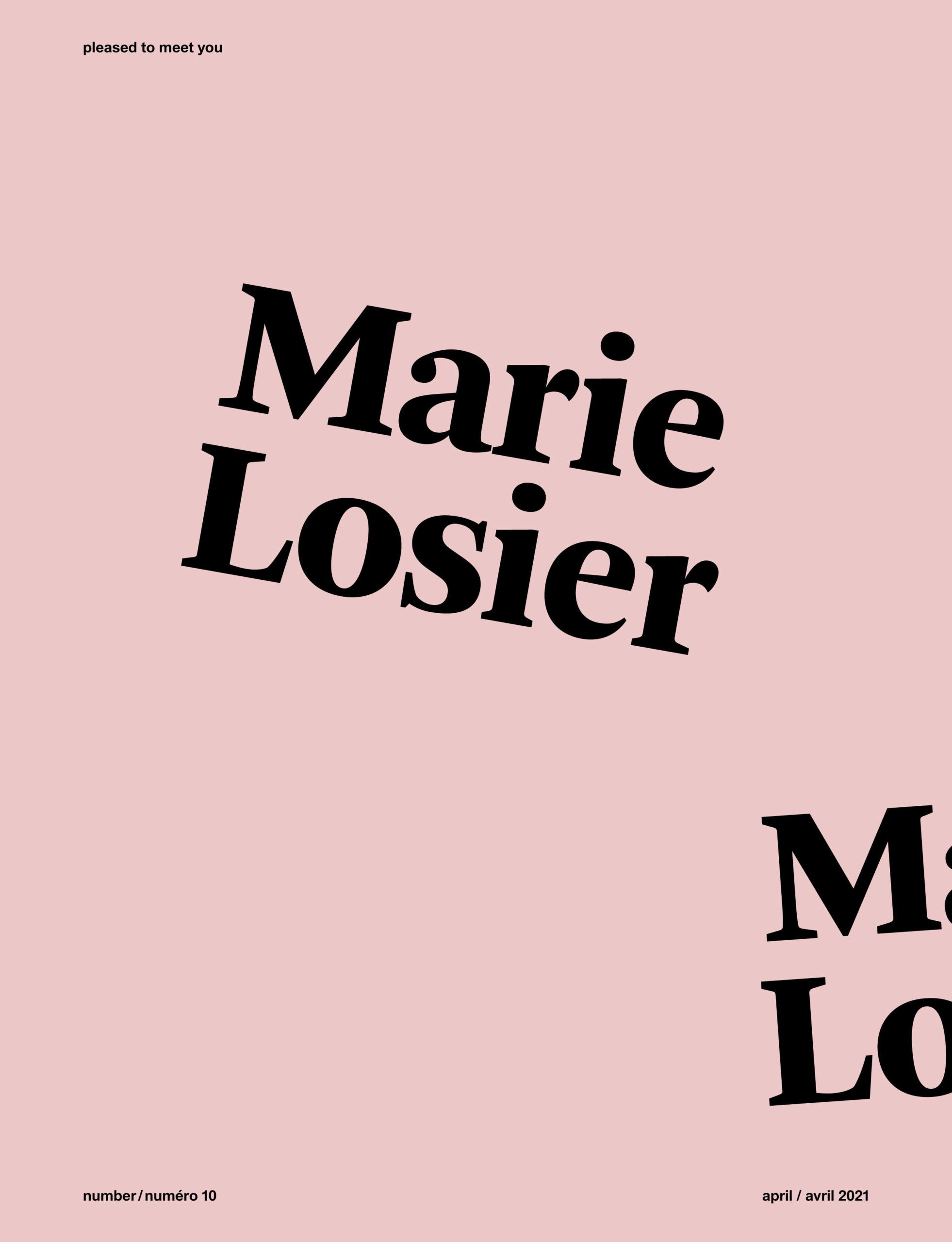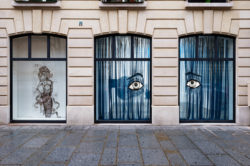 11 January- 23 February 2020
books & prints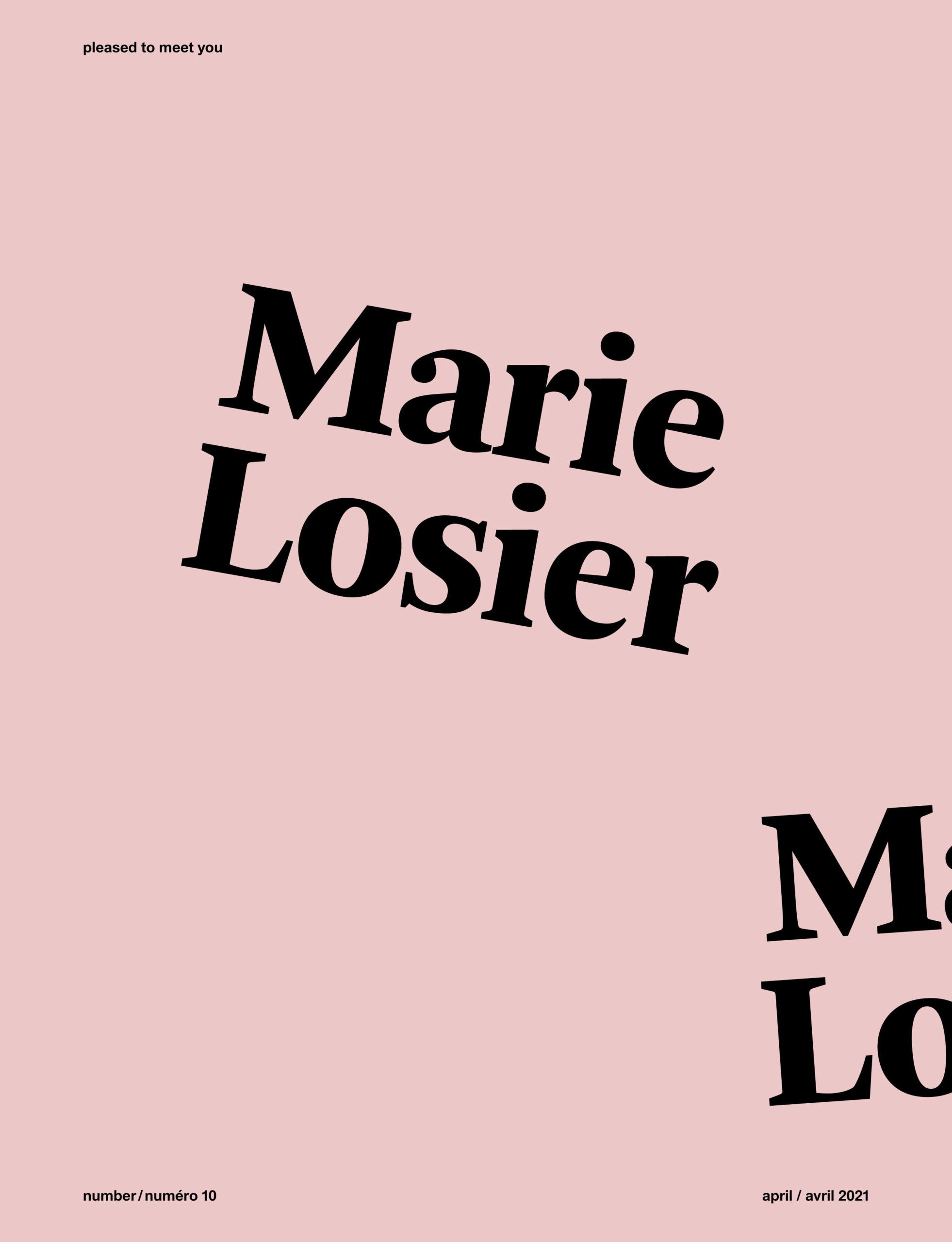 textes de Nicole Brenez et Constance de Jong
Semiose éditions
2021
23 x 30 cm
80 pages
14 €