---
Hélène Bertin, Stéphanie Saadé and Liv Schulman 

invite themselves to Jochen Gerner's exhibition !
The mobile "Phylactères" by Hélène Bertin, Liv Schulman's drawings and artworks by Stéphanie Saadé will be in dialogue with the

"Oiseaux"

by Jochen Gerner.
Hélène Bertin (1989), winner of the Aware prize in 2019, studied in three institutions with different pedagogies: at the Lycée Frédéric Mistral in Avignon in the applied arts section, at the École nationale supérieure des beaux-arts de Lyon where she co-founded the "Plafond collective", and then at the École nationale supérieure d'arts de Paris-Cergy from which she graduated in 2013. That same year, simultaneous to her DNSEP, she began researching the work of Valentine Schlegel, which slowly and firmly transformed her vision of art. She will be at the origin of the edition "V.S. Je dors, je travaille" which takes a revolutionized look on the artist. Her practice disguises itself from sculpture to workshop to research, in a deliberately loose approach that positions her between artist, curator and historian. She works in Paris andCucuron, in the Luberon area, where she extends invitations to work with her guests. Hélène Bertin develops her art by producing links that always question the notion of alterity (through encounters with artists, associations, craftsmen, families…). Her sculptures and projects have been presented in alternative spaces (Pauline Perplexe, DOC), in public institutions (CAC Brétigny, CRAC Occitanie) and in private institutions (Fondation Ricard, Fondation Lafayette Anticipations).
Hélène Bertin currently presents a solo exhibition at Crac 19 in Montbéliard, until August 22, 2021.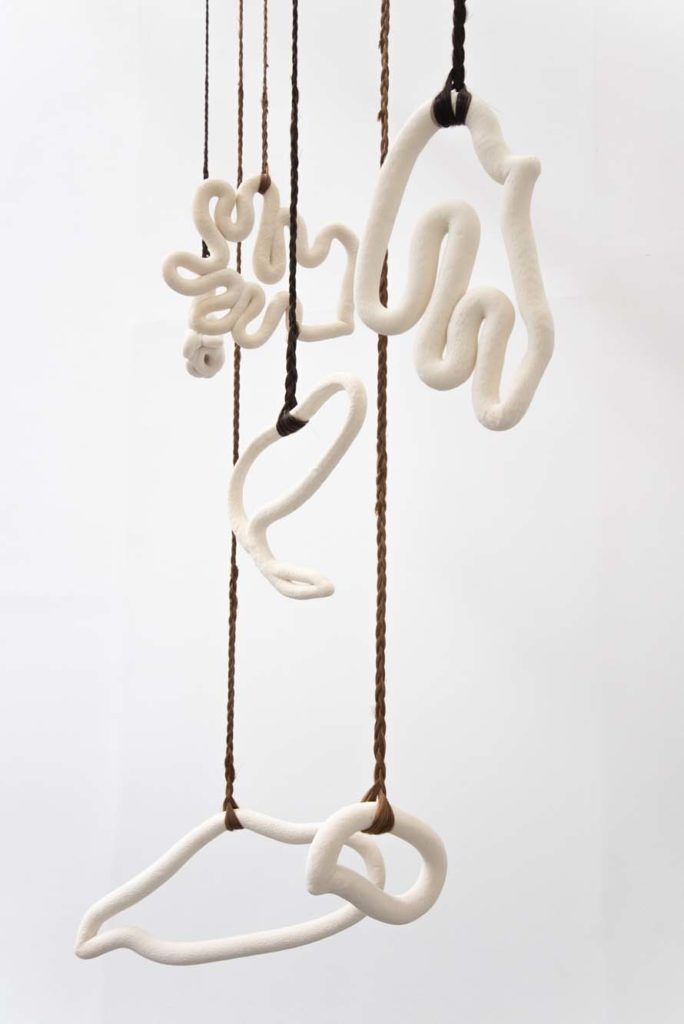 Hélène Bertin
phylactère, 2020
bois, crin de cheval et céramique

Stéphanie Saadé was born in 1983 in Lebanon. She lives and works in Beirut and Paris.
She graduated from the École Nationale Supèrieure des Beaux-Arts in Paris and the China Academy of Arts in Hangzhou.
Her work has been presented at the Parc Saint-Léger in Pougues-les-Eaux, the Van Loon Museum in Amsterdam, the Punta della Dogana, Venice (curated by Martin Bethenod and Mouna Mekouar), and at MOCA Toronto, (curated by Shumon Basar, Douglas Coupland, and Hans Ulrich Obrist).
Stéphanie Saadé's work develops a language of suggestion, playing on poetics and metaphor. She gives us clues, signs, tracks without images and sometimes silent, which answer each other like words in a single sentence. It is up to us, the spectators, to decipher them, like an archaeologist facing traces, fossils, fragments. The enigma often lies in the personal history of the artist.
Stéphanie Saadé and Charbel-joseph H. Boutros present an exhibition entitled "Inimate Geographies" at Marres, Maastricht, until August 15, 2021.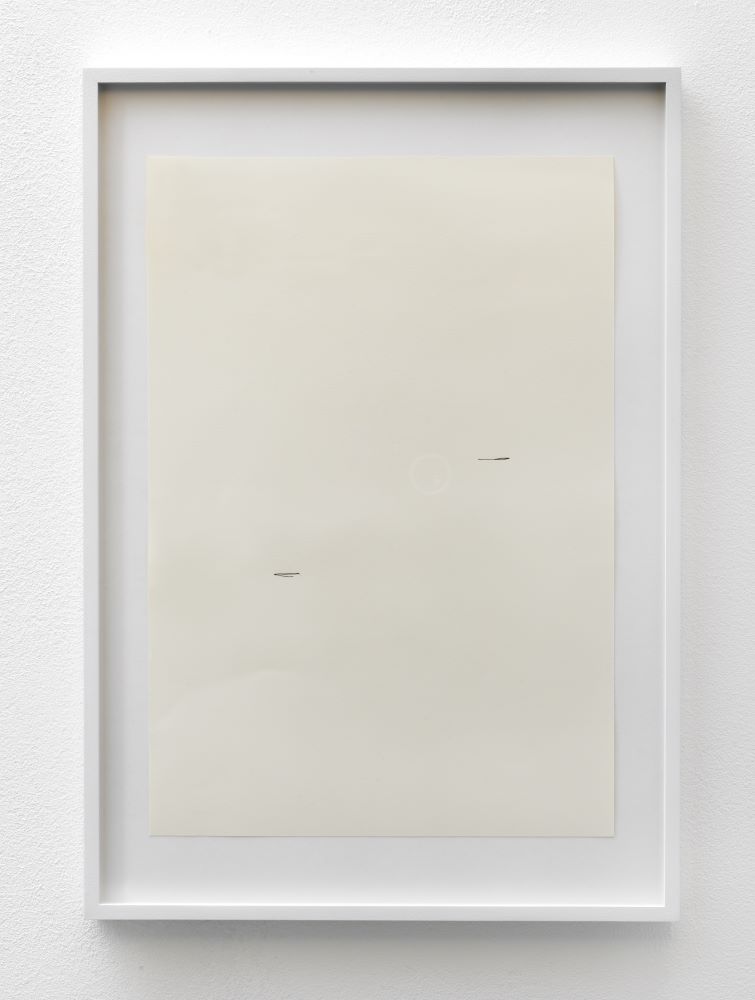 Stéphanie Saadé
Double Altitude, 2019
éd.3/3 + 1 EA
crayon sur papier
40 x 27 cm / 50 x 35 cm (avec cadre)
Liv Schulman was born in 1985. She grew up in Buenos Aires and lives in Paris.
After studying at the École nationale supérieure d'arts de Cergy, she trained at Goldsmiths in London and at the Beaux-Arts de Lyon postgraduate program. Her work was notably presented at the Rennes Biennial (curated by François Piron) in 2016, at the Galerie, Centre d'art contemporain, in Noisy-le-Sec (curated by Vanessa Desclaux & Emilie Renard) in 2017 or at the SixtyEight Art Institute in Copenhagen ("The Obstruction", curated by Celine Kopp).
In 2019, she received the Ricard Prize awarded to her on the occasion of the exhibition "Le Vingtième Prix de la Fondation d'entreprise Ricard", conceived by Neil Beloufa, and presented a solo exhibition at the Villa Vassilieff (curated by Mélanie Bouteloup and Émilie Bouvard).
Liv Schulman's videos are inspired by TV series. Assuming the contradictions of different forms of political resistance and "the frustration of restrained revolutionary potential", her characters "tend to construct self-destructive theses and become what they seem to criticize", in monologues that are at once logical, psychotic and sarcastic.
Liv Schulman's work will be presented in a solo exhibition at Piedras Gallery in Buenos Aires, starting July 17, 2021.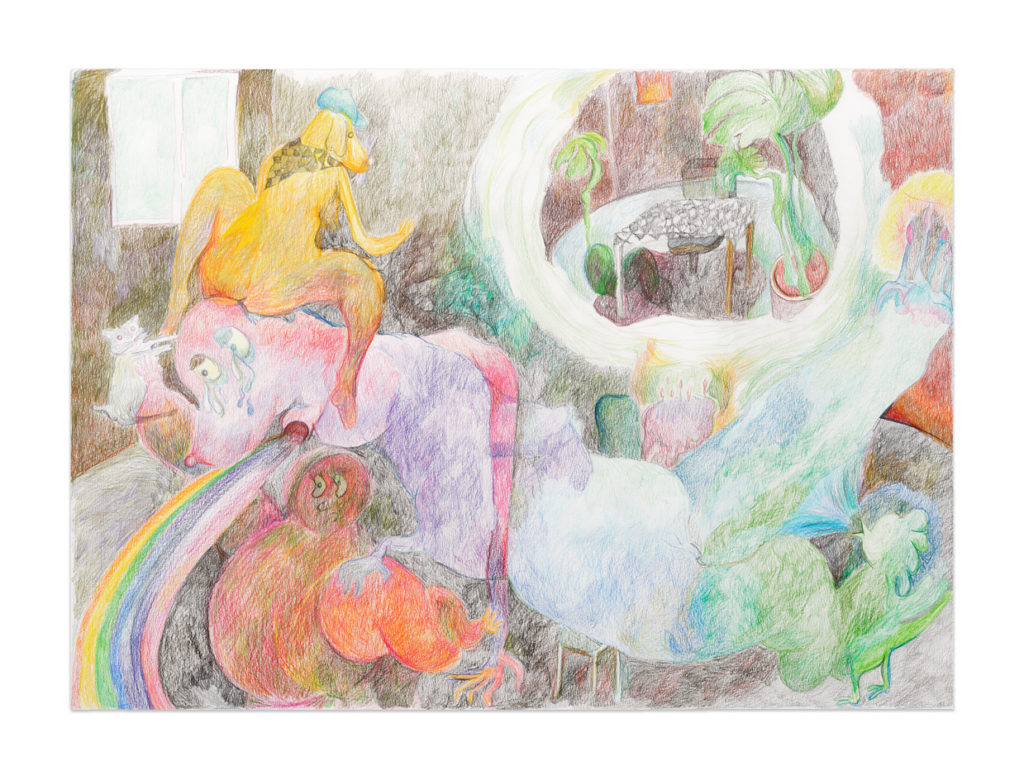 Liv Schulman
Sanguijuela, perro y arcoiris con mesa fantaseada, 2021
crayons de couleur sur papier
42 x 57,5 cm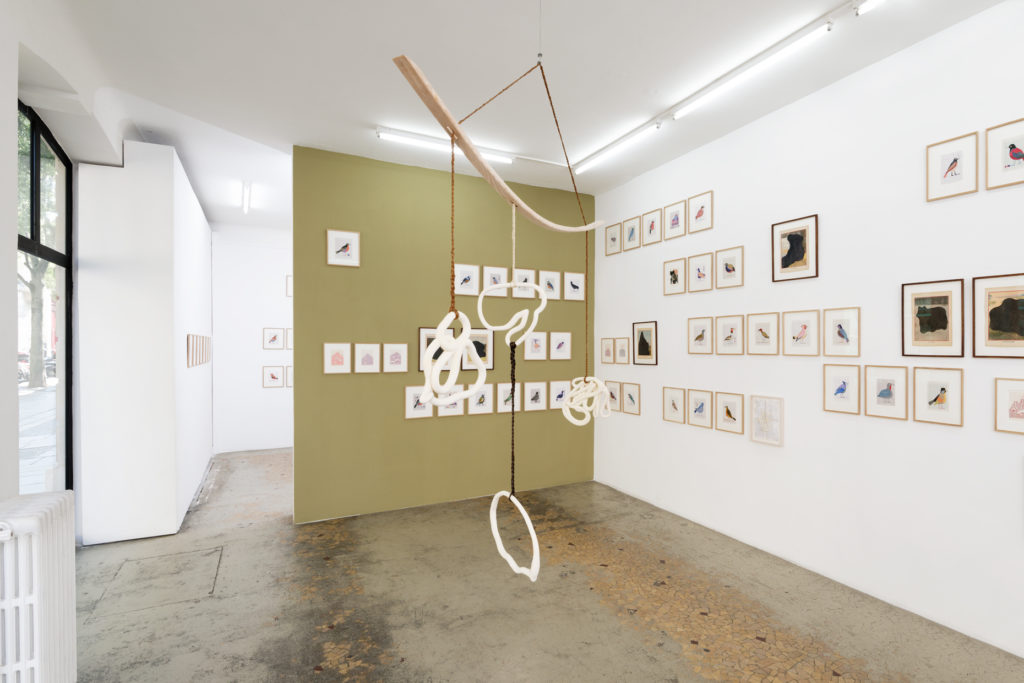 exhibition view 
Buffon & Carson (suite)
, with Hélène Bertin and Jochen Gerner
(photograph by Aurélien Mole)