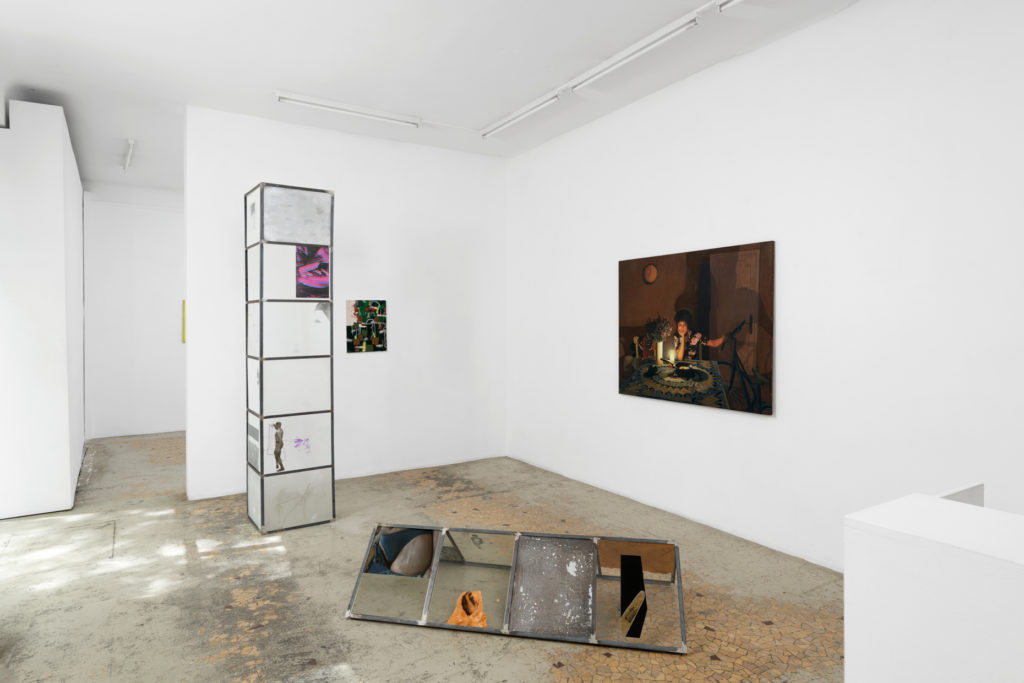 exhibition view, photograph by Aurélien Mole

EURIDICE ZAITUNA KALA
Born 1987 in Maputo, Mozambic. She lives and works in Paris.
Through her work, she is inter­ested in cul­tural and his­tor­ical meta­mor­phosis and its manip­u­la­tions and adap­ta­tions. The artist seeks to shine a light on the mul­ti­plicity of his­tor­ical periods and social rela­tions within Africa, keeping this con­ti­nent as a cen­tral per­spec­tive, as it is essen­tial to her reflec­tions. These nar­ra­tives take place in areas of depar­ture and encoun­ters… taking shape through instal­la­tions, per­for­mances, images and books
She was trained in Photography at the Johannesburg Market Photo Workshop (MPW-2012). She pre­sented sev­eral per­for­mances, including Mackandal Turns into a Butterfly: a love potion at la Galerie, Noisy-le-Sec (2018) and Euridice Kala Shows and Doesn't Tell, gale­rie Saint-Séverin, Paris (2018).
Her most recent show was the extensive solo exhibition I, the Archive at Bétonsalon – Villa Vassilieff, in 2020.

Furthermore she also took part in numerous group shows, namely: the 14th Fellbach Triennial for Small Sculpture: 40,000– A Museum of Curiosity (2019), Le pou­voir du dedans, La Galerie, Noisy-le-Sec (2018), Mistake ! Mistake ! Said the Rooster… and step­ped down from the Duck, Lumiar Cité, Lisbonne (2017), Infecting the City, Cape Town (2017) and (Co)Habitar, Casa da America Latina, Lisbonne (2017).
She was nom­i­nated for the SAM Art Projects Prize (2018) and the Contemporary talent Prize of the Fondation François Schneider (2018). Her work was also included in the 2nd edi­tion of the Lagos Biennal (2019), Hubert Fichte: Love and Ethnology at the Haus der Kulturen der Welt, Berlin (2019 -2020), and in the 1st edi­tion of the Triennale of Stellenbosh (2020).
She is also the founder and co-orga­nizer of e.a.s.t. (Ephemeral Archival Station), a lab­o­ra­tory and plat­form for long term artistic research pro­jects, cre­ated in 2017.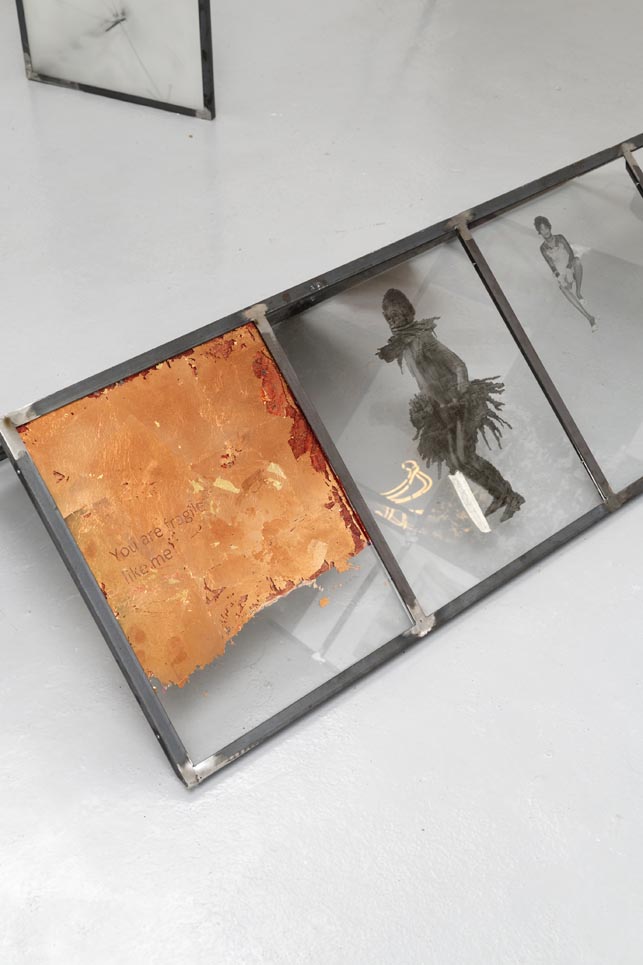 Euridice Zaituna Kala
Exhibtion view, Villa Vassilieff – Bétonsalon, Paris, 2020
© Aurélien Mole

MARIE LOSIER
Born 1972 in France. She lives and works in Paris.
Marie Losier studied literature at the University of Nanterre (BA, Advanced Studies in American Literature and Poetry) and Fine Arts at Hunter College, City University of New York (MFA, 2003). Her films are inspired by her personal encounters and often strongly entwined with this very playful connection between the filmmaker and the world around her. She directed numerous avant-garde, intimate and poetic portraits of filmmakers, musicians and composers such as Alan Vega, the Kuchar brothers, Guy Maddin, Richard Foreman, Tony Conrad and Jackie Raynal.
Her films were presented in numerous prestigious international festivals (Cannes, Berlin, Rotterdam, IDFA, Tribeca / New York, CPH:DOX, Bafici / Argentina, Cinéma du Réel, Torino, etc.) and in institutions such as the Tate Modern (London), the MoMA (NYC), the Centre Pompidou, the Cinémathèque Française (Paris) and the Whitney Museum (NYC).
In 2018, MoMA presented her entire work up to that point in a retrospective and acquired several of her films for its permanent collection.
Marie Losier also had a solo exhibition at the BBB Contemporary Art Gallery in Toulouse during their Spring Festival in September 2018 and curated an exhibition in collaboration with Eric Mangion and Pauline Curnier-Jardin at the Ricard Foundation Paris in May 2019.
That same year, her cinematographic work was honored by two large retrospectives at the Festival d'Automne as well as the Jeu de Paume in Paris and received praise by the Cinematheque of Athen.
In 2021 the 10th edition of the revue Pleased to meet you was dedicated to Marie Losier's work and published by éditions Semiose. Furthermore Losier will be provided a Carte Blanche to show her films at the Cinematheque of Brussels later this year and she is set to premiere her most recent film, made at and for the Musée de la Chasse et de la Nature in Paris, at the museum in September 2021.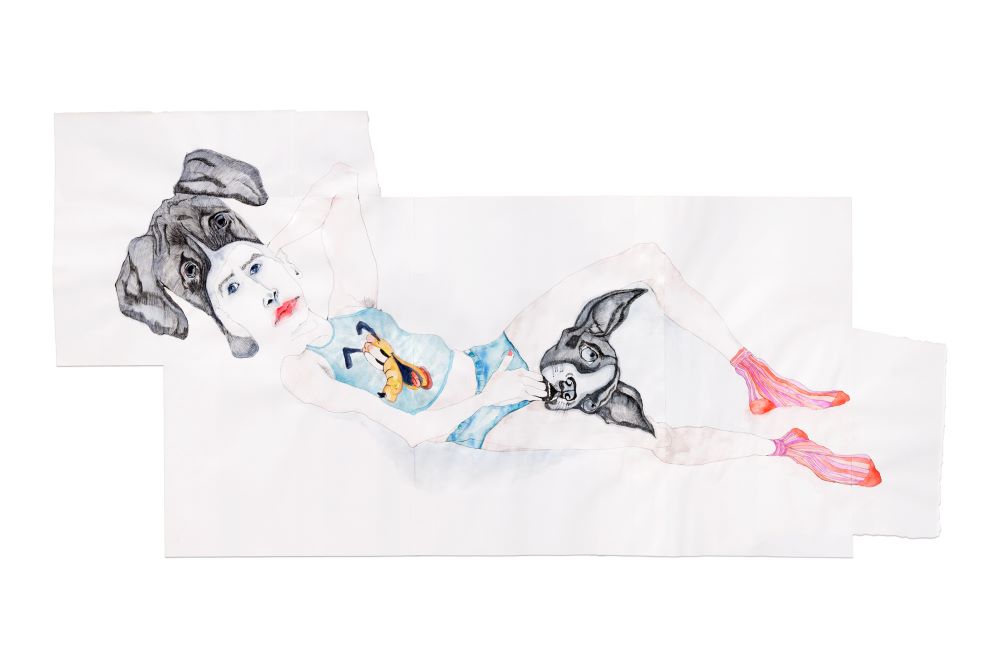 Marie Losier
Dog Day Life, 2020
aquarelle sur papier
53 x 104 cm
© Aurélien Mole
BRIDGET MULLEN
Born 1976 in Winona, Minnesota. She lives and works in Brooklyn, NY.
Mullen holds a BAE from Drake University and MFA from Massachusetts College of Art. and has been awarded residencies at MacDowell, The Jan Van Eyck Academie, Skowhegan School of Painting and Sculpture, The Fine Arts Work Center, and Yaddo among many others.
In her paintings and drawings she explores the making of art in the purest form, through her intense interest in the process itself. Often working on her pieces over long periods of time, Mullen layers, arranges and modifies the surfaces of works over and over again to dismantle the production of an artwork itself and make its "coming-into-being" visible to the viewer all at the same time.
She invokes surreal, dreamlike landscapes that are filled with indications of often cartoon-esque pair of eyes and other features of imagined characters that all together create an illusion, produced solely through paint and the pure form on the surface itself.
Her recent solo exhibitions include Helena Anrather, New York, NY; Annet Gelink, Amsterdam, Netherlands; and recent group exhibitions include Wild Palms, Düsseldorf, Germany; DC Moore, New York, NY; Thierry Goldberg, New York, NY; and Fahrenheit Madrid, Madrid, Spain. Her work is in the collections of the Museum Boijmans Van Beuningen in Rotterdam, Netherlands and the Anderson Museum of Contemporary Art in Roswell, NM. Her work has been featured in Juxtapoz, Maake Magazine, and ArtMaze.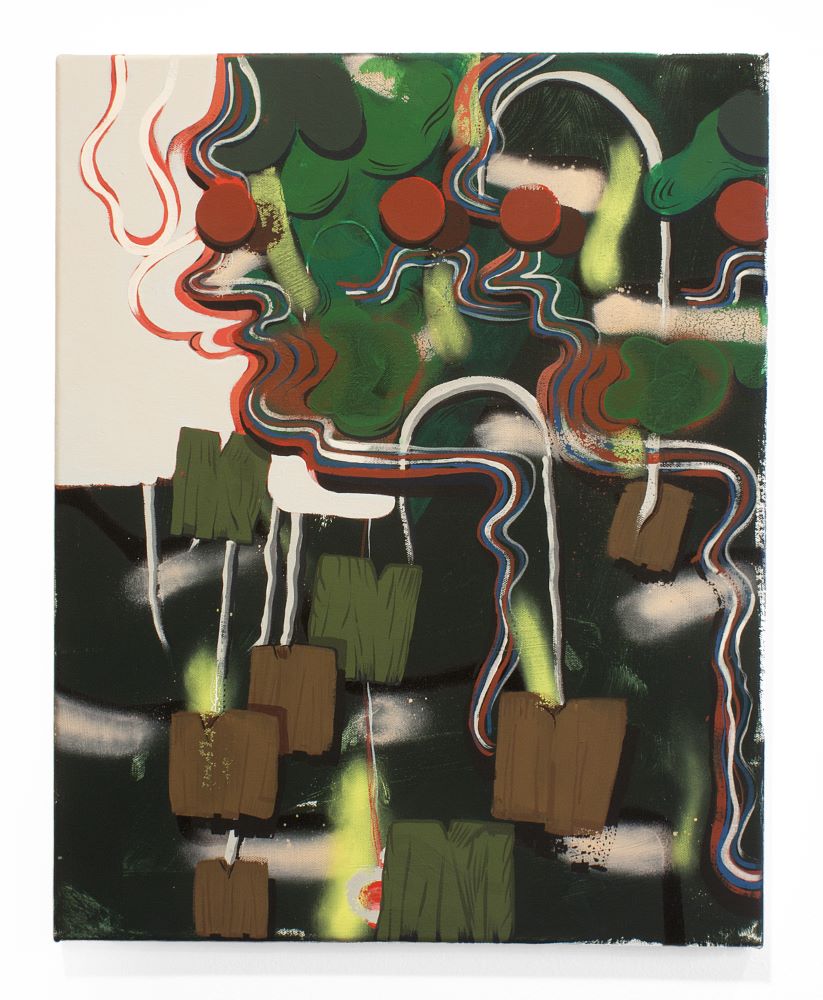 Bridget Mullen
About Face, 2017-2019
acrylic paint and spray paint on canvas
courtesy Nathalie Karg gallery

GUILLAUME PINARD
Born in 1971 in Nantes, France. He lives and works in Rennes.
In his artistic approach, Guillaume Pinard develops a polymorphous work in which drawing, painting and writing are equally prominent.
An artist endowed with an immense graphic vocabulary, Guillaume Pinard, with soft irony, scrutinizes the occurrences and meanings hidden in every form of views by attempting to taint hierarchies.
He explores all the aids used to show. From his interest in dictionaries, painting and also any kind of  found on the web, the artist, all along his exhibitions, gives new impulse to the bits of a narrative, the structures of a fragmented world. Guillaume Pinard has become the archaeologist of his own practice. He makes us enter his cranium, an eclectic, illogical and restless brain soup. He is always oscillating between what is prosaic and great reference, between everyday nature and the great pictorial tradition.
His work was presented during solo exhibitions such as "La Raccoon Academy" at the Artothèque de Caen in 2020, "Bébé Lune" (2019) and "La diligence" (2016) at galerie Anne Barrault in Paris, "Où la ronce croissait on a planté des roses" (2017) at the Artothèque de Pessac, "Du Fennec au Sahara" at the Chapelle du Genêteil in Château-Gonthier and "Un Trou dans le décor at Quartier" in Quimper both in 2015. Furthermore his artworks were shown in the exhibitions "Vandale" at BBB de Toulouse in 2013 and "Trésor" at Centre d'Art de Cajarc in 2012.
As part of group shows his work was presented at FRAC Bretagne, Musée des Beaux Arts de Rennes, Musée des Beaux-Arts de Brest, MIAM in Sète, Musée des Beaux-Arts d'Angers, FRAC Limousin, BBB : Centre d'art Toulouse , at galerie Edouard Manet, Gennevilliers, at the TEAM gallery in New York, galerie Thaddaeus Ropac, Paris and Salzburg, at Portique, le Havre, La Station in Nice and at the gallery of the Atlanta College of Art.
As an author he published the works "AMOR" (2015), "Un art sans destinataire" (2012), "Le Clou sans tête" (2008) and his first monograph "Du Fennec au Sahara" which has been published by Tombolo Presses in 2019.
Today Guillaume Pinard's work can be found in many private and public collections, amongst them the Musée Ingres, Frac PACA, FRAC Bretagne, FRAC Limousin, FRAC Corse, Les Abattoirs, FRAC Midi-Pyrénées, Centre National des Arts Plastiques : CNAP, Château de Tarascon, Ville de Marseille, and the Musée des Beaux-Arts de Rennes.

Guillaume Pinard
L'hommage des Blemmyes (triptyque), 2020
acrylique sur toile / acrylic paint on canvas
60 x 60 cm / 61 x 50 cm / 61 x 50 cm

DUAA QISHTA
Born in 1991 in Medina, Saudi Arabia. She lives and works in Paris.
Duaa Qishta is a visual artist who's practice is strongly rooted in the experiences and collective memories as well as the trauma of contemporary societies.
Through her paintings, sculptures and installations, Qishta's subjects tackle the complexity of today's world, whose meanings she deconstructs using an often satirical approach to them in order to explore new meanings, both in relation to political identity and in connection to oneself.
Her work is evidently influenced by her own cultural experiences in the Middle East and especially the time she spent in Gaza, Palestine. The highly intense and contradictory settings of those places and the individual experiences of the people living in them, informe her work until this day. Her current projects all highlight processing the trauma caused by wars and blockage through many multimedia and technical displays. She relies on the methodology of feedback monitoring and managing the invisible dimensions of those traumas.
The series "Bicycle" highlights the modes of entertainment for women in Gaza that have become highly limited and nowadays often act as a platform for projections and female longing. Women are raised in stereotypical ways with common societal concepts manifesting themselves through appearance or religion, which they break free from in simple gestures, like the joy the find by riding a bicycle on the streets.
An artistic residency in the Cité Internationale des Arts brings her to Paris in January 2020. She is a member of the agency of artists in exile since June 2020 and participates at the exhibition From One Confinement to Another at the Pavillon Carré de Baudoin (festival Visions of Exile 2020). She received a grant, issued by the ADAGP, Paris.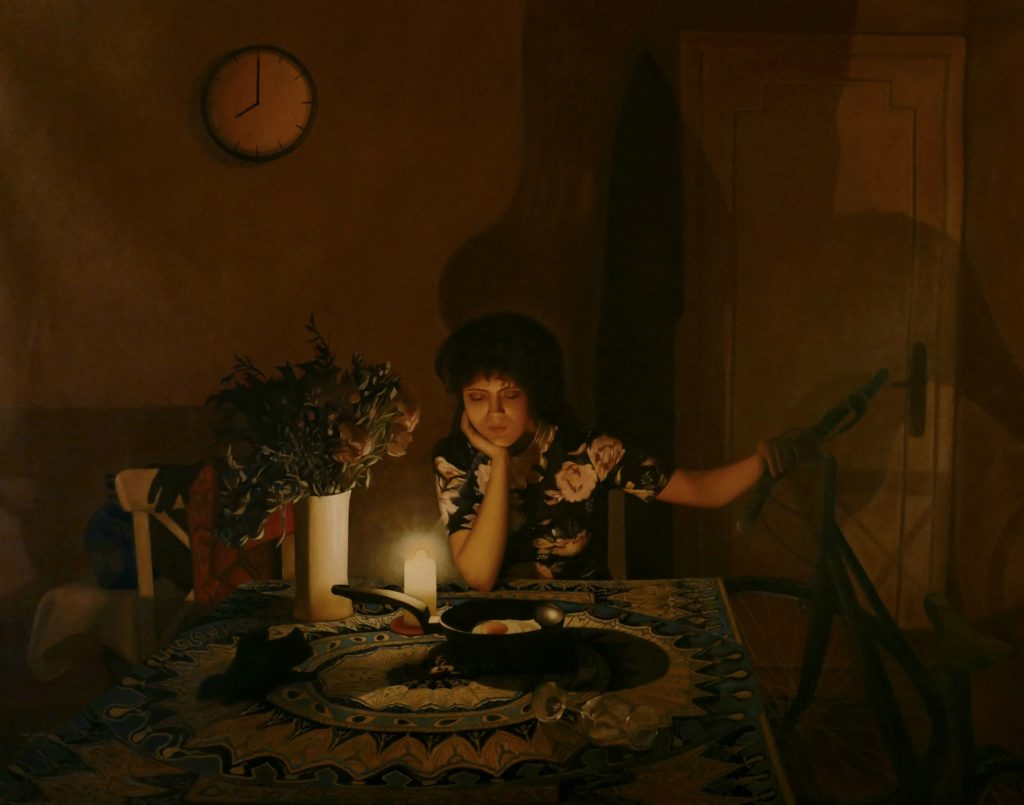 Duaa Qishta
At 8 PM, 2021
oil on canvas
146 x 168 cm