---
Here is Guillaume Pinard back at gallery Anne Barrault, bringing with him his multicolored introspective works, pouring them in a kind of spontaneous, wild urge. The man is known to use all kinds of mediums frenziedly (charcoal, animated film, drawing, written work…). Passionately ruminating, so you cannot doubt his mental good health.
At the moment his restlessness is set on painting. This is today's theme. As if he was urgently reminded that his practice as an interdisciplinary artist was also (mainly) that. Painting is the test. Solemn, fragile, grotesque too. From this questioning, as much regressive as salutary, Guillaume Pinard wonders about his legitimacy as a painter.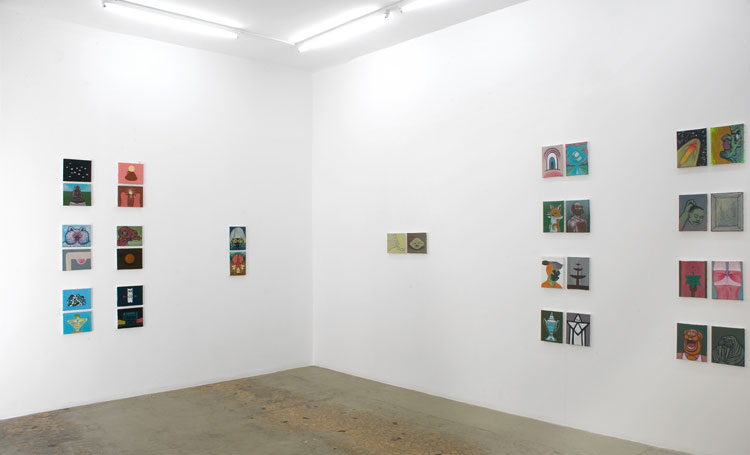 At first, he acts, he plays the part, he makes every effort to do as if. He paints with acrylic, conscientiously, like an amateur, who humbly estimates his petty expertise on a small format. He paints a priori, without anticipating, picking over his references, straight away. Thus you have forms (a saint), subjects (a slice of bread), mental images (royal-iris), apparently without direct connection, or unity. At this stage, it does not really matter. Elaborate, or on the contrary more or less deliberately roughly sketched, these paintings exist primarily by the purpose of their making, less by what they represent. Buttocks, excrement, a bulldog, a fox, a glass, the theme does not matter, you must be able to catch it. Then the approach gets clearer. By association, mainly in diptychs, Guillaume Pinard looks for connections, signs. He organizes his paintings, constructs them according to a liking, a thinking of the style – this is painting, you must get lost in it in order to find the way. There is inwardness, a way of reflecting too, revealed by fragments, swing, degeneration. The combination of the paintings then looks like the pieces of a mental puzzle organized according to Guillaume Pinard's taste and character. His images are like the postcards of a journey through a painting continuously changing. A place of transformation with a thick coat. This is where the true painter is, where the amateur only copies, where Guillaume Pinard tries to create.
Frank G. Richard