---
The galerie anne barrault is pleased to present the first solo show of Julie Doucet in Paris. For the occasion, the exhibition gathers new drawings and collages in dialogue with emblematic strips as well as animated films.
The drawings and texts by Julie Doucet proliferate, most of the time together (as if hand in hand), on paper and beyond. Originally, they appeared on ordinary sheets of paper (at hand reach – she says), photocopied, folded, cropped and stapled, then handed out like that (from hand to hand, you might say), just like that. Soon, they were published, and then felt like being different. For example, they appeared from cutouts and collages, and became poetry. This is their story: from the first fanzines, the now cult Dirty Plotte in the late 1980s, to this first solo show in Paris, in 2023.
A story, which also includes the Grand Prix of the Angoulême Festival in 2022, awarded twenty years after she had given up the world of comics.
For Julie Doucet's drawings and texts have to do with the answers given by Linda Nochlin in her article "Why haven't there been any great female artists?". When she started working, artistic circles were so male-dominated that the rare women present did not dare call themselves feminists. They had to find strategies. Talking about sex and tampax was one of them. The American journalist Ann Elizabeth Moore, in the preface to the large Maxiplotte compilation (available for consultation in the exhibition) describe this bias as a "Fuck You, Fuck Me feminism", a post-punk feminism, which was not afraid of getting its hands dirty (them again).
So, today, in the white cube of the gallery, in the shape of a photo novel, a leporello novel, new collages, sometimes with a soundtrack, as in her videos, Julie Doucet's drawings and texts breathe. A kind of philosophy, both personal and inclusive, emerges, as if through their dotted lines.
Vanessa Morisset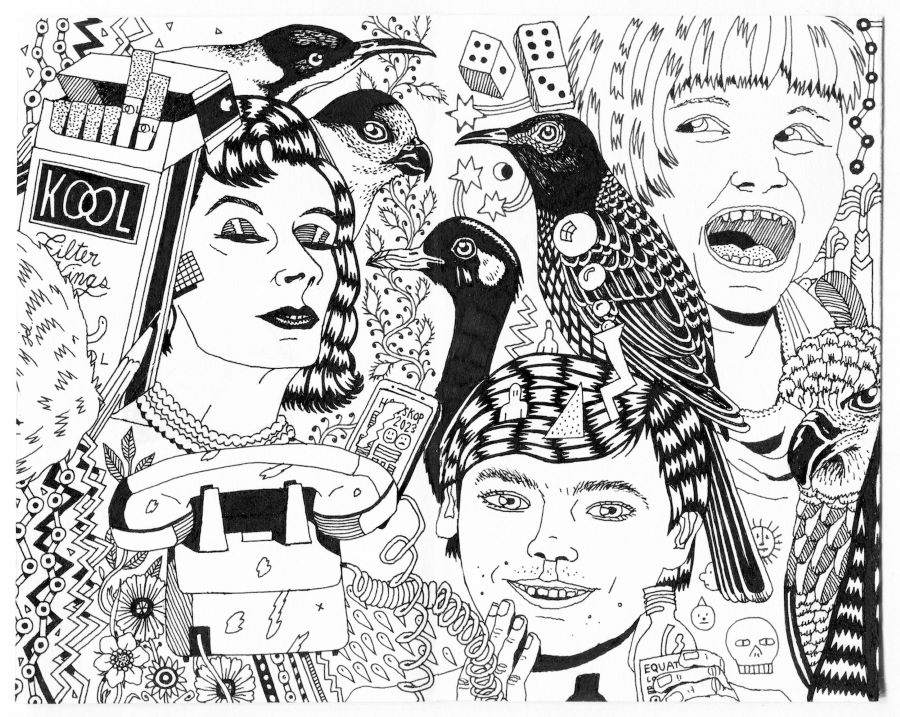 Julie Doucet
horoskop, 2023
black ink on paper
14 x 18 cm