---
A slightly ironic title, hinting at the ever strong demand for what is new, the contemporary greed for necessary and incessant novelty, thought as the only possible issue. Therefore, to meet this requirement, the exhibition will bring together new works, as well as some artists such as Tiziana la Melia, a young Canadian artist, and Dasha Shiskin, a Russian artist living in New York, who have yet never been shown in Paris.
Tiziana La Melia's works, shown for the first time in Paris, are both figurative and abstract, with formal and human experimentations. Using various mediums, the young Canadian artist examines themes such as passion, desire, and finds her inspiration in mythology, female icons, and teenage years. Language is essential in her works, which become real stories.
Guillaume Pinard, for this new exhibition, gives up drawing and painting for pastel. The bursting colours and shapes, typical of his work, are emphasized with this new medium. With hundreds of historical references, ludicrous or unusual characters, everyday objects diverted from their common use, the artist takes the spectator into a strange universe, always tinged with irony and derision.
Stéphanie Saadé, an artist who comes from the new contemporary Lebanese scene, creates simple, very delicate, conceptual and sensitive works, such as Moongold shown in this exhibition. In this series of photographs of the moon taken at random by the artist, the star, which looks very small, is gilded.
Dasha Shishkin, an American artist of Russian origin, is exhibited for the first time in France. Her works are full of strange scenes and people, bordering upon comic and grotesque, fiction and reality. Her drawings, often painted, carry the spectator into a parallel, fantastic universe, where imagination is infinite, and the rules of our world do not apply.
Céline Vaché-Olivieri mostly uses pottery to express herself, a medium in which chance and unpredictability are very important. This uncertainty is an integral part of the artist's work. Then a dialogue begins between control and what cannot be overcome. In this way, Céline Vaché-Olivieri's whole work is based on oppositions: precision and chance, composition and decomposition, opposite movements…
Alun Williams'works balance between historical paintings and abstract compositions. By accidental connections and absurd situations, the artist combines natural and urban landscapes, historical figures and paint stains. In his paintings, the well-known characters of History meet and come across abstract shapes, giving birth to compositions both powerful and surprising.
Tiziana La Melia was born in 1982. She lives and works in Vancouver (Canada).
Tiziana La Melia uses writing, painting, sculpture and performance in installations, which intertwine thoughts about the female archetype, auto fiction, passion and desire. Her work explores the potentiality of language slipping into shape, and balances between representation and abstraction whatever the mediums.
Her work has recently been shown in solo exhibitions such as Innocence at Home in CSA Projects (Vancouver), The Eyelash and the Monochrome at Mercer Union (Toronto), Lot at The Apartment (Vancouver), and Neck of Thirsty Flower at Exercise (Vancouver)…
Her works have also been presented in collective exhibitions in Parc Saint Léger (Nervers), in Oakville Galleries, Division gallery (Montréal), Mint Project Space (Columbus), gallery Ghebaly (Los Angeles)…
Several critics and journalists have written about her work, among them: Karina Irvine, Martha Kirszenbaum, Gaby Moser, Rosie Prata…
Guillaume Pinard is a French artist, born in 1971. He lives and works in Rennes.
"So, very early, I started considering art works as doors, and I can tell that I am still trying to stand on their thresholds." Guillaume Pinard.
Guillaume Pinard studied at Rennes fine arts school. He is a well-informed observer of art and cultural artefacts, of which he examines the hidden circumstances and meanings. If he often defines himself as an artist who draws, he also uses many mediums such as painting, sculpture and video animation, and explores very eclectic styles. For about ten years, he has been appropriating past artworks, making copies of them, and has been forward-looking with illustrated fiction.
His work has been presented in solo shows such as La diligence, at gallery Anne Barrault in Paris (2016), Du Fennec au Sahara, in Chapelle du Genêteil in Château-Gonthier (2015) and Un Trou dans le décor at Quartier in Quimper (2015). And also Royal Iris at gallery Anne Barrault in Paris (2014), Vandale at BBB in Toulouse (2013), Trésor in Cajarc Art Center (2012)…
His works have also been shown in collective exhibitions at TEAM gallery, in NY, at Thaddaeus Ropac gallery, in Paris and Salzburg, at Portique, in le Havre, in FRAC Limousin, in Rennes Fine Arts Museum, at la Station in Nice, at Atlanta College of Art Gallery.
He is the author of AMOR (2015), Un art sans destinataire (2015), Le Clou sans tête (2008)…
Stéphanie Saadé, from Lebanon, was born in 1983, during the civil war. She lives and works in Beirut and Paris. Today she is a prominent figure on the new contemporary Lebanese scene. Her stays in Lebanon, and in China, as well as in France and The Netherlands nourish her work. Stéphanie Saadé's works are both conceptual and poetical. Their starting point is when daily environment topples over something strange. The artist explores the way it happens, and makes it visible, showing these changes in man himself. She has a degree from Paris Ecole Nationale Supérieure des Beaux-Arts and from the China Academy of Arts of Hangzhou. She was an artist in residency at Jan van Eyck Academy, in Maastricht (2014), and in Cité Internationale des Arts in Paris (2015). She has recently had exhibitions at Home Works7, Beirut; La Traverse, Contemporary Art Centre in Alfortville, France, gallery Anne Barrault, Paris, France; MuHKA, Antwerp; Marres, House for Contemporary Culture, Maastricht; Frieze, London; La Conservera, Centro de Arte Contemporaneo, Murcie, Spain; Mosaic Rooms, London; New Positions, Art Cologne; Van Eyck, Maastricht; Le 59e A.M.Qattan Foundation, Ramallah; Qalandyia International Biennial, Palestine; Gallery Grey Noise, Dubaï; Galerie Akinci, Amsterdam. Her next exhibition, among others will be Say it with Flowers! At Schloss Moyland Museum, Bedburg-Hau, Germany (June 2016).
Dasha Shishkin was born in 1977 in Moscow in Russia. She lives and works in New York.
She is known for her large and colourful drawings on semi-transparent Mylar, using acrylic, ink, and crayon. Though her work is figurative with something like a tale, she avoids anything concrete. In this way, her complex compositions come within the province of lovesong, eroticism, humour and grotesque.
Dasha Shishkin graduated from Columbia University (MFA, New York, 2006), and from the New School for Social Research (BFA, New York, 2001). Her work has been presented in solo shows, such as erry icket, in 2013, at Santa Barbara Contemporary Art Museum, I Surrender, Dear at the Contemporary Arts Center in Cincinnati, SAMMY at gallery Gio Marconi in Milan, BB5 at Griffelkunst in Hamburg, and Desparecido at Zach Feuer Gallery in New York.
Her works have also been shown in collective exhibitions, among them One Torino: Shit and Die at Palazzo Cavour in Turin (curator, Maurizio Cattelan), Imaginary Portraits of Prince Igor Met gallery in New York, Gaiety is the Most Outstanding Feature of the Soviet Union: Art from Russia, London Saatchi Gallery, Idealizing the Imaginary: Invention and Illusion in Contemporary Painting, Oakland university Gallery, and Embrace; Denver Art Museum.
Dasha Shishkin is represented by Susanne Vielmetter, Los Angeles Projects (Culver City, CA).
Céline Vaché-Olivieri, born in 1978, lives and works in Paris.
She graduated from Strasbourg Ecole Supérieure des Arts décoratifs (today HEAR). She works according to an uncertainty principle. A kind of gymnastic, of splits. She takes a long time preparing, but with no rules nor methods or recipes, only this acute awareness of the transitory aspect of things, of their ebb or flow, of their being constantly evolving while being present; an attitude which initiates a process of reflection about the identity of things, their value, their novelty.
Her work has been exhibited in various institutional places (La Galerie in Noisy-le-Sec, Arco in Nevers, La Permanence in Clermont-Ferrand, projects with La Mobylette in Bordeaux, Instants Chavirés, in the Vestibule de la Maison Rouge in Paris, the Art Centre Les Capucins in Embrun, Salon de Montrouge, La Couleuvre in Saint-Ouen…)
Alun Williams, born in 1961 in Manchester, England, lives and works in New York.
He exhibited his paintings for the first time at Manchester University in 1979, then in the same year went and studied painting at the Art School of the University of Wales. He was given a grant to study abroad, and so began his long relationship with France when he joined Bourges Ecole Nationale des Beaux Arts in 1981-82. He finished school in Wales, and had a solo show at Galerie Medamothi in Montpellier, and then he continued his studies at Blackheath Art School in London, before starting a postgraduate degree at Goldsmiths 'College (1985-87).
Meanwhile he was exhibited at Maureen Paley (Interim Art) in London, as well as in Stoke-on Trent and Peterborough Museums, in Great Britain. Following a residency connected with Nîmes Ecole des Beaux-Arts, he presented a solo show, with other exhibitions in different places and galleries in London. In 1991, Alun Williams undertook a trip in the United States and in Canada, where he gave lectures, and was in several residencies. In 1992, with Isabelle Viallat, he founded the association La Vigie in Nîmes. In 1993 he joined the head office of Triangle association in New York. In 1995, he created, with Claire Lesteven and Bernard Plasse, Triangle France association in Marseille, and worked at La Friche Belle de Mai. From 1998 on he settled in New York, which became his main home base, and in 2000 he founded Parker's Box, in the district of galleries managed by artists in Brooklyn. Today, though he focuses his energy on his own practice, Alun Willims goes on putting a lot into experimental projects in Parker's Box, Brooklyn. He also supports the activities of Triangle in New York, and closely monitors those of Triangle France in Marseille, and of La Vigie in Nîmes.
He is a long-distance runner as well, and a member of New York Road Runners Club and North Brooklyn Runners.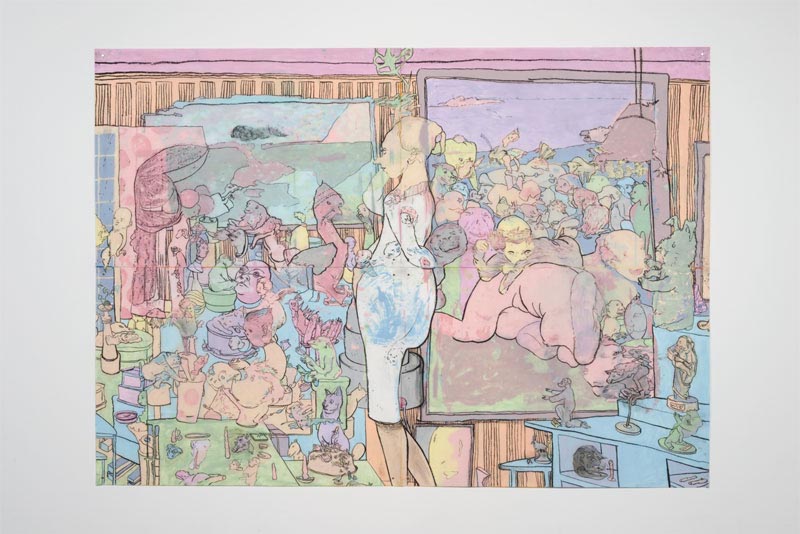 Dasha Shishkin
Excitement, Trout in the Public's Trousers, 2016
fusain et acrylique sur mylar
157,48 x 203,2 cm
courtesy Susanne Vielmetter Los Angeles Projects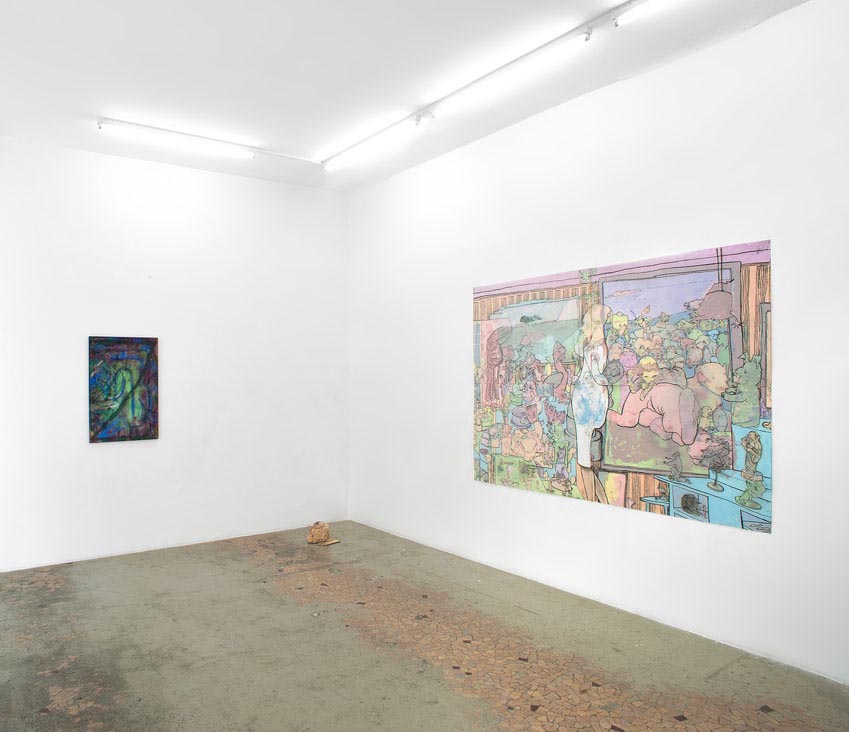 Vue exposition : Tiziana la Melia, Céline Vaché-Olivieri, Dasha Shishkin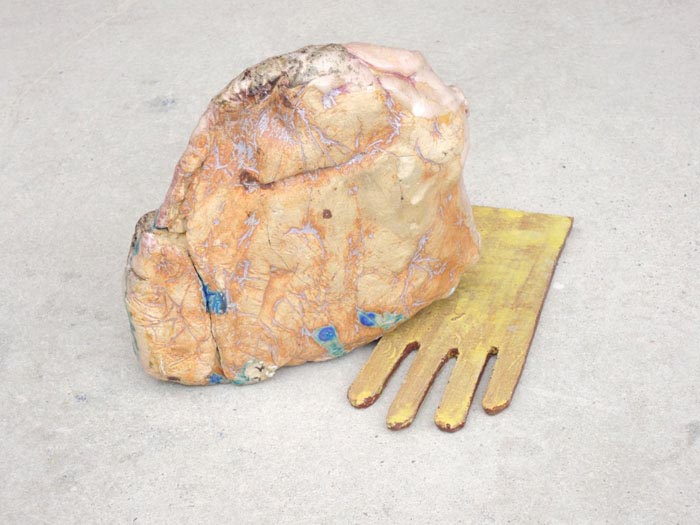 Céline Vaché-Olivieri
BRAINHAND, 2016
grès blanc et grès rouge émaillés
20 x 30 x 22 cm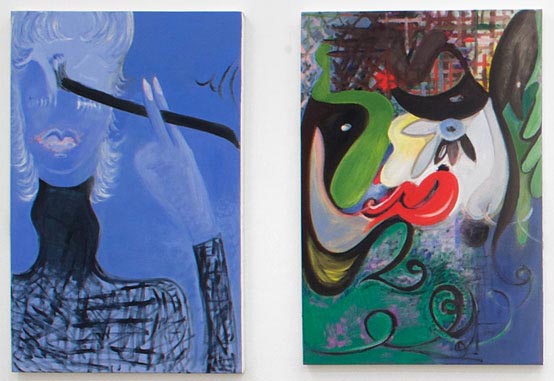 Tiziana la Melia
getting into it, 2015 – 2016
huile sur toile
87 x 57 cm (x 2)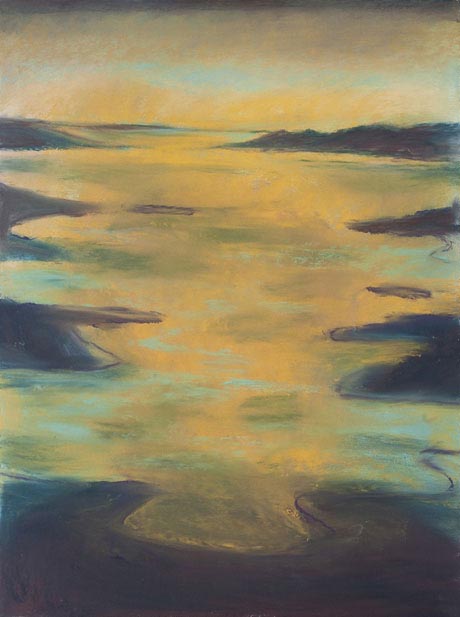 Guillaume Pinard
Sud, 2016
pastel sur papier
56 x 42 cm