---
In the exhibition entitled "Les amis durent / Friends Last "*, we will discover a family of five artists.
Five young artists who respect each other, listen to each other, and look at each other. It is a very young family, they are not yet 30 years old.
Around Neïla Czermak Ichti, who presented her first solo exhibition last year at the gallery, Ibrahim Meïté Sikely will present recent paintings that will close his 5 years at the Villa Arson. It will be the same for Lassana Sarre.
Both were in the same studio, Lassana painted Ibrahim, and Ibrahim painted Lassana.
During the exhibition, the visitor will discover a painting by Ibrahim Meïté Sikely emblematic of their union. This work represents the two friends wearing soccer shirts and trying to fight monsters. You only have to read the text on the canvas to understand the humiliations they had to face: "If only I could forget what these suckers told my friends and me".
They were both a guide and a student to each other. They never stop talking to each other to try to move forward, to try to rise together.
But we could say that this way of being is what brings these five artists together. They weave a singular conversation through their works.
Flo*Souad Benaddi met Neïla Czermak Ichti in high school. After graduating, he went to study at the Villa Arson.
It is in Nice that he met Ibrahim and Lassana, it is also him that he showed them Neïla's drawings.
Flo*Souad Benaddi will exhibit the garments they offer to their friends. He made them in order to create his own system of wild harvesting, respectful of the plants. Each garment he makes is inspired by the person who will wear it.
Luna Petit studies at Lacambre in Brussels. She is Neïla's friend since high school. They studied together in Paris, until the pre-preparedness in Fontenay-sous-bois.
For the exhibition, Luna Petit will present t-shirts that she also intended for her friends. These clothes on which she paints the portraits of her friends "carry happiness". They come to embellish and protect the friend who wears it.
It is Neïla Czermak Ichti, who is at the origin of this project. Her friends all came to see her first exhibition last year at the gallery. They all left smiling and happy to have discovered the works of their friend.
Today they will all be together for this new exhibition, Neïla will present new paintings.
This friendship lasts.
She stands proudly and tenderly in front of us.
*Les amis durent (Friends last) is the title of a work by Richard Nonas, a string of stones, installed in 2012 in the park of Lizières, a place created by Ramuntcho Matta, in Picardy.
In 1978, when Gordon Matta-Clark died, Richard called Ramuntcho to tell him :
You lost your brother.
I am now your brother, I am waiting for you in New York.
Our sincere thanks to Neïla Czermak Ichti and her friends Flo-Souad Benaddi,  Luna Petit, Ibrahim Meïté Sikely, et Lassana Sarre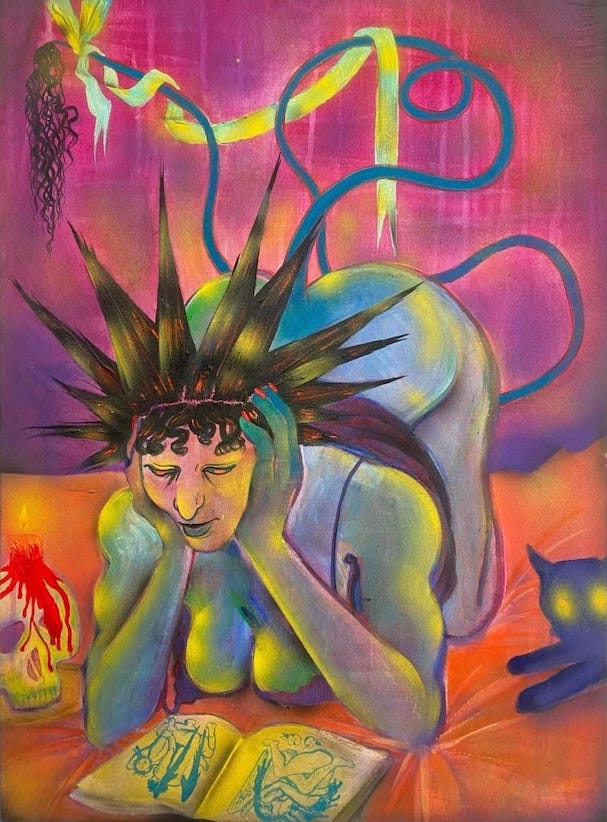 Neïla Czermak Ichti
Erudit, 2021
acrylic on canvas
50 x 70 cm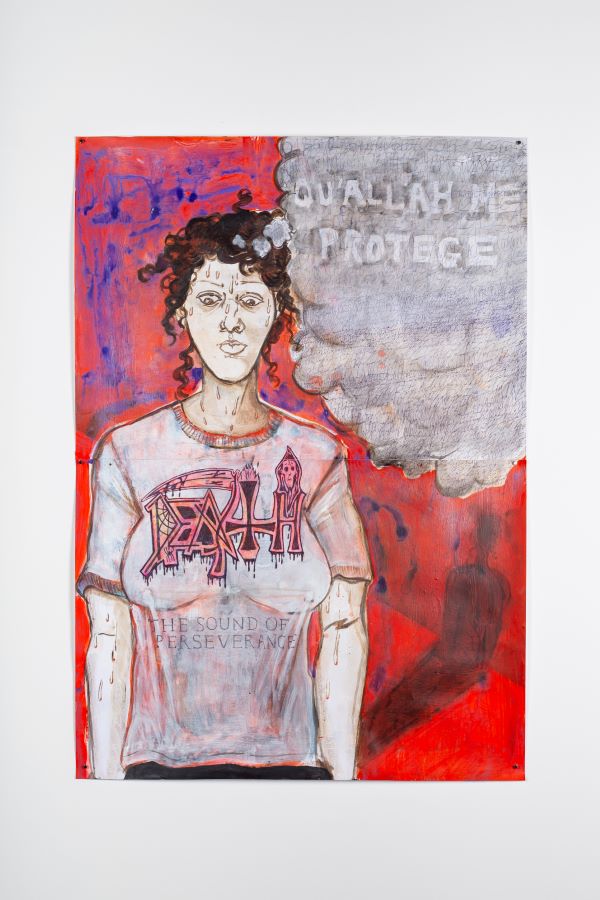 Neïla Czermak Ichti
The Sound of Perseverance (sweat and ocd/ Toc et transpiration), 2022
acrylic and pen on paper
100 x 69,5 cm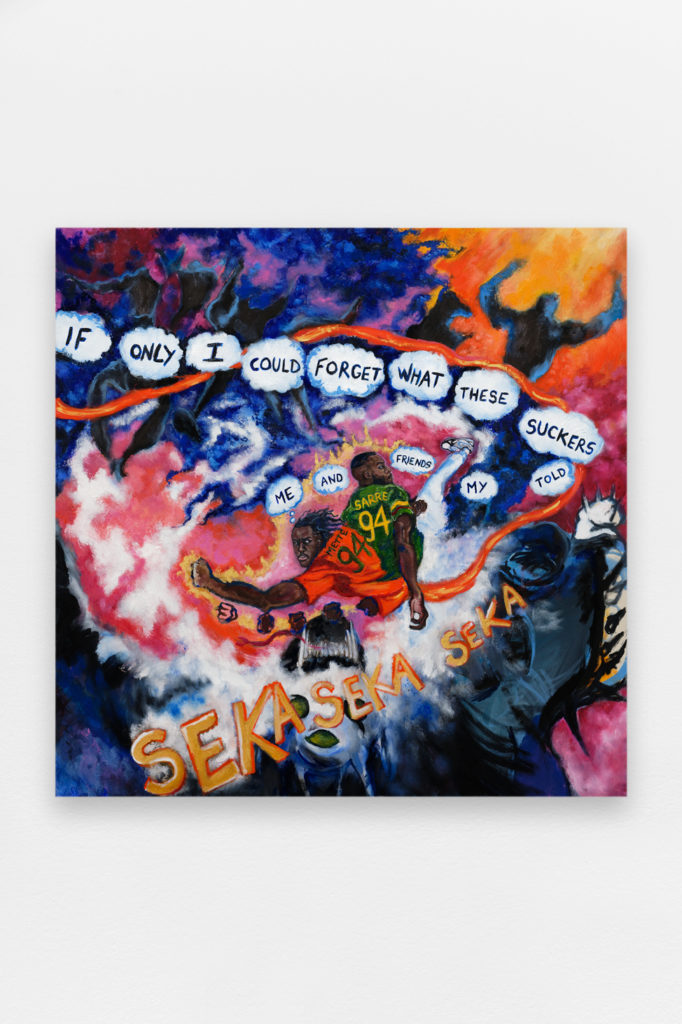 Ibrahim Meïté Sikely
If only I could forget what these suckers told my friends and me, 2022
110 x 110 cm
oil on canvas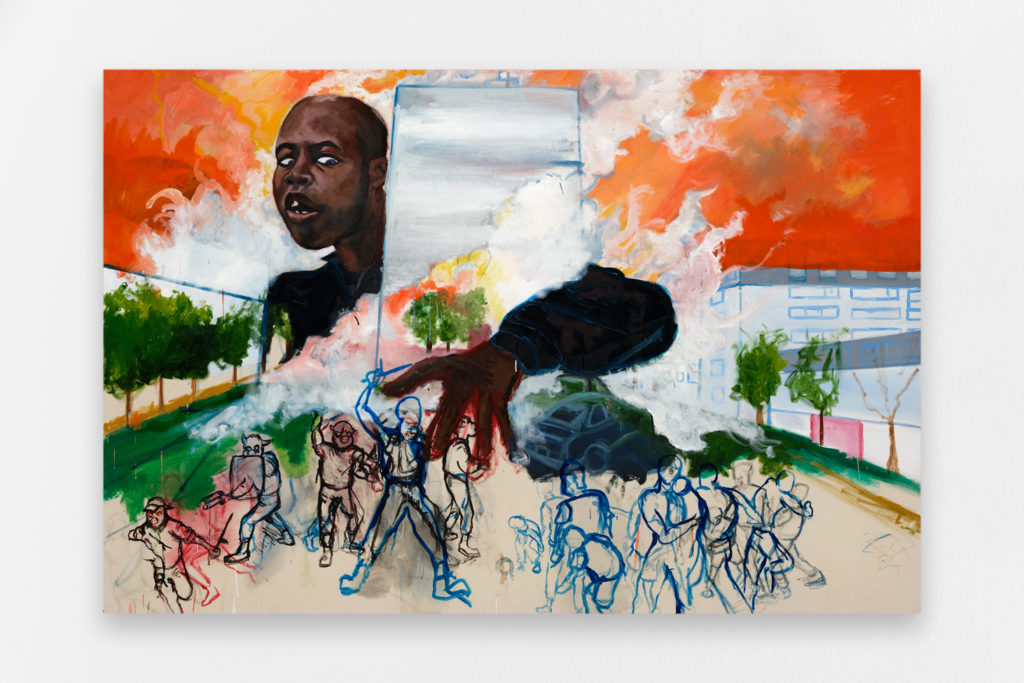 Ibrahim Meïté Sikely
WHAT YA HOOD LIKE IS IT ROHFF??, 2022
(work in progress)
oil on canvas
162 x 114 cm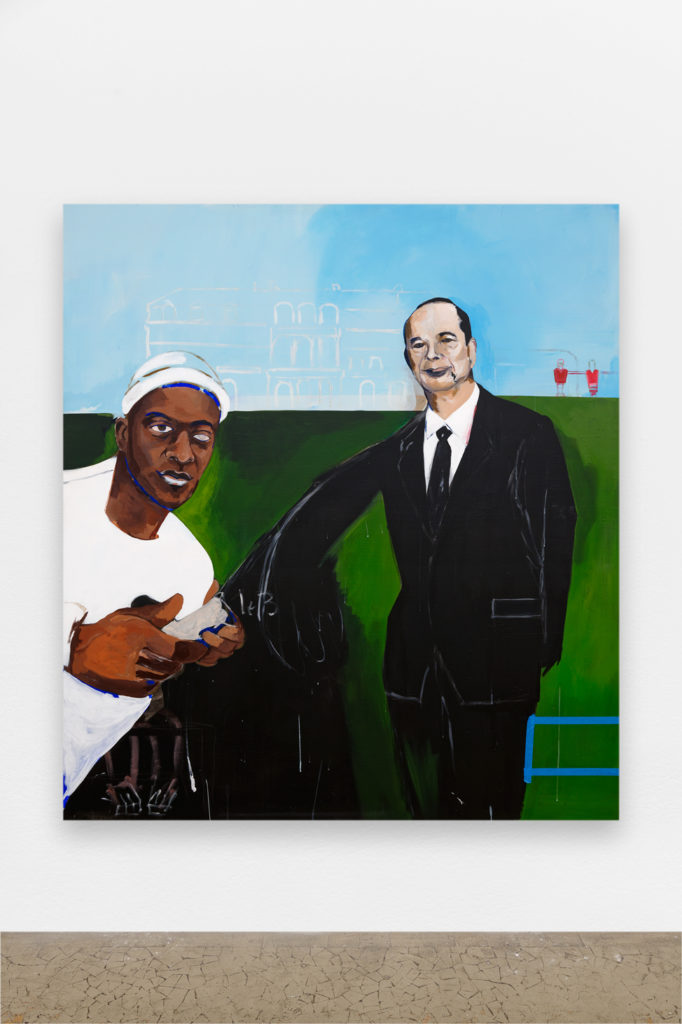 Lassana Sarre
Les chemins masqués, 2022
acrylic on canvas
200 x 180 cm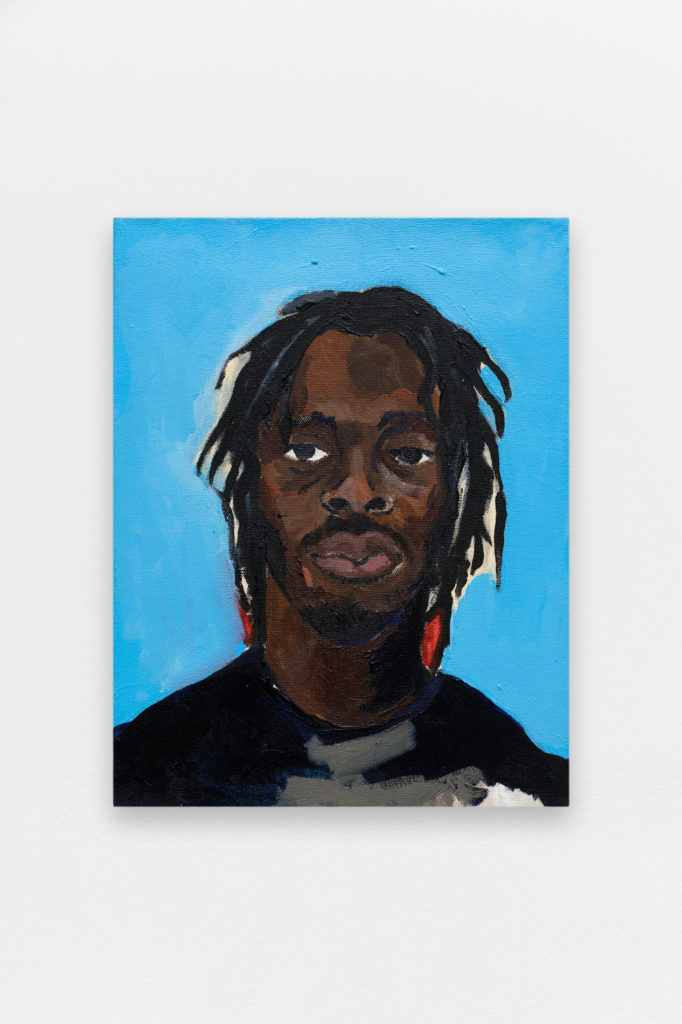 Lassana Sarre
Framboise, 2022
35 x 27 cm
acrylic on canvas