Every week, an artist of the gallery will share his passion for the work of either a film maker, such as Maurice Pialat from whom we have borrowed the nice title of his film (made in 1983), or a musician, a writer, an artist..
 We are pleased to open this new chronicle with a text of Guillaume Pinard  about the work of Hélène Reimann, born in 1893 in Poland.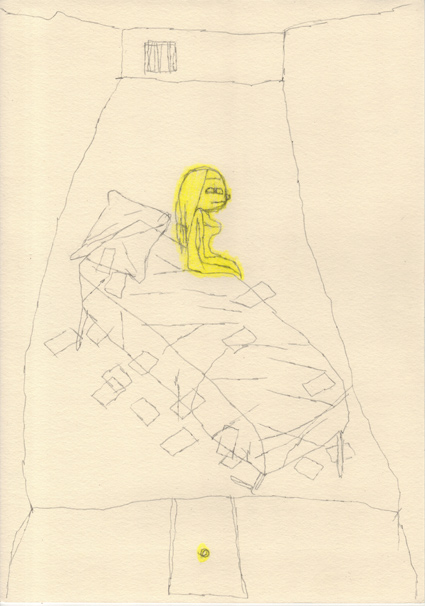 Guillaume Pinard, Hélène, graphite et crayon, 21 x 29,7 cm, 2020

I no longer know what the hypothesis of an existential vacancy, of the floating and invisible practice of writing, drawing, or music – what else – is worth, in a system in which we valorize the slightest action and ask for adhesion  or immediate valorization. I no longer know what this movement, that stood for the idea of an unproductive and emancipating form of thought, is still worth, this gratuitous leap into the elaboration of subjectivity, when the precariousness of intelligence is industrialized and when all artistic, intellectual productions are handed over to commercial firms.
I no longer know what an idea, a work of art, are worth when they are not even goods, but a simple piece of data among others, meant – like a data recorder  – to capture, locate, trace the attention of an Internet user in the ocean of clicks. I no longer know what the images of a catalog submitted to opinion poll rather than to the examination of their contents. And yet, I enjoy nothing more than this broadening of the visible, nothing as much as the exhalation of possibilities and the multiplication of prescribers; and I still want to participate. Now what?Hélène Reimann (1893 Breslau/ Poland 1987 Bayreuth/ Germany) was the mother of seven. She sold shoes in a shop. Schizophrenia gradually condemned her to repeated stays in psychiatric hospitals. Thanks to one of her daughters, she was protected and escaped the Aktion T4 plan (the campaign to annihilate physically and mentally disabled adults) of Nazi Germany.
From 1949 onward, Hélène Reimann was permanently confined to the psychiatric hospital of Bayreuth. There, she spent most of her time drawing. She would draw all that she was now deprived of and which she did not want todisappear: clothes, shoes, interiors, furniture, a few animals, portraits, and flowers. All the drawings of her we know today were made between 1973 and 1987. From 1949 to 1973, the hospital staff had orders to find  out and destroy all the drawings Hélène Reimann made and hid under her mattress, in her sheets and under her pillow. It took the arrival of Professor Boeker at the head of the establishment to let her keep the works she created. So tirelessly, Hélène Reimann maintained – against the coercion of the institution in which she was supposed to be cared for – her drawing practice for 24 years. Nothing and no one was able to stem the need for this woman to reconstitute the theater of her memory.It is perhaps too simple to use Hélène Reimann as a counterpoint to the overexposure and the commercialization of the objects of thought, as the radical example of resistance to norms and institutional standards. I will be objected that Hélène Reimann did not participate and never participated in the "art game", that she had no artistic ambition, no plastic research, that she probably never took a critical look at her drawings or her confinement, that she was simply insane. Perhaps, but the black diamond of the life and resistance of this woman, her burning connection to the act of drawing, the subversive strength of her deed compel us to regard her drawings as the sparks which sparkle and lighten the abyss of a being tormented by the world, and rise up against this world.So, confronted with Hélène Reimann and even if it means to play roulette with algorithms in order to flatter our existences or the economy of our creations, even if it means plunging into the brackish water of the networks and their undifferentiated markers, we must be adamant and bound to estimate everyday what deserves or not to be hidden under the pillow.
Guillaume Pinard
October 2020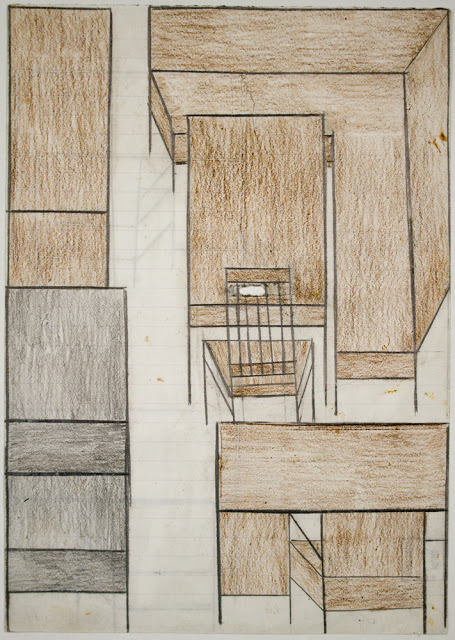 Hélène Reimann,
Funiture
, before 1987, graphite and crayon on thin lined paper (the same as letter pads), 29,5 x 20,8 cm.
Villeneuve d'Ascq, LaM © Credit photo : N Dewitte / LaM
////////////////////

Alexander Cozens (1717-1786)
I have discovered Alexander Cozens, a British artist, through his experimental drawing method:
A New Method of Assisting the Invention in Drawing Original Compositions of Landscape
, 1785.Starting from random or accidental black ink blots of which he prolongs lines and invents forms composing a recognizable landscape, he thus passes from total abstraction to a subtle figurative representation.
This principle of avant-garde experiment seems to me totally new in the 18th century.
Alexander Cozens made paintings reminding one of 17th century landscapes, and drawings anticipating both Victor Hugo's random exercises (19th century), and the drawings of the 2Oth century modern currents, from Cezanne to Joan Mitchell.
Abstract blots, supple lines, cloud, foliage and rock studies, Cozens developed a complete catalog of infinite drawing possibilities.
Classic, romantic and modern, he balances between figuration and abstraction, a classical school and a radical avant-garde current.
Working with coincidence, temporality, oubapian experiences and constraints, on printed aids or facing reality, I notice my constant and ever renewed attachment for Alexander Cozens' work.
Jochen Gerner
November 2020
To discover the work of Alexander Cozens click on this link:
:https://www.tate.org.uk/art/artworks/cozens-the-cloud-t08057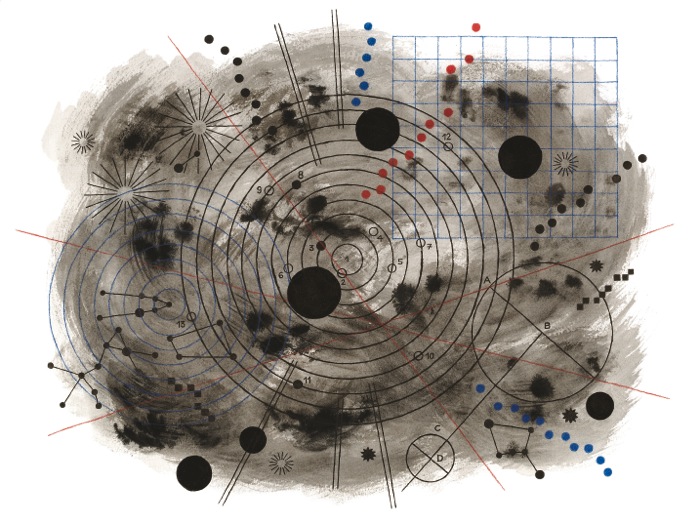 Jochen Gerner
Cosmos, 2016
India ink and pencil on paper
35 x 46,5 cm