Guillaume Bruère, 

Nina Childress, 

Olivia Clavel, 

Bertrand Dezoteux, Julie Doucet, 

Paul van der Eerden, 

Steve Gianakos, 

Killoffer, Mirka Lugosi, 

Bertrand Mandico

, Antoine Marquis, 

Guillaume Pinard, 

Hugues Reip, Jean-Xavier Renaud, Elsa Sahal, 

Dasha Shishkin, Taroop & Glabel

, Daniel Spoerri, 

Nicolas Topor, 

Henk Visch, 

Willem, and Roland Topor.
Roland Topor was an insatiable creator. He defined himself as "a simple paper worker", but his work is impressive and protean: drawings, novels, films, plays, and television programs. His carnivalesque mind, his cruel derision, his thundering laughter have infused into us.
His first drawing was published in the journal "Bizarre" in 1958, and his first anthology of drawings in 1960 was entitled "Les Masochistes".
In 1962, Roland Topor goes on having fun and fascinating us. He founds the group "Panique" with his friends Fernando Arrabal and Alejandro Jodorowsky.
"Panique" pays homage to Pan, the god of love and fornication, of humor and confusion. "Panique" was born as a reaction to the dogmatism of André Breton, who liked neither rock, nor science fiction, nor pornography.
In 1964, his book "Le locataire chimérique" was published. It will be adapted for the cinema a few years later by Roman Polanski. And his animated film "La Planète Sauvage" made with René Laloux, was awarded the special jury award at the 1973 Cannes film festival.
From the beginning of the seventies on, Topor has had steady exhibitions in galleries. Today he is thought as one of the most important drawers of the twentieth century.
During an interview with Eddy Devolder in 1994, Roland Topor said, " I laugh about what is tragic, reality gives me asthma. I am like a schoolboy who writes and draws, it is among human means to mess up paper. I like art, because it is a way to evacuate culpability and just keep pleasure."
This exhibition is not homage, strictly speaking. The guest artists have not made new works for the occasion. It has only been a question of selecting drawings, paintings and films, by elective affinities, and finding connivances.
Topor explained he drew or wrote in order to find allies. This is only the project of this exhibition: to find, in these allies, the mind of Topor.
This exhibition is meant to be generous, rich and diverse, in his image, the opportunity to discover the works of 21 artists, as well as a set of drawings by Roland Topor.
Special thanks to Alexandre Devaux, Pacôme Thiellement and Nicolas Topor,
and the galleries : Air de Paris, Bernard Jordan, Tim Van Laere (Antwerp), Semiose, Papillon, Produzentengalerie (Hamburg), and Susanne Vielmetter (Los Angeles)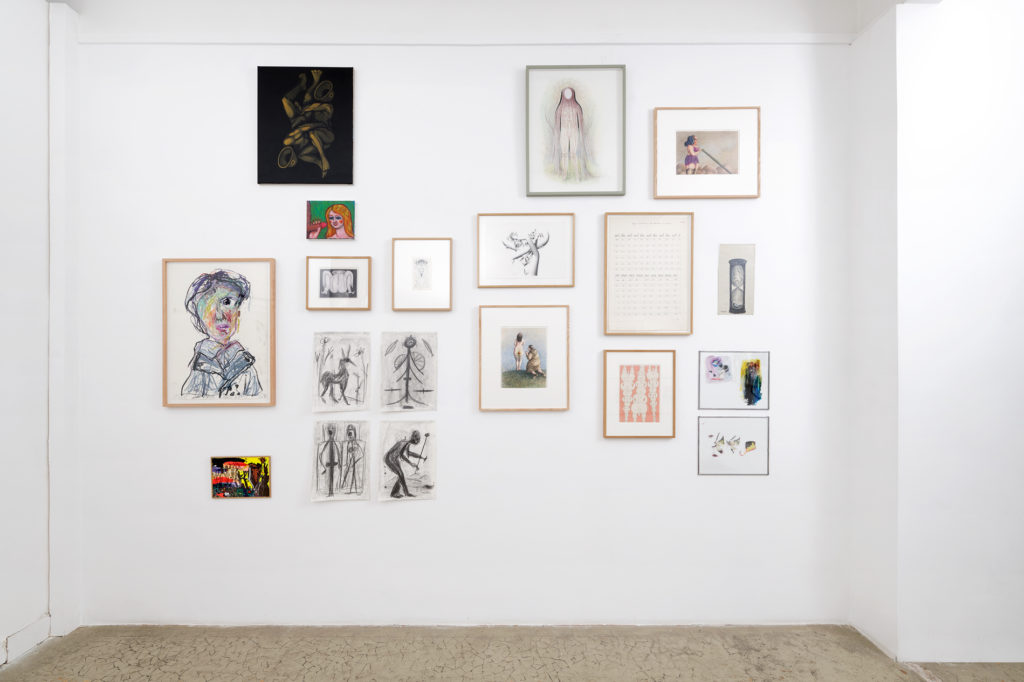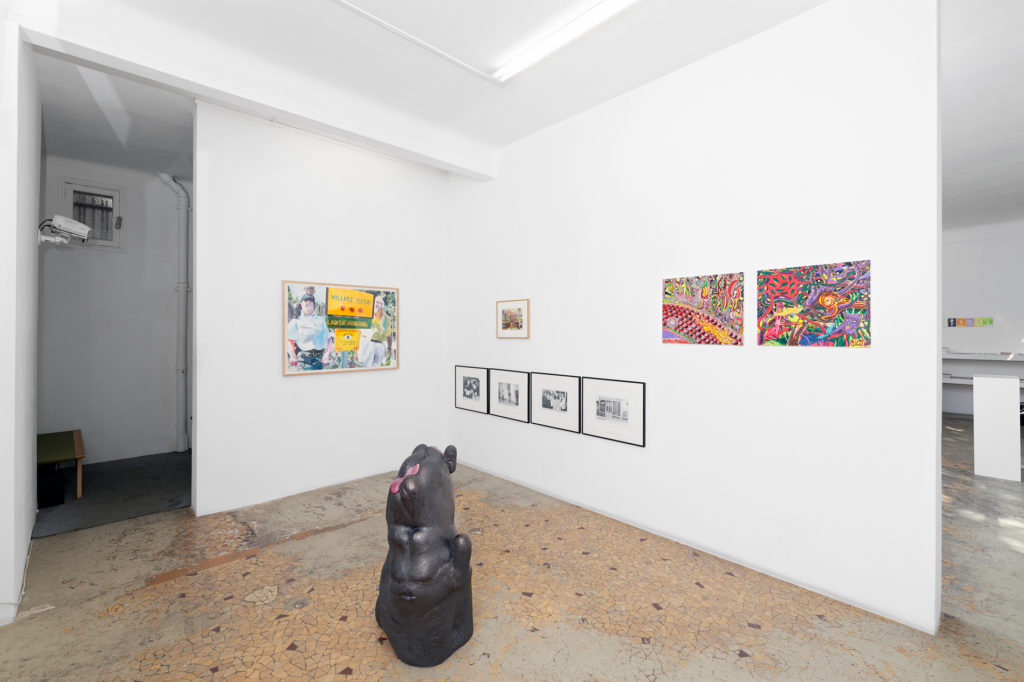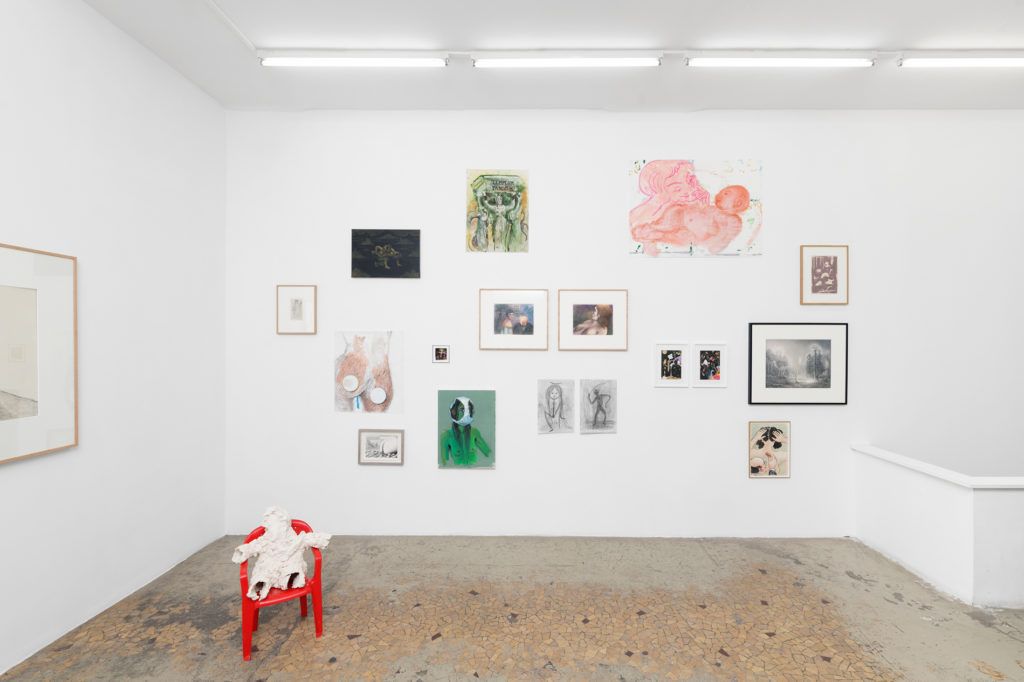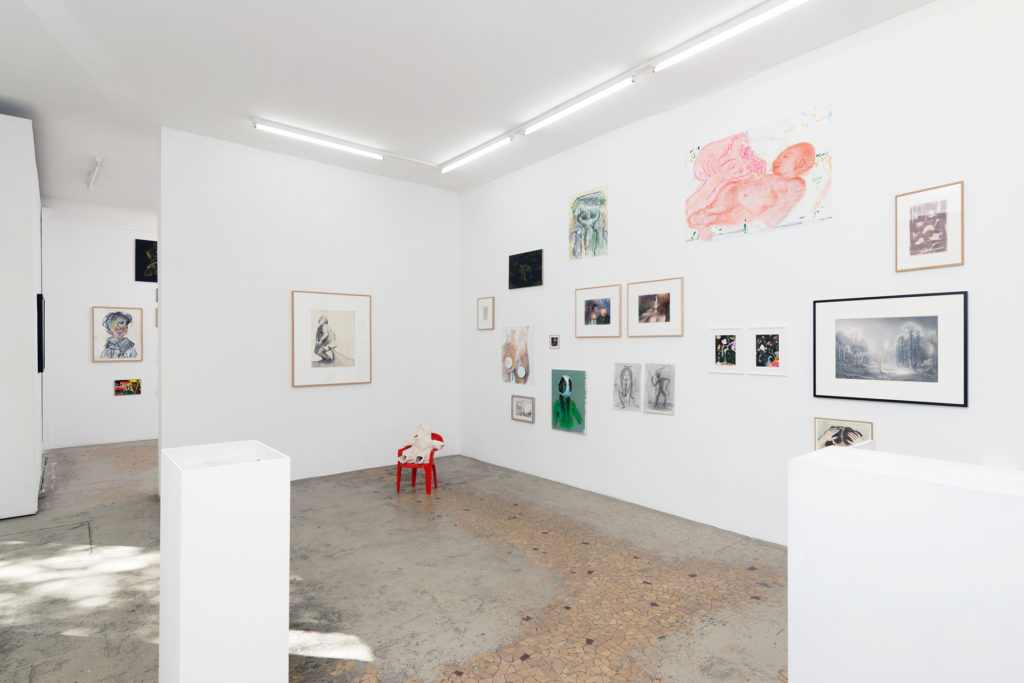 exhibition view "Topor n'est pas mort", 2019
photograph Aurélien Mole
GUILLAUME BRUERE
Born in 1976 in Châtellerault, he lives and works in Berlin.
In his many solo exhibitions, the artist appropriates the works of different European museums, such as in Madrid Lazaro Galdiano Museum, when he makes Goya and Le Greco enter into dialogue with contemporary art. Using the pencil or watercolor as well as pastels, Guillaume Bruère offers a rich universe, fed by his interventions at Le Louvre, or lately at Zurich Kunsthaus. His turbulent and strongly colored vision of art espouses Vincent Van Gogh's one in 2013, when the Vincent Van Gogh Foundation of Arles swept into the town streets. There, a jack-of-all-trades, Guillaume Bruère dispensed a striking performance: he did the portrait of an Arles girl in traditional dress, thus retracing the Dutch master's footsteps.
In 2015, uillaume Bruère distinguished himself at Château de Chambord with his exhibition "François 1er illimité", in which he proposed his interpretation of the monarch by Jean Clouet as well as portraits of Queen Claude and French presidents.
In 2016, Guillaume Bruère became involved in political themes and made Portraits of Refugee" for the Deutsches Historische Museum (Schlüterhof) in Berlin.
From February to April 2019 he was an artist in residence at Antibes Picasso Museum.
current exhibitions :
Vulgata
Dom Museum, Mayence
March 6th– July 7th2019
Guillaume Bruère
Museo del Greco, Toledo
April 9th– July 14th 2019
Nach Bruère
Kunsthaus Zurich, Switzerland
May 24th– September 8th2019
Guillaume Bruère
Nahmad Project, London
June 21st– July 25th2019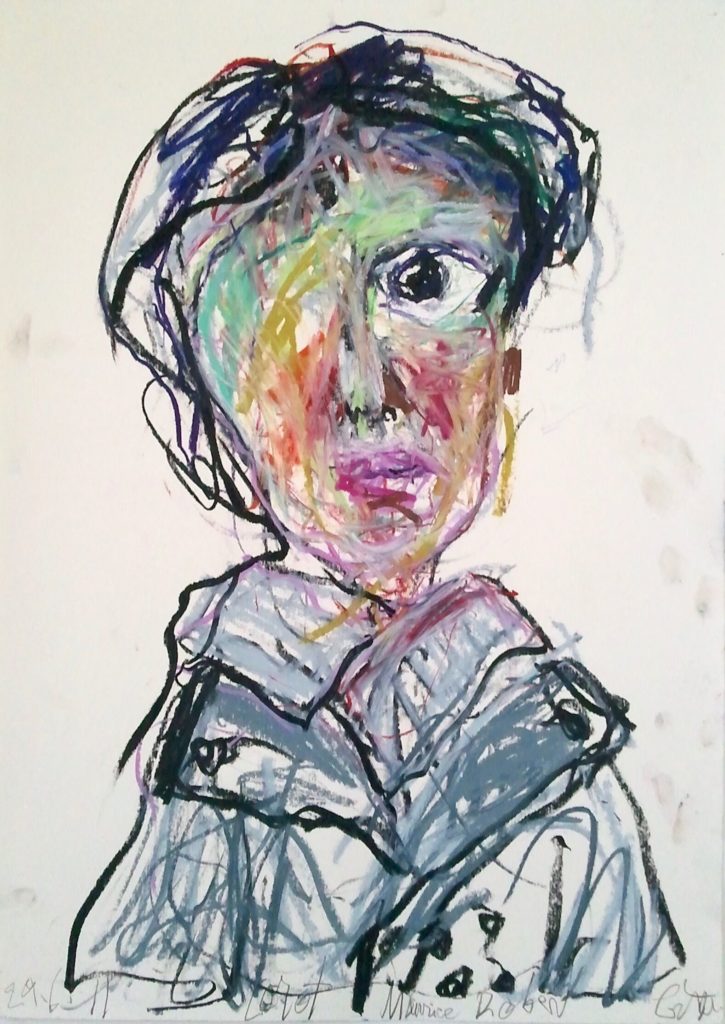 Guillaume Bruère
Louvre, 2011
pastel and pencil on paper
70 x 50 cm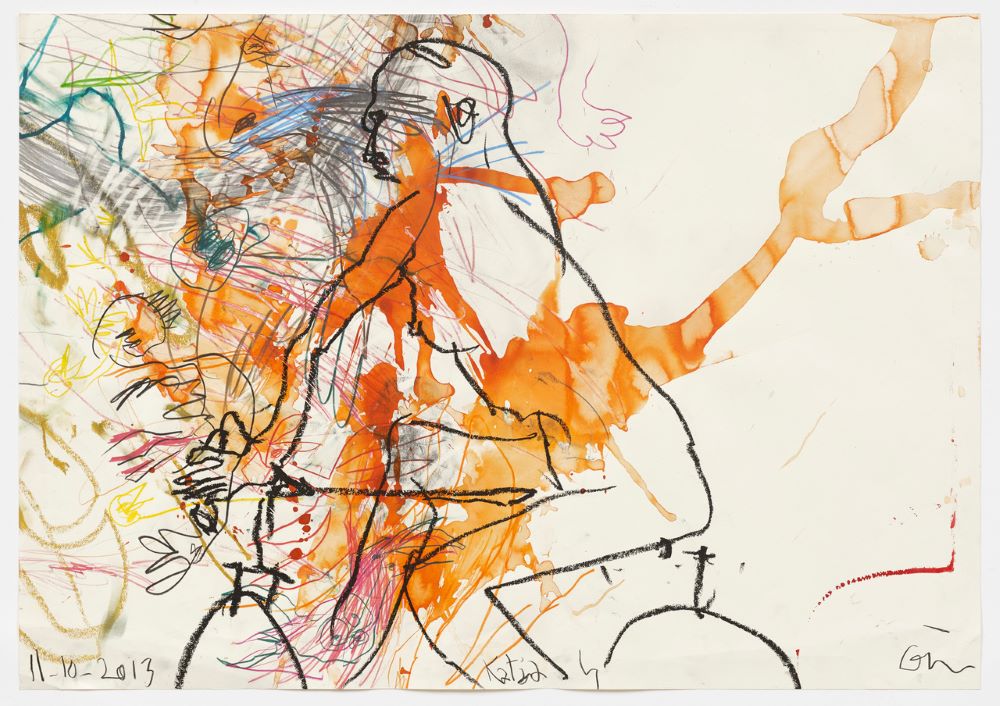 Guillaume Bruère
Nude, 2013
pastel and pencil on paper
70 x 99 cm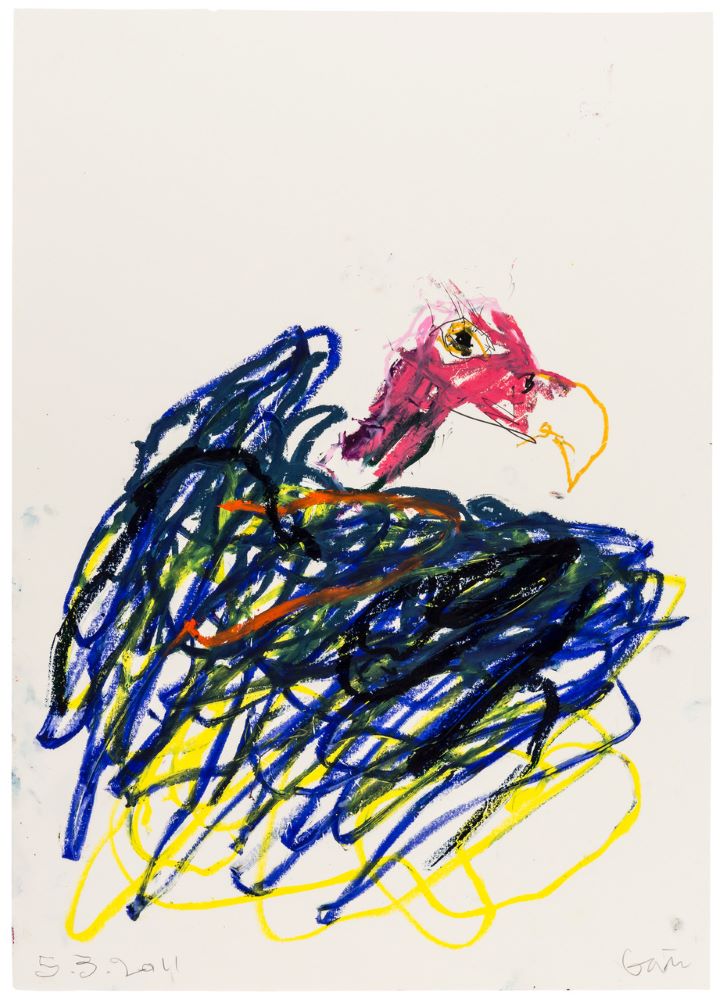 Guillaume Bruère
NHM, 2011
pastel and pencil on paper
70 x 50 cm
OLIVIA CLAVEL
Born in 1955 in Paris, she lives and works in Paris.
Olivia Clavel is one of the founding members of Bazooka, a group of artists, with Lulu Larsen, Kiki and Loulou Picasso. Very influential and active in the press of the 1970s/1980s (Libération, Métal hurlant, Hara Kiri etc…), they create their own paper, Un regard moderne, Futuropolis publishers.
Olivia Clavel is the author of the comic strip and its hero Télé: Les aventures de Télé Matcho girl (Dernier terrain vague publishers, 1981),Télé au royaume des ombres(Humanoïdes associés publishers, 1983), and La recherche (United Dead Artists publishers, 2014).
She also does record sleeves: Asphalt Jungle, Sapho, les Rita Mitzouko, Jean-François Coen, Brigitte Fontaine, whose clip "Le Nougat" was made by her.
In 2020, Les Cahiers Dessinés will publish a book with her paintings and drawings.
current exhibition
Champs d'Amours : 100 ans de cinema arc-en-ciel
Hôtel de Ville, Paris
June 25th– September 28th2019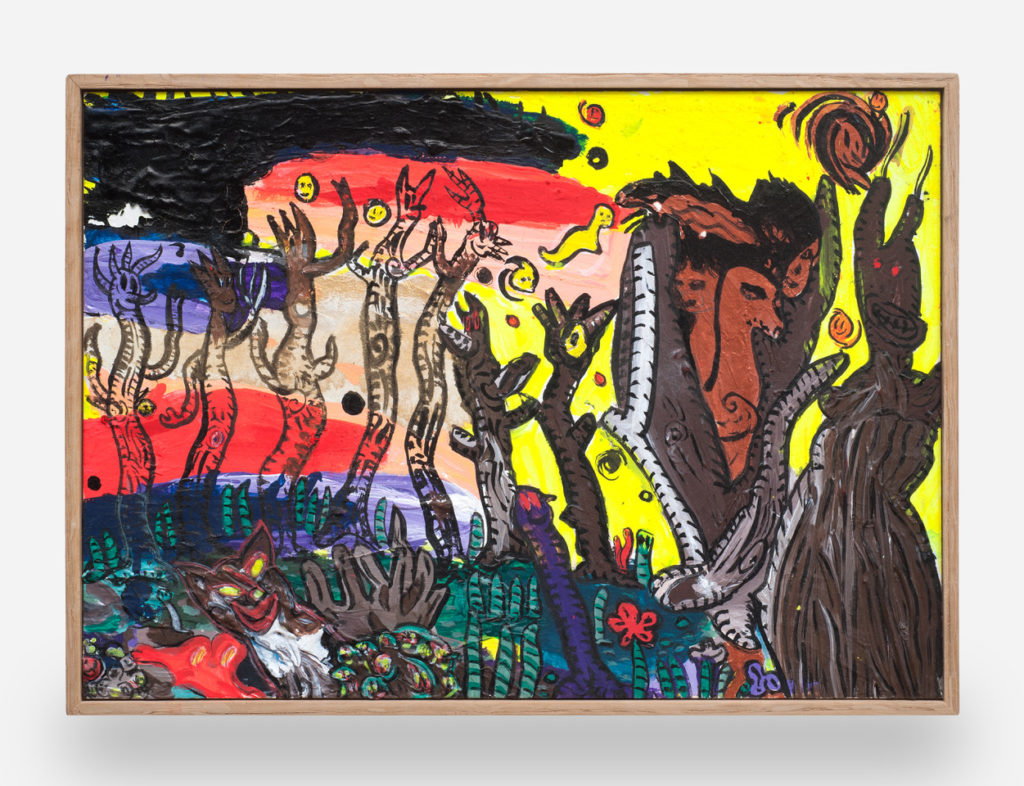 Olivia Clavel
Les nids des oiseaux d'or, 2017
acrylic on cardboard
22 x 30,5 cm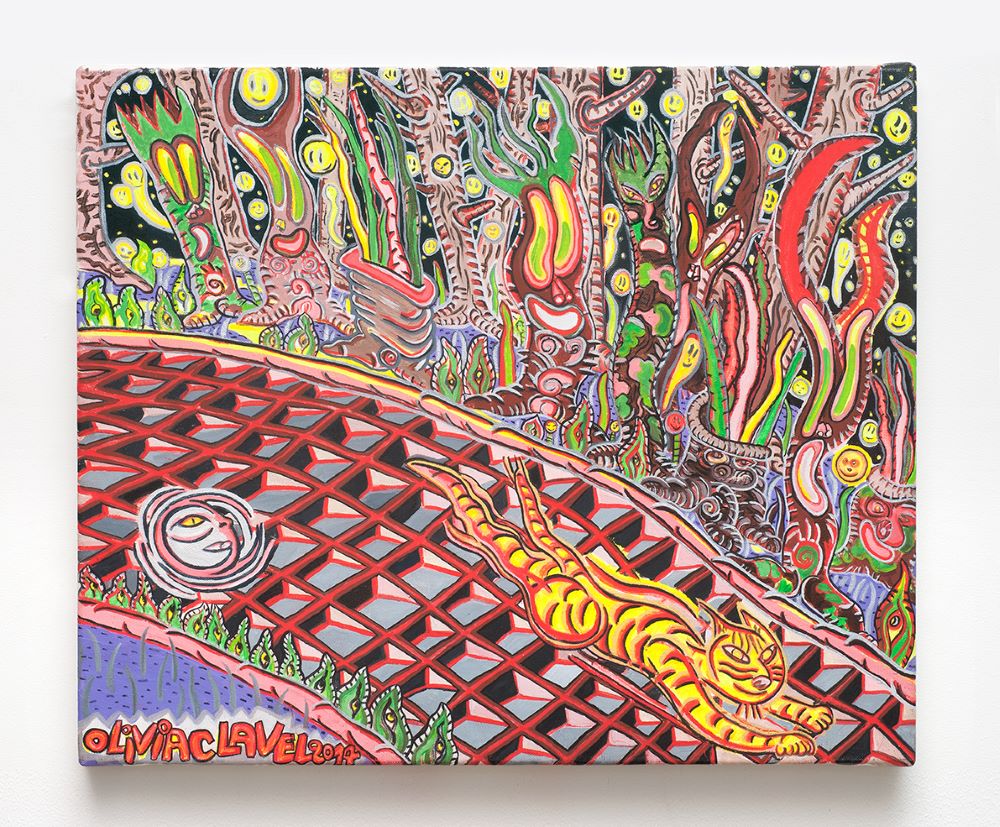 Olivia Clavel
untitled, 2014
acrylic on canvas
46 x 55 cm
NINA CHILDRESS
Born in Pasadena, United States, in 1961, she lives and works in Paris.
Nina Chidress claims it: "yes, you can paint anything, and I would be inclined to think it is better to paint anything, if you want painting to be still a little exciting." Her work, started in 1983, attests it; the artist sets herself no limits. When she was 12 years old, she had her fist pictorial shock in front of David Hockney's paintings. Some years later, she decides to enter Arts-Déco. Very soon, she quits this formation and fully lives the emergence of the Parisian punk theater, of which she becomes the voice of the Lucrate Milk group. In this cultural underground context of the 1980s, she joins the Frères Ripoulin, a Parisian collective (1984-1988). With this group of artists marked by free figuration, Nina Childress develops her fist artistic works. From then on, her pictorial practice has continually changed and embraced all styles of representation; abstraction or hyperrealism, magnified everyday objects or introspective self-portraits. Determined, she has never stopped painting, even though the market was abandoning this medium of expression. Therefore, it is not surprising to recognize genuine and true energy in her paintings, which often mingle humor and provocation. Whatever their motif or their size, her paintings can be immediately identified by their characteristic saturated and fluorescent colors. Her late works mostly represent female figures.
Today, her work is widely known and exhibited in public as well as private collections.
Next exhibition :
Nina Childress & Guillaume Pinard
Ecole des Beaux-Arts, Nantes
November 19th- January 18th2020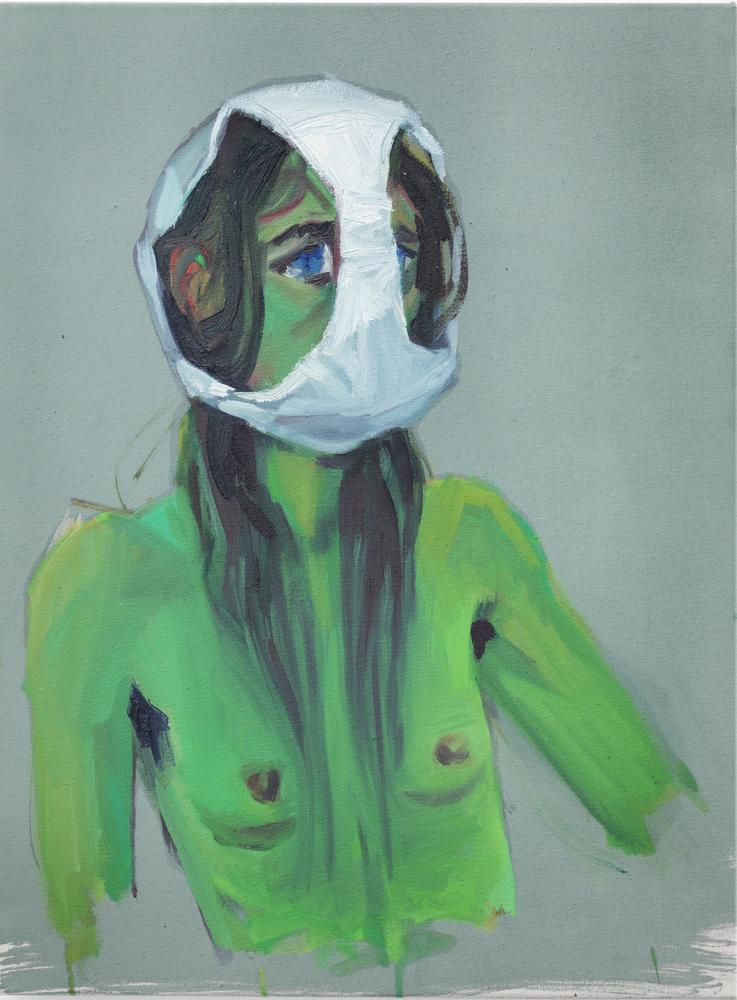 Nina Childress
867 Autoportrait au slip I, 2012
61 x 46 cm
courtesy galerie Bernard Jordan
BERTRAND DEZOTEUX
Born in 1982, He lives and works between Paris and Bayonne.
Bertrand Dezoteux is a graduate of Strasbourg Haute Ecole ds Arts du Rhin and Le Fresnoy, Studio National des Arts contemporains in Tourcoing.
Bertrand Dezoteux, according to his own words " observes, as an amateur anthropologist, life in virtual worlds". From "the wildlife documentary in 3D" (Le Corso, 2008) or  " the animated film with unrealistic puppets " (En Attendant Mars, 2015), to "an essay about the mythologies of French modernity" (L'Histoire de France in 3D, 2012), to mention just a few, the videographer explores computing techniques and cultural references, and becomes the master of the art of assembly and of digital do-it-yourself. Between entertainment and doubt, ode to science and voluntary clumsiness, the artist creates complex and visual objects, thanks to very different forms and knowledge.
next exhibition
Futur, ancien, fugitif – Une scène française
Palais de Tokyo, Paris
16 October – 5 January 2020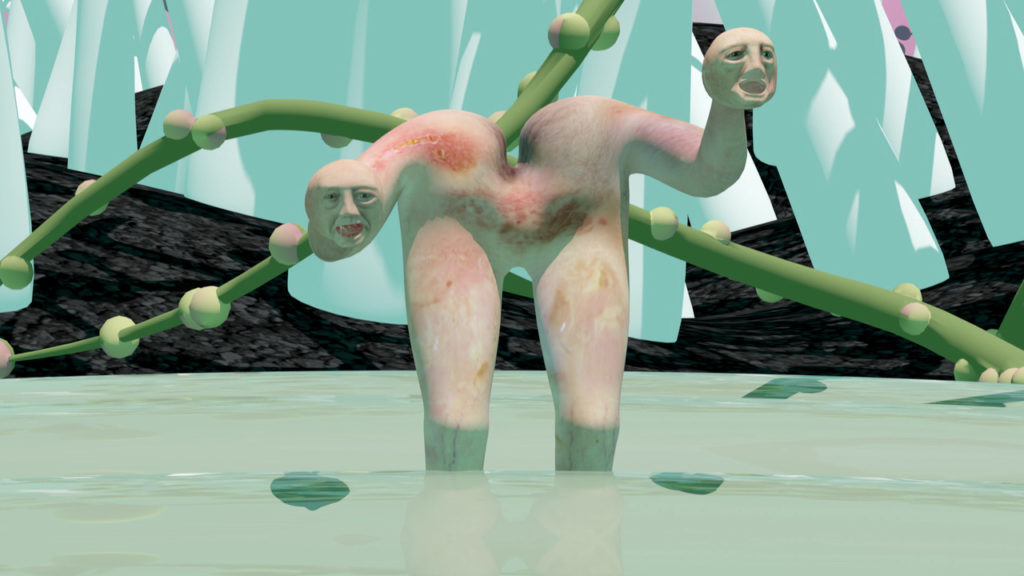 Bertrand Dezoteux
Harmonie, 2018
film d'animation, 20 minutes
 JULIE DOUCET
Born in Montréal in 1965, she lives and works in Montréal.
Julie Doucet was a student in plastic art at the cégep du Vieux Montréal (vocational College in the city of Montréal) in the early 1980s. There she discovered comic strips. Then she registered at Québec University, in Montréal, and studied graphic (printing art) and plastic arts. She started her career with N°2 of the magazine Tchiize!(bis)published by Yves Millet, in the mid 1980s. She then contributed to L'Organe (turned into Mac Tin Tac) and Rectangle, two magazines which saw the emergence of a generation of main "underground" Quebec authors.
In between 1988 and 1990, Doucet created her fanzine, Dirty Plotte (14 numbers). Its pages were taken up in magazines such as Heck!,Rip-Off Comix, Wimmen Comix, Buzzard, Weido(founded by Robert Crumb), or Chacal Puantin France (founded by Stéphane Blanquet).
In 1990, Chris Oliveros, the founder of Drawn and Quarterly Publishing House, published Dirty Plottein the form of comic book. This was the starting point for Julie Doucet, who became well known, and was admired by authors such as Robert Crumb, Charles Burns or Art Spiegelman.
She emigrated for as while to New York, came back to Montréal, lived a few years in Berlin, then back again to Montréal.
After the book release of L'Affaire Madame Paul, Julie Doucet declared she gave up comic strips. In 2013 she created her own publishing house: Le pantalitaire.
In 2020 Drawn and Quarterly Publications will publish her next book of drawings, Free Hand Drawing With Correction Fluid.
current exhibitions
This Is Serious: Canadian Indie Comics
Art Gallery Of Hamilton, Hamilton, Ontario.
June 21st2019 – January 5th2020
Histoire de l'art cherche personnages
CAPC Musée d'art contemporain, Bordeaux.
June 20th2019- February 2nd2020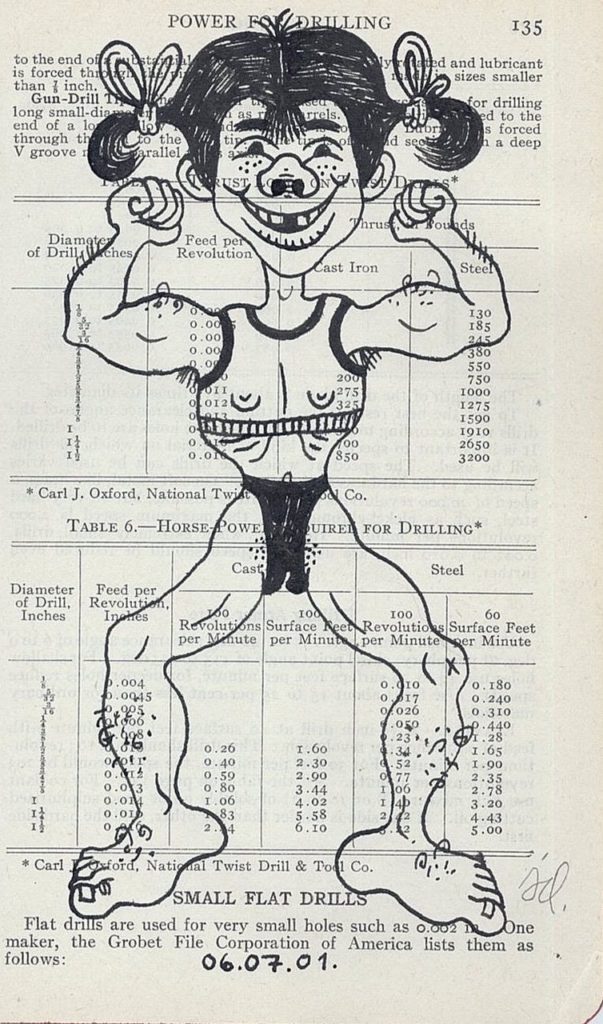 Julie Doucet
06.07.01, 2001
ink on printed paper
16,5 x 10 cm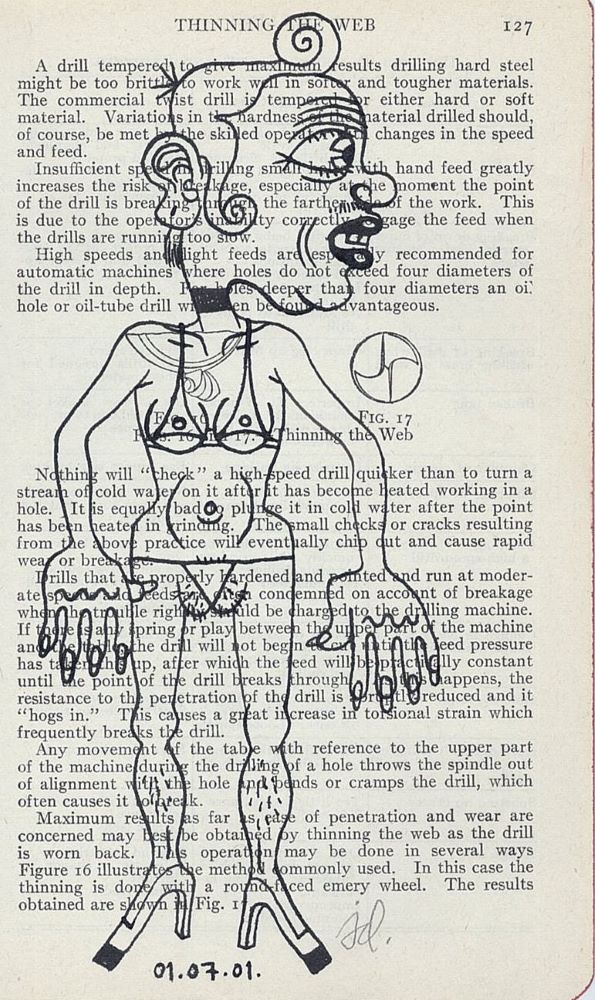 Julie Doucet
01.07.01, 2001
ink on printed paper
16,5 x 10 cm
PAUL VAN DER EERDEN
Born in 1954 in Rotterdam, he lives and works in Dordrecht.
Paul Van der Eerden graduated from Rotterdam School of Fine Arts in 1979. He is regularly exhibited at Bernard Jordan Gallery in Paris, and his work has recently been shown at Rotterdam Boijmans Museum.
In the protean field of what is called "contemporary art", Paul van der Eerden uses only one language: drawing. A sheet of paper and a colored pencil are enough for him to make light of abstraction, motif, onomatopoeia, sexuality, representation, dream, and reality. "A polyglot himself", cerebral and possessed, he desperately wants to forget any idea, any concept, in order to improvise irreverently a vocabulary in which our categories tangle: children's drawings, a primitive, raw, automatic, satirical drawing.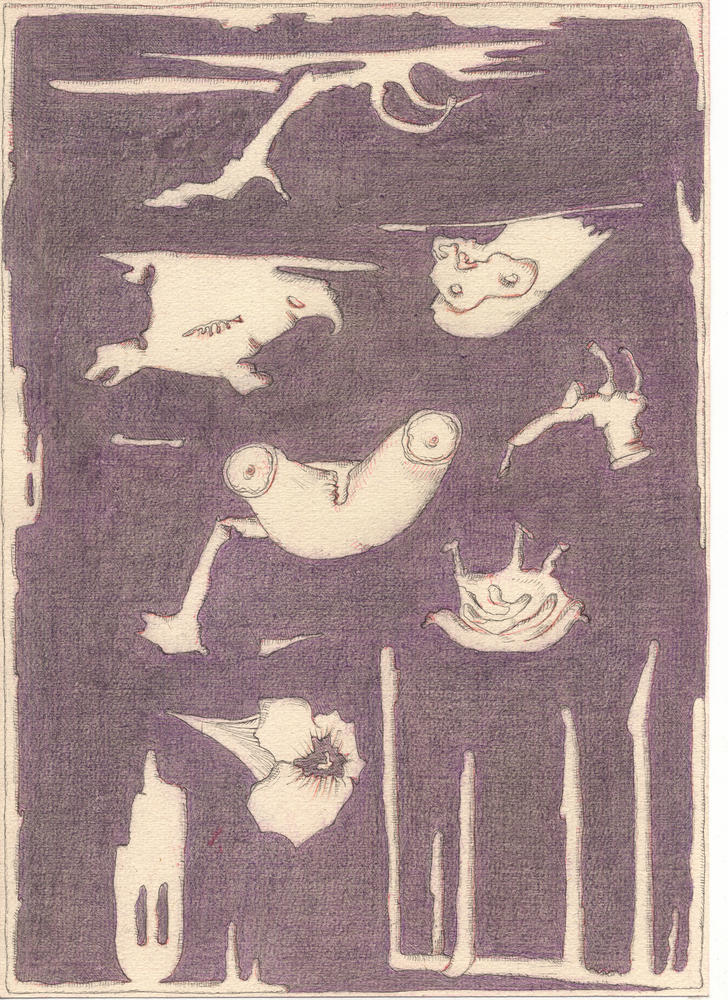 Paul van der Eerden
Sans titre (066), 2011
pencil on paper
29,7 x 21 cm
courtesy galerie Bernard Jordan
STEVE GIANAKOS
Born in New York in 1938, he lives and works either in New York or La Canée.
Steve Gianakos begins his work in the sixties, after graduating from Brooklyn Pratt Institute.
The artist works on paper but also on canvass. On these two mediums, Gianakos represents figures, most often female ones, pin-ups, frequently in incongruous situations.
The scenes are sometimes erotic, humoristic and grotesque, and aim to reveal the neurosis and ill being of the American and western society.
Semiose gallery represents his work.
current exhibition
Beyond your Shadow: Four Ways to Describe a Human Being
Municipal Art Gallery, Athens, Greece.
Until September 22nd  2019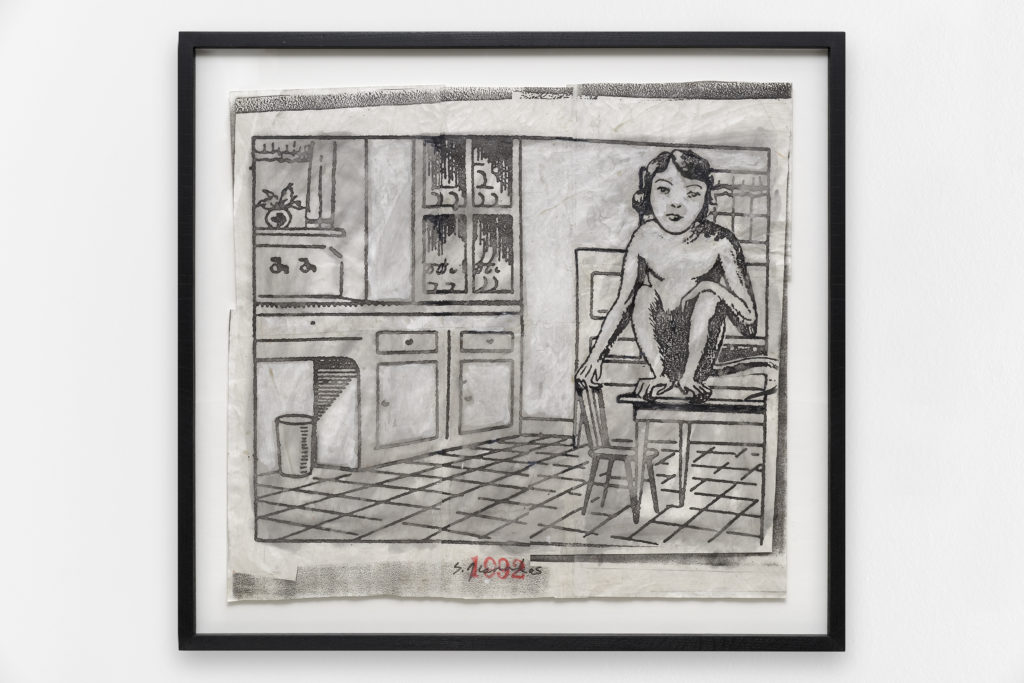 Steve Gianakos
Untitled (Monkey Girl), 1992
mixed media on paper
26 x 28 1/2 inches
courtesy Semiose
KILLOFFER
Killoffer is one of the founding members of L'Association, a publishing house created in 1990 with Jean-Christophe Menu, Lewis Tondheim, David B., Mattt Konture, Stanislas and Mokeït.
He  is benefiting from a well-established reputation, both in the comic book universe, with his emblematic album "676 apparitions de Killoffer", as well as in the world of the press, especially with his drawings published in Libération.
He recently presented a solo exhibition at the Museum of the Abbaye of Sainte-Croix des Sables d'Olonne, at the Casa de Francia in Mexico City, at the Xalapa Art Center in Mexico, also at the Filbo in Bogota in Colombia and at the gallery anne barrault in Paris. 
He has also participated in collective exhibitions such as "Théâtre du monde", dedicated to David Walsh's collection, MONA (Museum of Old and New Art), at the Maison Rouge in Paris ; "quelques instants plus tard", at the Couvent des Cordeliers and at the Cité internationale de la bande dessinée et de l'image, in Angoulême ; "La ville dessinée", at the Cité de l'architecture et du Patrimoine, Palais de Chaillot in Paris ; "Comic Strip" at the Musée de Sérignan ; "Cult fiction" at the Walsall Art Gallery in England, an exhibition organised by the Haywars Gallery in London ; and "la nuit curieuse" at the Ferme du Buisson. 
His monographic book "Charbons" was published on the occasion of his personal exhibition at the Museum of the Abbey of Sainte-Croix des Sables d'Olonne and his last album Killoffer "Tel qu'en lui même enfin" has just been published by the Association.  
Killoffer is founder and editor-in-chief, with Jean-Yves Duhoo of the quarterly "Mon Lapin Quotidien» (MLQ), also edited by L'Association whose first issue was released in February 2017.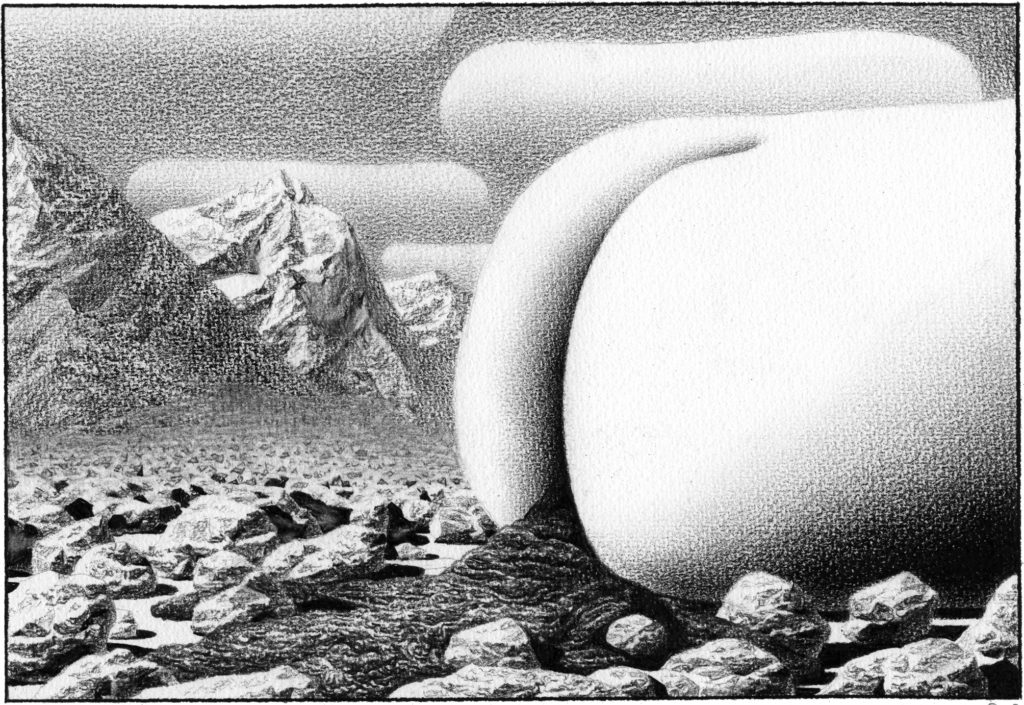 Killoffer
Qu, 2011
pencil on paper
21 x 30 cm
MÏRKA LUGOSI
Mïrka Lugosi is a French artist. She lives and works in Clamart in France.
An autodidact, Mïrka Lugosi learned how to draw when she was a model at Orléans Art School, by listening to the commentaries of the students and teachers. There, she also experimented the distension of time and performance. At the beginning of her life as an artist, she deliberately abstained from figurative representation. This ban, of course, hid an obvious liking for figuration, and today, she dares devote herself to it, unabashed.
She is mainly known for what she calls her "sexual drawings", in which she represents pin-up looking or dominatrix women, often in underwear and with stiletto heels, in explicit situations or positions, suggesting assumed and accepted pleasure. Through her representations, Mïrka Lugosi emancipates women from their submissive image, when men are often dominant.
 Gallery Air de Paris represents her work.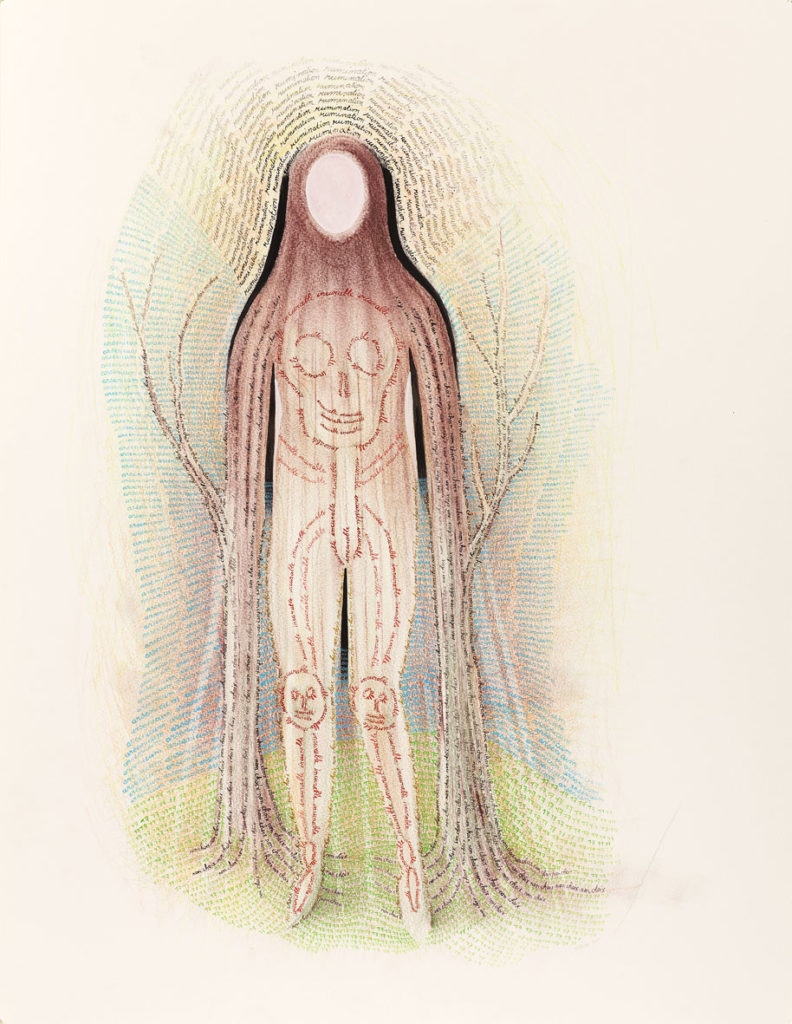 Mïrka Lugosi
Craven A, 2015
crayon de couleur sur papier
44 x 32 cm
courtesy Air de Paris
BERTRAND MANDICO
Born in Toulouse in 1971, he lives and works in Paris.
Bertrand Mandico is a graduate from the Gobelins animation film school. After a few animation films with an organic and surrealistic atmosphere, such as Le Cavalier Bleu (the award of the best project at Annecy  international Festival of animation film), he opts for real shootings, at the beginning for commissioned films, in which he develops an unusual world (videos, miniseries), then for his fictional short films with radical universes.
Besides he turns to the writing of feature films and goes on making many multi format films, among them Boro in the Box(the 2011 Directors' Fortnight), Living still life(official selection at Venice Mostra in 2012; Rotterdam film international festival in 2013) and Prehistoric Cabaret (award of the best short film at San Francisco festival).
In 2017, he makes the feature filmLes Garçons Sauvages(shown and awarded a prize at Venice critics 'week): this film, rewarded in many festivals, is considered as an emblematic work.
next exhibition :
De Dracula à Twilight
curated by Matthieu Orléan
La Cinémathèque française, Paris
7 October 2019 – 19 January2020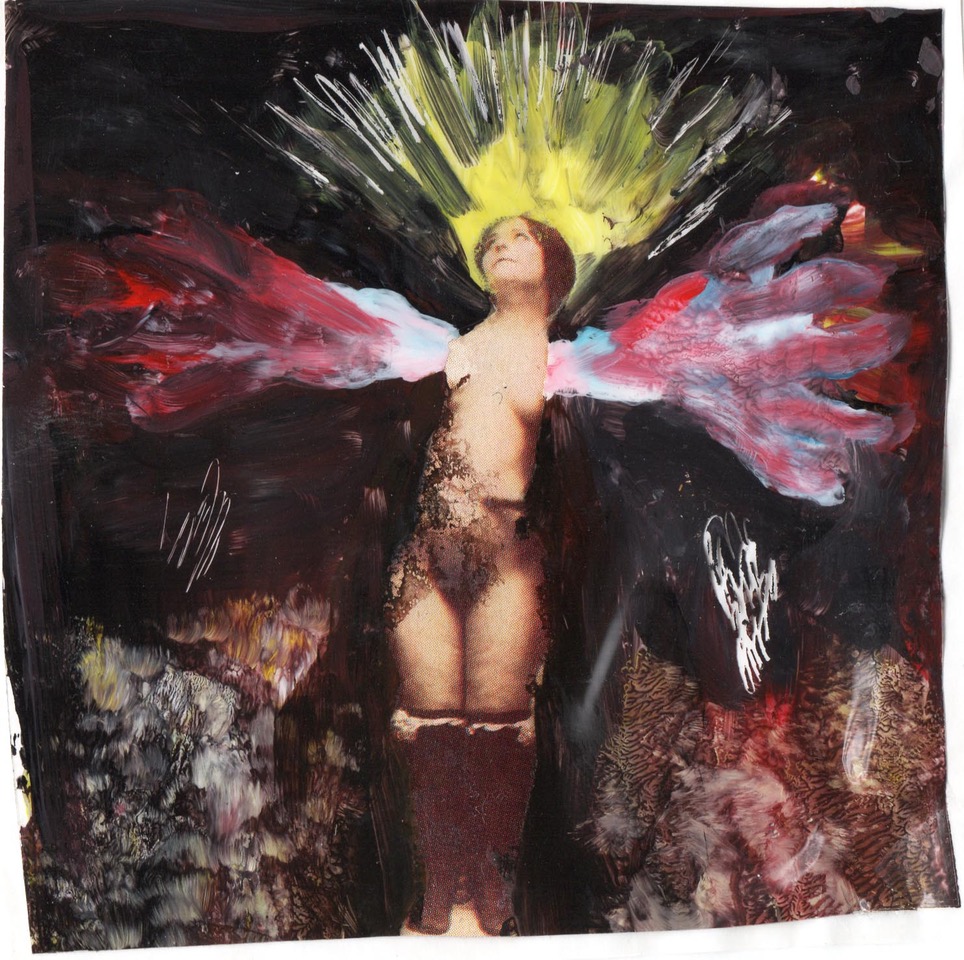 Bertrand Mandico
sans titre, 2018
painting and collage under celluloïd
9 x 9 cm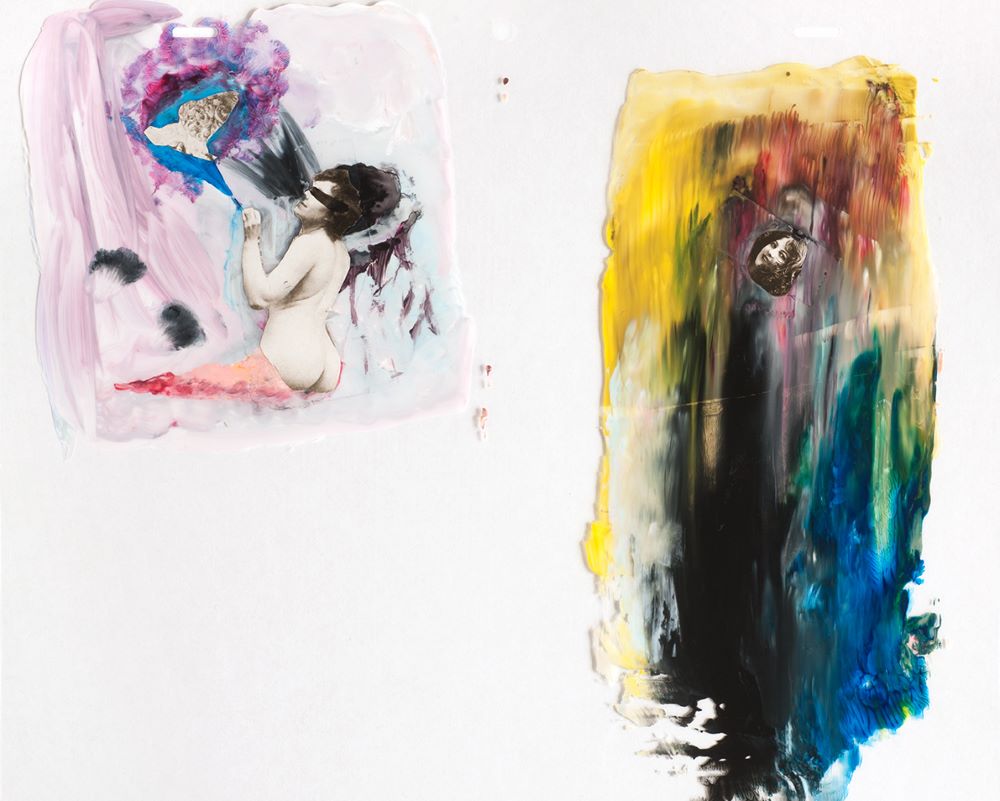 Bertrand Mandico
Souffleuse et flambeuse, 2019
painting and collage under celluloïd
26,5 x 33 cm
ANTOINE MARQUIS
Born in 1974, he lives and works in Paris.
In the set of drawingsCostumes pour un spectacle, Antoine Marquis evokes the Vendée beaches, the department where he was born, which tell his teenage years at the seaside, the surf beaches, and the shapes and colors of the seaside resorts. He represents, in the form of reminiscence, people in motley and colored clothing, vaguely tropical, as if from a remote tribe, a show of the end of the school year, or a "wild Planet".
In his exotic or cheap, polychrome and vulgar science fictitious drawings, the models are like the misbehaving and merry actors of an amateur theater. Like as many individuals characterized by their ornaments, they pose and parade in a timeless frieze.
Next exhibition
 Futur, ancien, fugitive – Une scène française
Palais de Tokyo, Paris
October 16th– January 5th2020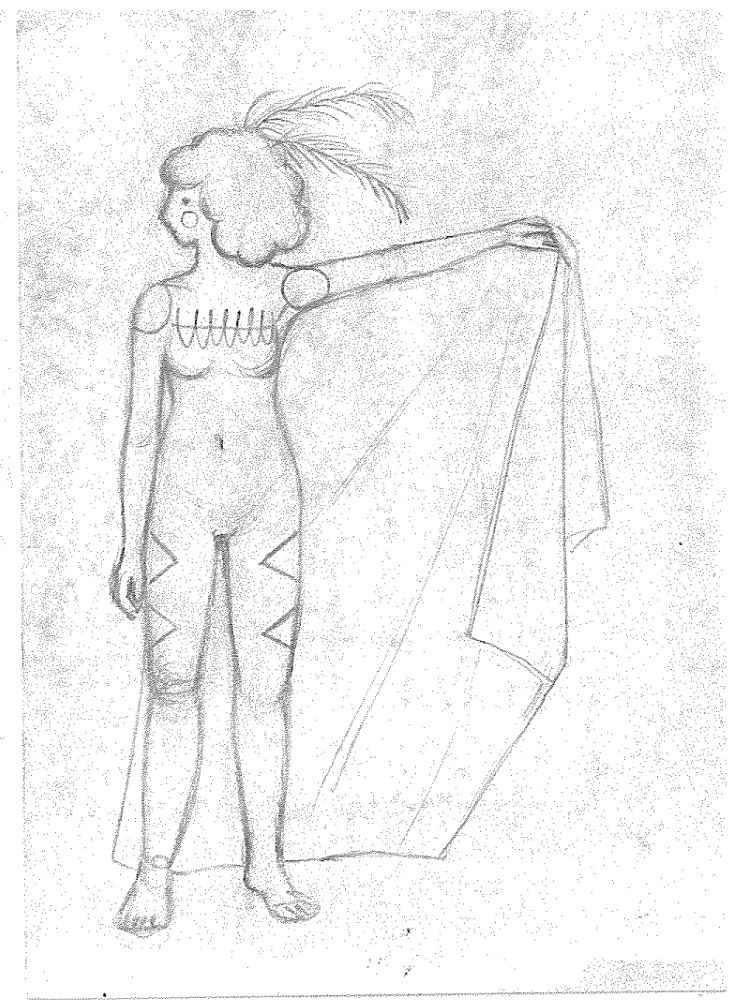 Antoine Marquis
Costumes pour un spectacle, 2018
pastel and pencil on paper
15 x 10 cm
GUILLAUME PINARD
Guillaume Pinard is a French artist, born in Nantes 1971.
Guillaume Pinard, in his artistic approach, develops a polymorphous work, in which drawing, painting and writing are prominent.
An artist endowed with an immense graphic vocabulary, Guillaume Pinard, with soft irony, scrutinizes the occurrences and meanings hidden in every form of views, by attempting to taint hierarchies.
He explores all the aids used to show. From his interest in dictionaries, painting, and also any kind of image found on the web, the artist, all along his exhibitions, gives new impulse to the bits of a narrative, the structures of a fragmented world. Guillaume Pinard has become the archaeologist of his own practice. He makes us enter his cranium, an eclectic, illogical and restless brain soup. He is always oscillating between what is prosaic and great reference, between everyday nature and the great pictorial tradition.
His work has been presented in solo exhibitions such as : «Bébé Lune» (2019) at galerie anne barrault ; and in several Contemporary Art Centers in France.
His artworks have also been shown in group shows in museums and FRAC : in Rennes, Marseille, Toulouse, Bordeaux… and abroad at the TEAM gallery, New York ; at galerie Thaddaeus Ropac, in Paris and Salzburg ; and at the Atlanta College of Art Gallery.
He is the author of several books such as « AMOR» (2015), «Un art sans destinataire» (2012), «Le Clou sans tête» (2008), and his first monograph has just been published by Tombolo Presses (2019).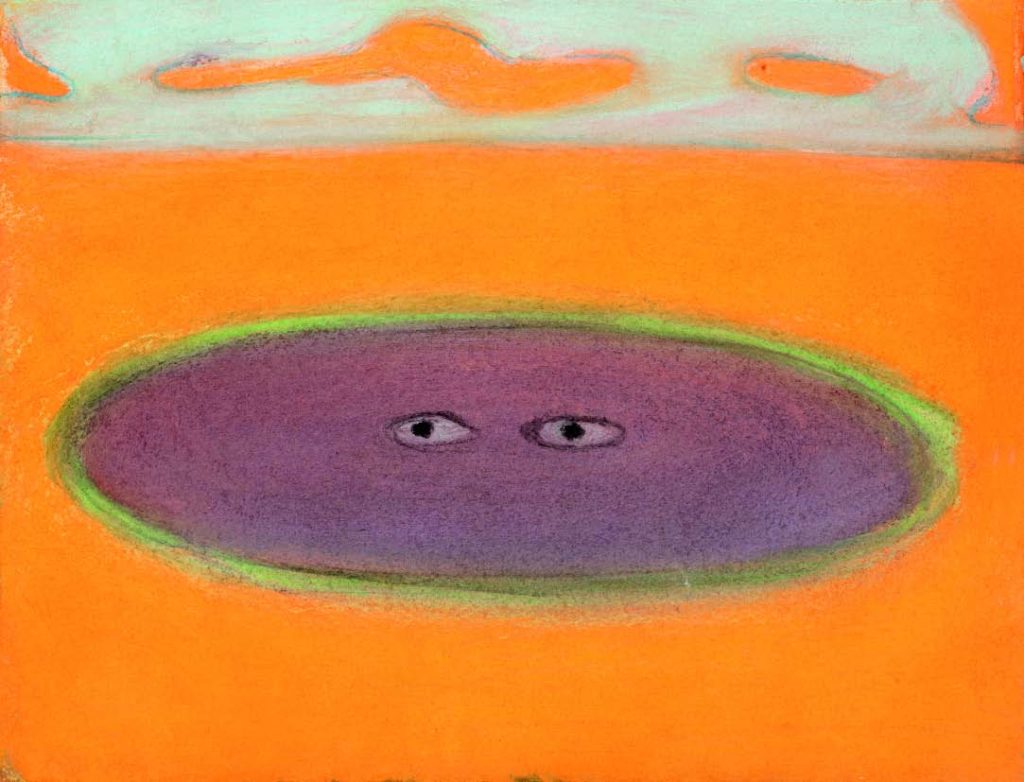 Guillaume Pinard
Violine, 2015
pastel on paper
25 x 33 cm / 30 x 38 cm (avec cadre)
HUGUES REIP
Born in Cannes in 1964, he lives and works in Paris.
Since the 1990s, Hugues Reip has developed a work with very varied means (drawing, sculpture, photography, video, slideshow…) and a management of his own, which combines seeming simplicity, meticulous lightness and efficacy, in order to explore the fantastic and extraordinary side of everyday life and familiarity.
"A polyvalent artist, a graphic one, a video maker, a photographer and a sculptor, Hugues Reip tries to bring out the unusual and surprising aspects of an object, a place or a situation. The artist explains: "I remember the images illustrating Jules Verne's novels, which, by making true what is unreal, called up a world in which body, time, visible space were different from ours…but in the same place". By altering features, their scales for example, of ordinary objects Hugues Reip makes them unusual and creates irrational atmospheres in which the spectator faces a world of distorted objects to the point of being incredible.
In 1991, with his Montagnes, a sculpture, he interprets pictorial motifs borrowed from painters' works. Out of the painting, or more precisely of the painted form as a referent he gives birth to weird and anachronistic volumes. Building(1993) is a precocious work among Reip's works, but which, if different from his fantastic ones, already shows the artist's interest in the semantic shift of objects. In Château de Chamarande in 2009, his exhibition entitled Le Châteauoriginated in a painting by Hubert Robert. The artist designed pieces especially for each of the rooms (paintings, installations and videos), trying to make them resonate with each other. A world, both magical and disturbing, made the visitor enter another reality, between "abstraction and magic". Hugues Reip's work can be defined as a way of invading reality in which, with an invasive strategy, it reveals the relativity of reality."
Nadine Labedade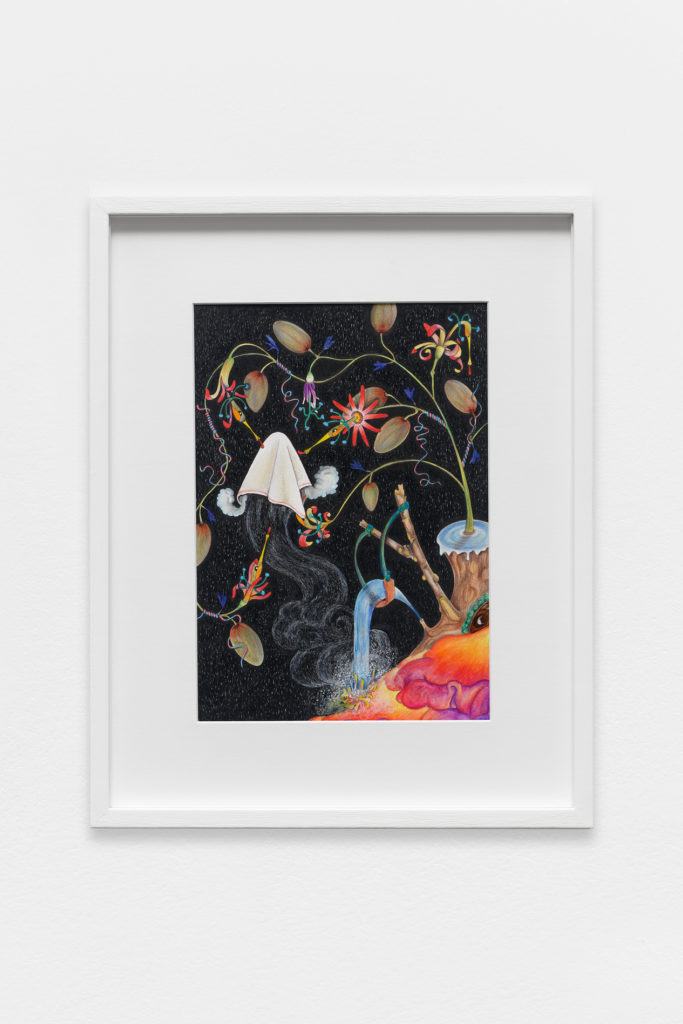 Hugues Reip
Noir Dessein #1 (serie 7), 2019
Encre, crayon aquarelle, acrylique, pastel, aile de papillon & fleurs de bleuet sur papier
23 x 16 cm / 35 x 24,5 cm with frame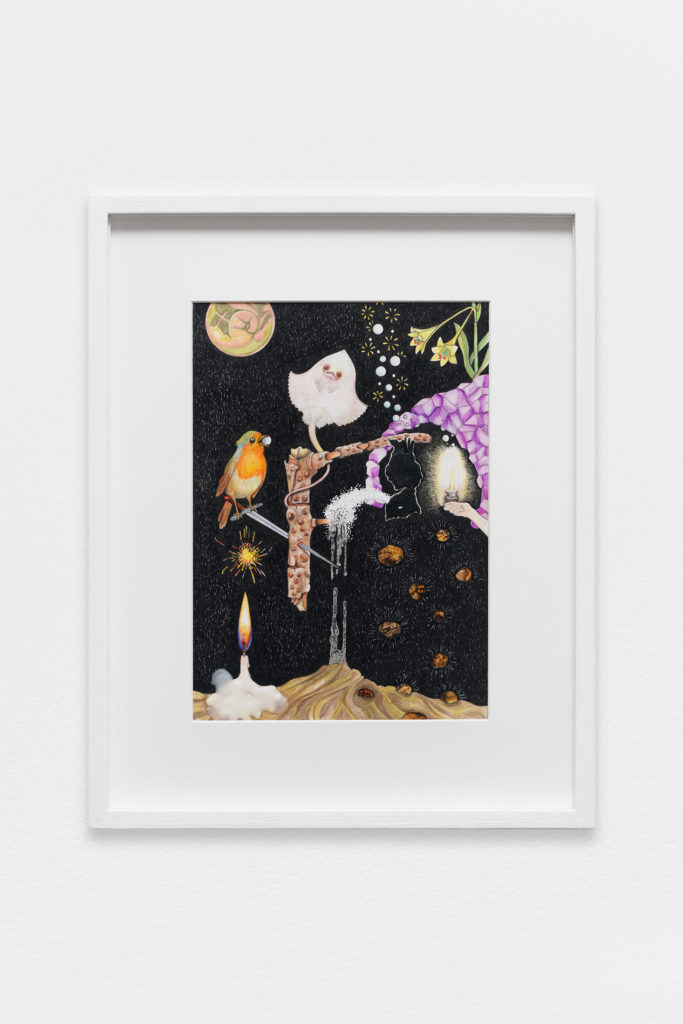 Hugues Reip
Noir Dessein #2 (serie 7), 2019
Encre, crayon aquarelle, acrylique, pastel, cuir, cire & photocollages sur papier
23 x 16 cm / 35 x 24,5 cm with frame
JEAN-XAVIER RENAUD
Born in 1977 in Woippy, he lives and works in Hauteville-Lompnes (Ain).
A graduate from the Applied Arts School of Strasbourg (HEAR), Jean-Xavier Renaud works as an artist and is also involved in Hauteville-Lompnes town council.
While carrying out his first solo exhibition at Levy-Delval Gallery in Brussels, the artist also begins intervening in prisons, therapeutic centers and hospitals.
He participates in the exhibition Dynastyin Palais de Tokyo in 2010, with Gaëlle Boucand, Yuhsin U.Chang and Duncan Wylie.
Jean-Xavier Renaud's work turns on the criticism of today's society: living far from the City of Light, the artist treats all kind of political and social subjects, picturing Donald Trump as well as Paris Hilton. To those who claim his art is vulgar, he retorts: "I only reflect the vulgarity of the world".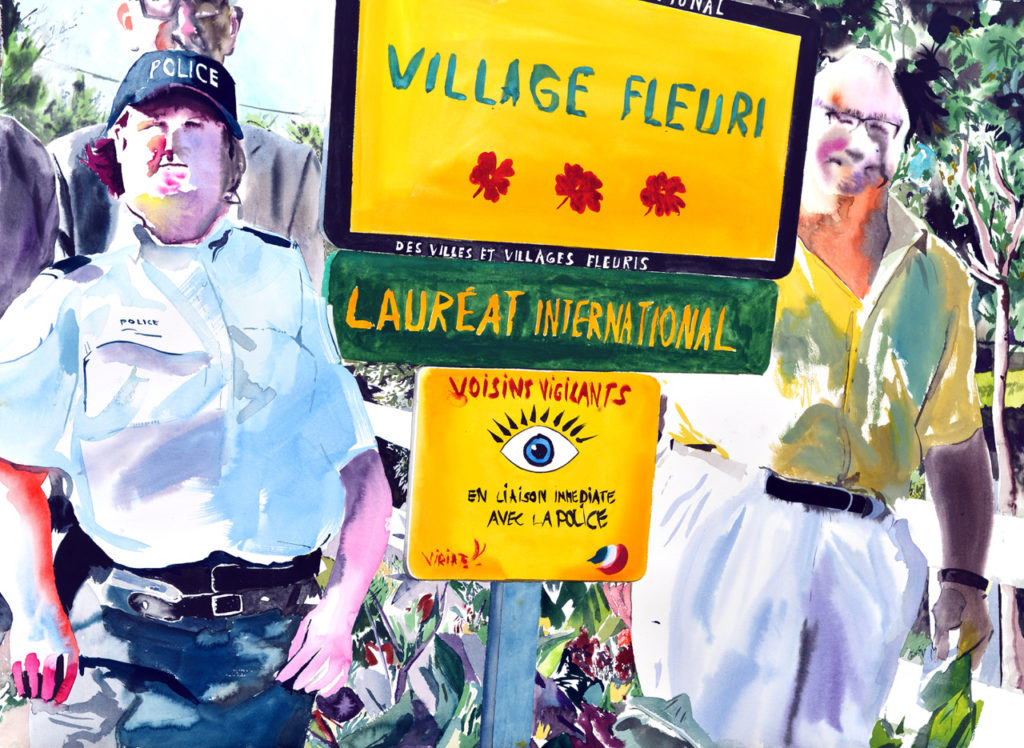 Jean-Xavier Renaud
Voisins vigilants police, 2018
watercolour on paper,
78 x 108 cm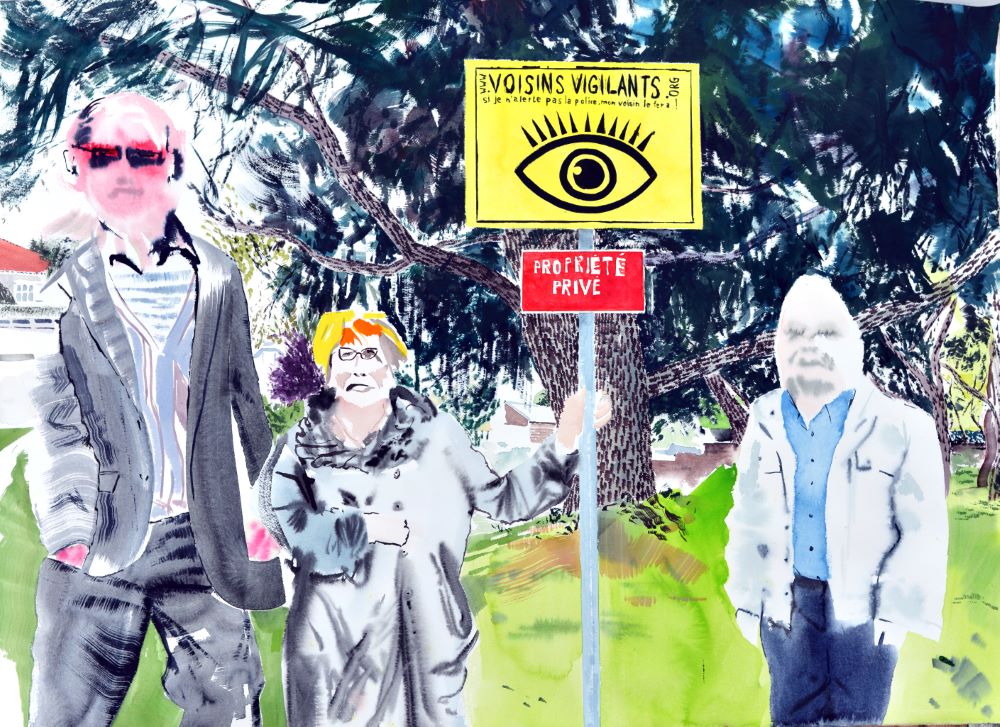 Jean-Xavier Renaud
Voisins vigilants police, 2018
watercolour on paper,
78 x 108 cm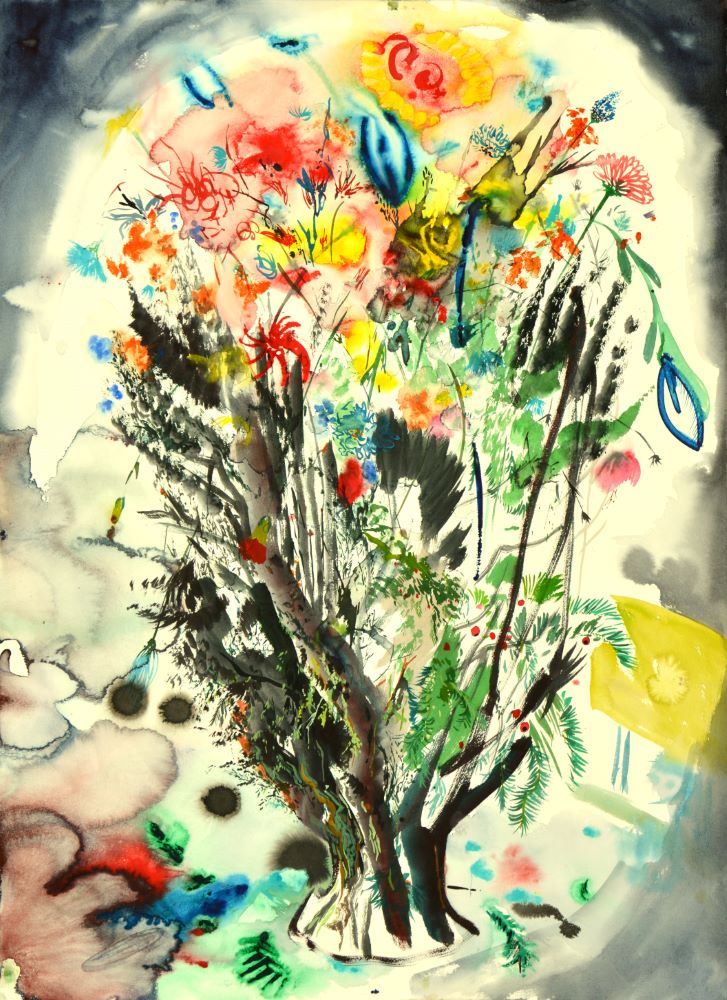 Jean-Xavier Renaud
Invasif, 2016
watercolour on paper,
107 x 78 cm
ELSA SAHAL
 She was born in 1975 in Bagnolet. She lives and works in Paris.
A graduate from Paris National School of Fine Arts in 2000, Elsa Sahal was in residence in Sèvres in 2007, which enabled her to develop her work on enamels fired at high temperature. She had a solo exhibition at the Ricard Corporate Foundation in 2008, and was awarded the MAIF prize for sculpture. In 2009, she was a Visiting Professor at Alfred University, New York State College of Ceramic. She has also taught at Strasbourg Decorative Arts School from 2005 to 2012.
When a resident at the Archie Bray Foundation in Montana in 2013, she goes further into firing technology, and approaches new and more refined forms. The same year, her works are shown at the exhibition Body § Soul: New York International Ceramics, at the Museum of Art and Design of New York.
In 2017 her work is presented in the exhibitions Women Houseat the Monnaie de Paris, and at the National Museum of Women in the Arts in Washington (2018); Les retrouvailles,Brest Museum of Fine Arts; POINT QUARTZFlower of Kent, at Villa Arson in Nice; Surreal Houseat the gallery The Pill, Istanbul.
Current exhibitions
Equinoxes 2
Boutique Camille Fournet, Paris
Until September 20th2019
SOME OF US
curated by Jérôme Cotinet
Kunstwerk Carlshütte, Büdelsdorf, Germany
Until October 13th2019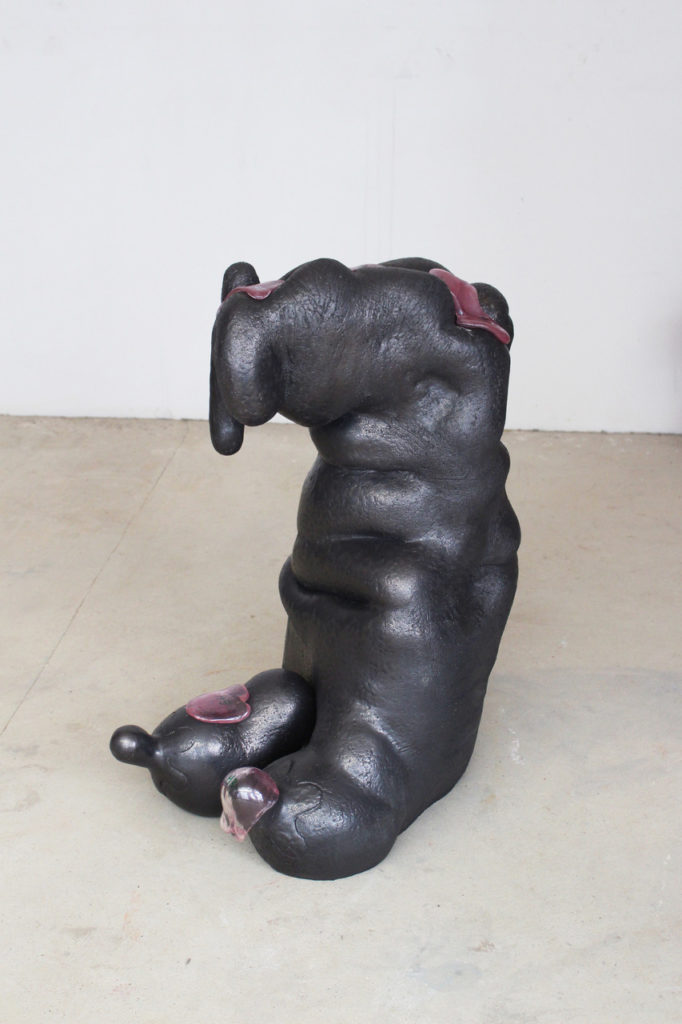 Elsa sahal
Nue posée, 2018
céramique émaillée, verre soufflé rose
93 x 47 x 69 cm
courtesy galerie Papillon
DASHA SHISHKIN
Born in 1977 in Moscow in Russia, she lives and works in New York.
Dasha Shiskin is known for her large colored drawings on semi-transparent Mylar, using acrylic, ink and colored pencils. Though her work is figurative, like a story, the artist avoids anything concrete. Thus, her complex compositions are within the province of romance, eroticism, humor and grotesque.
She was awarded the BFA by the New School for Social Research (New York, NY, 2001), and the MFA by Columbia University (New York, NY 2006). Her work was shown in solo exhibitions, such as "erry icket" at Santa Barbara Museum of Contemporary Art, "I Surrender, Dear"  at the Contemporary Arts Center in Cincinnati, "Sammy" at Gio Marconi Gallery in Milano, "BB5" at Grieffelkunst in Hambourg, and "Desparecido" at Zach Feuer Gallery in New York.
Her works have also been shown in collective exhibitions, among them "One Torino: Shit and Die" at Palazzo Cavour in Turino (Maurizio Cattelan, the curator), "Imaginary Portraits of Prince Igor"at the Met gallery in New York, "Gaiety is the Most Outstanding Feature of the Soviet Union: Art from Russia" at Saatchi Gallery in London, "Idealizing the Imaginary Invention and Illusion in Contemporary Painting" at Oakland university gallery, and "Embrace" at Denver Art Museum.
Susanne Vielmetter Los Angeles Projects, and Produzentengallerie, Hamburg, Germany, and Gio Marconi, Milano represent Dasha Shishkin.
Next exhibition
Dasha Shishkin
L21 Gallery, Palma, Spain
September 2019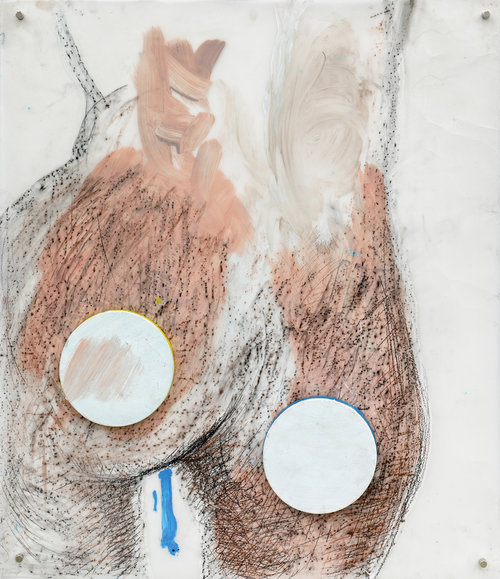 Dasha Shishkin
labora et amare, 2018
sanguine, acrylique, graphite, toile et acrylique sur Mylar
64 x 56 cm
courtesy Produzentengalerie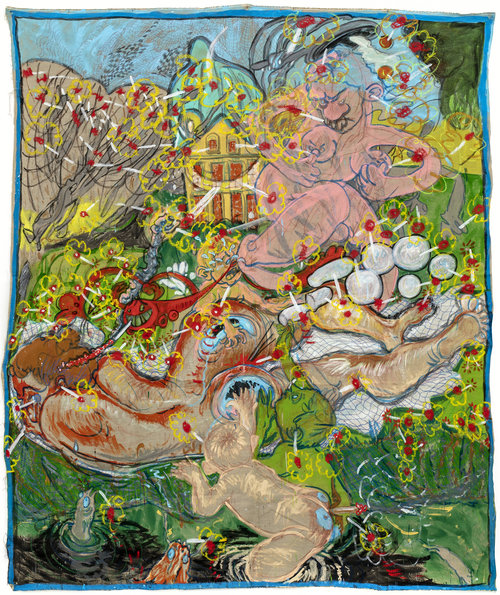 Dasha Shishkin
you saw me see it but you are not going to see me saw it, 2018
acrylique sur toile
101,5 x 101,5 cm
courtesy Produzentengalerie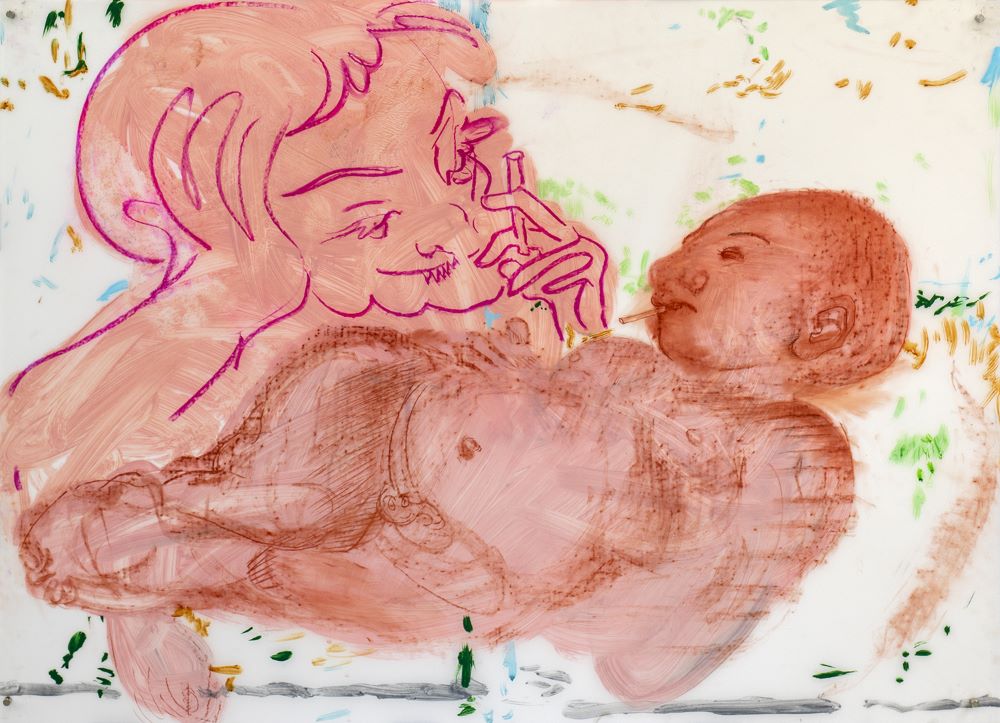 Dasha Shishkin
there is infinite hope – but not for us, 2018
sanguine, acrylique, graphite, toile et acrylique sur Mylar
76 x 106 cm
courtesy Produzentengalerie
DANIEL SPOERRI
Born in 1930 in Galati, Romania, he lives and works in Vienna.
Daniel Spoerri starts his career as a dancer in 1954. He becomes the leading dancer of Berne Opera, then assistant director of Darmstadt Landestheater from 1957 to 1959. There he founds the avant-garde and poetical magazine "MATERIAL".
The same year, he makes his first trap paintings, of which he will later explain the process in "Une Topographie anecdotée du Hasard" in 1962.
He settles in Paris in 1960 and creates editions MAT (Multiplication d'Art Transformable), and publishes multiples (artists 'books, boxes-objects-sculptures…) of Yaacov Agam, Josef Albers, Pol Bury, Marcel Duchamp, Heinz Mack, Dieter Roth, Jesùs-Rafael Soto, Jean Tinguely, François Morellet, Victor Vasarely, and many others.
Close to Tinguely and Yves Klein since 1949, he signs the aesthetic declaration of the new realism.
A friend of Robert Filliou (1926-1987) since 1959, he draws closer to George Brecht and George Maciunas, the creators of Fluxus. After converting gallery J. into a restaurant, and the tables of the meals eaten by friends into art works, Spoerri opens a restaurant in Düsseldorf and the Eat-Art Gallery where he exhibits Joseph Beuys, Nikki de Saint Phalle, Richard Lindner, Morellet and Topor, among others.
At the moment, Daniel Spoerri exploits the magic nature of found objects, and makes assemblage in which animal skulls, orthopedic instruments, meat choppers are mingled and become the idols of an invented primitive art, making fun of artistic beliefs and conventions. On this principle, he imagines "les Corps en morceaux" in Oiron Château in 1993, a parody of trophies made of pieces of armor, prostheses, African masks, heads of wooden horses…
Spoerri opens a foundation in Tuscany in 1997 with a park of sculptures.
Current and next exhibitions :
Gigantisme-art § industrie
FRAC Grand Large – Hauts de France
May 4th– January 5th2020
Solo exhibition
MAMAC, Nice
Summer 2020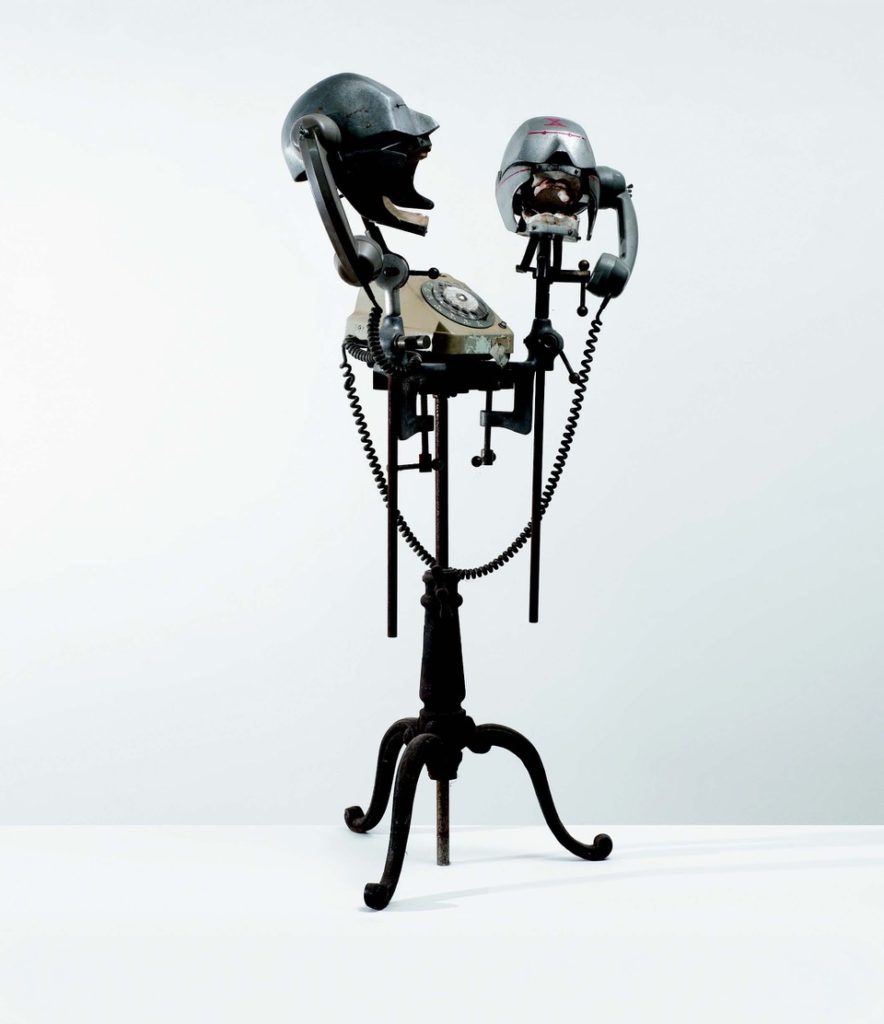 Daniel Spoerri
Conversation avec Roland Topor, 1991
assemblage, technique mixte
105 x 50 cm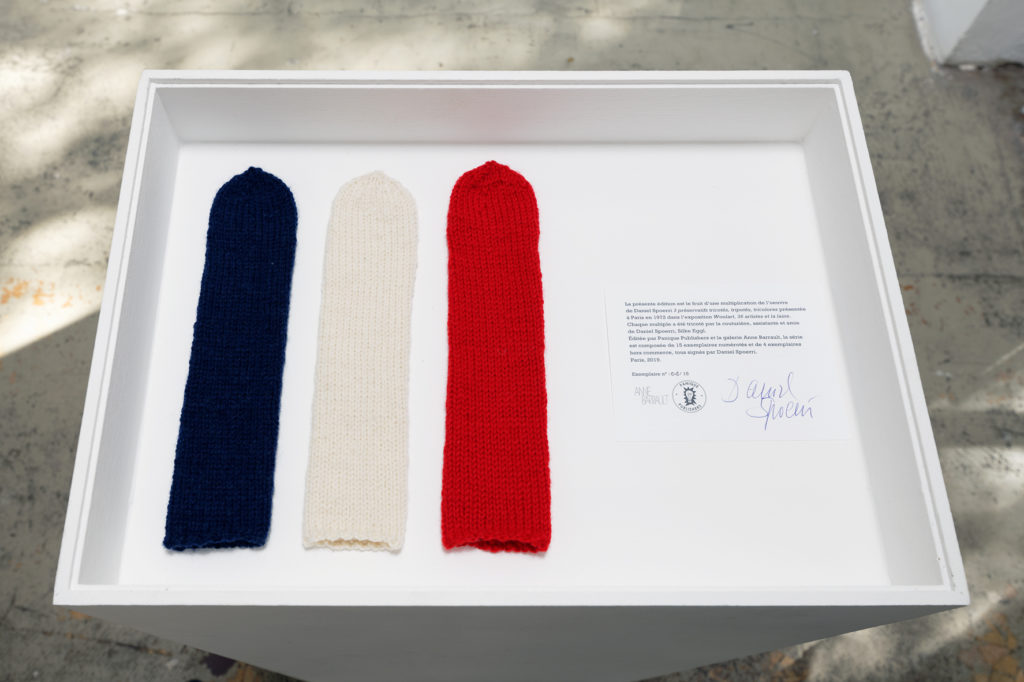 Daniel Spoerri
3 préservatifs tricotés, tripotés, tricolores , 1972 – 2019
wool
23 x 5,5 cm (1 condom)
NICOLAS TOPOR
Born in Paris in 1963, Nicolas Topor lives and works in Paris.
In 1972, a fourhanded collection of his drawings drawn with his father Roland Topor, when he was only 7, Un Monsieur tout esquinté, was published. His first personal work, travel stories in Lagunie, was published in 1976. After graduating from Paris Fine Arts School, Nicolas Topor starts travelling. Fed by his travels and upset by his father's death in 1997, the artist creates a fictitious world named Kazikstan, in honor of Kazik Hentchel, the former manager of Accatone movie theater in Paris. He then extends this universe to a website, songs, films…
A singer, Nicolas Topor has sung his father's songs as well as his own since 2000. He is also part of the group "Le Téton de Venus".
HENK VISCH
He was born in 1950 in Eindhoven, Netherlands. He lives and works in Berlin.
"The sculpture of a world at war: He falls, he gets back to his feet, and finds himself in a kind of obscure void. The details are not very clear, the feet, the ground, the body and the face look up. The lack of details makes the distance implicit, the tiny face, up there, like a Japanese kite, looks dreamy and lonely – in spite of its lively surrounding -, heavy and very present. The present is his natural habitat, the morning coloring wraps him like dawn. A feeling of life guides his behavior, or rather his thinking, aware that the drama of existence, in which he has an important part, a human being among his equals, can crush him any time. Does he struggle in order to escape? Not necessarily, he exists and the world is at war."
Current exhibitions
Artzuid 2019
Internationle Sculptuur Biennale Amsterdam, Netherlands.
May 17th- September 15th 2019
Henk Visch
Landgoed Anningahof, Swolle, Netherlands.
May 22nd- October 27th 2019
Biënnale Kunstenfestival Aardenburg, Aardenburg, Netherlands.
June 29th – August 18th 2019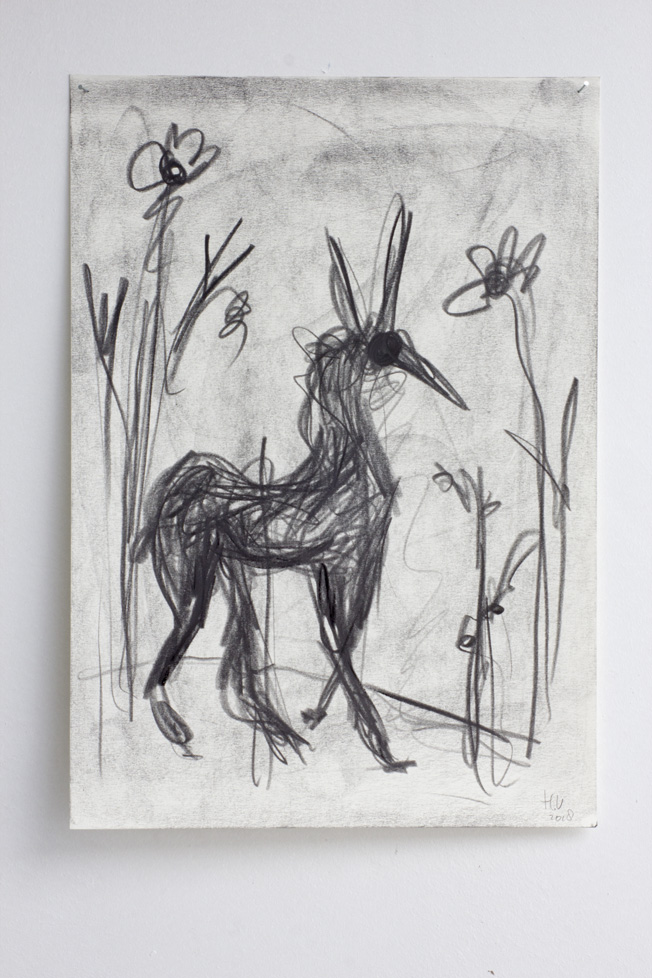 Henk Visch
NO (1/4), 2018
pencil on paper
(x4) 42,5 x 29,5 cm
courtesy galerie Tim Van Laere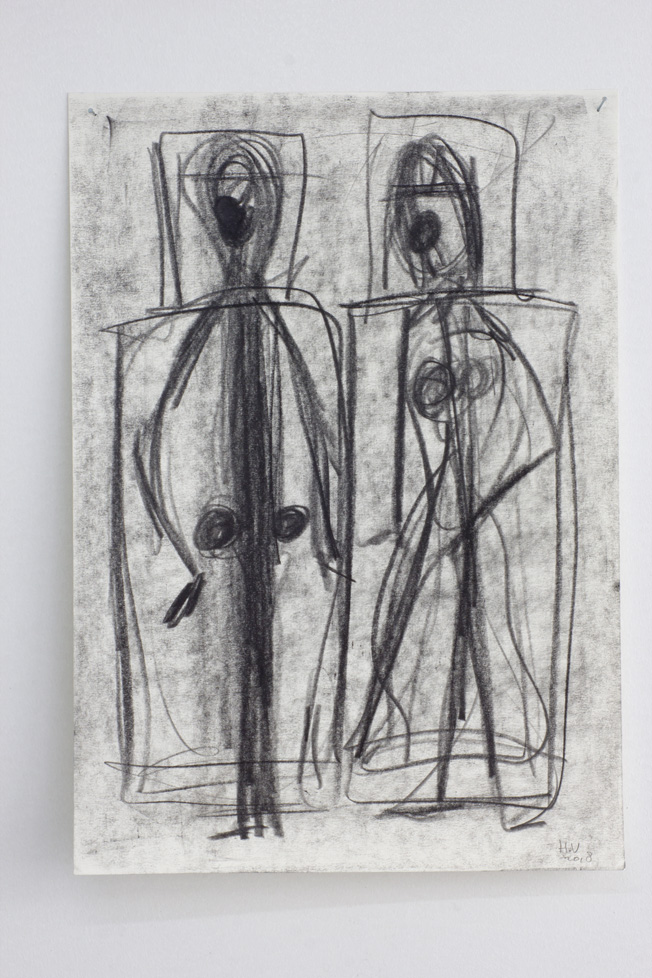 Henk Visch
NO (4/4), 2018
pencil on paper
(x4) 42,5 x 29,5 cm
courtesy galerie Tim Van Laere
WILLEM
Bernhard Willem Holtrop, known as Willem, was born on April 2nd1941 in Ermelo, Netherlands. He lives and works in France.
He studies at Arnhem Fine Arts School, then to Bois-Le-Duc School from 1962 to 1967. He is a member of the Provo movement, and in 1966 he founds a satirical newspaper God, Nederland § Oranje, which is banned after the publication of a drawing of Queen Juliana as a prostitute. Most of the nine issues, in which Roland Topor and the future moviemaker Picha participate, meet the same fate. He arrives in France in 1968.
He starts drawing for "l'Enragé" in May 1968. He participates in the first issues of Hara-Kiri, a weekly, later named "Charlie Hebdo". He writes the review of the weekly press and the "Chez les esthetes" column. His texts, written directly in French, a language he does not really master, are at the time, full of grammar and syntax errors. The editorial staff find amusing not to correct them, and they will become one of his identifying signatures. He himself makes a point of not having his texts corrected.
His style is noticeable by the use of sometimes violent images, combined with a biting political and social satire. He participates in "Charlie Mensuel', and becomes its editor-in-chief. He has contributed to "Libération" since 1981, and has joined the staff of the new  "Charlie Hebdo". He has also been working for "Siné Mensuel" since 2011.